Indigenous Ingenuity
From mukluks to archery, igloos to Inuit stories, Science North's new exhibit is a fun, educational experience highlighting Indigenous innovation and traditions.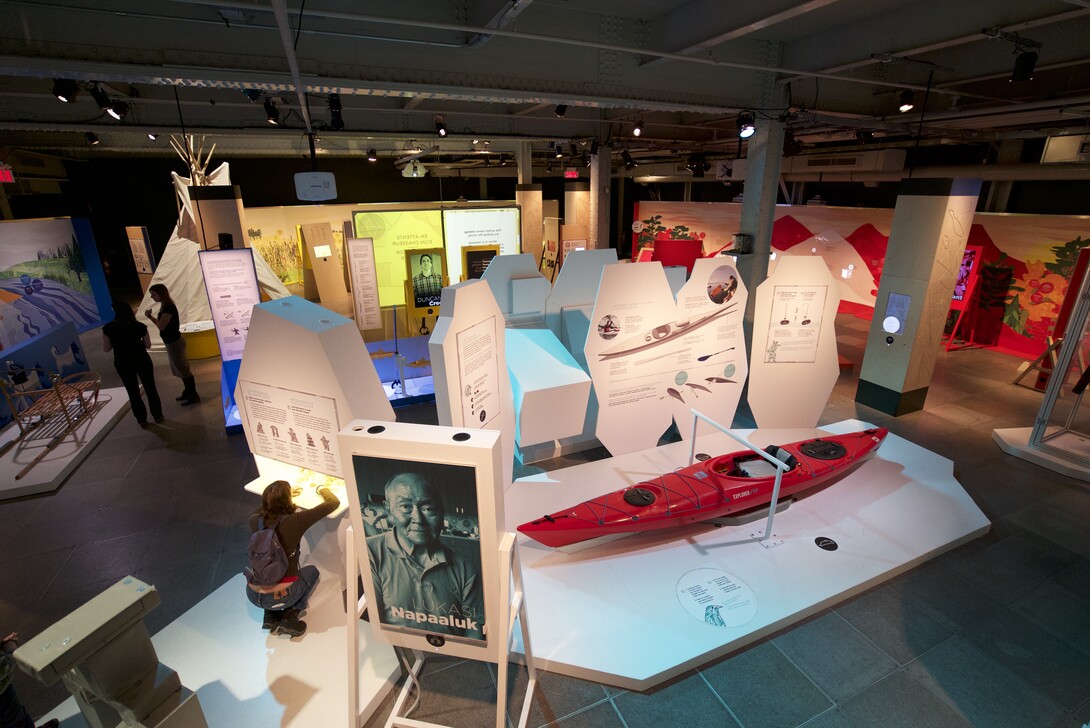 Please note: Science North and the Indigenous Ingenuity exhibit will reopen when public health deems it safe to welcome visitors again.
When the doors open on Indigenous Tourism Ontario and Science North's Indigenous Ingenuity exhibit in Sudbury, visitors will be wowed by a vibrant interactive space showcasing Indigenous peoples' valuable innovations. 
an interactive, family-friendly experience
Past the IMAX theatre and gift shop, you'll find a 7,000 sq. ft. exhibition space divided by colour patterns that represent the different lands—white for the Arctic, red represents the mountains, blue for the rivers and lakes, and then the yellow for the plains—from where these ingenious, Indigenous-made inventions come from, including kayaks, canoes, mukluks and more. 
Picking up an RFID bracelet, in either English or French, visitors can activate some of the storytelling on virtual boards or trigger mechanical features. It also acts as your passport, as you collect 26 Indigenous innovations "badges" at the exhibition, all while music plays from a playlist curated by G.R. Gritt, a Juno Award-winning, Two-Spirit, Transgender Anishinaabe/Métis artist.
"We're going to provide a very safe space, not only a physically healthy space, but a culturally safe space," says Matthew Graveline, outreach staff scientist at Science North. "We're very committed to reconciliation, to building relationships with our Indigenous partners and to culturally sensitive training to understand the different nuances and I think this exhibit in itself will highlight that."
Integral to Indigenous cultures is oral storytelling, so this exhibit integrates that element into many of its spaces. Tapping the RFID bracelet on interactive walls launches stories, like the Inuit's story of the sea goddess Sedna, as polar bears and characters move across the wall. 
It's truly immersive, where you can climb inside a dogsled, strap on a pair of VR goggles and have the unique virtual experience of traveling by dogsled over the ice. "For people from Southern Ontario, from our region, or visitors from around the world, it gives them an opportunity to experience something that you may never have a chance to do in real life," says Graveline.  "It gives you this full sense of discovery."
Some of those tactile spaces include large white foam cubes to build into an igloo, and in another corner of the exhibit, a small group of people can enter a tepee and construct a mini version inside, with information panels inside on the ways to build the structure. 
embracing different learning styles
"An important aspect of these types of exhibits, is that it respects different learning types, just like through Indigenous pedagogy," adds Graveline. "You can watch videos, read panels, and be very cerebral in your approach on learning, or you can have that hands-on learning where a lot of people are best at."
In addition to interacting with the exhibits, there are also chances for a little friendly exchange with your fellow visitors. At the harpoon exhibit two people can stand, side-by-side, and manipulate a harpoon to "catch" virtual salmon on a screen at their feet. An archery exhibit is a fun game where two archers can hit animated moose on the screens hanging in front of them, for points. (It also urges a respect for animals with a pop-up warning to not shoot a calf and her mother.) A nearby panel explains the physics and mechanics of how a bow and arrow work, tying together science with the culture. 
"There are so many innovations and inventions that we use today with the kayaks a perfect example of that," says Jennifer Beaudry, the senior manager of Science North and Dynamic Earth. "It's really putting a highlight on Indigenous culture as a whole, across all of Canada."
a covid safe experience
In the age of COVID-19, Science North is ensuring that, while Indigenous Ingenuity is such a hands-on exhibit, that it follows all COVID protocols. The large space allows for physical distancing, and extensive cleanings occur every morning, afternoon, and night. Heavy contact elements, like the bracelets, are cleaned after each use. Timed tickets for the exhibit also ensure that there will only be up to 80 people in the space at a time, and the museum is currently training its staff to monitor the number of people inside the exhibit. Several workshops will even be moved outdoors to provide a safer environment. 
A trademark of Science North is the blue lab coat worn by staff and volunteers, which earn them their nickname "bluecoats." It's their job to answer questions and teach visitors more about the science. For this exhibit, the Bluecoats will also be wearing t-shirts designed by Indigenous artist Emma Petahtegoose, who goes by Niigaanii, from the Atikameksheng Anishnawbek First Nation.
Science North will be showing Indigenous Ingenuity until October 31, which Beaudry says is one of the longest runs they've ever had for an exhibit from an external partner (it originally ran at the Montreal Science Centre). 
Beaudry considers the exhibit a celebration of Indigenous people, in particular those communities that surround Sudbury. She also credits a lot of Science North's accomplishments to the Indigenous working group that helped provide input on not only the exhibit, but the greater museum as a whole. 
"It's going to be a bigger lens for us, looking at what we're doing at Science North as a whole, and if there's opportunity to weave in more Indigenous content," says Beaudry. 
She points to the third floor's Northern Ecosystems exhibit, where the English, French, and Anishnawbeemowin names of the animal ambassadors are now permanently displayed, as part of that work, as well as creating space in the gift shop for local Indigenous artisans. She clarifies that Science North will not take any profit from those sales. 
looking ahead with travelling exhibits, a speaker series, and continued efforts toward reconciliation  
 "What's really special about this one is that we have a satellite office based out of Thunder Bay, and after this exhibit closes here in Sudbury, it is traveling to the Thunder Bay Art Gallery, with our Science North team out of Thunder Bay," says Beaudry. "It has two showings for Science North, which is something we haven't done before."
They've also launched virtual Indigenous Ingenuity Talks, the inaugural one in March with engineer Deanna Burgart, and one to come later in April with speaker Dr. Lorrilee McGregor. Keep up with the upcoming events and purchase tickets here. 
Graveline has two hopes for the exhibit and what their visitors take away from their visit. "First and foremost, I believe this is going to be one of our active steps towards reconciliation," he says. "This exhibit challenges modern misconceptions of how Indigenous peoples are something of the past and not active participants today. We are highlighting a lot of traditional ingenuity and how they've been adapted to modern-day applications within these communities themselves and then in the broader world as we know it."