The Fish & Chips Trail: 3 Must-Stop Spots in Ontario
Discover history, entrepreneurial spirit, and fresh fish at Northeastern Ontario's chip stands, eateries, and fish markets.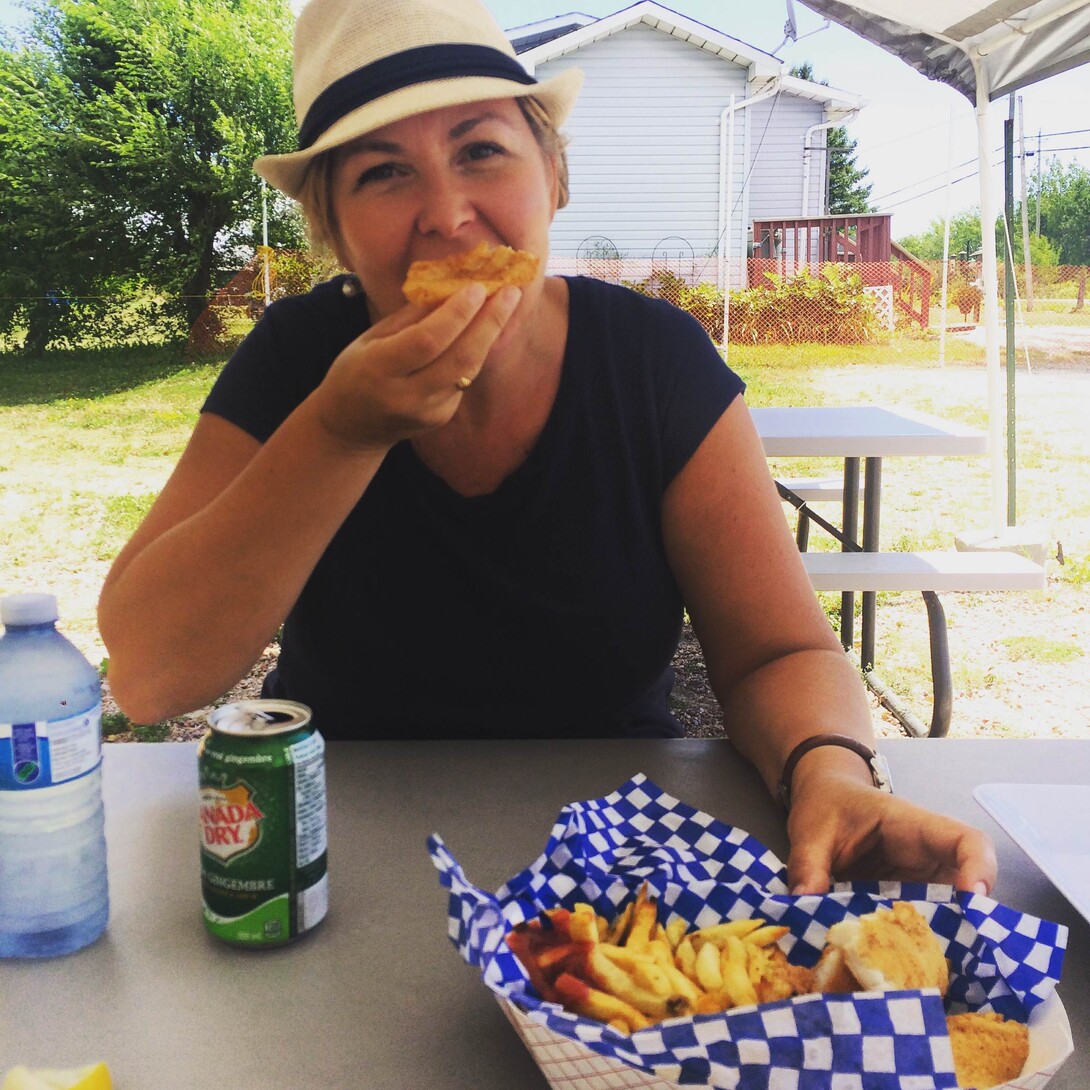 When you hear fish fry, do you think of a classic Canadian shore lunch? In this gastro mission, I head out to get hooked on Northeastern Ontario's tastiest fish and chips. Long before roads were built in the region, shore lunches were enjoyed by Indigenous Peoples and later by early Europeans like Champlain and Brûlé.
The beautiful and rugged landscape of Lake Nipissing, the French River, and upper Georgian Bay has been travelled by sailors, kayakers, fur traders, lumber tugs, and fishing boats of all sizes for centuries. Whitefish, perch, and pickerel have been the prized protein in the diets of them all and a stop at any of today's shore fish shacks will make you understand why.
Each place has its own special take on the classic fish and chips. As I embarked on my fish & chips road trip, I was also able to sample dishes like fish tacos and fish bites.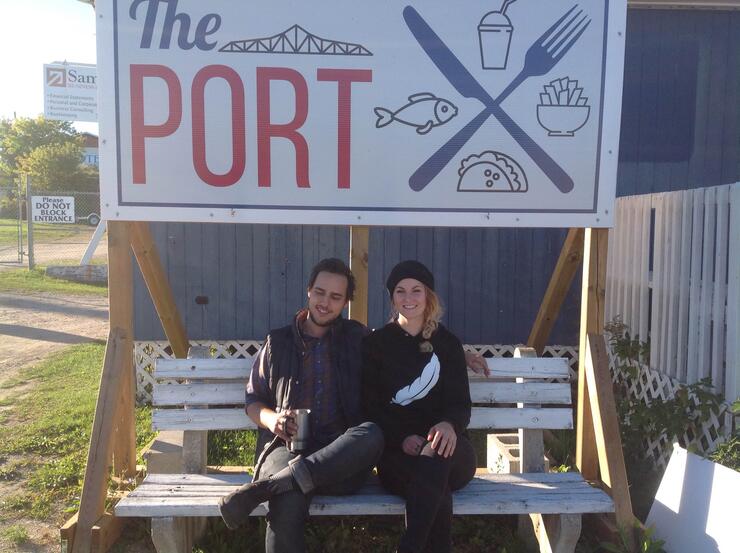 Let's get started in Little Current at The Port LC where the fish is fresh, and so are the ideas showing up on the menu. The commercial fisheries on Manitoulin have been going for generations, but Stephany and Jarod are spiriting a fresh take with their menu, which has something for everyone including the locavore, vegetarian, and pescatarian.
Starting with the classic fish and chips, The Port LC serves up a generous portion of lightly battered whitefish lightly breaded with secret herbs and spices, dipped into a non-traditional house-made tartar. The crispy fries are seasoned with thyme and salt. Like the shore lunches of yesterday, it is simply delicious. They say it's still the most popular item on the menu, but their tacos are quickly catching on.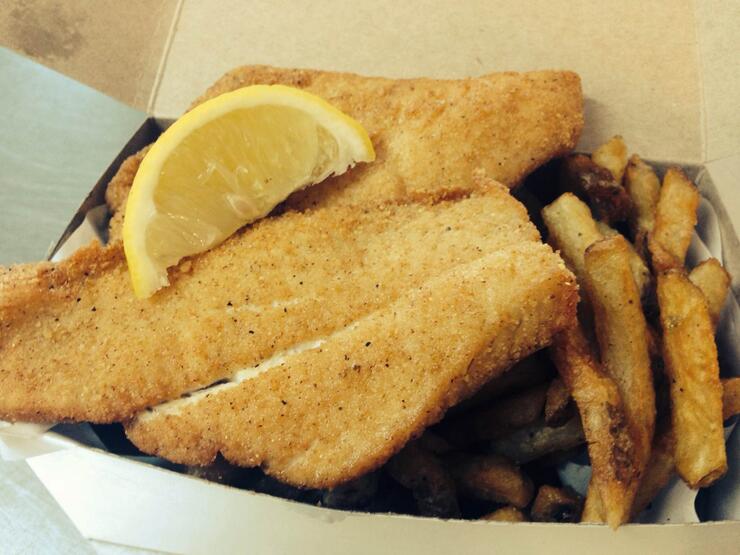 The Port LC is in Little Current and is the island's gateway community, accessible from the north via Hwy 17 and from the south via the ferry from Tobermory.
First settled in the late 1860s, Little Current grew into a major Great Lakes port with docks full of passenger freighters, sawmills on the western waterfront employing hundreds of workers, and visitors crowding into the town's three hotels.
On the south shore of Manitoulin Island, Providence Bay's Lake Huron Fish & Chips is another local hot spot. The resto/café is well known for its local fish, locally sourced beef burgers and vegetarian sandwich. Owner Matthew Garniss recently bought the 1930s McDermid's Home Hardware building in Providence Bay to serve as the new location for the Lake Huron Fish & Chips Co.
Straight across the open waters of Georgian Bay, or around by road through Sudbury, our next stop is Herbert Fisheries in Killarney. This family operation has a mission to bring fresh fish to the local public. Its Killarney-based red and white school bus has been well known to travelers from all over the world since 1981. The old bus was retired in 2014 and replaced with a brand new state-of-the-art building featuring a sit-down restaurant and fresh fish counter in the same great location. This landmark location proudly bears a "World Famous" sign affixed to its tin roof in honour of its designation by Canadian Living Magazine as one of Canada's top ten fish and chips restaurants in the country.
With over 33 years of success, their secret has to be the freshest catch around, friendly service, and BIG smiles! There's also a location in Sudbury that's open year-round, featuring a seating area, take-out, and a pre-order fish counter.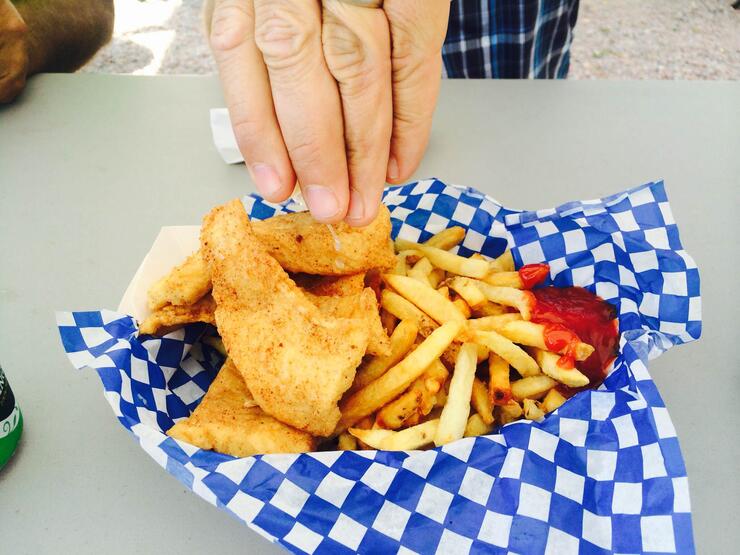 Undeniably, I am a whitefish fan—beer battered or lightly dusted, served with a slaw, crunchy fries, and zippy tartar! It all comes down to the hot oil treatment that makes deep frying worth it! Hot oil seals the batter and locks in the freshness of the fish, and for crispy fries – it's double frying / pre-blanching that makes crispy fries. There are so many debates as to what creates the best batter and how to make the crispiest fries.
Once you sample a few of my discoveries, you too will be hooked on finding the secrets. The fish and chips, I discovered, satisfy my big appetite with tradition and heartiness.
Tips for Making Your Own Crispy Shoreline Lunch!
If you like making your own fish and chips, try these batter or breading mixes:
Tempura style: Mix 1 egg, 1/2 cup ice water, 3/4 cup self-rising flour. Blend until still lumpy.
Beer Batter: Mix 3/4 cup flour and cornstarch, spiced up with paprika, garlic salt, salt & pepper. Add in ice cold beer until thin enough to dip your fish into.
Classic: Mix 1 egg, 3/4 cup blend of crumbs and cornmeal, 1/2 cup canned evaporated milk and ice cold beer to a thick/runny consistency.