Small-town gems in Northeastern Ontario
From award-winning distilleries, quirky theatres, fun boating adventures, and historic museums, Northeastern Ontario is home to tons of small towns full of amazing opportunities to explore.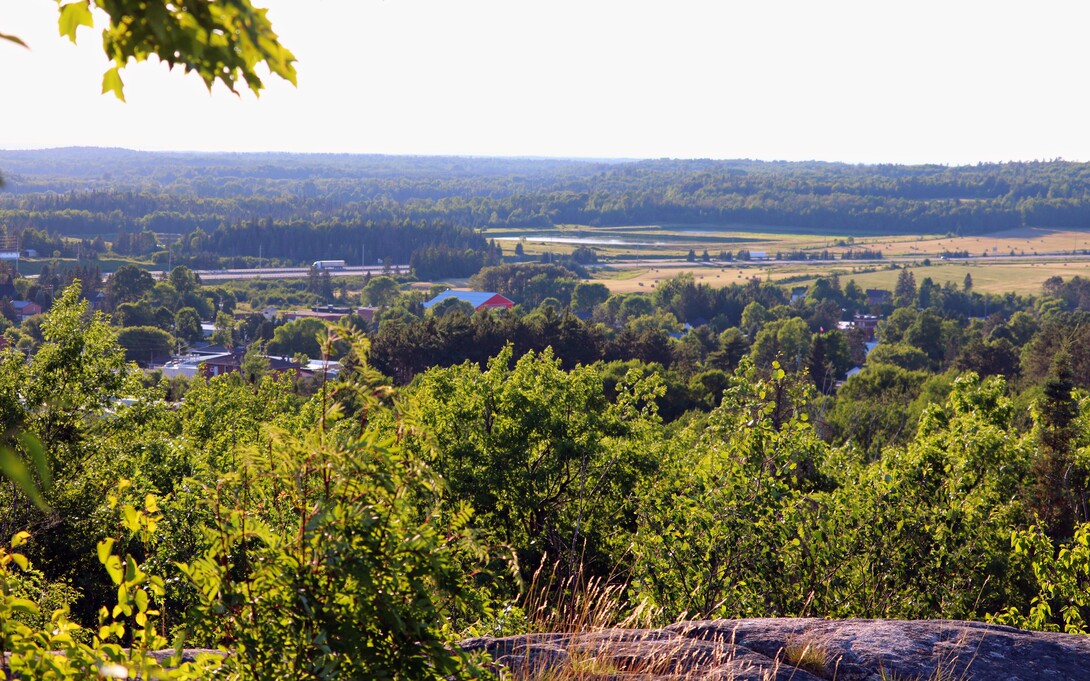 Small northern towns offer travellers plenty of hospitality, personality, and out-of-the-ordinary opportunities for memorable adventures. Here's our roundup of great places to hike, ride, golf, dine, and visit in Northeastern Ontario. 
About 450 million years ago, a giant meteorite crashed at high speed into what was then a shallow sea. Today, a huge crater known as the Brent Crater, about 3 km (2 miles) wide, remains in the township of Papineau-Cameron. You can visit the lookout point on the eastern rim of the crater on Brent Road in Algonquin Park, 32 km south of Highway 17, to take in stunning panoramic views. Follow the self-guided interpretative trail, 4-km round trip, from the road to the base of the crater.
Or if you'd rather ride than hike, head to the Voyageur Multi-Use Trail System, a network of hundreds of old logging trails covering more than 300 km between the Laurentian Mountains, Algonquin Highlands, and Ottawa and Mattawa Rivers. Go play in the dirt and explore by ATV, side-by-side, dirt bike, mountain bike, 4x4, or snowmobile (permits required). Stop off at Myrt's Family Restaurant in nearby Mattawa for a homemade pogo-stick or some wings after a day exploring outdoors.
Explore, dine and relax in Killarney
Killarney enjoys a deserved reputation for stunning natural northern beauty. Lace up your hiking boots for the 7-km loop trails starting right in the small village of Killarney on the North Channel of Georgian Bay, like the East Lighthouse/Tar Vat Bay trail and George Island Wilderness Trail. In nearby Killarney Provincial Park, take a canoe or kayak out for a paddle and soak in the sights that captivated Group of Seven artists.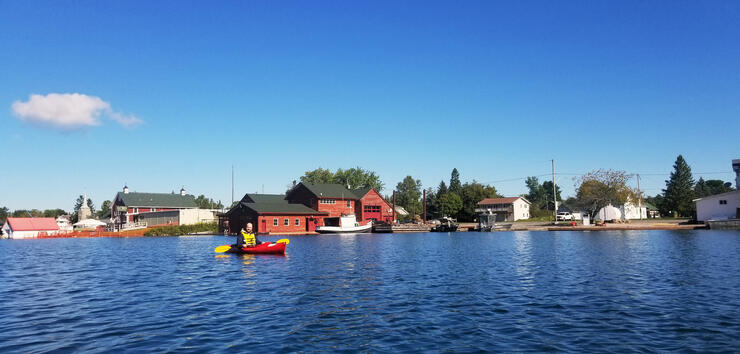 Refuel with locally-caught fish and chips from the famous Herbert Fisheries, or you can even take some fresh or frozen fish home with you from their fish market. Indulge in some resort luxury at Killarney Mountain Lodge–with numerous restaurants, accommodations, and activities on offer, this is a wonderful place to relax. Be sure to ask the concierge about booking a boating excursion with local guide Robert "Bungy" Herbert to get a closer look at the beautiful waters, islands, and coastline of Georgian Bay.
Cycle and discover history in Callander
Tucked into the eastern shore of Lake Nipissing, Callander is a hidden delight. For a wonderful day of cycling, ride the flat and peaceful 15-km Kate Pace Way from North Bay to Callander, enjoying views of the boreal forest, rivers and the lake en route. When it's time for a meal, a drink or a snack, take your pick from several delicious eateries, including the historic 1886 Lake House Bistro or The Breakfast House where breakfast is served until breakfast until 2 pm. Or, explore echoes of the past with the self-guided walking tour (remember, Callander was world-famous when the Dionne Quintuplets were born) and wind up your day with a walk down the level 2.5-km Cranberry Trail with lovely sunset views over Callander Bay.
Golf or climb in Powassan
Get exceptional views of the surrounding headlands when you hike, snowmobile, mountain bike, snowshoe or cross-country ski up the rolling terrain of The Pines interpretative trail system to Powassan Mountain. In addition to the 1-km Lookout Trail, there are two other picturesque routes: Big Bend trail (1.5 km) and Genessee Trail (1.1 km). Before or after your ascent, pop into Echoes Restaurant for a to-go bagged lunch with soup, sandwich, giant cookie and a drink. If golf's your game, choose from Highview with 18 holes over rolling terrain and lots of opportunities to spot wildlife like foxes or deer, or Clear Springs which offers a well-groomed 18 holes and especially lovely views from the clubhouse. 
Seek gold history and natural beauty in Kirkland Lake
Take a trip back in time to gold fever and pioneer days at The Museum of Northern History. The museum, which also houses rotating contemporary art exhibits, is found in the Sir Harry Oakes Chateau, the grand former home of the rags-to-riches gold prospector and mine owner, built in 1930. Feeling hungry? You can pre-order a bistro-style take-out dinner made with fresh local ingredients at The Dish Café (check their site for current days of operation) or go for hearty pub fare at local favourite "The Fed" (Federal Tavern). Camp or spend the day at Esker Lakes Provincial Park, 30 minutes from Kirkland Lake, with excellent opportunities for canoeing, fishing, hiking and birdwatching at the series of small kettle lakes within the park boundaries. When the snow flies, you can rent a snowmobile to explore the area's trails.
Find the arts, fine spirits and a wildlife selfie in Hearst
Take part in Hearst's lively arts scene: Visit the Conseil des Arts de Hearst Facebook page for details for virtual and in-person art exhibits, music and more. Go to the movies, offered in both French and English, at the Hearst Theatre downtown (sorry, the deep-fried chocolate bars are only available in the summer). Stop by the grounds of Université de Hearst to say you've been to the smallest university in the world, and don't miss a chance to take a selfie with the moose and wolves wildlife sculptures at the Visitors Centre.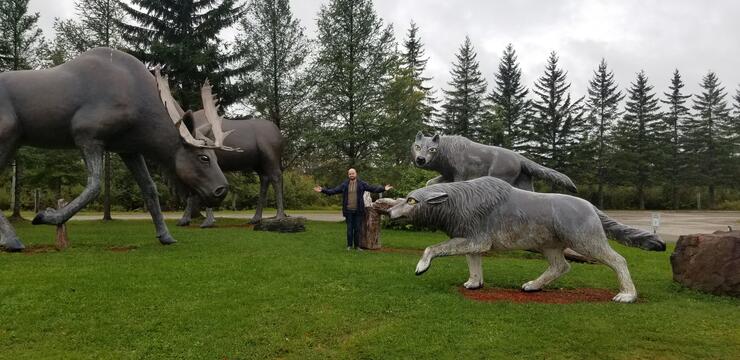 You can shop at La Maison Verte, a social enterprise that sells plants, flowers, produce, garden tools, decor, and gifts in addition to growing seedlings for reforestation projects. John's Restaurant and Pizzeria is the local go-to for hearty homemade soups, pizza and Greek dishes. Look for the award-winning Loon vodka, rum, and liqueurs by family-owned Rheault Distillery, a perfect northern souvenir.
Currently visitors can call ahead to arrange an order pick up at the distillery, and the family offers tours and tastings in their living room–where their giant copper still is located! 
No matter what sort of Northeastern Ontario experience you're looking for, exploring the arts, culture, and access to nature that the region's small towns have to offer can be one of the most rewarding aspects of a northern road trip.