6 Best Things to Do in Kirkland Lake: The Town that Gold Built
Once home to one of the world's largest goldmines, this historic small town is now a Northeastern Ontario paradise for outdoor lovers.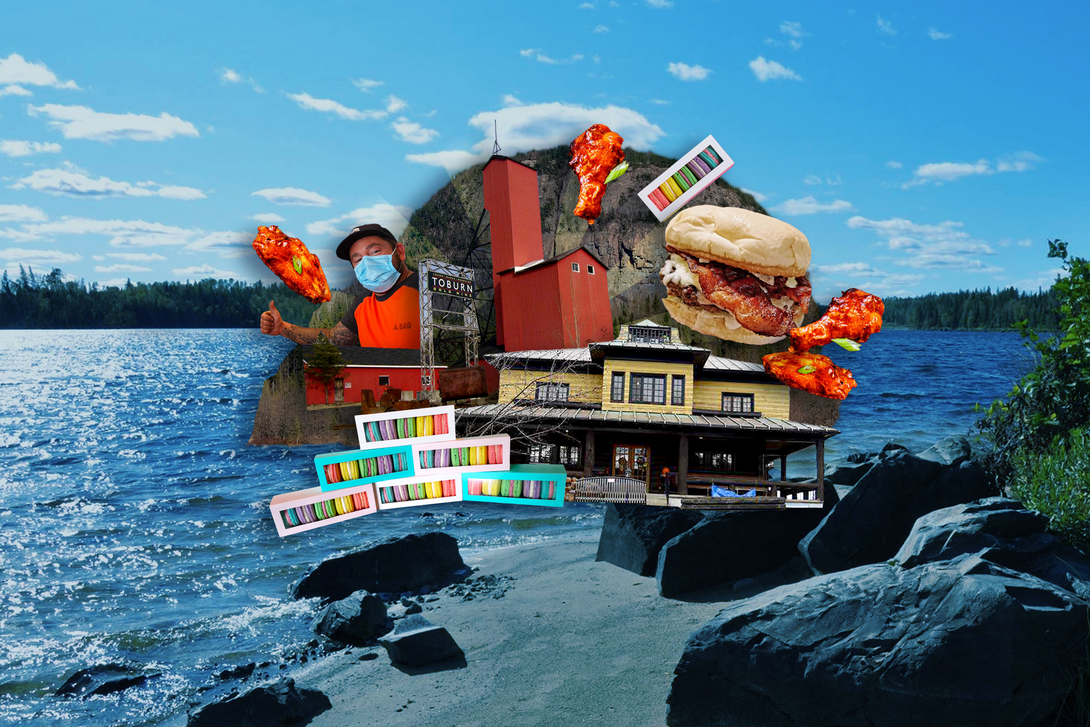 Located in the heart of northern Ontario on the Quebec border, the small town (population about 8,000) of Kirkland Lake offers plenty of year-round outdoor fun, plus a rich gold mining history and some contemporary cultural outings too. It's about a six-hour drive from either Toronto or Ottawa and about three hours from North Bay or Sudbury.
Here are the best things to do in Kirkland Lake.
1. Travel back in time: the gold rush, a gift shop and one unsolved murder
The Museum of Northern History is an imposing sight: it's found in a beautifully restored northern-style structure known as the Sir Harry Oakes Chateau. Built in 1928, it was the home of the founder of the Lake Shore Mine (who died in a mysterious unsolved murder in the Bahamas in 1943). Tour the museum to take in art exhibits as well as intriguing artefacts from the early pioneers and prospectors and displays about the area's geography and economics. The gift shop is a great place to pick up locally crafted items like soap and pottery, as well as books on northern history—like Maggie Wilson's new biography of New York socialite-turned-prospector, Caroline Maben Flower. 
2. Dig into mining: nicknamed the golden mile, KL is packed with prospecting history
Want to tour a gold mine? One interesting stop along Hwy 66 is the non-operational Toburn Gold Mine. It offers a self-guided outdoor tour (with both QR codes for a YouTube video and informational signs) to explain the history and workings of the mine, equipment, and geology.
At the east end of town on Government Road is the Kirkland Lake Miners' Memorial, dedicated to the many thousands of miners that worked in the town's seven gold mines. It features a large rendition of a mining headframe crafted with black granite stone and authentic stone bolts from a mine, and bronze figures made in the likeness of real miners.
And, check out the Mining Heritage Tour, a concise and very readable summary of the area's geology and history. Only two other mines in the world have produced more gold than those in Kirkland Lake!
3. Play outside: beaches, mountains, and trails for hikers, atv riders, anglers, and adventurers
Surrounded by trees, rocks and water, Kirkland Lake is an ideal place to explore the outdoors. In the winter, head out on the area's snowmobile trails (Kirkland Lake is in OFSC's District 14) and if you don't have your own sled, you can rent one locally. There are also free snowshoe and cross-country ski trails behind the Joe Mavrinac Community Complex.
Come summer, Crystal Beach is a popular local go-to for swimming, boating, beautiful sunsets and kicking back. Other favourite beach spots include Culver Park, Kenogami Lake, and Round Lake. Hikers can head to Kap-Kig-Iwan Provincial Park to see the whitewater of Englehart River. Or, take in spectacular views at Mount Cheminis. 
While there isn't a dedicated trail network in Kirkland Lake, mountain bikers can discover the trails at Esker Lakes Provincial Park or ride like the locals on bush roads along the highway towards Matheson. Local anglers like fishing for bass on Gull Lake, while ATVers have fun on the bush roads on the Crown land that surrounds the town. For motorcyclists, consider this loop filled with sparkling lakes and fall colours: from the TransCanada (Hwy 11), east to the Hwy 66 junction into Kirkland Lake and into Quebec, south to the eastern shore of Lake Temiskaming and back to Hwy 11. If you like to kayak or canoe, residents recommend Englehart River, Larder River Waterway, and Esker Lakes Provincial Park.
Kirkland Lake is known as a hockey town, producing more than its fair share of star players—Foster Hewitt even said that Kirkland Lake was "the town that made the NHL famous." The Kirkland Lake Gold Miners are members of the Northern Ontario Junior Hockey League, and home ice is the Joe Mavrinac Community Complex. The complex is also home to amenities like a 25-metre lap pool, lazy river and water slide, warm leisure pool, two gyms and a squash court. 
5. Take a break in Kirkland lake
Accommodations in Kirkland Lake include the conveniently located Microtel Inn & Suites by Wyndham Kirkland Lake with an indoor pool and hot tub, as well as Prospector's Inn offering friendly service and suites with full kitchens. For anyone hitting the road (or the snowmobile trails across the road) Prospector's offers lunches to go and ready-to-heat dinners. The Comfort Inn is also a popular option. 
6. Grab a bite: cupcakes, A farmer's market, burgers and more! 
Sweet tooths (and espresso lovers) will love Plum Blossom Bakery Café, which has sold an incredible 50,000 cupcakes to date, as well as other yummy baked goods. Find quick, fresh and tasty meals at Gimme-Wun, an indie with a menu that includes wraps, fish and chips, burgers, salads and more. Summer visitors be sure to stop by the Kirkland Lake Food & Artisan Market, open seasonally on Tuesday afternoons from late June to early October. Vendors offer delicious produce, baking, local honey and more. The Teck2Go features a full roster of burgers to suit every taste, from the Canadian Maple to the Thunder Crunch Chicken.
If you're craving Chinese, stop by Pagoda for classic Chinese-Canadian fare. Vienna's Bar & Grill has excellent weekly specials including pav bhaji (mashed vegetable curry served with bread rolls), pork ramen, and samosas with butter chicken. Looking for classic, hearty pub fare? Check out The Fed and watch for daily dinner specials to suit everyone's taste.  
Now that you know the best things to do in Kirkland Lake, it's time for a road trip! Discover the northern history and golden charm of Kirkland Lake.