This Is One of the World's Rarest Species of Trout
Found in just 12 remote Northern Ontario lakes, the aurora trout is a special fish. Learn all about where to find it–and how to catch it, here.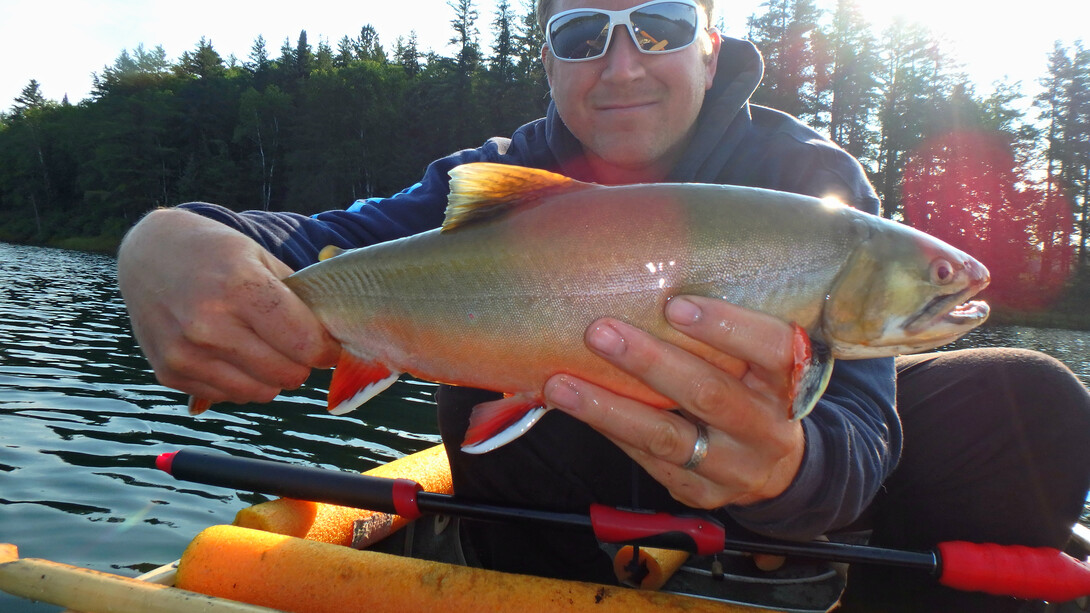 Northeastern Ontario has a big angling secret. 
While the most intrepid anglers may be aware of this fishy gem, it's still a bit of a hidden secret to most in Ontario and throughout the world. We're talking a trout of pure beauty, with colours so amazing that it was named after the Northern Lights.
For those who don't know what I'm talking about, this isn't a brook trout! Technically.
What is an aurora trout?
The aurora trout is a phenotypical colour variant of a brook trout. This means that it's a brook trout, but one that has evolved to have a different colour and physical look, while being very similar genetically. It was once considered its own separate species, but was later proven to be a colour variant of the brook trout. In 1987, the aurora trout was classed as an endangered species but that classification has since been removed with the distinction that the aurora is not its own separate fish species.
A Brief History of Aurora Trout
The aurora trout originated in Whirligig and Whitepine Lakes (both found in Northeastern Ontario), where they were said to co-habit with brook trout, but thought to spawn separately. Indigenous communities in the area knew about the unique trout, and referred to them as "grays" or "gray trout". When European anglers first caught sight of the fish in 1925 - while on a recreational fishing trip guided by a local Indigenous man known as George—it made quite a splash. 
In his 1925 account of spotting this new fish in Field & Stream magazine, Wm. H. Rinkenbach writes:
"It is truly magnificent in appearance. The unvermiculated, rich bluish silver or plum colour of its back and upper sides, flecked with single scales that have a golden gleam, shade into the gleaming silver of its flanks, through which show occasionally the rudiments of beauty spots of red and blue similar to those found in the brook and brown trout. The belly is of creamy white and the white edged fins are a solid madder red, lacking the wavy striations of green and black found in the brook trout."
Whirligig and Whitepine lakes are located in Lady Evelyn Smoothwater Provincial Park, a backcountry park which runs from Temagami all the way to just south and a tiny bit west of the Town of Elk Lake. The aurora trout in these lakes were killed off due to acid rain in the 1960s.
Fortunately, a small population of these fish had been removed and retained at Hill's Lake Fish Culture Station in Englehart (a government-operated fish hatchery) predating the acid rain. Since then, the region has recovered, and Whirligig and Whitepine lakes have been restocked with fish generated from the small population retained at Hills Lake. These lakes have been closed to angling.
Angling for Auroras 
In 2018, however, the Government of Ontario stocked nine lakes for fishing. Only three of these lakes are open each year for angling from August 1 to October 15. The lakes are on a rotating cycle, which creates better angling opportunities and the potential for bigger fish and healthier stocks.
These 9 lakes include: 
Zone 7: Borealis Lake
Zone 8: Timmins Township Lake # 57
Zone 8: Wynn Lake
Zone 8: Big Club Lake
Zone 8: Nayowin Lake
Zone 8: Pallet Lake
Zone 10: Carol Lake
Zone 10: Tyrrell Township Lake #21
Zone 11: Liberty Lake
The lakes located in Northeastern Ontario are in Fisheries Management Zone 8, and it should be noted that live fish cannot be used as bait in these lakes.
According to the 2018 Fishing Ontario Recreational Fishing Regulations Summary:
"A limit of 1 Aurora Trout can be kept daily with a sport license and there is a 0 limit meaning they cannot be kept for people with Conservation Licenses."
Big Club Lake
Located closest to the Town of Matheson and City of Timmins, very close to Nighthawk Lake. The area offers numerous opportunities for stays such as pristine lodges such as Horwood Lake Lodge or Big Bear Camp, camping on Crown land, or campsites like the Big Water Campground. Nearby Timmins also has more luxurious stays such as the Microtel Timmins, Hampton Inn, Cedar Meadows Resort, and Holiday Inn Express & Suites to name a few.
Pallet Lake
Located closest to the Town of Kirkland Lake. This area also offers numerous opportunities for camping on Crown land. Burt Lake Lodge is a short drive away and offers cabins for rent on Burt Lake, and the Town of Kirkland Lake has the Kirkland Lake Microtel as well as a couple of other hotels/motels.
Nayowin Lake
Located closest to the Town of Gogama. This area also offers numerous opportunities for camping on crown land as well as many different lodges and outfitters in and around the town of Gogama, Elk Lake, and Mattagami Lake. Auld Reekie Lodge is a popular choice and gives you that cottage feel and easy access to the water with many amenities and great service.
My Top Baits
From my personal experience targeting auroras, I feel that if you're confident fishing for brookies with bait in a similar setting, then you should feel confident using that same bait for auroras. My top three baits for aurora trout are:
Marabou Jig     
Small Spoon
Inline Spinner
Tips for Knocking the Aurora Trout off your bucket list
Hopefully, I've hooked you into visiting beautiful Northeastern Ontario and attempting to catch yourself an aurora trout.
To increase your odds of success, here are a few tips for knocking this colourful trout off your bucket list.
Bring Proper Equipment
Most of the stocked aurora trout lakes do not offer the easiest access or the best boat launches so bringing a boat that is smaller and easier to launch and transport will help prepare you to catch your first Aurora (canoes are very effective).
Electric Motor
Most aurora trout lakes are very small bodies of water, and an electric trolling motor can effectively take you anywhere you would like to go without disturbing the fish.* They also offer slow trolling speeds which is certainly more effective if trolling.
*Some Aurora Trout lakes do not condone the use of gas motors. Check before you go.
Electronics
As in most fishing, fish finders are a great way to find fish and they can allow you to offer the fish the best presentation to get that bite while learning how the fish react.
Early Season
While normally a brook trout bite may pick up greatly in the fall, I would recommend not waiting too long on our stocked lakes to catch an aurora. Remember these fish have not seen a lure in 3 years and in some cases they may have never seen a lure, also the lake will most likely have traffic and anglers will catch and keep their limit, slowly lowering the number of fish in the lake and adding more pressure to the lake. The earlier you go once the season opens the better your odds of catching fish.
Try Again
Don't get discouraged if you don't initially succeed! One lake may not be as successful as another so if you target the lake for a day or two without any success, try one of the other aurora lakes. Keep in mind these lakes are typically relatively close together so switching lakes shouldn't be too challenging if you allow yourself enough time.
For more information and directions to the open aurora lakes this upcoming season visit FishONline. FishOnline is a government-operated fishing atlas that provides information on most of the lakes in our province including stocking, depths, species, regulations, and much more.