5 Multi-Adventures to Discover in Northeastern Ontario
Escape the usual just a few hours north of the GTA. Varied terrain, quiet roads, and flowy trails—the North is calling.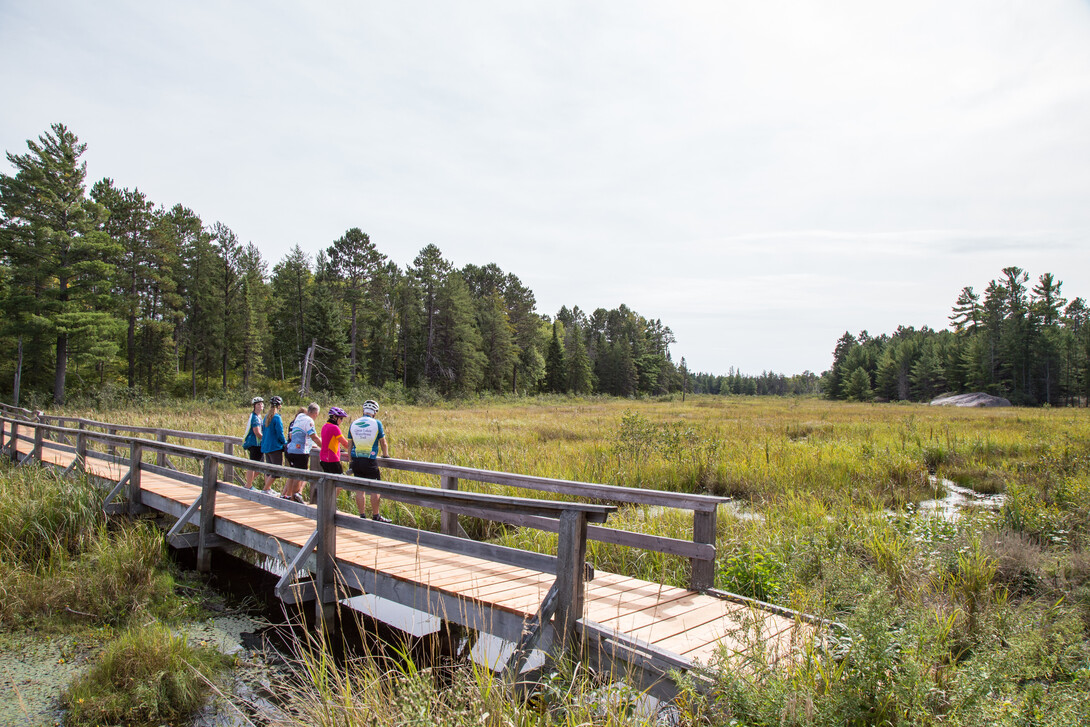 There is a song by Canadian rock icons The Tragically Hip that exemplifies Northeastern Ontario's lesser-known, but soon-to-be-discovered multi-adventures: "The Last of the Unplucked Gems."
There is so much to be discovered in Northeastern Ontario, there truly is something for every outdoor enthusiast! A trip to the North offers you the chance to ride on endless gravel backroads with little traffic and long sweeping hills, hike rugged backcountry trails and paddle historic waterways untouched by time. Northeastern Ontario's cycling experiences are the perfect blend of adventure and wilderness with a touch of urban comfort and a unique Northern culture.
Getting to Northeastern Ontario from the USA
Northeastern Ontario offers a unique and thrilling experience for cyclists looking for adventure. With its scenic routes, diverse landscapes, and abundant wildlife, the region is perfect for those seeking an escape and a true northern experience. 
Travelling to Northeastern Ontario, visitors can either drive or fly into the region. Driving from the USA takes around 8 hours from Detroit while visitors arriving by air can connect in Toronto or Ottawa and catch a quick flight into the region's major cities, which include North Bay, Sudbury, or Timmins. Once arrived, visitors can expect to be immersed in the beauty of nature, with the chance to cycle through forests, along lakes, and over rolling hills. In addition to the large variety of cycling routes, Northeastern Ontario also offers a range of activities such as remarkable hiking trails, canoeing, fishing and more, making this multi-adventure destination perfect for every visitor. So pack your bags, grab your bike, and head to Northeastern Ontario for an experience like no other! 
Note: As of late 2022, all pandemic-related restrictions to enter Canada have been dropped. Proof of vaccination or a negative test are not required. For more information visit here.
4. The Historic Voyageur Route: Red Toque Tour
Following the well-worn trails of First Nation trade routes and clad in the iconic Red Toque, the Voyageurs embodied the freedom of the endless spaces of Northern Ontario's rugged wilderness. Modern-day adventurers will discover this storied past cycling on quiet backroads of the Voyageur Cycling Route, paddling heritage waterways and hiking along historic portages.
5. The Fresh Farmstand Tour: Farmstand 40
An active adventure to local farm stands in Almaguin Highlands is an intimate experience where you can engage with local farmers and pick up fresh local produce, honey, maple syrup, preserves, and baked goods at roadside stands. The Great Powassan and Area Farmstand Tour has grown since 2020 when it was first introduced to include a 40 km gravel ride affectionately known as the Farmstand 40. Our only recommendation when cycling the tour: don't put all your eggs in one bike basket :) Savour those fresh goodies on any one of the handful of local hiking trails like The Pines boasting beautiful views of the surrounding highlands from which the area gets its name. To top off the adventure, a leisurely sunset paddle along the South River is the perfect conclusion to this peaceful journey.