23 Adrenaline Rushes Found Only in Ontario
Summer or winter, seize the season with these heart-racing Ontario adventures.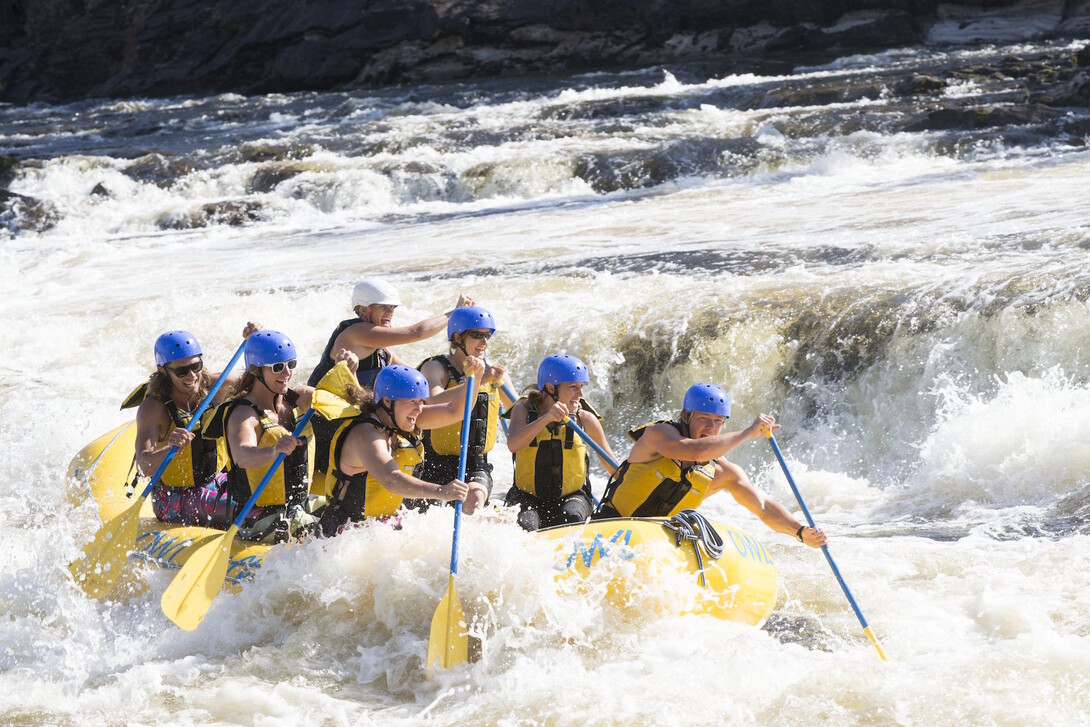 Does your adventure bucket list involve outdoor activities like ice climbing, shredding powder slopes, kayaking whitewater rapids or catching air on your bike or board? If so, you might be an adrenaline junkie—and Ontario is the perfect place to get your fix.
Find our picks for the most thrilling activities and tours in the province below. Proceed with caution? …Yeah, right.
Brave Canada's longest suspension bridge and ontario's longest zipline
Located along the towering cliffs at Eagle Canyon Adventures, just 45 minutes from Thunder Bay, you'll find two epic experiences: walking a 600-foot-long suspension bridge 150 feet above the canyon floor, and flying across the canyon on Ontario's longest, highest and fastest zipline.
Can't get enough of flying through the air? Discover other extreme ziplines in Ontario.
Stand atop the Sleeping Giant
Hike the steep trail at Sleeping Giant Provincial Park to the top of Thunder Bay's 50-million-ton mascot. The scramble to the top will have you practically crawling on your hands and knees in places and negotiating the narrow switchbacks is sure to get your heart pumping. Once at the top, the view from over 900 feet above Lake Superior is nothing short of breathtaking.
Storm-Watch on the Great Lakes
These freshwater monsters are at their fiercest during autumn and winter gales. Book a warm and cozy room in a lakeside lodge at the following wave-watching hotspots for the ultimate access to nature's raw power. On Lake Superior, witness liquid mountains pummel the shores of Michipicoten Bay at Rock Island Lodge—their Fall Gales Photography Workshop is perfect for storm-hungry shutterbugs.
In Southern Ontario, head for the village of Port Stanley on Lake Erie—thundering haystacks explode across the pier just a few steps from the quaint Inn on the Harbour.
Take flight above Lake Superior in a vintage airplane
Departing right from downtown Thunder Bay, Wilderness North Aerial Tours offers flight-seeing high above the city, lake and surrounding countryside onboard a legendary DeHavilland Otter.
Ride the rails on the Agawa Canyon Tour Train
The fabled Agawa Canyon Tour Train is one of Northern Ontario's most famous attractions. Departing from downtown Sault Ste. Marie, you'll never forget this 183-km journey showcasing the rugged and ancient beauty of Algoma Country. Ride in the fall, when Ontario's hardwood forests glimmer red and gold beneath the sweeping trestle bridges.
Stay overnight at a remote Lake Superior lighthouse
Canadian Lighthouses of Lake Superior is dedicated to preserving and promoting lighthouses situated along the lake's rugged northern shoreline. Discover the history behind these iconic structures by joining a guided weekend excursion to Porphyry Island Lighthouse. Spend three nights in the lightkeeper's quarters, enjoy a sauna by the shoreline, and learn what it took to shepherd this remote light station. If the weather turns, you may even witness Lake Superior's famously treacherous wind and waves.
Race a Dragon Boat across a frozen river
One of North America's largest living history attractions, Fort William Historical Park hosts Northern Ontario's Ice Dragon Boat Challenge in mid-February. Register a team and race across the frozen Kaministiquia River in specially designed dragon boats propelled by up to 10 paddlers with ice pick paddles. While you're here, participate in Thunder Bay's other Voyageur Winter Carnival activities—like rolling through the snow in a Zorb ball.
Backcountry ski lake-effect powder
Algoma Country's mountainous geography and proximity to Lake Superior combine to endow the region with nearly 4 metres of fluffy powder annually. Base yourself at Bellevue Valley Lodge and make turns on over 2,000 acres and 700 vertical feet of untracked, powder bliss—right out the back door. Go in February and shred SnowFlea TeleFest, Ontario's only backcountry ski festival.
Floatplane into a Boreal wilderness
Adventure into the world's largest intact Boreal forest aboard a panoramic floatplane flight, and then stay at a remote wilderness outpost inside Wabakimi Provincial Park. See why Wilderness North promises "Adrenaline and Serenity, Delivered."
Climb a Frozen Waterfall
Experience the euphoria of climbing a curtain of chandelier ice on the north shore of Lake Superior—one of the top ice climbing destinations in North America. Join Outdoor Skills and Thrills for a guided climbing excursion out of Thunder Bay, or ask Sault Ste. Marie's Superior Exploration about their climbing training programs.
Ride bare-rock mountain bike trails in Canada's Moab
Singletrack in Sudbury is so good, some riders have compared the city's mountain bike trails to the slickrock paradise of Moab, Utah. Put your knobby tires to the test on the bare rock ridges of the Precambrian Shield at Walden Trails Park, Kivi Park and Lake Laurentian Conservation Area.
Paddle Ontario's longest free-flowing river
Join a guided wilderness canoe trip with MHO Adventures to make your own epic pilgrimage on the mighty Missinaibi River—Ontario's longest free-flowing paddling route. Experience thrilling rapids, the raw, resonant power of Thunderhouse Falls, and the historic Cree settlement of Moose Factory on the James Bay coast on trips ranging from seven days to 24 days.
Snowkite across a frozen lake
Snowkiting is one of Ontario's most thrilling winter adventures. Harness the wind to sail across a frozen lake using a kite and skis or a snowboard. Superior Kiteboarding is your go-to for riding the ice on the north shore of Lake Superior; contact them for equipment, lessons, and advice on the sport. In Central Ontario, Elmhirst's Resort dedicates a whole weekend each year in January to learning the basics of snowkiting on Rice Lake.
Paddle or surf an inland sea
Depending on your adrenaline appetite, Wawa-based outfitter Naturally Superior Adventures has just the right paddling experience to kick your adrenal glands into high gear. For a high-intensity thrill, try sea kayak or standup paddleboard surfing on Lake Superior at the mouth of the Michipicoten River—the standing waves that form here are just steps from the cozy suites and warm hospitality of Rock Island Lodge. For a lower intensity experience, travel the world's largest inland sea in a replica 36-foot Voyageur canoe and camp under the stars on remote beaches.
Snowshoe-camp a winter wilderness
If the idea of sleeping outside in Northern Ontario during winter—when the temperature plunges to -20°C or -30°C—sets your pulse racing, sign up for a guided trip with Lure of the North. Based near Sudbury, Lure of the North leads winter snowshoe-camping trips using traditional skills, winter moccasins, and cotton anoraks, pulling freight toboggans, and sleeping in a canvas tent equipped with a wood stove. Their popular Training Camp is a four-day primer on the basics of camping in winter without sacrificing comfort —and includes a wilderness plunge in a frozen lake.
Paddle a millennia-old canoe route
Plied by Canada's Indigenous peoples in birch-bark canoes, Ontario's rivers and lakes have served as watery highways for thousands of years. Explore one of these nastawgan—or water trails—on the beautiful French River, Canada's first designated Heritage River. The fractured, rapid-filled channels and hundreds of small islands and islets make the French River Delta an exciting destination for canoeists and kayakers. Self-guided and guided trips are available through Killarney Outfitters and Blackfeather.
Go Heli-Dogsledding
Mush 60 km of exhilarating winter trails with Canada's most experienced purebred Siberian husky sled dogs. Winterdance Dogsled Tours has the distinction of being the only Canadian Siberian husky kennel to finish both Alaska's epic 1000-mile Iditarod race and the 1,000-mile Yukon Quest. Add to the excitement by starting your dogsledding adventure with a private helicopter flight from Toronto to the pristine winter wilds of the Haliburton Highlands. There are lots of places to go dogsledding in Ontario.  
Howl with wolves
Hear the eerie sound of wolves calling to you in the darkness at Haliburton Forest's Wolf Centre. Visit the Wolf Centre observatory to catch a glimpse of the Algonquin wolf pack as they wander through their 15-acre forested environment. While you're here, take to the trees on the world's longest canopy walkway with Haliburton Forest's four-hour Canopy Tour.
Learn to whitewater canoe or kayak
Enter the exciting world of whitewater paddling at Madawaska Kanu Centre—one of Canada's premier whitewater schools. Situated on the challenging rapids of eastern Ontario's Madawaska River, MKC's experienced instructors deliver one-day, weekend and five-day courses for both new and seasoned paddlers to master skills and build confidence on the water.
Surf the Great Lakes
You don't need an ocean for surfing. Head to the sandy shores of Lake Huron—also known as Ontario's West Coast. The charming town of Kincardine has emerged as one of Canada's premier surfing destinations. Rent boards or sign up for a lesson at SurfSUP Eco Shop to experience the swell for yourself. Then brag to your friends about doing something they definitely thought was impossible: Surfing in Ontario.
Whitewater raft the Ottawa River
Experience some of the best whitewater rafting in the world on the warm waters of the Ottawa River, just minutes from Canada's capital. Owl Rafting's high-intensity guided river trips deliver five adrenaline-filled hours of whitewater thrills on the river's class IV rapids. See a video and learn more about Ontario's whitewater rafting destinations. 
EdgeWalk Toronto's CN Tower
Test your nerve high above the city of Toronto on the world's highest, full circle hands-free walk—on a five-foot-wide ledge encircling the top of the CN Tower, 116 stories above the ground.
Jet Boat the Niagara Gorge
Hold on tight as Whirlpool Jet Boats speeds you through the enormous whirlpools and class V rapids of the Niagara Gorge below iconic Niagara Falls. Choose to stay dry, or opt for their 55-mph "Wet Jet" for a truly wet and wild, one-hour thrill ride. While you're in Niagara, why not test your mettle on WildPlay's Whirlpool Adventure Course—a vertigo-inducing series of suspended obstacles and ziplines high above the world-famous whirlpool and gorge. 
Satisfy your adventure cravings with these and more great Ontario adrenaline rushes!