Ontario's Best Rivers for Paddling Day Trips
These rivers offer the perfect quick escape for paddlers who are short on time.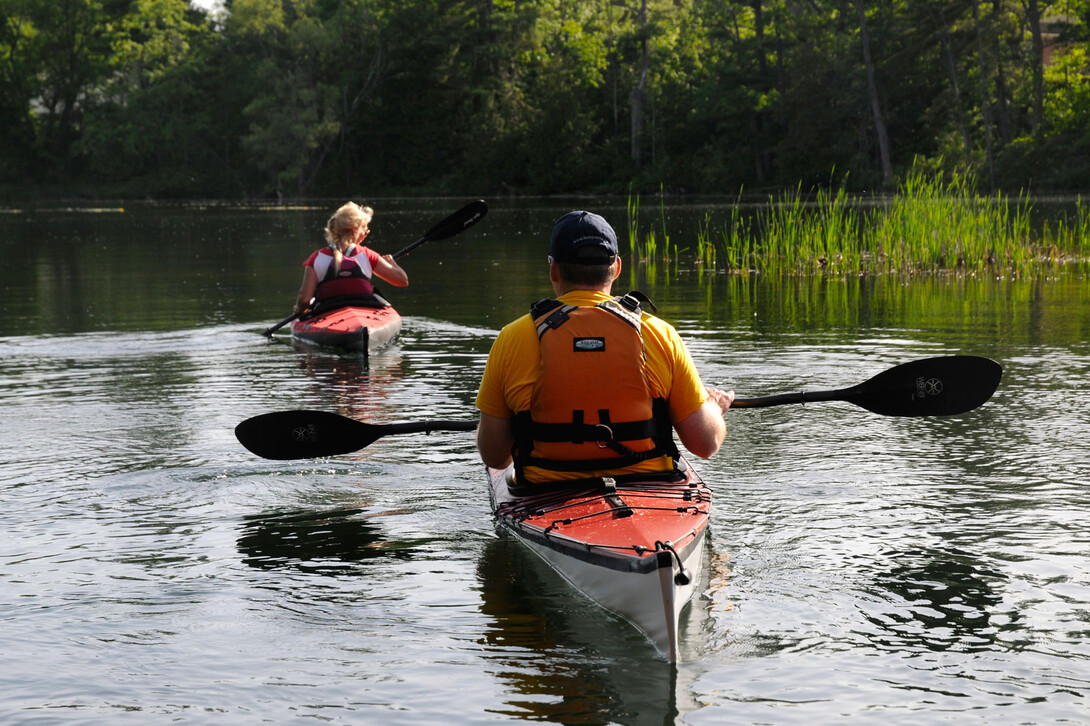 Ontario's incredible diversity of rivers reward paddlers of all types, from quiet water canoeists to whitewater thrill-seekers. Even better, many of these amazing waterways are just a short drive from urban centres, making them perfect for day trips or spontaneous weekend camping or lodge getaways.
Others may be right in your backyard, inviting you to dip your paddle after work. Use the Ontario Paddling Trip Guide to plan an amazing adventure.
French River
This Canadian Heritage River forms the western link in a historic waterway connecting the Ottawa River to Lake Huron. Pine-clad hills and pink granite bluffs cradle thundering rapids, scenic channels, and sparkling blue lakes. Today, canoeists still travel centuries-old portages and camp on smooth-rock sites unchanged since the last Ice Age.
Day-trippers can put-in at Hartley Bay Marina west of Highway 69 to explore the island-studded waters of Wanapitei Bay—locals recommend the loop around Boom Island. Or launch east of the highway at French River Supply Post to paddle the passages around Fourmile Island.
Most visitors to French River Provincial Park plan to spend at least a night at one of the waterway park's hundreds of backcountry campsites or at a lodge. Popular, easy-to-organize routes include a loop through the Main and Eastern outlets via The Elbow—three days is adequate for novice–intermediate paddlers to reach Georgian Bay's maze of rocky islets before returning upriver.
A two-day loop best suited to kayakers and portage-adverse canoeists travels around Fourteen Mile Island via the French and Pickerel rivers. Most routes can be paddled all season long.
Canoe and kayak rentals are available from Hartley Bay Marina, French River Adventures or French River Supply Post. Stay in comfort at Wolseley Lodge, The Lodge at Pine Cove or other lodges and enjoy day paddling trips. 
View this river on Google Maps.
Read The Ultimate Guide to Planning a French River Canoe Trip to learn more.
Goulais River
Near Searchmont, in Northern Ontario, the wild and scenic Goulais River cuts through the dense forests of the Canadian Shield as it flows towards Lake Superior. Sault Ste. Marie area paddlers who are comfortable in moving water and rapids up to class II can enjoy a couple of terrific day trip options on the Goulais.
North of Searchmont, the Goulais is an intermediate to advanced river—the portages are not maintained and are often located very close to the brink of large rapids and waterfalls. Below Searchmont, the lower Goulais is a novice-friendly run with a mix of class I-II and flatwater.
Put in south of Searchmont off Highway 556 (Ranger Lake Road) and paddle west to the bridge on Highway 552. Prime water levels for this stretch are 7.8–8.1, with a minimum of 7.65. Check current levels here. Canoe rentals, accommodation, shuttle and route suggestions are available through the riverside Mountainview Lodge on Highway 556.
View this river on Google Maps.
Thames River
In southwestern Ontario, the Thames River offers a multitude of options for short and sweet paddling adventures. Most section can be paddled early spring through late fall—check the river flow data (real time, with recommended minimum flows for each route) before heading out. For placid, rural paddling with some easy swiftwater, try the 8.6-km Ingersoll to Putnam route.
For kayakers and canoeists with some experience paddling swiftwater, the 7-km run from Fanshawe Dam to North London produces the most rapids (class I-II) of any section of the Thames. Large woodland parks on both banks give this urban paddling route a secluded feel. Get more detailed route info and download a map here.
Just west of the city of London, the 12-km Kilworth to Delaware route features unexpectedly wild landscapes—including undeveloped islands and the cliffs and mature hardwood forest of Komoka Provincial Park. The paddling is exciting too, with frequent swifts and several class I-II rapids. Autumn is a great time to paddle this section, when shorter days and cool nights set the forest canopy ablaze with colour.
View this river on Google Maps.
Grand River
This popular southern Ontario river offers something for everyone. Above the village of Paris, the Grand River flows at a consistent 2-3 km/hour and tumbles over stony, shallow rapids, making for an exciting and fast-paced day trip. Below Paris, the river mellows for the scenic stretch into Brantford. Paddlers can arrange a shuttle back to their trip start, or leave a bicycle at their finish and pedal back to the put-in along the adjacent Cambridge to Paris Rail Trail and SC Johnson Trail.
Allow a full day to make the 17-km paddle from Cambridge to Paris, or put in at Glen Morris for a shorter trip (11 km) with pretty consistent swift water. The gentle 13-km paddle from Paris to Brantford takes most folks three to four hours. Farther upstream on the Grand, the Kitchener to Cambridge route provides convenient access points for urban paddlers.
Meanwhile, the Elora Gorge offers spectacular scenery, 22-metre-high limestone cliffs, and thrilling rapids—making this 3-km run a premier destination for whitewater paddlers. More information is available for all routes at the Grand River Conservation Authority.
Canoe, kayak, paddleboard, and raft rentals—including equipment delivery to your starting point and pickup when finished—as well as guided trips are available from Grand River Rafting Company and Grand Experiences.
View this river on Google Maps.
Black River
The Black River is a near-north gem offering tranquil beauty, energetic rapids and outstanding wildlife. Almost forgotten since the turn-of-the-century—when the river served as a transit corridor between logging operations in the Algonquin Highlands and sawmills on lakes Simcoe, Couchiching and St. John—today the Black meanders through peaceful, mature forest and rocky outcrops. The river holds its water well and can be paddled all season long.
Starting near the hamlet of Cooper's Falls, paddlers can view the impressive chutes before enjoying a scenic float 14 km downriver to the Highway 169 bridge. Note that a 100-metre portage is required around an unrunnable rapid at Fairgrounds Road. Check here for more route suggestions on the Black and nearby rivers.
Riverside camping, rental yurts and cabins are available at the newly renovated Black River Wilderness Park. From late spring through early summer, the park makes an ideal base for whitewater paddlers to enjoy the class I-II+ rapids that form at higher flows. Launch from the campground or the nearby Highway 169 bridge and take out at McMillan Side Road bridge for this exciting 1.5-hour play run.
View this river on Google Maps.
Moon River
Short, steep, and very pretty, the Moon River distills the classic Canadian Shield canoe route into an easy day trip. Expect tumbling waterfalls, smooth-rock portages and wind-skewed white pines. The scenery climaxes at Moon River Falls, where the river spills 10 metres over granite ledges into Georgian Bay.
Popular starting points for a day trip to the Moon River Falls are Arnold's Bay or Woods Bay, both of which provide easy access to the Moon River Basin from relatively sheltered inlets of Georgian Bay. Expect a paddle of 2.5-7.5 km each way to reach the falls, where swimming and picnicking are a summer must.
Those willing to portage can continue upstream above the falls, exploring the Moon's many smaller cascades and enticing campsites. Parking, launching and canoe rentals are available at Moon Basin Marina & Cottages and Moon River Marine.
View this river on Google Maps.
Humber River
The Humber River is an oft-overlooked gem for Toronto-area paddlers. Tucked into a leafy and surprisingly wild ravine at the city's west end, the Humber is home to a remarkable variety of wildlife, including deer, beaver, mink, raccoon, coyote, great blue heron, and swans. It's also free of ice much of the year, making the river a great place to dip your paddles early or late in the season.
For an easy, two-hour round-trip, launch at King's Mill Park off Bloor Street West and paddle south to Lake Ontario. Along the way, paddlers can explore the lower Humber's meanders and lily pad-filled marshes, hidden from the frenetic bustle of the city. Conveniently located right on the Humber, Toronto Adventures offers canoe, kayak, and paddleboard rentals, as well as instruction and guided tours.
View this river on Google Maps.
Rouge River
Designated in 2015, the Rouge is Parks Canada's first National Urban Park. Meandering through this sprawling green space and spilling into Lake Ontario east of Toronto, the Rouge River makes a fine destination for urban paddlers. Scenic bluffs, abundant wildlife, a sprawling beach, Carolinian forest, and the city's largest and healthiest marsh reward day trippers. 
Paddle the Rouge is an annual Wildlands League event that connects youth and families to river.
A popular route is to paddle down the Rouge River south from Glen Rouge Campground to Rouge Marsh, which takes about one hour and passes through some of the park's most stunning wetlands. Or launch your canoe, kayak or paddleboard just inside the river mouth at Rouge Beach Park and head upriver through the marsh. Lakeside parking and launching are available at the foot of Rouge Hills Drive in Scarborough.
View this river on Google Maps.
Nipigon River
The mouth of the Nipigon River is a fascinating day trip for Northern Ontario paddlers. Slip into the river at Natural Edge Ecopark Marina and Campground—a new EZ Dock makes launching very easy—and explore downriver along this scenic stretch of the Trans Canada Water Trail. If the wind is up, stick to the quiet waters of the Nipigon Lagoon or the mid-river islands just downstream.
When calm conditions favour a longer voyage, head down to the village of Red Rock at the river's mouth and look for a spectacular pictograph panel on the namesake bluffs across the river. This 15-km round-trip can also be paddled in reverse, starting at Red Rock Marina Park. The Lodge and Nipigon River Adventures provide a great base for exploring the river. 
View this river on Google Maps.
PLAN YOUR ADVENTURE
Ontario has amazing paddling routes for every kind of adventure. Whether you are looking to do a self-guided trip, a guided adventure or a skills development course, Ontario's adventure outfitters and lodges can help you.