7 Inspiring Places to Paddle Near Lake of the Woods
Kayak and canoe the pristine waterways of Northwestern Ontario.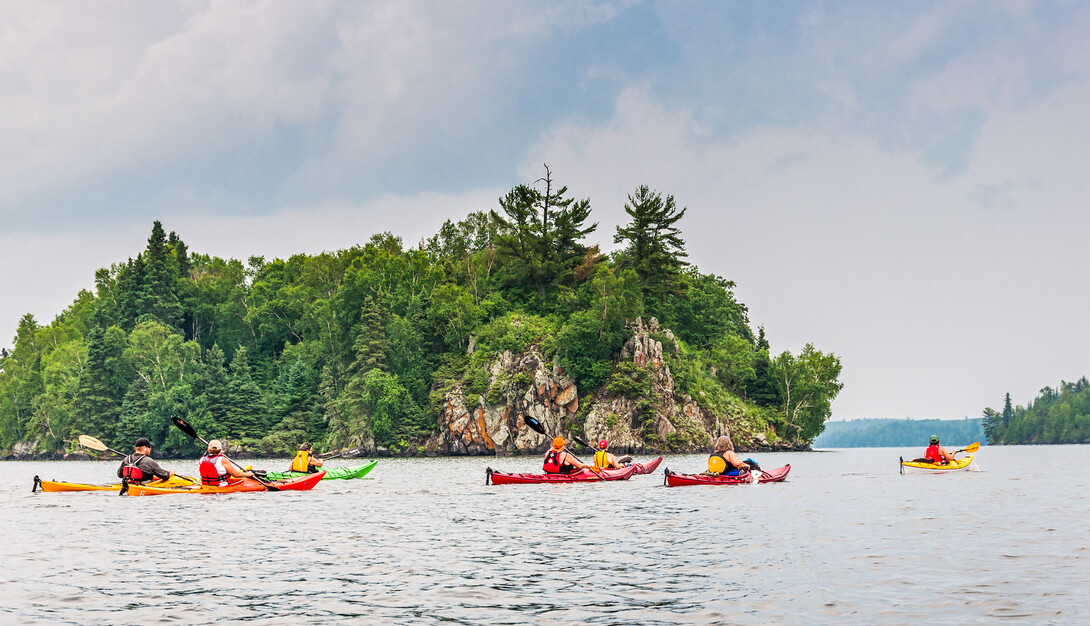 With a geography that's as much water as land, it's easy to see why the Lake of the Woods area is a hub of opportunity for paddlers. For starters, there are the vast horizons of Lake of the Woods itself, a sprawling inland sea with countless islands and inlets in Northwestern Ontario's Sunset Country, perfect for sea kayaking. The surrounding boreal forest landscape is laced with wilderness waterways and more lakes than you can count, enabling canoe or kayak travel on small, intimate rivers or gem-like, spring-fed wilderness lakes. You'll discover pristine backcountry campsites in provincial parks and on Crown land, as well as have the chance to experience segments of the Path of the Paddle water trail, a part of the epic Trans-Canada Trail.
Sunset Country is renowned for its angling, and by paddling a canoe or kayak you'll gain access to untouched waters that are havens for walleye, northern pike and muskellunge. Back on shore, the town of Kenora features all the attractions of a small tourist town, including great accommodations, many dining options and a local brewery, all set on the scenic waterfront of Lake of the Woods. When you arrive, be sure to visit the Lake of the Woods Discovery Centre to learn more about things to do in the area.
There's something for everyone in the Lake of the Woods area, ranging from easy paddling routes for novices and families on sheltered water to long-distance backcountry adventures with rugged portages and plenty of challenges along the way. Lake of the Woods itself beckons with its myriad of islands and endless waters, but it's important to be respectful of the lake's sometimes high winds and large waves and gauge your experience level accordingly. This list is just the beginning of what makes the Kenora area a paddling paradise.
Kenora Waterfront
Take one glimpse at the Kenora waterfront and you'll understand why this small city is a haven for paddlers. Lake of the Woods beckons from the downtown core, with a seemingly unlimited array of day-tripping options for kayakers and canoeists right from the Rotary Peace Park or Anicinabe Park. Coney Island is the obvious destination for day paddling, and it's possible to set out for an hour-long sunset paddle or a full day adventure.
Kakagi Lake
Launch from the public boat launch on Kakagi Lake (also known as Crow Lake), off of Highway 71 about a 1.5-hour drive south of Kenora, to discover yet another one of the region's large, island-studded lakes. It's easy to spend a long weekend kayaking on Kakagi Lake. There's plenty of open water, stunning shoreline cliffs, and no portages, as well as some of the best backcountry camping in Northwestern Ontario. Toss in some of the region's usual outstanding fishing for northern pike and walleye for a truly worthy getaway. Camping is free for Canadian residents in this Crown land area (non-residents must purchase a Crown land camping permit). Kakagi Lake is a large body of water so mind the weather carefully and allow time for wind delays in your itinerary.
Rushing River Provincial Park
Though it's largely unknown to outsiders, Rushing River Provincial Park is beloved by Northwestern Ontario locals for its quiet campground and day hiking trails. But at its core, Rushing River is a canoeist's park, with multiple options depending on what you're looking for in a paddling route. The park is located less than a half-hour drive east of downtown Kenora on Highway 17, on the shore of the island-pocked waters of Dogtooth Lake.
If you need a canoe or kayak you'll have to rent one in Kenora. Before you launch, purchase a permit from the Rushing River gatehouse (day use or backcountry camping permit). If you wish to base your adventures from the drive-in campground, reserve a site well in advance to avoid disappointment. Dogtooth Lake is great for kayaking, with plenty of shoreline to explore, and serves as the access point for several canoe routes. The lake's many islands, peninsulas and deep bays invite you to choose your own adventure. Campsites are abundant, with many featuring sandy shorelines and excellent swimming.
Blue Lake Provincial Park
One of Northwestern Ontario's best canoe routes starts and ends at Blue Lake Provincial Park, located off of Highway 647, north of Vermillion Bay and about 100 kilometres east of Kenora. Pick up your park permit and launch directly from Blue Lake's outstanding campground. The Blue Lake Loop is a weeklong, 97-km canoe trip for intermediate paddlers, including 17 portages. All the carries are under 500 metres, creating a circuit through a series of lakes including Gordon, Daniels and Canyon. The route is part of a historic fur trade route to the Hudson Bay Company post on Eagle Lake, with crystal clear water and great fishing for walleye and northern pike.
Path of the Paddle
This long-distance water trail passing through Northwestern Ontario forms a link in the Trans-Canada Trail. You have several options for exploring the Path of the Paddle in and around Kenora. The 41-kilometre section between Keewatin and Rushing River Provincial Park traces the northeast shoreline of Lake of the Woods, making it best for sea kayakers or canoeists with experience traveling on exposed water and solid navigational skills. Strong paddlers could do it as an overnight trip, though it's best to build time for wind delays into your itinerary.
Meanwhile, a one-way, 40-km route heading north from Keewatin follows the historic Winnipeg River north to the community of Minaki. This route has no portages, and traces an ancient Indigenous and fur trade canoe route that is perfect for novice to intermediate paddlers travelling by kayak or canoe. You'll find a mix of downstream travel with gentle current and mid-sized lakes, as well as plenty of campsites along the way and good fishing. There's some powerboat traffic along this route; avoid long weekends and mid-summer to skip the crowds.
Sable Islands
Looking to challenge your kayaking skills on big water and explore uninhabited islands? The Sable Islands are located about 2.5 hours from Kenora, with access via Harris Hill Resort, off of Highway 600. This 10-kilometre string of barrier islands is located just off the mainland; the short crossing rewards with a white-sand paradise that feels like the Caribbean. You'll find amazing swimming, great beachcombing and secluded camping. The Sable Islands are also a haven for migrating birds, with over 256 species identified in the area.
Experimental Lakes Area
The Stewart Lake Loop canoe route is located about 65 kilometres east of Kenora, just off the Trans-Canada Highway, near Winnange Lake Provincial Park. This moderately difficult three-day canoe route starts and ends on Lower Stewart Lake, and traverses five relatively short portages and a series of lakes. It's all part of the Experimental Lakes Area, a renowned freshwater ecology research location. The scenery is classic Canadian Shield with outstanding camping. Backcountry camping is free for Canadians on this Crown Land canoe route; non-Canadian residents require a Crown Land camping permit.
Kayak and Canoe Rentals in Kenora
Contact Green Adventures in Kenora for kayak and canoe rentals, outfitting, route advice, vehicle shuttles and more.
The Hardwear Company is an outdoor store located in downtown Kenora, offering paddling accessories, camping gear and apparel.
Do you prefer to paddleboard? Boardanyone is your go-to source for more information about standup paddleboarding in Kenora.
Discover Kenora's Exceptional Kayaking and Canoeing Routes
There's a lifetime of kayaking and canoeing available to all levels of adventurers in and around Kenora. Come to Northwestern Ontario and prepare to fall in love with some of the best paddling in Canada.