11 Great Ways to Optimize Your Sled for Snowmobile Touring in Ontario
You know about hand warmers (we hope) but what about LED headlights? Block heaters?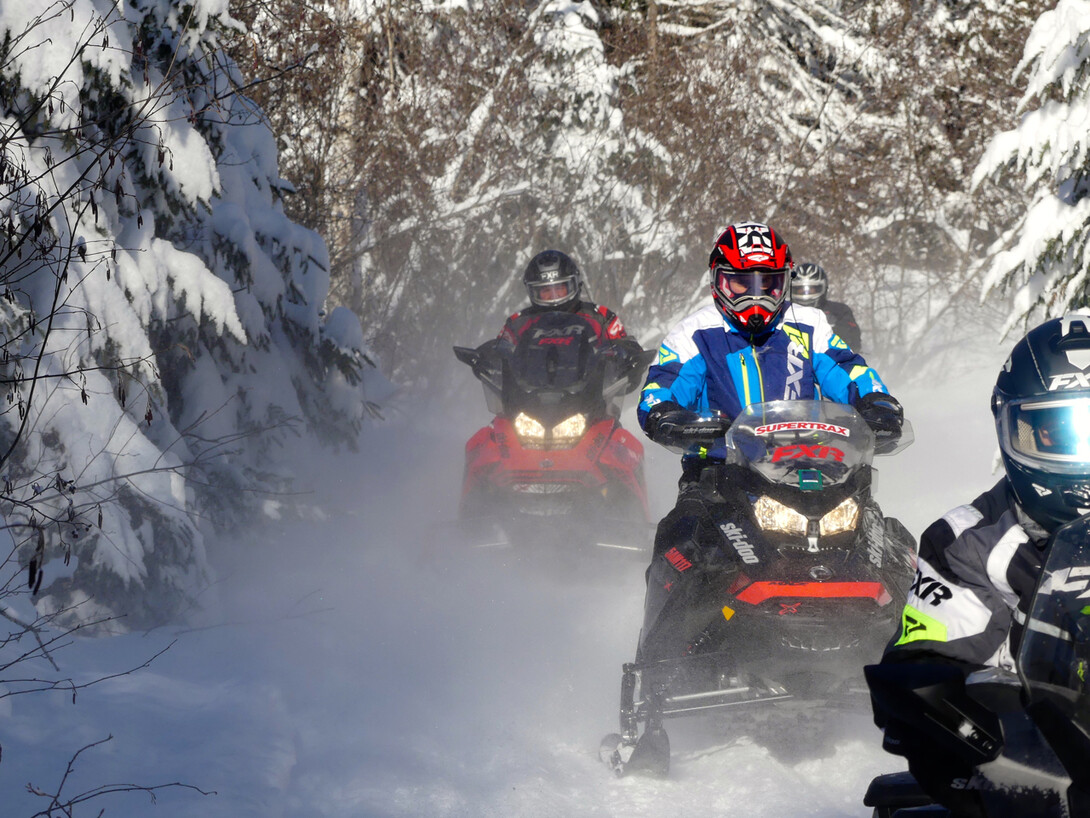 Getting away on a multi-day saddlebag tour requires a somewhat different preparation mindset than doing local day rides. Sure, any recreational ride on OFSC Prescribed Trails should include advance prepping, taking safety precautions, carrying emergency gear, dressing appropriately, and checking the OFSC Interactive Trail Guide (ITG) before you go. 
Several additional considerations factor into multi-day touring in Snowmobile Paradise  Ontario, to popular destinations like Northeastern Ontario or Algoma Country. These include how to prepare for riding in different and possibly unfamiliar or more remote areas, sledding longer distances, and riding consecutive days. Not to mention encountering many weather variables, and making certain that every second of that precious, finite time away from home is as enjoyable and hassle-free as possible.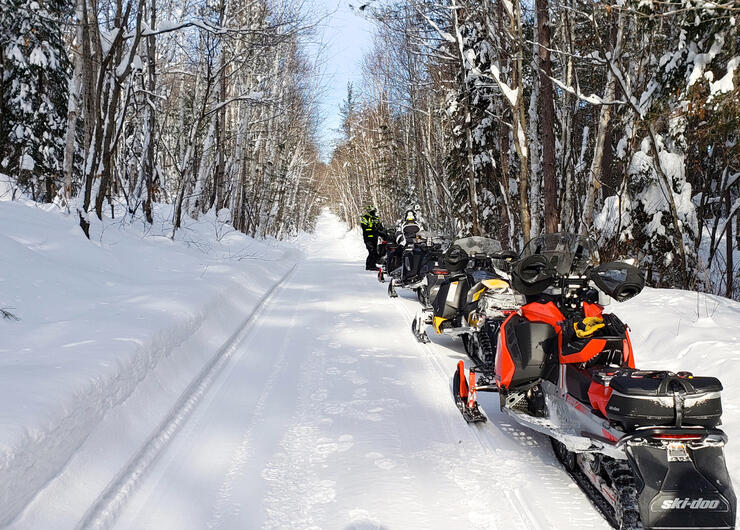 One of the key ways of doing this involves optimizing the tour readiness of your sled for any weather conditions. Of course, this starts with ensuring that you're taking a snow machine suitable for touring. One that's also reliably maintained, properly tuned, and capable of handling the kind of riding you're expecting to do. 
So how can you make your sled even better for your trail riding comfort? Here are my top 11 suggestions for better winter riding—many of these involve providing extra warmth for long, wintery days on the trails. My list is not in any given order, because some items may be more important or doable for some riders than others. So take your pick…
1. High Windshield & Side Deflectors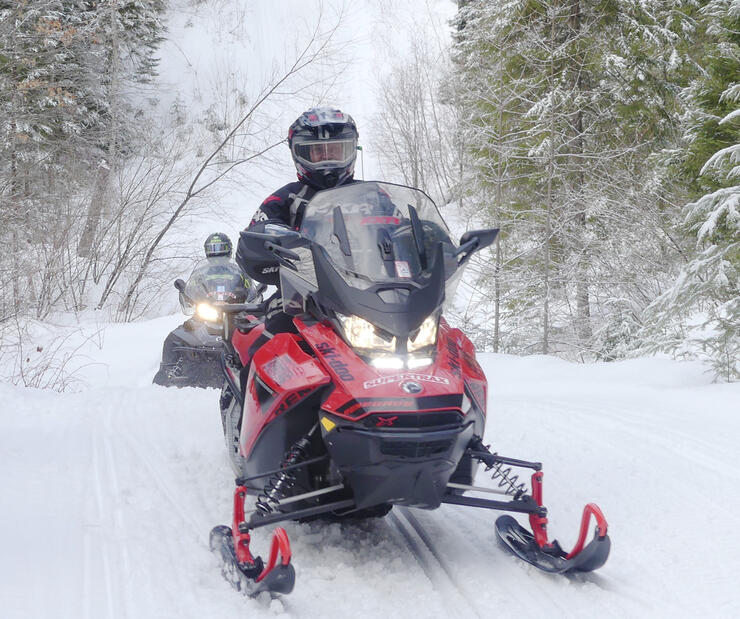 Apparently, most of today's snowmobile windshields are designed by marketers, not riders. And usually not for the real world needs of the owner. The right windshield for you can make a significant improvement to your touring experience, as can adding a set of side deflectors. Both can direct that "feels like" windchill away from your bod. Want a different height for varying conditions? Check out an adjustable windshield like the one pictured here!
2. Hand Warmers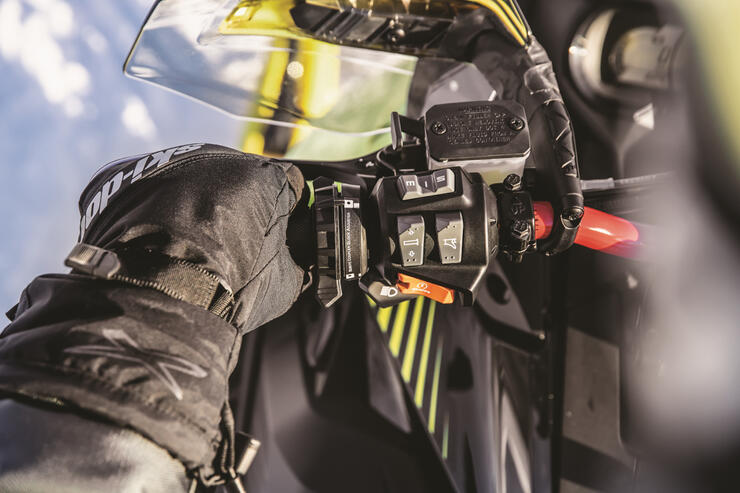 Heated grips and thumb warmers are now pretty much standard equipment on most sleds. If yours has them, make sure they're working well before you go. If you don't have any, get them or your fingers or suffer through any heart of winter riding. Their main function is to keep the icy cold metal of the handlebars from freezing the hands that are tightly gripping them for the entire ride. But remember, some hand and thumb warmers won't start working until your engine RPMs are higher than at idle. Even those on newer sleds, that do come on when the sled starts, will get hotter as you actually start riding.
3. Handlebar Muffs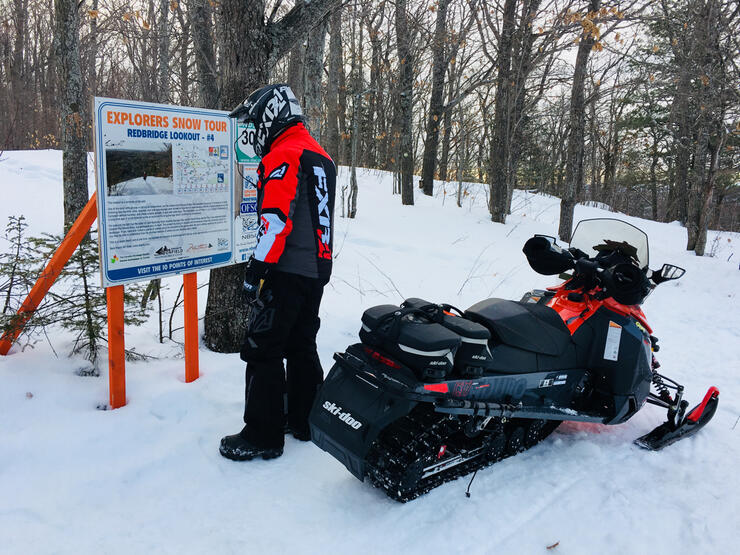 Many sledders who never use muffs for local day riding regret not having a pair handy on tour. Basically, they help keep the wind off your hands and retain some of the heat generated by hand warmers. But don't expect handlebar muffs to maintain hand warmth on their own. Their job is to supplement working hand warmers not replace them. For safety's sake, I recommend muffs that attached securely to the handlebar and are designed so that the entry for your hands remains open and accessible instead of flopping shut, like those from Ski-Doo. 
4. Visor Plug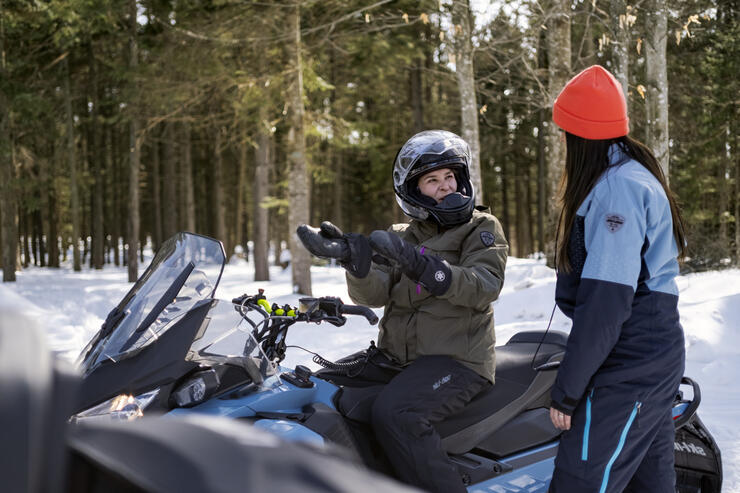 Most snowmobilers ride with a heated helmet visor these days. But if not, consider getting one and make sure your sled has the proper plug in for it. Depending on your metabolism, breathing pattern and how hot your head gets inside the helmet, your sled can power a properly functioning heated visor that can be a visibility saver on tour. Just remember that these work best to prevent fogging, not for melting frost build up.
5. Block Heater
A snowmobile block heater may seem like overkill – until your sled won't turn over on a sub-zero morning and you waste half a valuable tour day getting it stated. Working on the same principle as those for cars, a snowmobile block heater prewarms your liquid-cooled snowmobile engine, for easier starting and also helps prevent cold engine piston scoring. Many Northern Ontario motels have exterior electrical outlets, so just remember to bring an extension cord. And a block heater won't do anything for a frozen battery!
6. Heated Seat
I can attest that nothing's quite as comfy trail riding in the cold as planting my butt on a warm snowmobile seat. Especially in those frosty early mornings and the final hours in the late afternoon when your body's getting weary. A few touring model sleds come with heated seats as standard equipment, or get one from your snowmobile dealer or an aftermarket supplier.
7. Heated Storage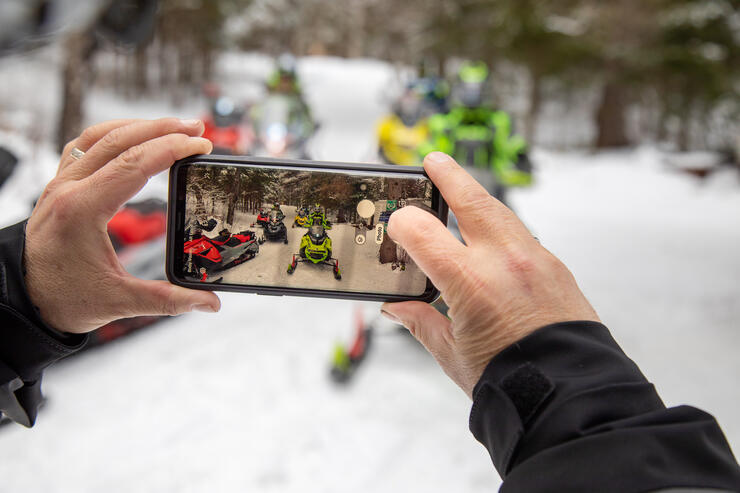 Some necessities, like digital devices and water bottles, really don't like any cold temperatures, much less being subjected to sub-zero for hours on end. Battery life shrinks dramatically and it's hard to keep well-hydrated when that bottle's a block of ice. Sure, some items can go in an inner pocket to pick up some of your body warmth, but your sled can also help.
8. Fuel Caddy
Carrying extra fuel is mainly a backup supply so you can get where you're going. But that extra fuel also plays a crucial role in keeping anything plugged into your sled pumping out the heat. Anyone who's suffered the misery of riding a dead sled that's being towed will attest to just how freezing cold that experience can be! The most secure way I've discovered to carry spare fuel is a LinQ Caddy, using OEM brackets or aftermarket ones that fit any make of sled.
9. Cargo Space
As surely as the secret to keeping your body warm is layering under the right snowmobile suit, so having cargo space available for storing extra layers, or any you take off when not needed, is just as imperative. So your sled preparations should also include installing extra cargo space used only for layer storage.
10. Ice Scratchers
With all this talk of staying warm, it seems strange to mention keeping your sled engine and undercarriage from overheating. But one consequence of cold temperature can be icy or frozen hardpack trail surfaces, with little or no loose snow. Without that lubrication, your snowmobile's temperature gauge rises quickly or the engine overheat light comes on. Your best remedy is to install a set of ice-scratchers. The tips drag on the trail surface to shower the undercarriage and radiator with a cooling spray that helps maintain an acceptable engine operating temperature. I recommend tunnel-mounted ice-scratchers that won't break if the sled is backed up, and clip into a tunnel bracket when not in use.
11. LED Headlights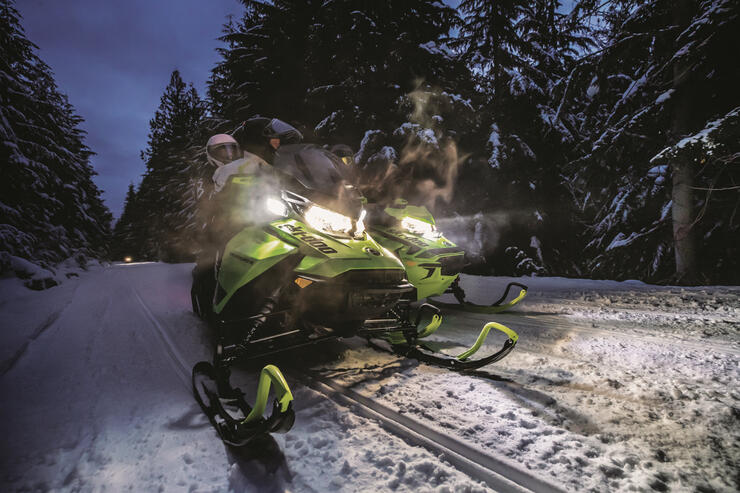 If you plan to do any riding after dark while on tour or get caught short of your destination on shorter winter days when the sun sets, riding with LED headlights is a gamechanger. Typical sled headlights throw a short wash of dim light out front, but installing LED on your sled turns night into day for a long ways ahead. Being able to see as if you've got a stadium floodlight piercing the darkness makes the going on unfamiliar trails or with end of the day weariness a much brighter prospect. 
Any or all of these ideas can significantly enhance your Ontario touring. So while doing your online research and tour planning, don't overlook optimizing your sled for OFSC trails!