8 Must-See Trailside Snowmobile Destinations in Ontario
Log cabin castles, old mines, and ice caves. How many of these trailside spots have you seen?
These iconic destinations below are not ordinary in the least. They are the physical proof of nature's exceptional wonders. They are often the purpose of our rides. And in many cases they become the highlight. These locations are secret masterpieces of the winter months and are legendary spots for all those who visit them.
The 30,000 km of OFSC Prescribed Snowmobile Trails that member clubs maintain provide the vast network that connects recreational riders from one unique destination to the next. 
So why not hit the trails this winter and see how many memorable locations you can visit?!
In no particular order, with no particular criteria (well, except that they're all visually thrilling, soul-inspiring and exceptional), here are the top 8 unusual things to see trailside in Ontario. 
1. Mattawa's Mica Mine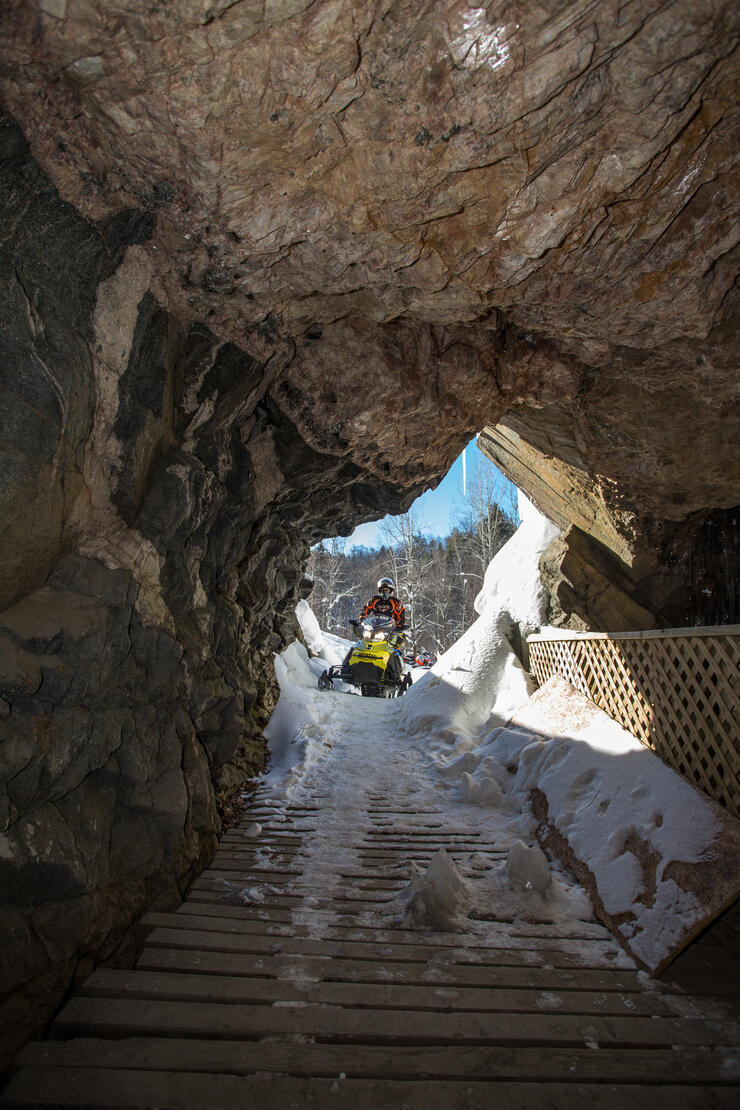 Located on TOP Trail A112A 32 km north of the Town of Mattawa, this trailside stop will have you gazing in awe at the massive icicles that hang from the Canadian Shield above. The entrance to the mine has a standing deck providing a unique view of the hollow, strung with quartz and mica veins that run through the colourful granite rock. Mica from this mine is on display at both the Royal Ontario Museum and Mattawa Museum. The Purdy Mica Mine was, at the time, the largest mica mine in North America although you wouldn't know that today!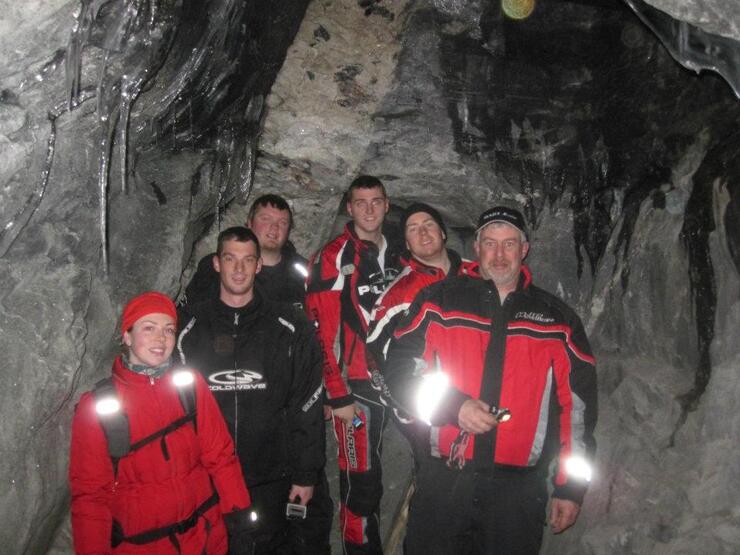 2. Wolf Lake Forest Reserve
Located on the Chiniguichi Wolf Loop, the Wolf Lake Forest Reserve and Wolf Lake Mountain offers a ride deep into ancient wilderness. Scientists from Laurentian University core sampled tress and found one that is 310 years old. Imagine riding through the world's largest remaining old-growth red pine forest on your snowmobile. If you get the chance, make sure you take a moment to stop and listen to the forest—there is something special, something magical about trees this old. To top off the ride head to the top of Wolf Mountain which offers a mesmerizing lookout towards Ishpatina Ridge, Ontario's highest point. 
3. Timmins Mining Tunnel 
As snowmobilers, we have a unique appreciation for mechanics and machines, and this location delivers an opportunity to see some of the biggest rolling vehicles in the world! The mining haul road that runs overhead of Top Trail A111C was built by GOLDCORP after acquiring the former 250-acre Hollinger Mine, site which was famous for producing over 19 million ounces of gold between 1910 and 1989. If you arrive at the tunnel, wait a few moments for one of the rock trucks to drive by! A truly unique snowmobile highlight! 
4. Ice Caves
Ontario is home to approximately 250,000 freshwater lakes, many of which freeze solid during the winter offering exploration by snowmobile (know before you go, check ice conditions). Some of Ontario's caves are located just to the east of Kearney, Ontario and 18 km from Sand Lake on Club Trail AL301. You will find the Ice Caves on the east end of the lake, which is actually on the border of Algonquin Provincial Park. The ice formations create a three-dimensional explorer's paradise tucked into a small, sheltered bay. The cave formations change from year to year in size and shape, however the stunning colour and clarity is always second to none. It is not uncommon to see wildlife including deer, moose, and even wolves on this adventure. 
5. Abitibi Canyon
If you have completed the TOP Trail A103 loop to Fraserdale you will agree that this entire ride is a snowmobile destination. The loop boasts an endless hydro corridor, mesmerizing boreal forest trail, some great boondocking in the canyons, and a stunning view of the Fraserdale Abitibi Canyon Generating Station. If you're looking to go remote, untouched, and North, this is the destination for you. Make sure to stop by Extreme Tours for fuel and a warm up located just east of the hydro generating station.    
6. White Otter Castle
Legend tells of Jimmy McQuat, who single-handedly constructed a three-story log castle from red pine trees that still stands today. Jimmy cut, hauled and interlocked logs to build the castle way back in 1915. The castle has recently been restored through the efforts of the Friends of the White Otter Castle. This magical place can be reached by either starting in Atikokan or Ignace via the Top Trail A. The castle is located on the Club Trail L903, 105 km north of Atikokan.  
7 . Cedar Point
Located within the Georgian Bay Snowriders network of trails at the end of Club Trail 303, Cedar Point is one of those special places that is unlike no other. During your ride to Cedar Point, you will travel through tall pine forests until you reach an aqua-blue view that contrasts everything around you. Cedar Point is home to a ferry service that runs to Christian Island. This is a unique experience to see open water and a large commercial vessel during a snowmobile ride. If you're in the area on the weekend of February 2, make sure you ride to Winterfest in Midland. 
8. Three BIG Lookouts
This ride will get you to three soul-inspiring destinations in one day. The first lookout is located on the north edge of Algonquin Park outside of Bonfield on Club Trail BF205 and is named Boulter Lookout. The second Bird's Eye View is a few kilometres north of Mattawa on TOP Trail A112A, and the third remarkable view is the Redbridge Lookout on Club Trail NB304.
We hope you enjoyed this list of the top 8 things to see trailside while snowmobiling in Ontario! Got one to add to the list? Email us at info@nothernontario.travel!
Ontario law requires a snowmobile entering an OFSC Prescribed Snowmobile Trail to display a valid Ontario Snowmobile Trail Permit.