In For The Long Haul
A seasoned sledder gives expert tips to make it through a long trip—like this high-mileage loop taking riders through classic Northeastern Ontario landscapes, all to benefit a good cause.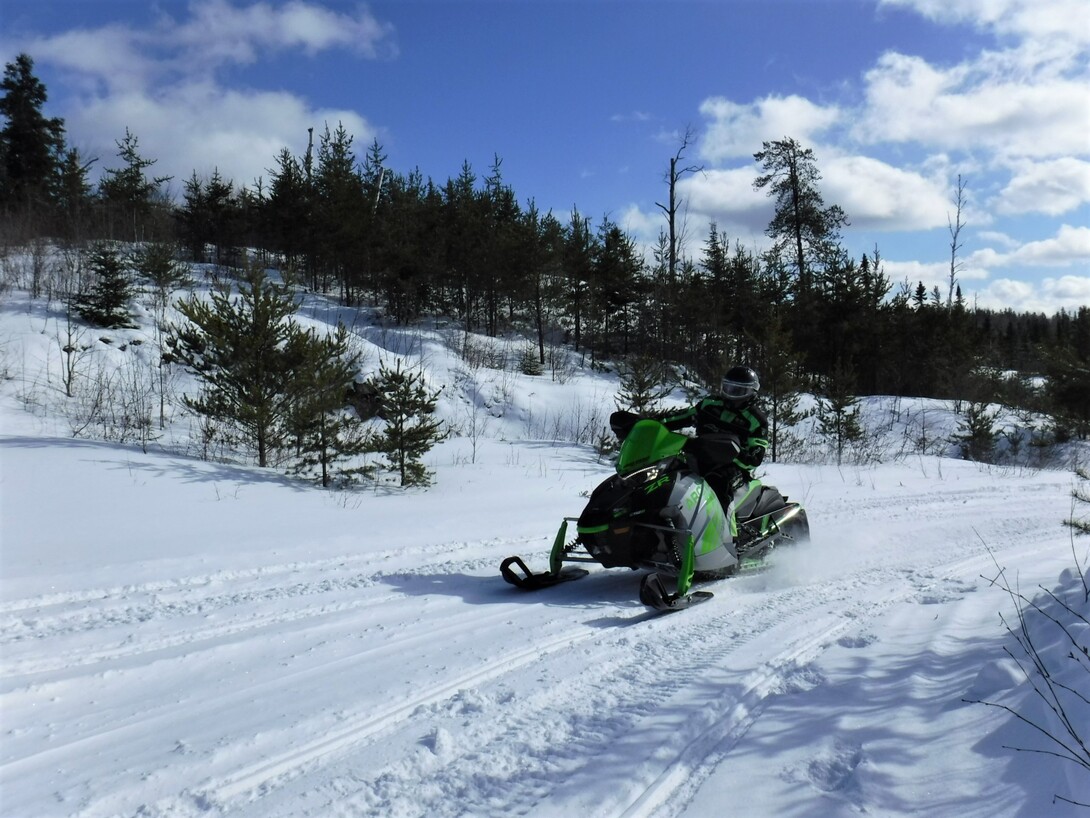 When snowmobiling, what is the secret to packing on high miles? Being an endurance rider can mean many things. I for one enjoy long days on the trails. If this describes you too, read on.
The 2020 Great Northern Expedition is a run that will test snowmobilers and their machines in a safe, high-mileage loop on OFSC trails. There are three options of either 400 km, 600 km, and for those who really want to test themselves and machines, an 800 km loop. Riders will have to rely on their navigation and endurance skills to complete this circuit, one that requires them to hit all their checkpoints and be back to their starting location after a gruelling ride.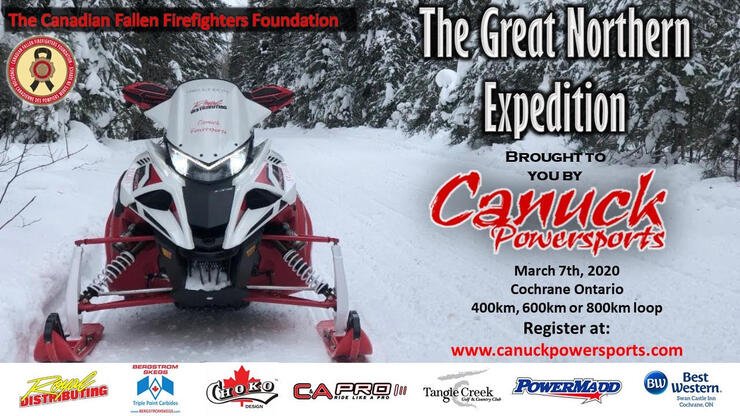 Think you have what it takes? Find out on March 7, 2020 and register for the Great Northern Expedition at www.canuckpowersports.com for only $40/rider. 100% of the entry fees go to the Canadian Fallen Firefighters Foundation charity.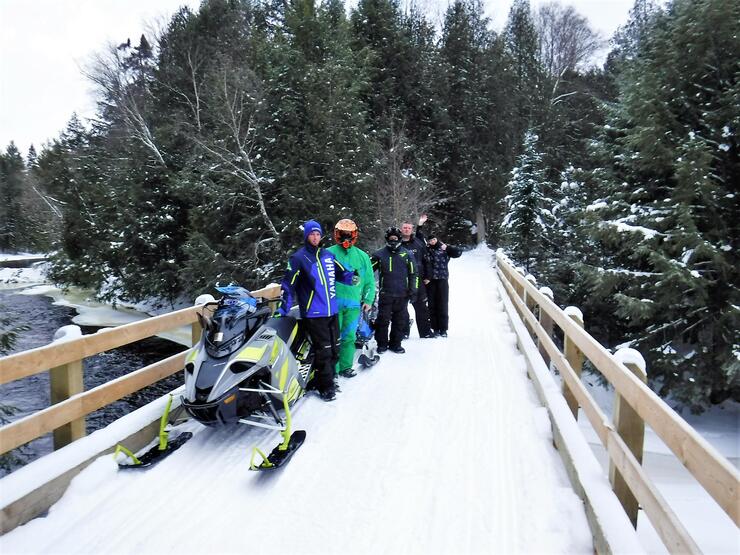 Starting in Cochrane, Ontario, adjacent to the Best Western Swan Castle Inn, participants will explore trails in Northern Ontario. Checkpoints will include areas such as the Abitibi Canyon loop, Kapuskasing, Smooth Rock Falls, Iroquois Falls and Timmins. The 400-km loop will have an eight-hour time limit, while the 600-km loop will give riders 12 hours to accomplish their ride. Details on the 800 km loop are still to be announced. The name of the game is to keep moving and minimize the down time throughout the day. Planning your fuel stops, navigating the route, strategically stopping for food and drink are all factors that must be considered for even the most seasoned snowmobile endurance rider. 
Preparing for endurance riding
Sure, it's easy enough to say that my snowmobile is ready for pounding on the miles, but here are a few things to consider that will make your journey that much more comfortable. Being prepared is just as important as physically going out to complete the ride. Making sure that your snowmobile is in good working order is key, but also making sure that you as a rider are up for the challenge can be the difference between finishing and having to call it quits early.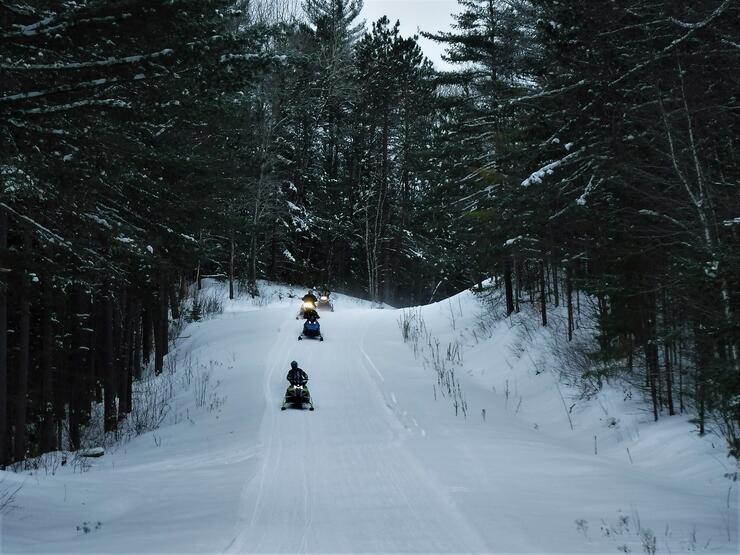 Prepping your snowmobile
What can I do to get my snowmobile ready to minimize my chances of a breakdown and provide comfort during a long day on the trails? Wind protection can play a vital part in keeping a snowmobiler warm throughout the day. Before my ride, I took a trip down to my local Royal Distributing store to purchase a few items that will prove to be beneficial for clocking on those miles.
A larger windshield, Powermadd handguards, new idler wheels, a fresh set of sliders, and saddle bags are all great pieces of equipment that will prove to be useful. Keeping the wind off my body will reduce my fatigue and replacing wearable parts will give me peace of mind that my snowmobile is mechanically sound for endurance riding. I used to think that wearing a backpack was ideal until I put saddle bags onto my sled. Not only could I carry more, but taking the weight off my back and shoulders plays a role in how my body will feel by the end of the day. 
Not having the proper traction can be similar to driving in the winter with summer tires on your vehicle. I installed Mack studs knowing that they will help my snowmobile accelerate, handle icy corners, and stop in a safer manner. Before every ride I do a quick inspection checking for any damaged studs, missing lugs on the track or pull outs that may have occurred from a previous ride.
Matching traction up front is just as important as in the rear. Putting a new set of Bergstrom Skegs Triple Point carbides on my skis every year gives me the confidence that my snowmobile will handle every situation that I can throw at it. Keep in mind that having too much traction in the rear of the sled can cause it to push in the turns, and too much traction up front can have you fighting with the bars when turning. Finding the proper traction setup, along with setting up your suspension for the type of riding you do, will have your snowmobile handling like a dream.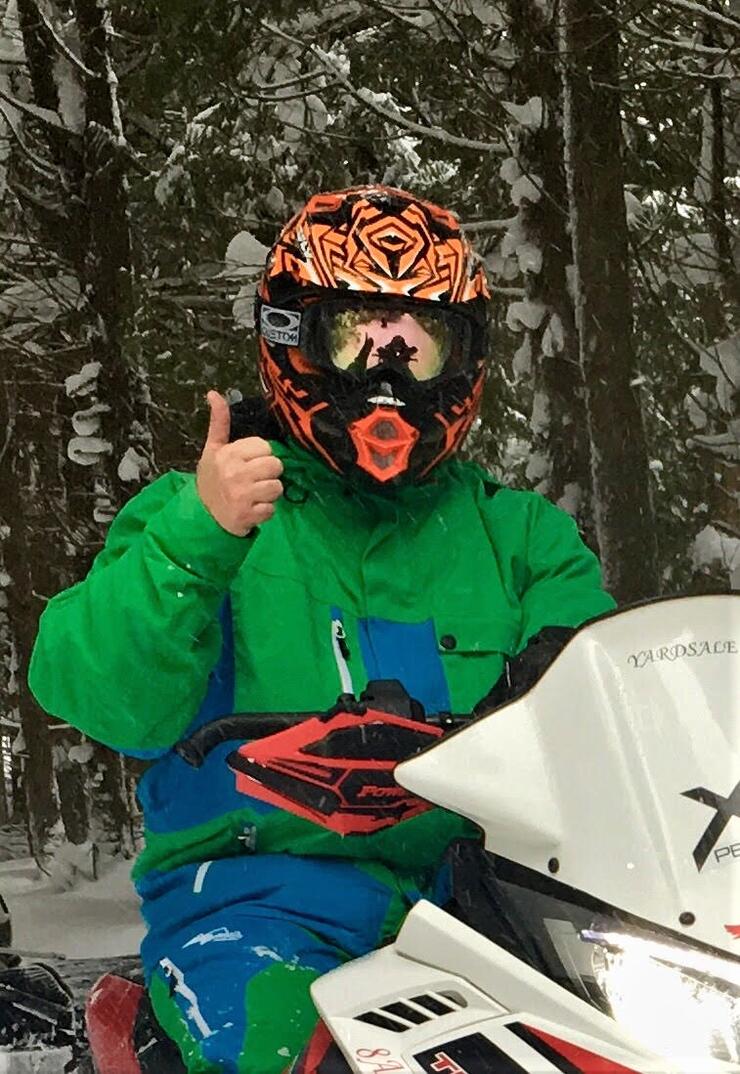 Preparing yourself
My snowmobile is ready to go, now what? Making sure that I have the proper outerwear and base layers is just as important. While we were at Royal Distributing, I picked up some heated base layers to keep me warm on those chilly days. With heated clothing available such as mitts, vests, and insoles, there was no way that I would be left out in the cold. Other base layers to consider are thermal underwear and moisture wicking garments. I find that riding in cotton clothing and socks can lead to becoming cold, especially if they get wet from the elements or sweat. 
Now that my base layers are covered, I need to consider outerwear that will keep me warm and dry in harsh conditions. My HMK USA suit is windproof and waterproof, all while having the breathability to keep me comfortable. Not to mention that the vibrant style stands out on the trail everywhere you go. I recently swapped out my traditional snowmobile helmet to a carbon fiber model such as the M99 Velocity, available only at Royal Distributing. The weight difference is astonishing, not to mention that my neck and shoulders appreciate the reduced weight after multiple days on the trail. When getting ready for a ride, I dress quickly and head outside to avoid sweating. Once the chill sets in, it's hard to get warm again.
What to pack on your snowmobile?
Having the means to perform a trailside fix on your snowmobile could be the difference between having to abandon your snowmobile amd being able to limp it to the next closest town should something happen. A tool kit, zip ties, spare belt, tow rope, and first aid kit should all be items that are in your saddle bag. 
When endurance riding, you don't have the time to make extended stops for lunch or dinner. Packing energy drinks and snacks to nibble on throughout the day can maximize the number of miles that you are able to cover. Having a big meal can leave you feeling tired and sluggish as well as consume time that could be spent on the trails. Keep snacks and liquids close to either your heat exchanger on the tunnel of your sled, or in interior pockets to avoid freezing. 
One last thing to consider is fuel. If traveling to an unknown or remote area, make sure that you have more than enough fuel to make it to your destination. I would personally rather look at fuel in my jerrycan than run out on the side of the trail.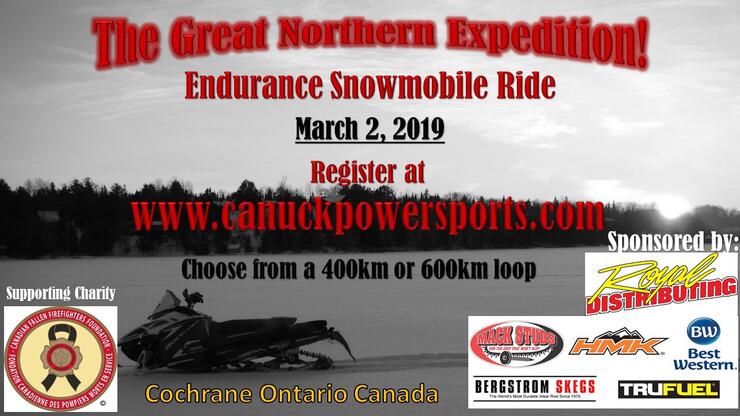 If you think that endurance snowmobile riding is something that you'd be interested in, check out the Great Northern Expedition in Cochrane ON, March 2, 2019. The Best Western Swan Castle Inn has special rates for all participants. Enter "endsnowrun" when booking your rooms online for a nightly rate of $125 + tax. Register at www.canuckpowersports.com. The first 40 participants to register will receive a grab bag, and everyone who registers will be entered in a draw. There will be some amazing prizes available from our sponsors HMK USA, Royal Distributing, Bergstrom Skegs triple point carbides, Mack studs, and Trufuel.
Thank you to all the snowmobile clubs and their volunteers for maintaining the trails which allows us to make an event like this possible. Prep those sleds, pack your gear, and brush up on your navigation skills. The Great Northern Expedition could be the event that gets you hooked on endurance riding.