Former Racer Shows No Sign of Slowing Down
With over 40 years of related experience, Tom Irwin opened his guided adventure tour business to share his passion.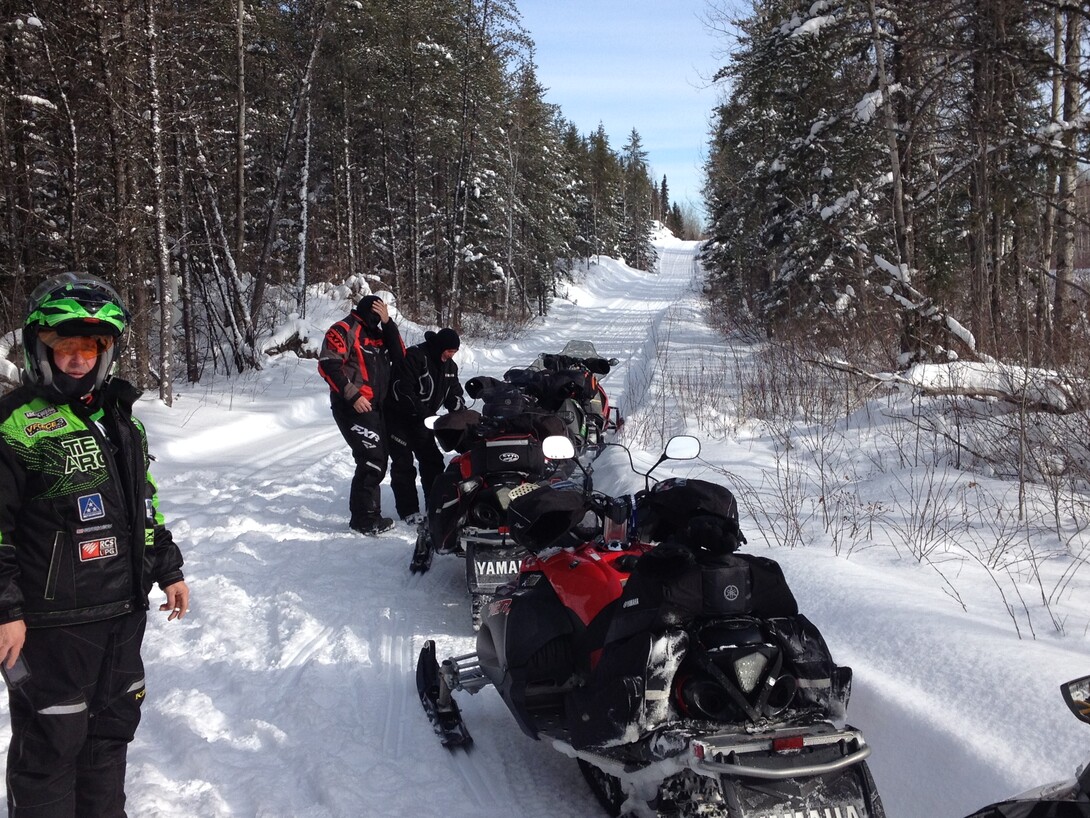 Tom Irwin may have a racing background, but he's in no rush. With 44 years of motorcycle racing under his belt, and 37 at his family's dealership, this year he's taken on a new project—Tom Irwin Adventure Tours.
The all-season guided tour company provides custom tours by snowmobile, ATV, or off-road motorcycle. Kicking off their first season in September of 2017, the Calabogie-area company offers tours in both Ontario and Quebec. They're a mobile business, meaning they'll come to you—even offering airport pickups for those coming from further distances (he's already booked visitors from England and Australia). Being mobile offers a flexibility that optimizes rider experience—for example, during the snowmobiling season tours are scheduled around which snow trails have good conditions. Being able to track Quebec and Ontario trail conditions, and go where there's snow, means less chance of needing to cancel tours.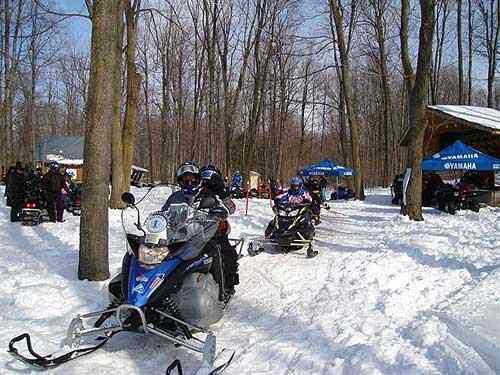 Do What You Love
So, 37 years and three generations deep into working at the dealership, what made Irwin decide to sell at 57 years old? It's as simple as wanting to live out the rest of his working career introducing people to the sports he loves, he says. And why not try to make a living off something he'd be doing as a leisure activity regardless? "I'd be doing it anyways," he says, "and this way I get to share my passion." Irwin also introduced his children to his sports of choice, and his whole family shares a love for and enjoyment of life on the trails.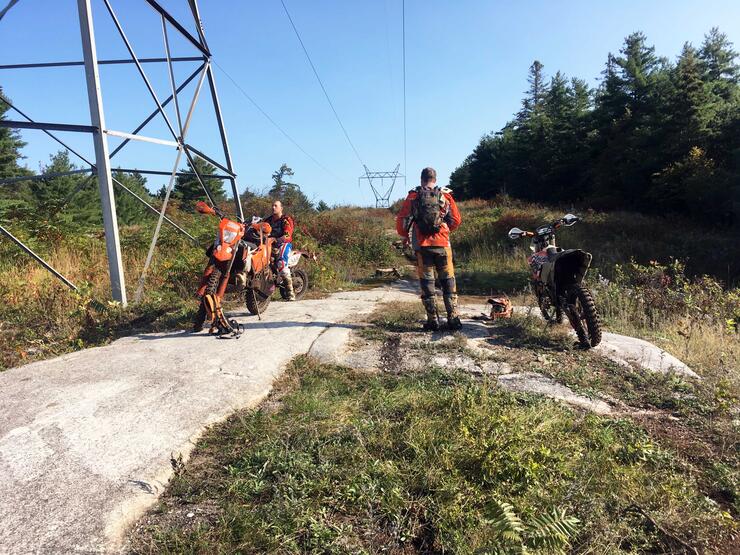 With his extensive experience in both snowmobiling and motorcycling, Irwin is an ideal person to have running a business of this sort or as a tour guide. Not only does he know the riding well, he also knows the area like the back if his hand. All of Tom Irwin Adventure Tours' outings are off-road, which is unique to the area. And while it's a new business, Irwin emphasizes that it's not a small enterprise: he's got trailers, his fleet, repair facilities, and more. Being able to offer full packages including gear, permits, safety training, and the like was important to him as he got started.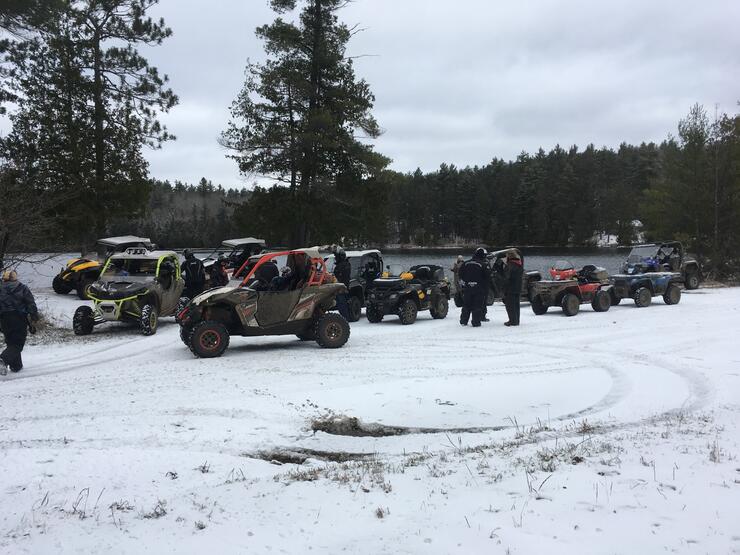 "I saw an opportunity," Irwin says; "I'm the only one in Eastern Ontario doing this." The "this" in question is guided tours specifically, but his are particularly unique. The business itself is based in Ingleside, Ontario, near Cornwall. Variety is abundant: different packages, different areas, different weekends. "Each tour is tailor-made around weather and riding abilities," Irwin says; depending on the participants' experience and interests, the tours can be more or less adventurous. Some want a more rugged experience, others want to know that they're stopping in more sedate, nicer accommodations at the end of a day of riding.
Irwin is also keen on research. He'd be talking about riding in his day-to-day life regardless, and now he's always gathering info from others as he goes. Talking to people who have been out riding, as well as motel and business owners in the areas he frequents, is a big part of making sure conditions are safe and the tours are the best that they can be. He's had a good reception from businesses so far, he says; people have been accommodating.
Locally, he's already got a second location running out of the pro shop of a golf resort over the winter months. He's also connected with a touring company in the Netherlands that gives referrals to Europeans coming through Canada. In and (even far) out of town, most of these connections come through word of mouth, people he's met through his career or ones who are put in touch by people who have come to do a tour and enjoyed themselves.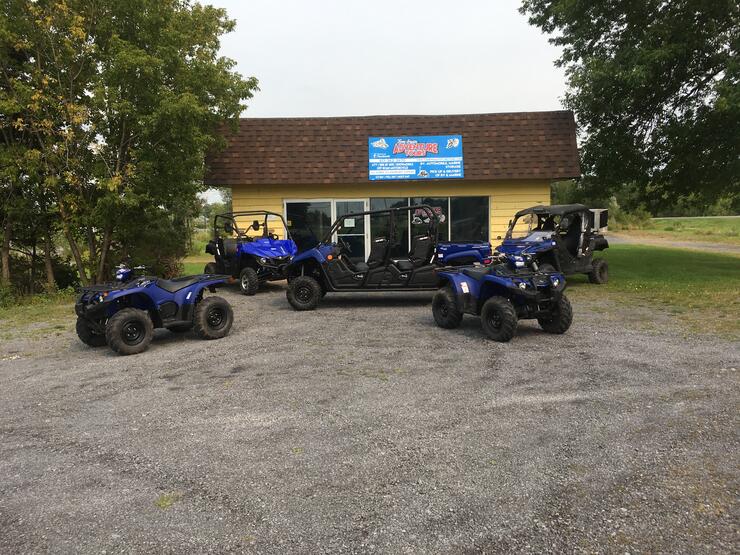 With half, full, and multi-day tours on offer, what does the typical tour look like? Well, it's a tricky question to answer, because Tom Irwin Adventures is all about avoiding the "typical." The biggest tours so far have involved seven participants at a time; the average one is four people. Irwin says that while he gets couples and friends going out together, families make up a good portion of his clientele.
A one-hour tour usually runs two, after gearing up and training. Oftentimes people will book a shorter tour when they're new, then book again for a longer one once they've had a good time. "I grew up in the country," Irwin says, "I'm spoiled." But, he continues, for people coming from the city, who have only ever seen deer and wild turkeys on YouTube and don't know what to expect, the backcountry can be quite a shock. Sometimes, people want to come check it out first and see what it's all about, and if being out of the city is even for them. Spoiler: they usually find it is.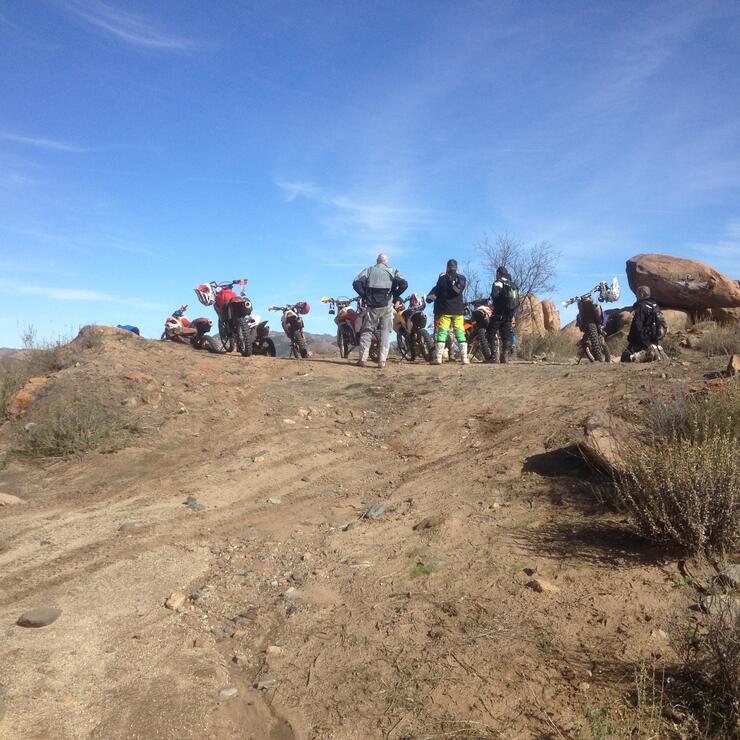 The Road Ahead
What does an ideal future look like for Irwin? Mostly, he'd like to expand on what he has now. He'd love to do week-long tours, taking people into Northern Ontario or Quebec. That way, he says, you "get to know the people better. You can go to more remote spots, and have more adventure."
In five years he'd like to be running multiple tours at once, and have more guides, each specializing in a different motorized sport. (Currently, Irwin runs all the tours himself, with his daughter offsite taking care of tracking—he always goes out GPS-equipped.)
The shop is along the St. Lawrence River, but so far he's not doing boat tours. He'd like to be able to take people out on a pontoon boat—to the 1000 Islands, even Montreal and Ottawa, and offer whole packages for those trips. In the long run, he'd love to see his daughter, also a motorcycle racer and snowmobiler, take over.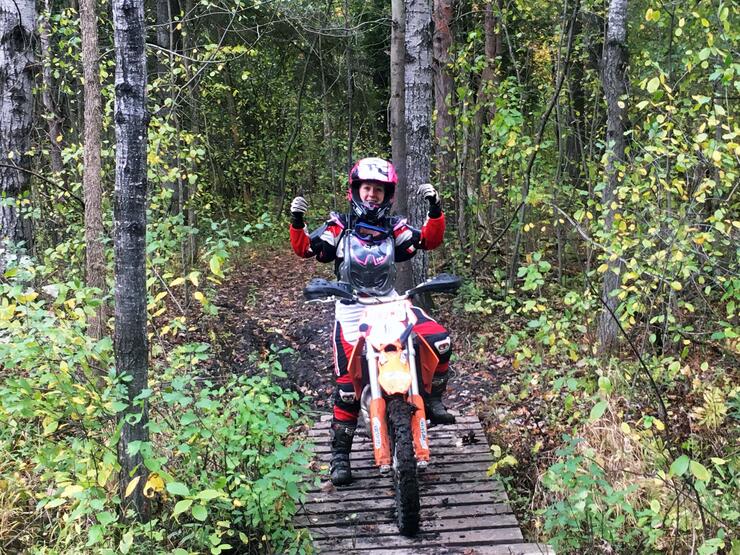 Even having only opened officially in September, Irwin is already noticing huge differences between his current and former businesses. With a dealership, he says, everyone else doing what you do is competition. In the tourism industry, "everyone works together, they send clients to each other. If one company has no spots available, they'll refer people to another. It's nice to see."
His specific location clearly has something going for it—with all of his experience, Irwin still lives 10 kilometres from where he was born. Of his kids, the furthest any have moved is an hour away to Montreal. Calabogie is an hour from Ottawa, and the proximity to the nation's capital, he says, works well in wanting to attract tourists. If people come in the day before they're scheduled to go out riding, they can get to see the parliament buildings. "People know less about this area," he says, "but it's as beautiful as the Rockies."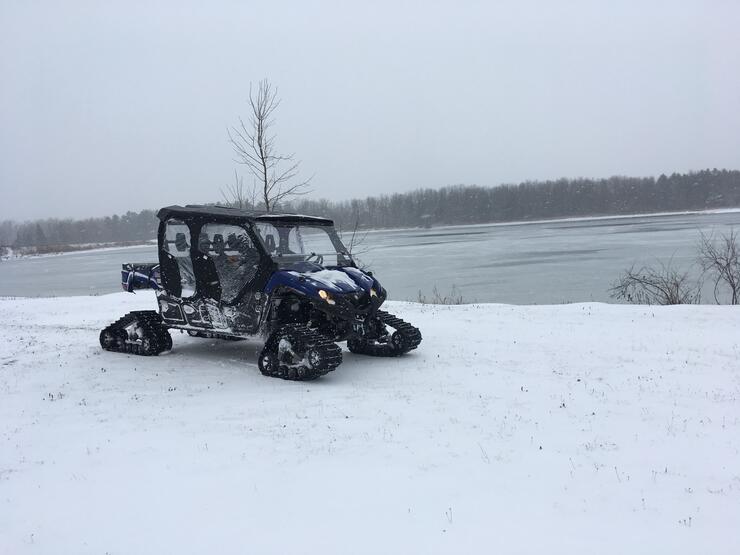 Asked about the particulars of running tours on both sides of the Ontario-Quebec border, Irwin says both are hospitable, but there are some differences. The Quebec side gets more snow, and there's sugar pie. Ontario is more tourism-oriented, and the eastern part is known even outside of Canada for its maple syrup, so he makes sure people get a taste of that.
With 40 years of motorcycle racing and snowmobiling to his name, folks can count on Irwin to know the best riding spots and to be able to really tailor a memorable experience to his customers' wants and needs. His, he is certain, are already being met: "in 15 years I'd like to retire, and I can't think of a better way of spending the end of my career than meeting people while doing what I love."