The Top 5 Snowmobile Destinations for 2023
Of all the places I've gone sledding in Ontario, these are the ones that keep calling me back for more!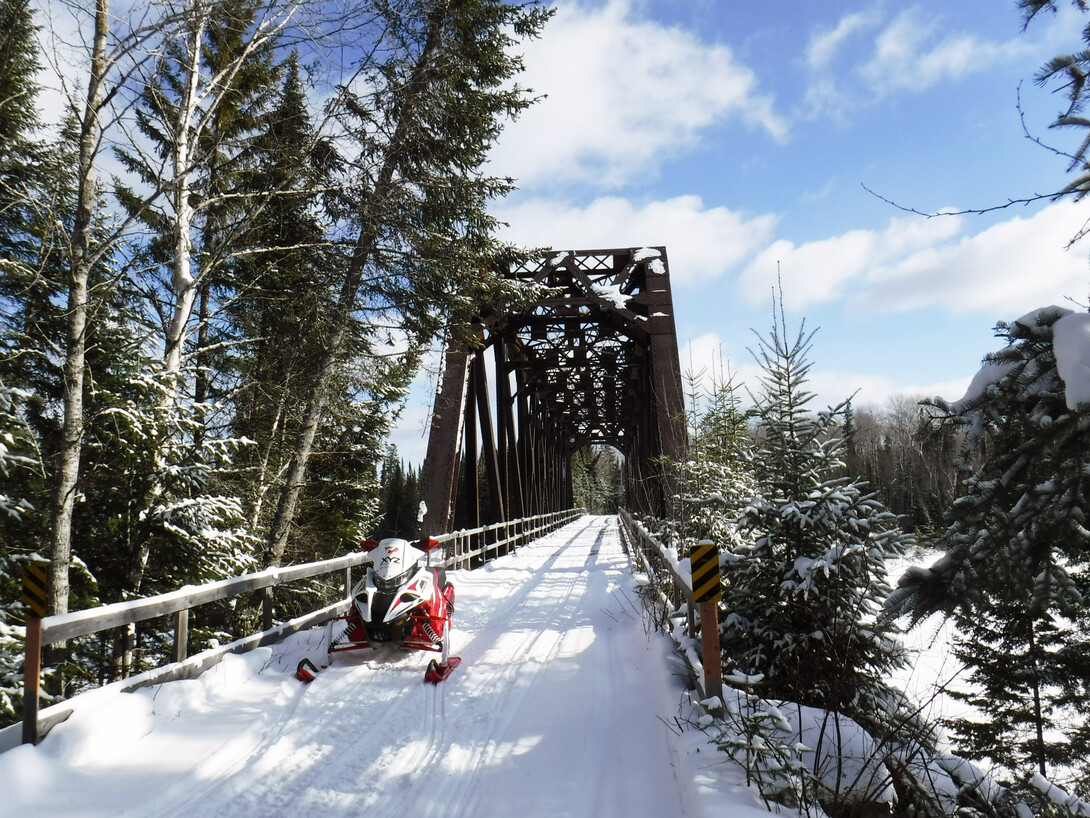 Pretty soon Northern Ontario is going to be well into its typical deep freeze, courtesy of the Polar Vortex. Unrelenting cold, piles of snow and dedicated snowmobile clubs mean that more trails are open up north than anywhere else in the world. 
It's time to plan a trip to remember, and we've prepared a killer list of places with trails that are actually open all year, and for many riders, are new riding areas. We've listed five of our favourites here.
Top five snowmobiling trails in Northern Ontario
Read on for detailed information about each destination, before making your decision on where you'll take your next Canadian sled adventure!
With the longest snowmobile season in Ontario, it's no doubt that Cochrane is a top destination for snowmobilers. Following Highway 11 north, Cochrane is a four-hour drive from North Bay or a seven-hour drive from Toronto. One can describe these trails as highways, which allow snowmobilers to cover a lot of ground in a day if they so chose. The Polar Bear Riders snowmobile club puts in countless hours to maintain near-perfect trails which is apparent once you start to explore the area. As part of the 1,645-km Northern Corridor snow tour, there are many points of interest that you won't want to miss. Local trails through the Town of Cochrane, a trip south to Zeverly Falls, or the famous loop up to the Abitibi Canyon will make for days of enjoyment.
When in Cochrane, our hotel of choice is the Best Western Swan Castle Inn. With clean rooms, a locked snowmobile compound, a new steam room, and free continental breakfast, we have all the amenities that we need for our stay. The hotel is within minutes of gas stations, snowmobile shops, and restaurants, and the trails are directly across the road from the property.
2. Elliot Lake and Beyond
If you're looking for small-town charm and friendly hospitality, then the City of Elliot Lake is not to be missed. Only a two-hour drive west of Sudbury, Ontario, Dunlop Lake Lodge is a great place for your snowmobile vacation. You will be greeted by the owners Jess and Trish with open arms. With a restaurant/bar on site and nightly entertainment, we always enjoy our time there.
Stay for multiple days and explore the area or start your saddlebag tour from here. The trails in the area offer some great scenery and elevation changes. Main, secondary, and club trails will have you within a day's ride from Manitoulin Island, Sault Ste. Marie and the backcountry riding adventures in Wawa. This area usually has a great base of snow throughout the entire season. Be sure to check out the 446-km North Shore Loop while you're up there. If you're looking for a vast variety of trails, scenic outlooks, and warm hospitality, you've come to the right place!
North Bay is a great central location in Ontario to ride or stopover. An easy 3.5-hour drive from Toronto will get snowmobilers into snow country. With plenty of hotels in the area, sledders can travel in any direction. Some of the most popular snow tours can be found in this area. The RAN, RAP, and Explorers Snow Tour are all accessible from North Bay. Whether in town for a week or just a weekend, you can be sure that you'll ride new trails every day and not hit the same one twice.
Just east of North Bay is the community of Bonfield. The Bonfield Snowmobile Club has a group of hard-working volunteers that keep the trails in pristine condition. The Explorers Snow Tour route takes you east along the top of Algonquin Provincial Park towards Mattawa, Ontario, and the newly reopened Mattawa River Resort.
Another sledder-friendly motel and restaurant to check out is the Valois Motel and Restaurant. Located right on the Ottawa river, it's modestly priced and the homecooked meals can't be beat. Snowmobile parking is right outside your door, so you can sleep knowing that your snowmobile is close by. Bring a flashlight to check out the Purdy Mica Mine as you finish the Explorers Snow Tour on your way back to North Bay. Grab the family or a group of friends and head up to the shores of Lake Nipissing. North Bay has something for everyone.
Located right on the Highway 11 corridor, New Liskeard is an easily-accessible location for snowmobile enthusiasts. I can't count how many times we've started and/or finished in this area. The New Liskeard Quality Inn is a hotel that caters to snowmobilers. The A107Q trail runs right through the property. The place has rooms that you can park your sled in front of and ample parking for trucks and trailers. After a long day on the sleds you can wind down in the pool, hot tub, and sauna to take the chill off.
Come morning, grab breakfast and start blasting through some of the fast sections of trail that surround New Liskeard. If you're looking for one of the nicest snow tours in Ontario, the Gold Rush Tour will not disappoint. A 720-km multiday loop will take you through some of the best trails that Northeastern Ontario has to offer. From here you have the option to head north towards Cochrane or south towards North Bay. Both can easily be done in a day and at only a five-hour drive from Toronto, New Liskeard is the perfect option to kick off or end your snowmobile vacation.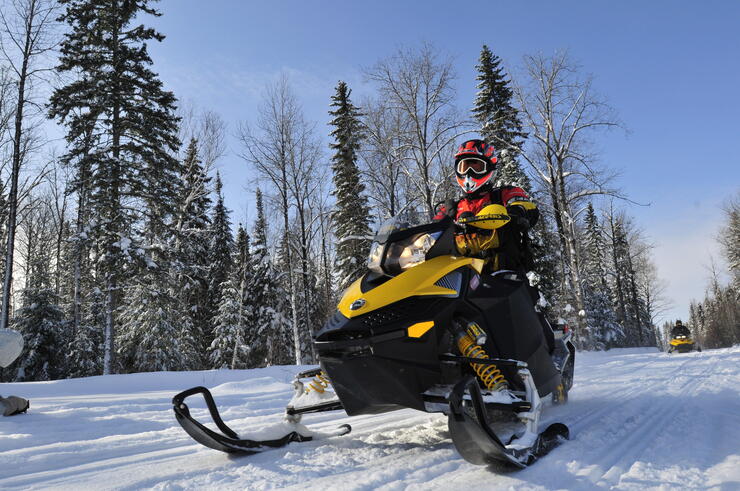 It is no surprise that another area featured on our list resides in Northern Ontario. Timmins is a snowmobiler-friendly area that has everything a sledder could ever ask for. The Timmins snowmobile club maintains just under 500 km of well-kept trails that expand throughout the city. Having trail access that runs to amenities such as restaurants, fuel, snowmobile shops, and hotels explains why we couldn't leave them off this list of places to explore. The city is the northernmost point of the OFSC's Gold Rush Tour, and gives close access to the Northern Corridor Snow Tour.
Got snow? Snowfall averages over 500 cm (200 inches) annually, which explains why Timmins has one of the longest snowmobile seasons in the province. The Mattagami River (the Ojibwe name means the "meeting of the waters") flows through the area. Why not meet with a group of friends, or bring the family to enjoy a memorable snowmobiling trip that will be talked about for many years. Timmins is an area that we frequent every year and for good reason. If hitting every point on your checklist for a top snowmobile destination is important, then you have come to the right place.

BONUS: The Halfway Haven Lodge
Fast trails or backcountry riding? Halfway Haven has it all. The rustic lodge can house 38 people in a secluded setting that powersports enthusiasts can appreciate. The owner, Sean, greets his guests as if you've been friends for years. Home of the famed backcountry that snowmobilers are in search of. Make sure to call Halfway Haven to get details on how you can rent backcountry snowmobiles or set up a guided trip for you and your friends. The location is approximately 100 km southeast of Wawa, which means deep snow for most of the season.
If it's trail riding that you're after, you can ride some of the most well-kept trails in Ontario courtesy of the Wawa Sno-Riders. Fast, wide, and with minimal traffic—the trails make this an area that I just have to include on my list of places to return to. Share some stories and laughs at this unique location. If you haven't been to Halfway Haven, you don't know what you're missing. Click here to learn more about this northern gem.
Ontario is home to an abundance of snowmobile-friendly places to stay. Explore the OFSC trail system and some of the 35 snow tours this winter. Amazing trails, comfortable lodging and Canadian hospitality; what more could you ask for? Start planning your 2023 snowmobile vacation for memories that will last a lifetime. Ontario is yours to discover!