Exploring Algoma Country's Premier Snow Adventure
Amazing trails and plenty of options to customize this winter's most memorable tour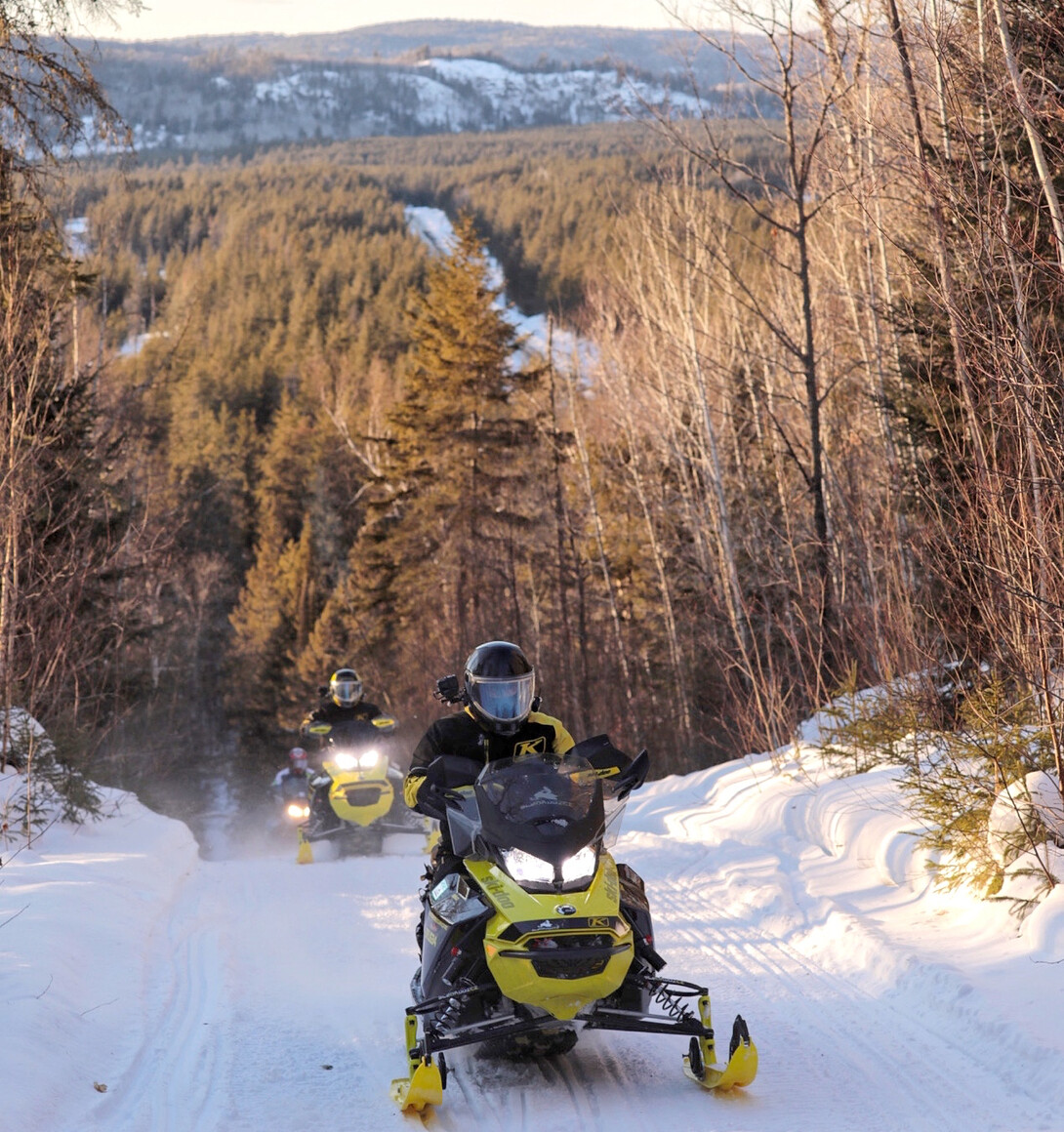 There's plenty to love about riding OFSC Prescribed Snowmobile Trails in Ontario's Algoma Country. Positioned north of Lake Huron in Northern Ontario, this beautiful region really gets what snowmobilers love about winter—oodles of snow, great grooming, and welcoming hospitality for visiting riders.
Algoma Country also gets that snowmobilers want exciting tours. So Algoma North offers the epic All The Way There Ride (Sault Ste Marie to Hearst—about 850 km), while Algoma East presents the 169-km Soo Highlands Loop, the 230-km Island Getaway Loop, and my personal fav, the 446-km North Shore Loop. To access any of these trail riding adventures, visiting Southern Ontario snowmobilers can enter Algoma Country via Spanish in the east (by road or trail), while American riders can trailer into Sault Ste. Marie or sled in via the Drummond Island ice crossing to St. Joseph Island.
Two Ways To Ride This Loop
The North Shore Loop is perennially popular thanks to its route that rides along the North Channel of Lake Huron and through the heartland highlands to the north. This includes rugged Canadian Shield, old-growth forests, and even some very scenic hill country between Aubrey Falls and Elliot Lake.
There are two ways to ride this loop, and great trails mean both are equally achievable. Staging from the east side, out of Spanish or Elliot Lake, the ride is a circle run of about 446 kilometres. To the west, Sault Ste. Marie is also a viable staging point, but will add an additional 160 klicks to your distance tally (80 klicks each way to access the North Shore Loop). 
Make Your Ride Longer or Shorter
So, it's either an easy 2-day loop out of the east or a doable but longer one from the Sault—a choice of how much distance you're comfortable with each day depending on your riding style and group size.
Your options to include Sault Ste Marie in your tour are:
riding two longer days (300 km each)
decrease the distance of your North Shore Loop ride, by taking shortcuts using Club Trail EL3 out of Elliot Lake or TOP D134 and BM2 near Wharncliffe
or add a third day
If you do add a third day, consider including a side trip to the connected Island Gateway Loop. Another opportunity on day three is to stay over in either Elliot Lake or Spanish to ride numerous other trails in that area.
Lots of Visual Variety
Whatever your choice of staging location, remember that the southern part of the North Shore loop runs primarily on TOP Trail D, with many great views overlooking the North Channel. This corridor mostly parallels Highway 17 and provides good trail access to multiple services in snowmobile-friendly towns like Blind River, Iron Bridge, Thessalon, and Bruce Mines. 
Alternatively, the northern trails of the loop, TOP D106 and TOP F, run through majestic hill country that's rugged and remote with breathtaking scenery. This means fewer choices for fuel and food, but Black Creek Outfitters, near Aubrey Falls at the intersection of TOP D106 and F, welcomes snowmobilers with open arms.
Many Advantages To Choosing This Loop
There's always lots of online chatter from big milers who love Algoma's All The Way There ride to Hearst, and for those who want to get away for about five days, it's a spectacular experience. But the North Shore Loop is closer, more accessible, more flexible in duration, and offers more trail options while providing a different variety of exceptional sights and terrain. And for those heading north from Southern Ontario the drive to stage from Spanish is about the same as trailering to Temiskaming Shores.
So start planning your Algoma Country ride for this winter—and grab bragging rights to completing the North Shore Loop!
Where We Stayed
Elliot Lake
Dunlop Lake Lodge (15 min. north of Elliot Lake)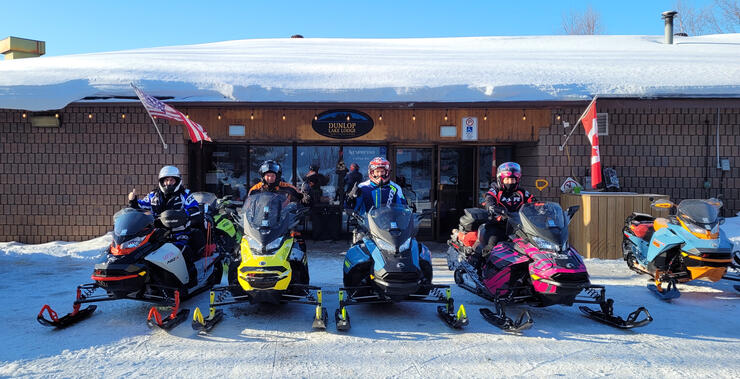 Sault Ste Marie
Fairfield Inn & Suites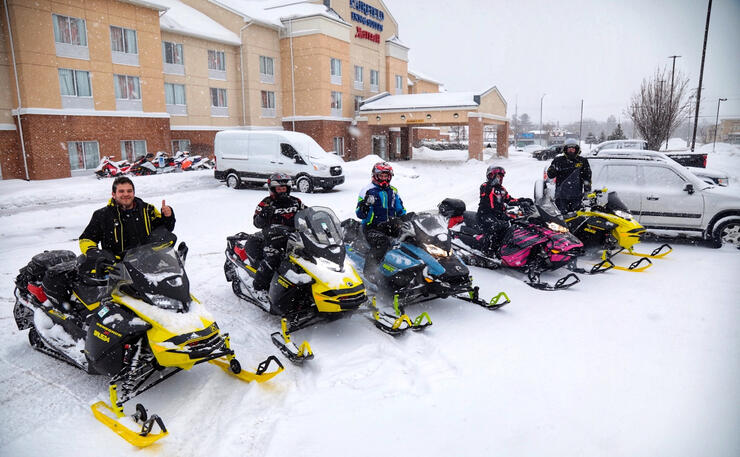 Other Lodging Options 
Aubrey Falls
Black Creek Outfitters
Spanish
Spanish River Inn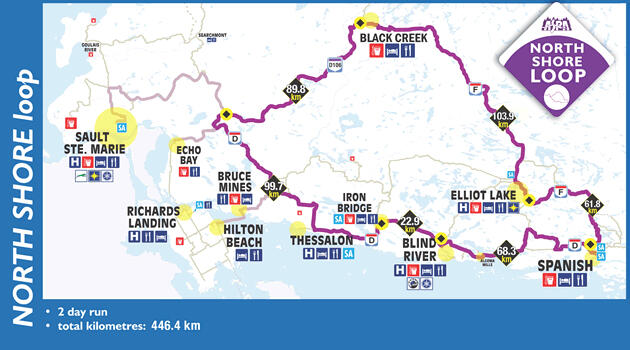 plan your snowmobile trip today with these resources
Ontario law requires a snowmobile entering an OFSC Prescribed Snowmobile Trail to display a valid Ontario Snowmobile Trail Permit.