11 Antidotes for the Winter Blues
The approach of winter can get some of us down or anxious. But winter opens up a whole new set of fun vacation opportunities—it's time to keep an open mind!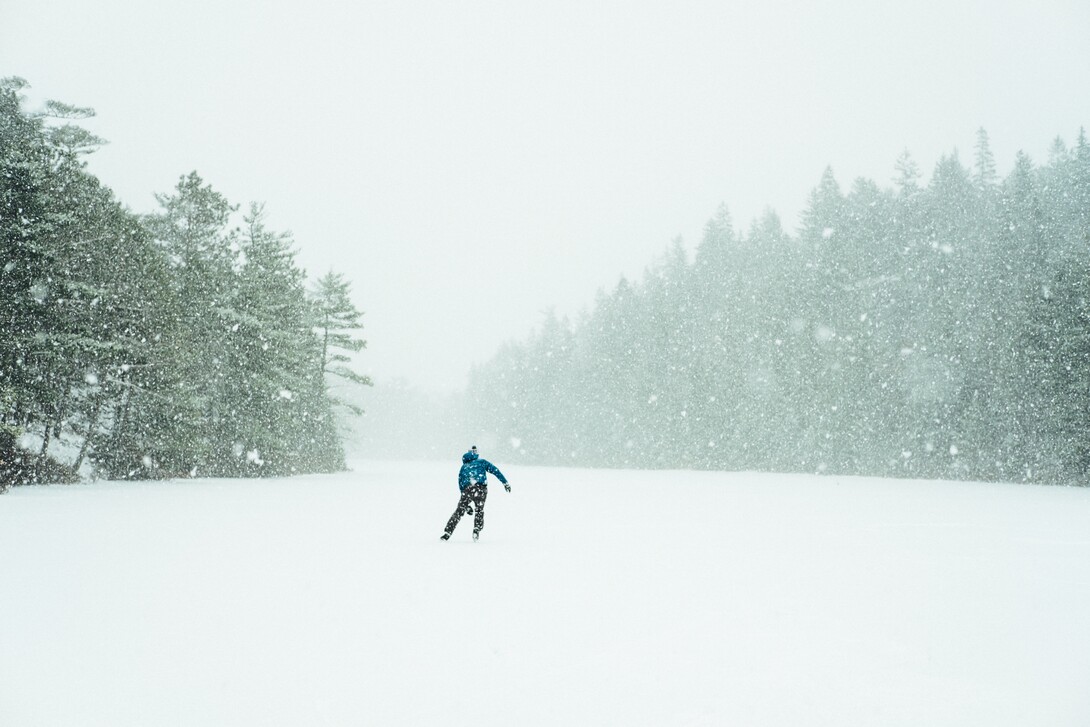 With September comes a noticeable change in the air, dropping temperatures, and a change in colours in the Boreal. While fall is a beautiful time to visit Sunset Country, it's also pretty fleeting—its official start is September 21st, but we normally get snow by Halloween or shortly thereafter, and that often stays until the following April! This means Jack Frost lingers for about 6 months up here. While that may sound depressing to some of you, especially those that don't like cold weather, winter is not something to be anxious about. In fact, there is lots of fun to be had in Sunset Country during winter!
Here are the 11 best things you can do this winter—so go have fun and banish that winter anxiety!
1. Break Out the SnowShoes
With the first significant snowfall, your first order of business is to break out the snowshoes. Snowshoeing is something you can do after the first good snow when ski trails are still not groomed and you don't have to worry about breaking a ski on the rocks or running out of snow on the trail. It is a great introduction to winter and with your other option being to hibernate, it's the right choice to make. 
2. Build a Snowman
While this may sound silly, especially for the adult folk, getting out there after the first snow and building a snowman is a way to deal with winter anxiety syndrome. The first snow is wet snow so it will be ideal for rolling so get outside and get with it. Combine it with a snowball fight and the laughter and fun will make you embrace your situation, well, at least for the moment. What else are you going to do with all that snow?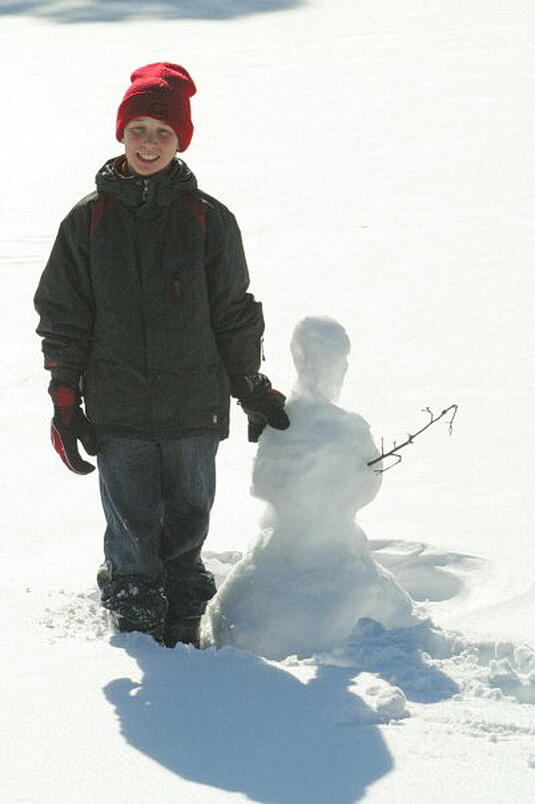 3. Go Tobogganing
Unlike say, a place like Toronto, tobogganing is allowed and actually encouraged in Sunset Country. With the Canadian Shield, there are many good toboggan hills and some of the ski hills have sections just for tobogganing. This is something to do with your kids and it will bring back some fun childhood memories at the same time. Going up and down the hill is not only fun, but it is also good exercise. Remember those new tubes for sliding go much faster than the old toboggans (see image below) so be prepared! Follow it up with a steaming cup of hot chocolate at a Sunset Country restaurant.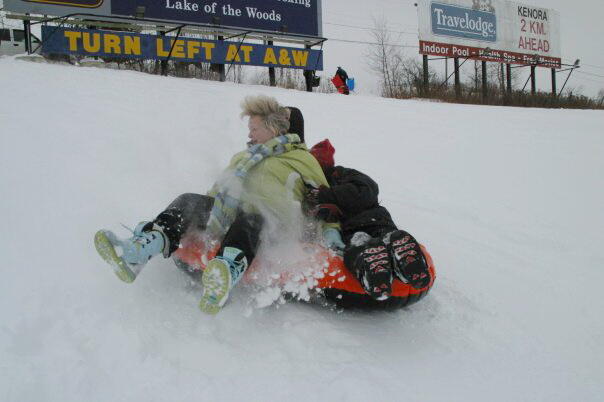 4. Downhill Skiing & Snowboarding
If you are into a more rigorous activity then visiting one of our downhill ski hills is the ticket for you. Not only a great family activity, but skiing is also incredibly good exercise. You can ski or snowboard. There are 5 ski hills in Sunset Country: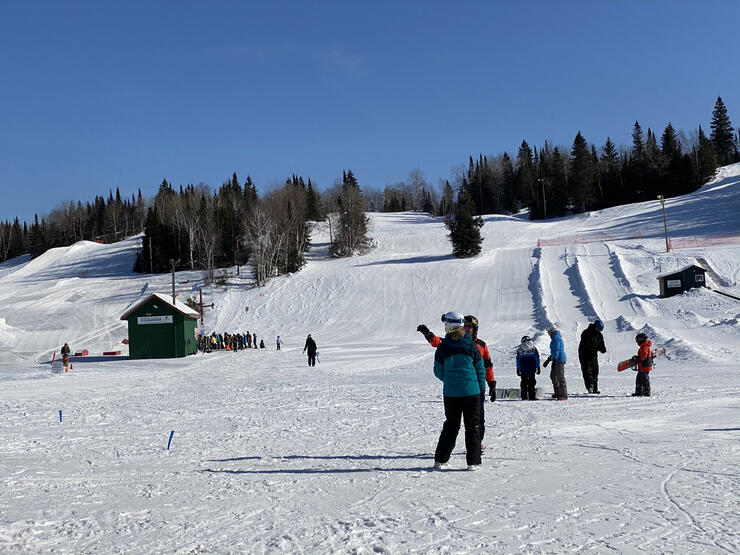 5. Winter Hiking
Hiking isn't just a warm-weather activity, in fact, the opposite is true and when you live in Sunset Country, you quickly learn how wonderful the Boreal forest is during the winter months. Let's start with the fact that on a winter hike, there are ZERO bugs to deal with so that in itself, is a major advantage. The other thing to consider is the sheer majesty of the Boreal when it is covered by a blanket of snow. Weather protection on the trails is another thing, even if it is a windy, cold day, on a hiking trail, surrounded by stands of red and white pine, you are almost always in a micro-climate with no wind.  Here is a good article that lists most of the hiking trails in Sunset Country.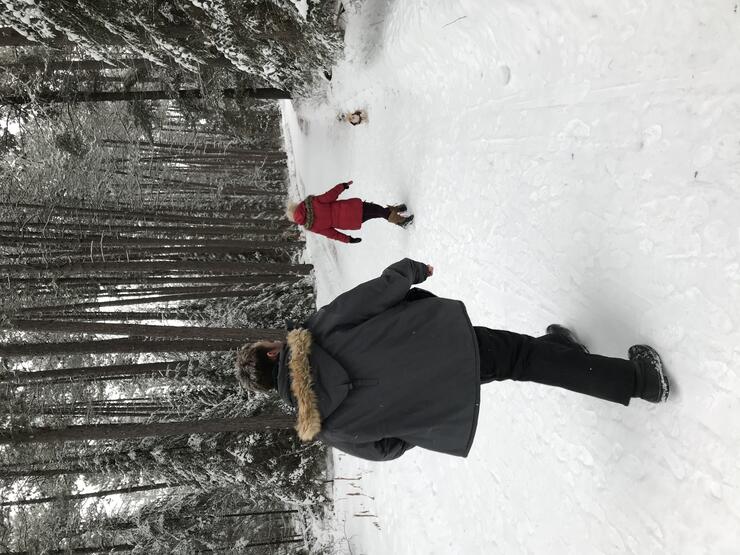 6. Snowmobiling
A true winter activity if there ever was one is snowmobiling and in Sunset Country, we have several thousands of kilometers of groomed snowmobile trails. And they're the least congested trails in Ontario! Snowmobiling is an activity you have to prepare for so remember to plan your outing by letting someone else not going with you where it is exactly you're going and when you plan to be back. Dress warm, and bring food and extra fuel if needed.
The number one safety rule, however, is to stay on the groomed trails - especially on lakes and rivers. When you're prepared, snowmobiling can get you into places you can never get to in the summer months. It is a great activity to do with family or friends and many people use their snow machines to go ice fishing. You'll definitely see the backcountry if you decide to go snowmobiling. More info on the trail system (plus check out the recently reopened trails around Sioux Narrows) can be found here.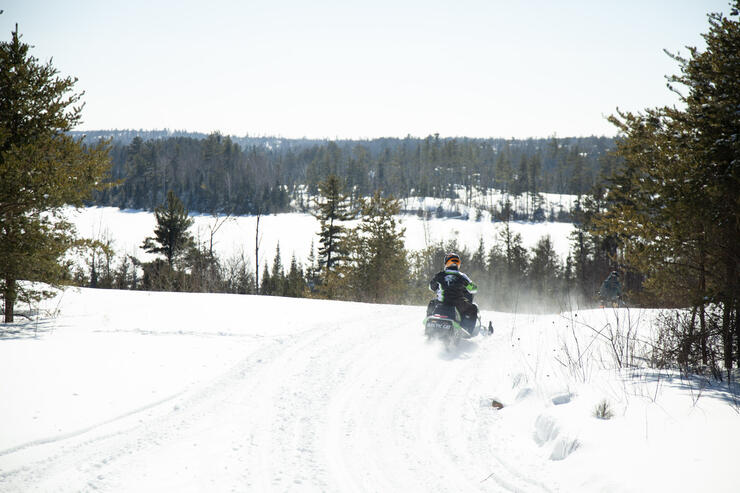 7. Winter Kiteboarding
Most people aren't even aware of what kiteboarding is but during the summer months, you will often see some kiteboarders on the water catching the westerly winds and going for a ride over the waves. As the image below shows, you can also kiteboard in the winter and arguably, it may be more fun than in the summer. Like any winter activity, dressing warm is the first order of business but if you're adventurous, then maybe kiteboarding is your perfect antidote to the winter blues.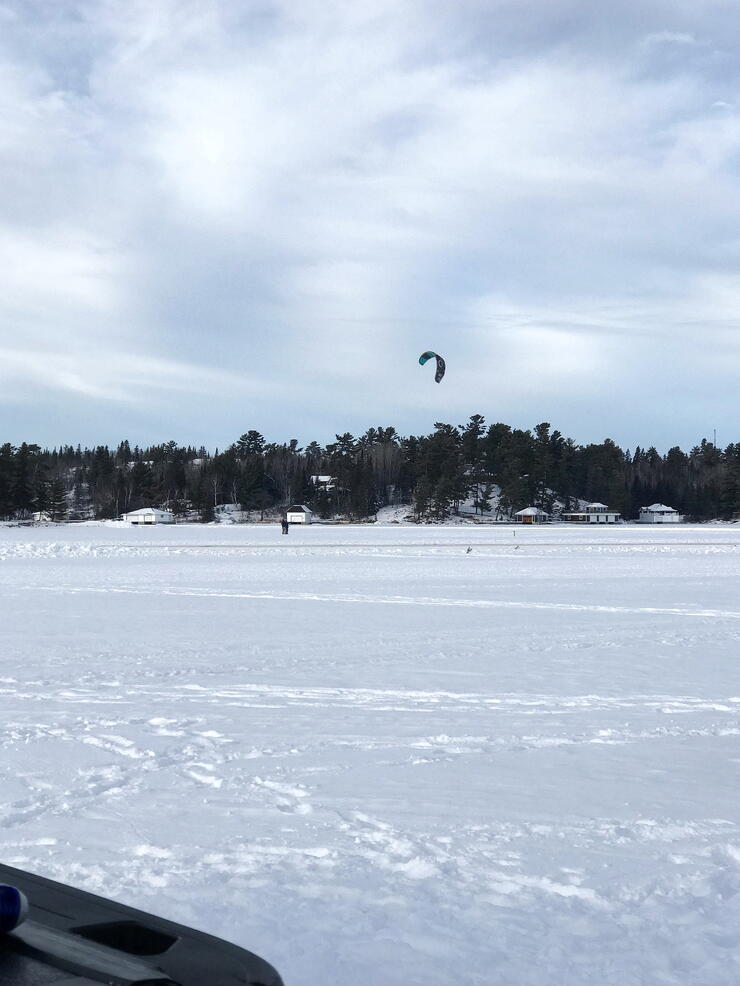 8. Cross-Country Skiing
One of the most popular winter activities in Sunset Country is cross-country skiing. Virtually every town and city has a trail system or one nearby. For a summary of the places where you can go cross-country skiing click here. On these ski trails, the rocky Canadian Shield leads to some challenging loops with grades approaching 25% (1:4)  - fun downhill, but lots of work on the way up! Trails in most locations have loops that range from easy to difficult so everyone can find their comfort zone. The view along the trails is winter in its full splendor.
9. Stay at a lodge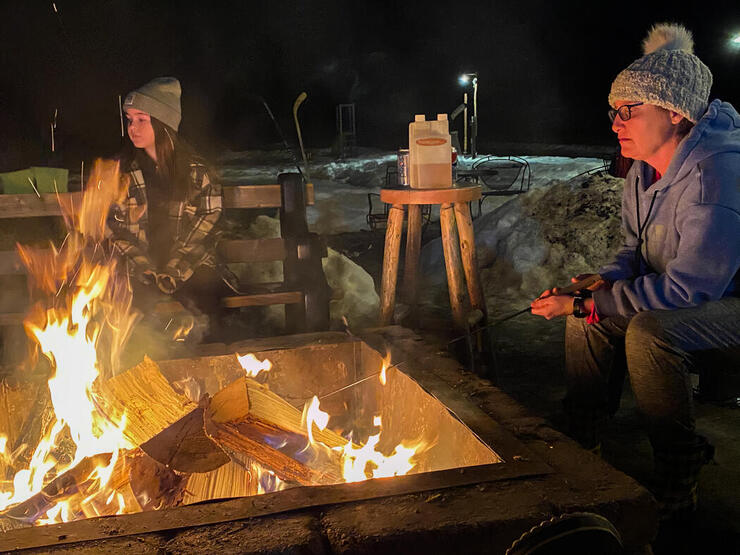 While the big season for lodge trips out here is summer, there are a number of cozy lodges that stay open throughout the winter. Many cater to ice anglers but you can also book a weekend or longer at an area lodge, just to get away, go on a romantic weekend, or bring the kids and make it a family trip. Or sometimes a friend's weekend is just what you need! While you're there, you'll find lots to do. One of our favourite things is to go for walks at night, gaze up into the dark skies, and be blown away by the number of stars you can see. if the skies are clear, your chances of seeing the Northern Lights are good!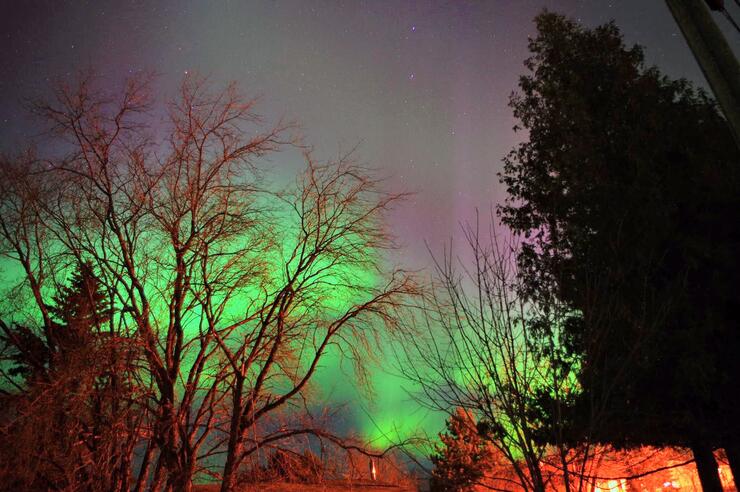 10. Go Ice Fishing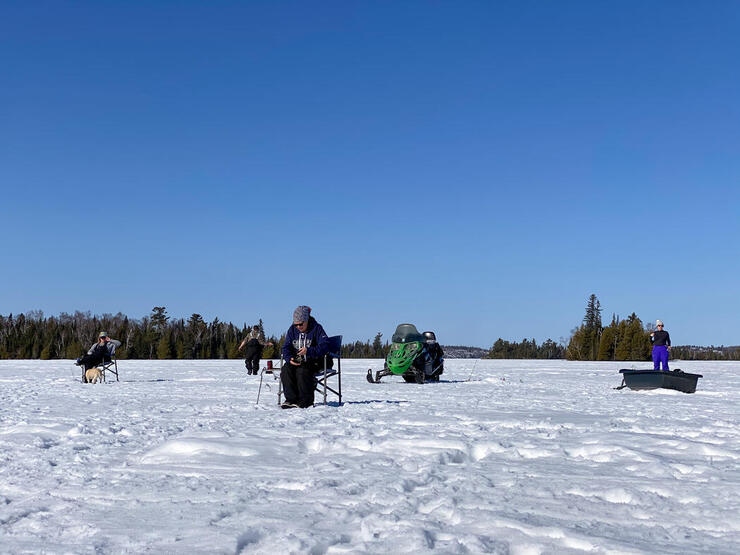 We saved the best for last and since fishing is what Sunset Country is famous for, we thought it appropriate to include it in this list of things you can do in winter. The truth is when the temperatures drop the fishing heats up, and fish like lake trout, walleye, and pike are targeted by ice anglers across the region throughout the winter months and into March, even April. Many area lodges offer packaged ice fishing trips. You can even rent fully heated luxury ice huts that you sleep in that are placed out on the ice where the fish are. It's a surreal experience!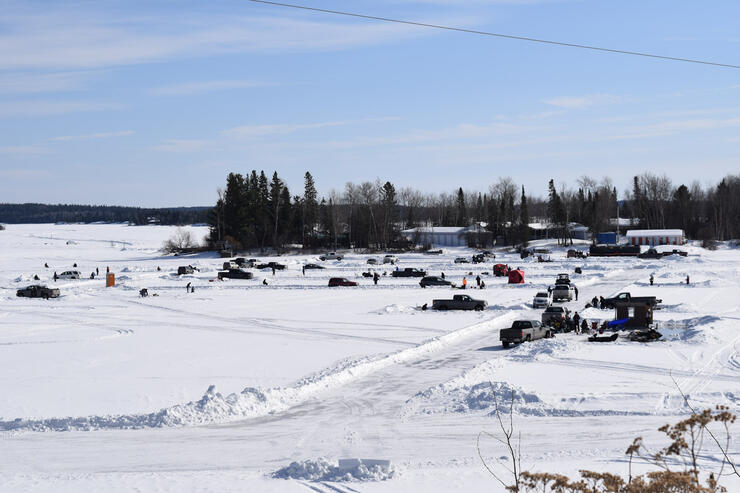 11. Be Stoic
The bottom line: winter is an existential reality, there's no hiding from it (unless you're a snowbird). So best be stoic and embrace your reality for what it is and have a whole lot of fun while you are doing it. Embrace winter and all it has to offer, or stay inside until next April, it's your choice.
So there you have it, 11 things you can do in Sunset Country during the winter months. Can you add it to this list?