Lake of the Woods Holiday Gift Guide
This pristine region is packed with talented artists. We've rounded up some great gifts to help you shop local and support the arts.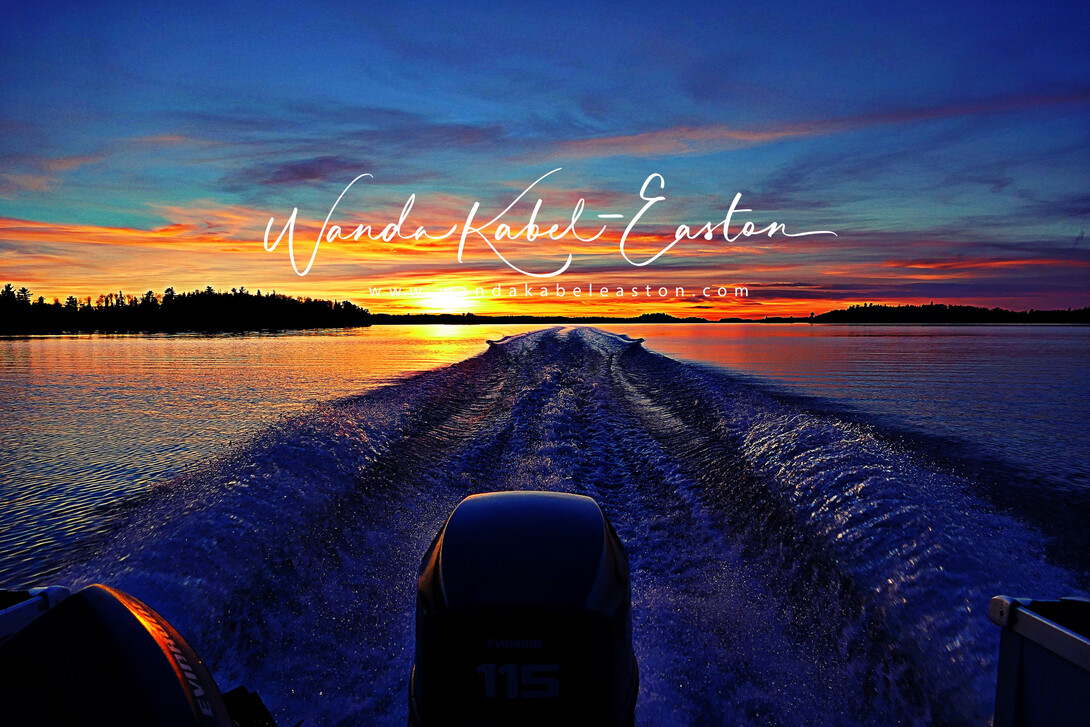 With a population of just over 15,000 people, Northwest Ontario's Lake of the Woods region likely has one of the highest concentrations of art and culture in the province, on a per capita basis. The area, known for its namesake lake and its more than 14,000 islands, and for its boating and sailing, is also a hidden-away creative hub, home to museums, galleries, and outdoor art exhibitions that can be seen year-round, such as the Heritage Townscape Murals the Lake of the Woods museum, both in downtown Kenora, and the Sioux Narrows Arts Festival. 
Since 2008, Lake of the Woods has had its own arts organization, the Lake of the Woods Arts Community (LOWAC), which was formed by multidisciplinary creators in the area who saw the need for a stronger, more cohesive, more vibrant face for the arts community. LOWAC currently represents more than a dozen artists across numerous disciplines, including dance, visual arts, and music, whose membership to LOWAC gives them visibility, access to advocacy, and the ability to participate in LOWAC's various community events. They even are hosting a number of online events under the banner Arts@Home, featuring local artists demonstrating their skills. The local town of Sioux Narrows also has its own arts organization, the Sioux Narrows Arts Council, which runs the popular summer arts festival as well as an online shop for artists. 
Because Lake of the Woods has such a strong local arts infrastructure—and a bustling local arts scene—it also offers plenty of opportunities to support local artists and makers this holiday season. Whether you're shopping for housewares, apparel, or simply a new accent piece for the home, Lake of the Woods artisans have something for everyone.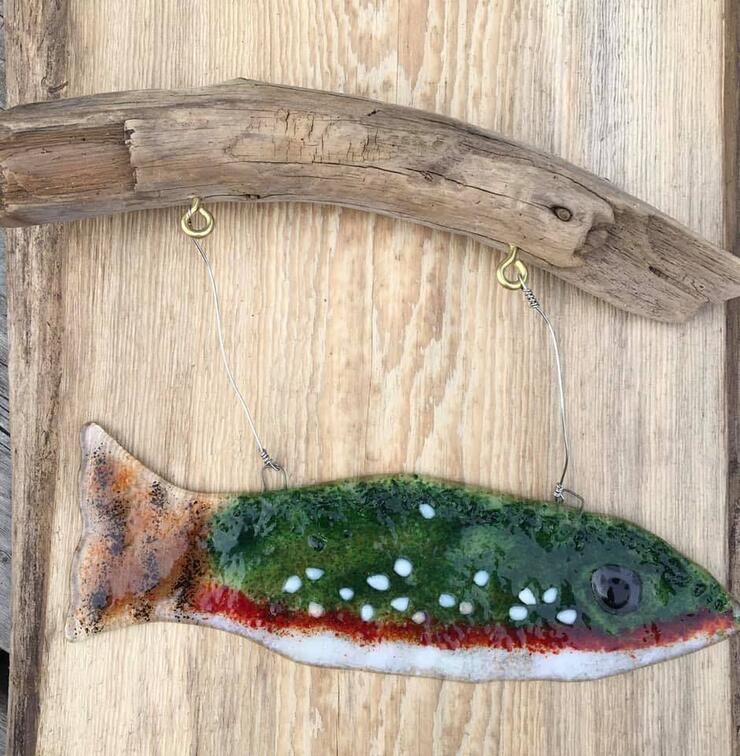 Where the artist is based: Kenora
How to find it: Online, at facebook.com/HGglassknits, or at Gropp's Country Catering in Kenora until Christmas
Why to buy: Artist Heather Gropp creates whimsical, folksy ornaments and hangings from glass. There are Christmas ornaments to be had, sure, but HG Glass & Knits' signature items are her fish ornaments: glass hangings whose colours and features accurately capture the fish that they're modeled from — with their translucent bodies and dappled sides, they practically look as though they're underwater. Gropp is also a skilled knitter, and her winter wear — including mitts, hats, and headbands — is available for purchase alongside her glassworks. 
Where the artist is based: Kenora
How to find it: Online, at inglenookartstudio.com, or in person at 1051 Railway St., Unit 3, in Kenora
Why to buy: Irene McCuaig is the brains behind Inglenook Art Studio. The painter and sculptor is an active part of the Lake of the Woods arts scene, and both teach classes and facilitate workshops at Inglenook throughout the year. Her evocative paintings are expressive and captivating, ranging from watercolor landscapes and florals to fantasy-inspired works featuring fearsome dragons. Pop into the studio to see what she has for sale for the art lover on your list, or inquire about a class for someone who'd like to learn from a master.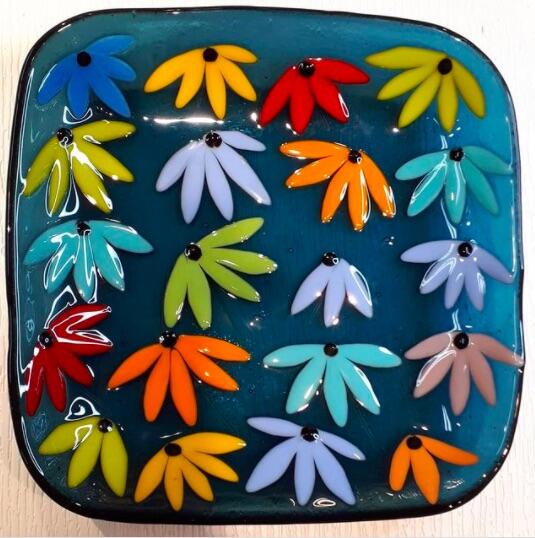 Where the artist is based: Kenora
How to find it: Online, at midnightloonglass.com or instagram.com/midnightloonglass, where new items for purchase are often posted
Why to buy: Glass artist Elizabeth Wires wants to give your home a little bit of botanically-inspired beauty. The Kenora-based artist and entrepreneur creates striking glass platters and bowls, each of which is 100% unique, and most of which are emblazoned with flowers or foliage that reflect Wires' appreciation for the natural world. A cursory scroll through her Instagram account shows a juxtaposition between her glassworks — usually featuring stylized plants, reeds, and flowers — and beautiful, serene photos of the plants and landscapes that Wires find most beautiful. Lovers of the great white north will appreciate having a little bit of nature to display year-round on their coffee tables.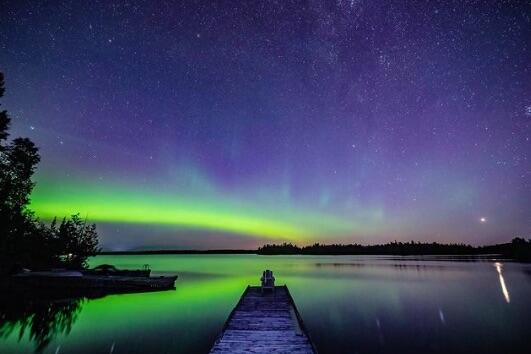 Where the artist is based: Sioux Narrows, Nestor Falls
How to find it: Prints are for sale online, at wandakabeleaston.com
Why to buy: Like so many of the artists on this list, Kabel-Easton's art practice focuses on the wilderness of Lake of the Woods. The born-and-raised Lake of the Woods resident is primarily a landscape photographer, as is evident in her images of the area's namesake lake and its boreal surroundings. But Kabel-Easton doesn't limit herself to the water and earth: some of her most incredible work focuses on the night sky of Lake of the Woods and, specifically, the Northern Lights. Using long exposures, Kabel-Easton has produced incredible images of the aurora borealis, in all its vivid, otherworldly glory. Art lovers should also check out her watercolour series that showcases the intricate outlines of the many lakes of Northern Ontario.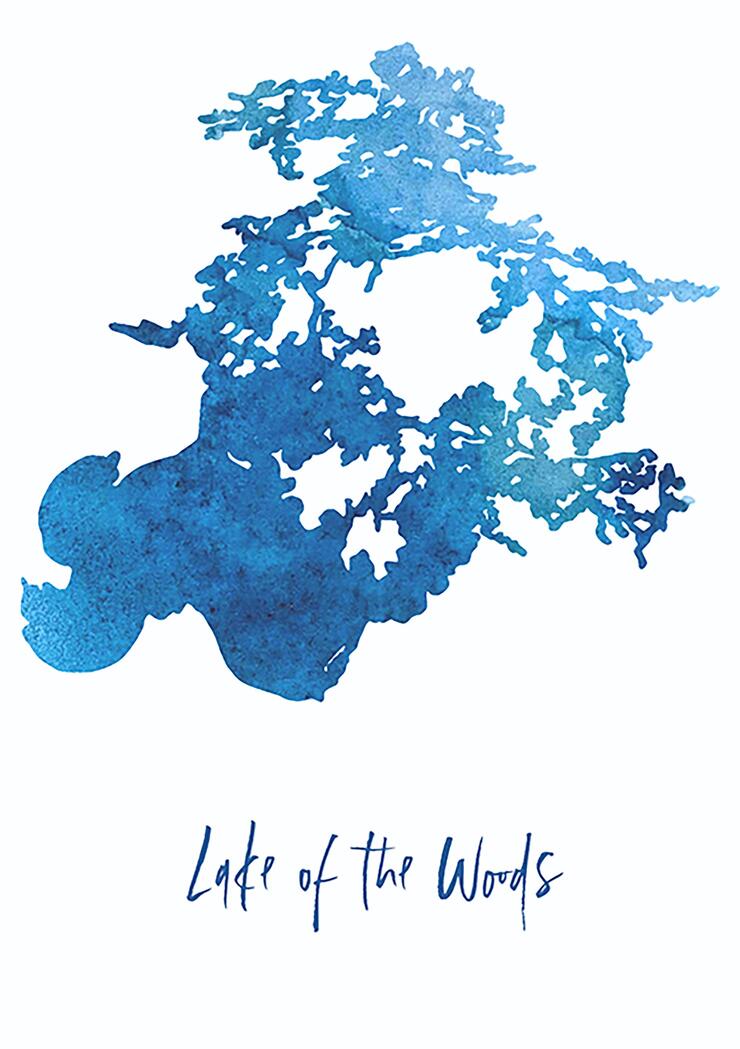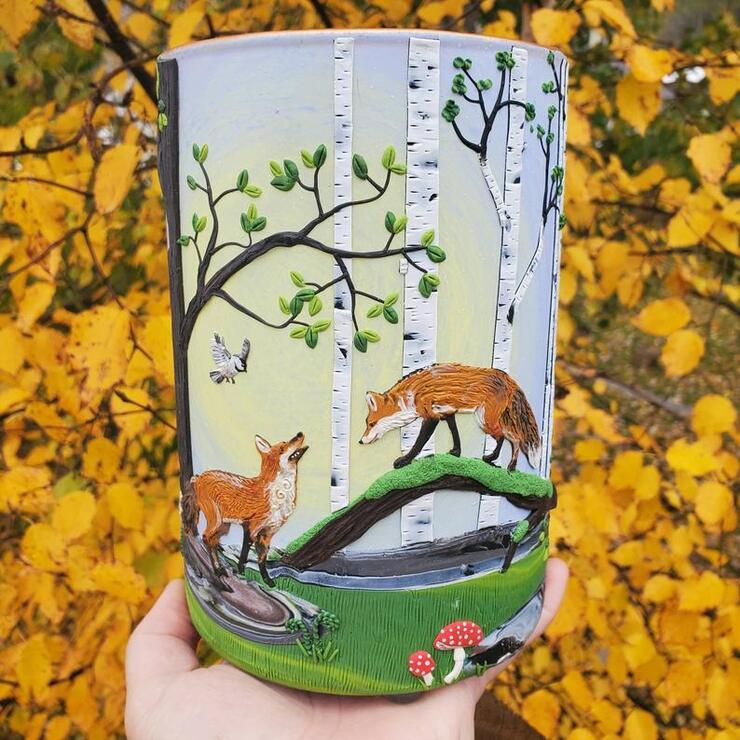 Where the artist is based: Kenora
How to find it: Online at etsy.com/shop/kissinglass, or at Sunrise Soap in Kenora
Why to buy: Adrianne Jeswiet makes miracles with polymer clay. She uses recycled glass bases, such as candle holders, tumblers, light bulbs, and vases, as canvases for polymer-crafted scenes, such as a pair of loons bobbing in a bright blue lake, an eagle perched in a birch tree, or a pair of foxes meeting in a lush green forest. It's work that truly has to be seen to be appreciated.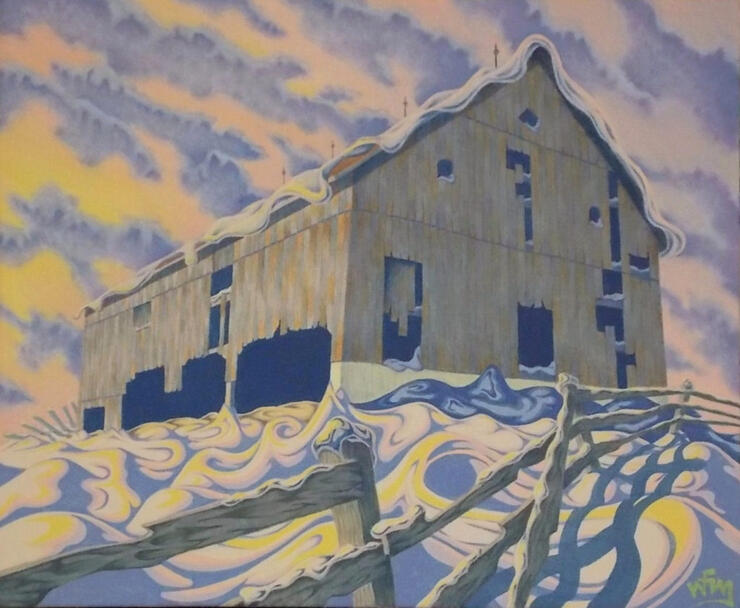 Where the artist is based: Kenora
How to find it: Bill's works can be seen on the LOWAC website, at lowac.ca/bill-mcfarlane/  inquiries about purchases should be made to nina.macfarlane@gmail.com
Why to buy: McFarlane, also a long-standing member of the Lake of the Woods arts community, is an accomplished printmaker who currently oscillates between drawing and oil painting in his artistic practise. His works are vivid, intense, and evocative, often with an underlying sense of tension: one painting portrays five crows circling the head of a bovine animal, for instance, while a snow-topped barn, painted from an upward perspective, feels somewhat looming in presence. It's thoughtful, eye-grabbing stuff—impossible to simply glance at.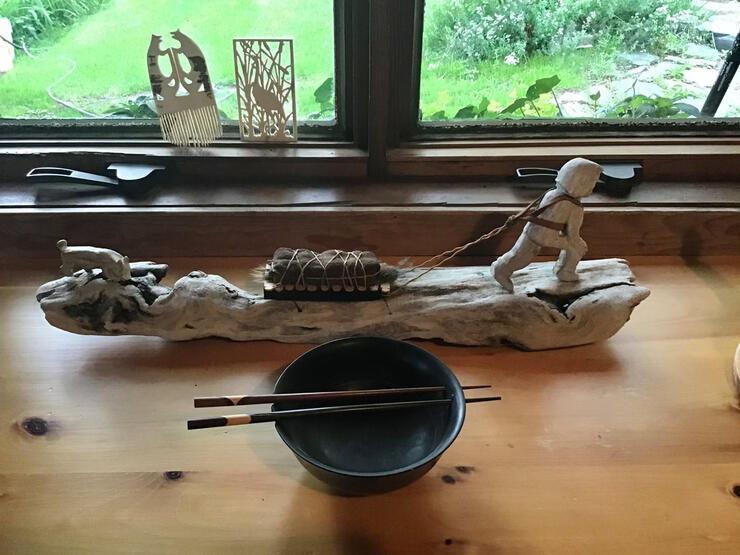 Where the artist is based: Kenora
How to find it: You can see some of Small's work on the Sioux Narrows Art Festival's website, at siouxnarrowsartsfestival.com/2020-artists-online.html; purchasing inquiries can be made to sum_lake@hotmail.com
Why to buy: Small specializes in lathe-turned bowls and antler carvings. His carvings in particular are incredible, intricate pieces, depicting Inuit and Indigenous traditions and daily life, such as drum circles, canoe trips, and hunting and foraging expeditions. 
Whether you're an art lover looking for the perfect gift, or an artist looking to connect with a vibrant arts community, Lake of the Woods, in Northwest Ontario's Sunset Country has the answer. For more art and gifts available for purchase online, visit the Sioux Narrows art gallery or the Lake of the Woods gallery.