Spectacular Outdoor Adventure Awaits in Lake of the Woods 
Hike wooded trails, relax at the beach, take a boat tour, and go fishing on Lake of the Woods, one of the biggest lakes in North America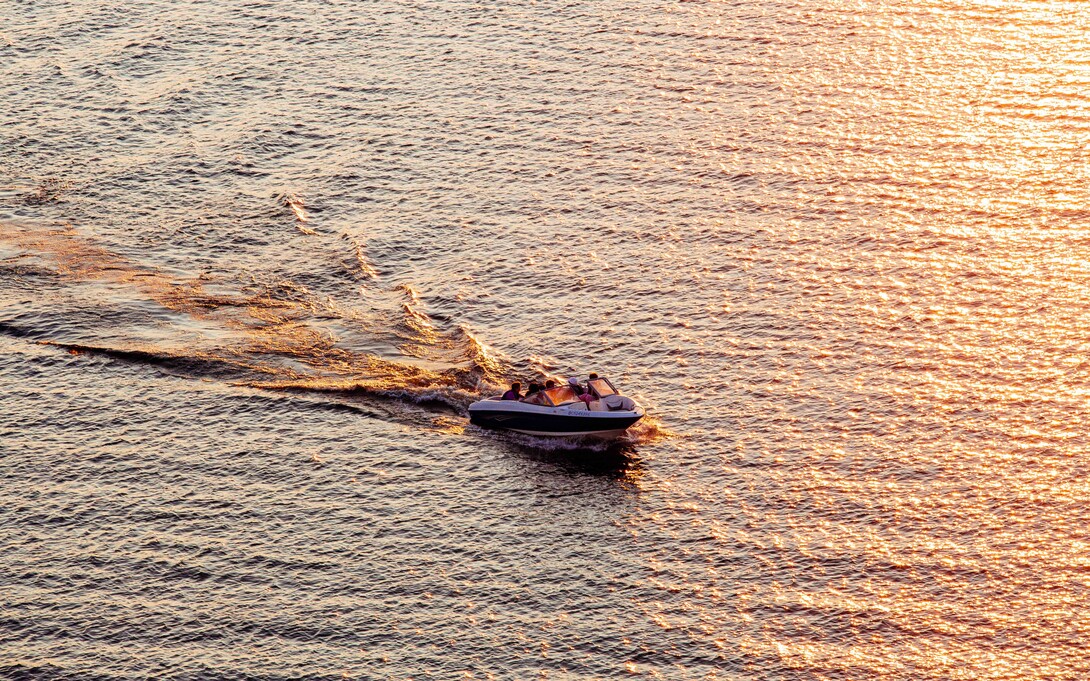 Lake of the Woods, Ontario, Canada
Whether you're a wilderness camper, a boater, a fisher, or a beach-goer, get ready for an awe-inspiring experience of Northern Ontario's great outdoors on Lake of the Woods. Bordered by Ontario, Manitoba, and Minnesota, and easily accessible via the scenic city of Kenora, Lake of the Woods attracts outdoor adventurers of all types, from thrill-seekers to vacationing families. No matter what your day looks like, it'll probably end like everyone else's: relaxed and watching a spectacular sunset over the water.
The second-largest lake in Ontario, Lake of the Woods stretches over 1.5 million acres and boasts both a northern wilderness appeal and proximity to friendly small cities, towns, and outposts where you can get a great meal, rent a boat, and stay the night. There's no better time than the present to dive in and explore the range of outdoor experiences on Lake of the Woods.
Discover a surprising side of cottage country
Lake of the Woods may feel remote, but the small, amenity-packed city of Kenora on the northern edge of its vast territory is only a two-and-a-half-hour drive from Winnipeg. Kenora's many hotels, motels, and campgrounds make it the perfect spot from which to launch all your wilderness adventures. Wherever you're driving in from, you'll likely spot wildlife along the route lined with waterways and boreal forests. A massive system of waters, islands, and peninsulas, Lake of the Woods spans over 4000 sq kilometers and is home to over 14,000 islands and a combined shoreline of 100,000 kilometers—that's more shore than Lake Superior.
Located on the Canadian Precambrian Shield, the lake's shores, peninsulas, and islands are rugged and wild, with dense forests, rushing rivers, and wildlife ranging from deer and eagles to bears and wolves. If you're boating on Lake of the Woods, you could spend anywhere from a day to a month navigating around islands, tackling channels, and stopping by small towns like Morson, Sioux Narrows-Nestor Falls, and Minaki. 
In Kenora and towns further down the Trans-Canada, numerous restaurants, brewpubs, and other eateries make sure you'll certainly never have to worry about satisfying a summertime craving. If you're doing your own cooking, find fresh meats and fish, locally-grown produce, baked goods, and more at the Matiowski Farmers' Market.
Stay at the area's resorts, lodges and hotels, such as the iconic Best Western Lakeside Inn, where you'll feel right at home. Or get adventurous with your accommodations by going camping, staying in a remote yurt or even renting a houseboat.
Spend days exploring trails and beaches 
While the pristine trails, beaches, and waterways near Kenora and the surrounding cottage country attract many visitors throughout the summer, they're still inviting and restful. Go hiking or cycling on trails around the city and nearby, from the lookouts on Tunnel Island Trail and historic spots on The Great Lake of the Woods Trail (part of the Trans Canada Trail) to the more remote Vernon Nature Area. Or go vertical on the Canadian Shield with a rock climbing excursion. 
If you're so inclined, every day can be a beach day on Lake of the Woods. Discover sandy public beaches within Kenora's city limits—Garrow Beach, Anicinabe Park and Beach, Keewatin Beach, and Norman Beach—and many secluded beaches on the shores of the lake's peninsulas and islands, like Coney Island Beach, accessible by boat shuttles from local marinas and Kenora tour companies. Find maps and more information about the area at Kenora's Lake of the Woods Discovery Centre. 
Get out on all that water  
The vast waters of Lake of the Woods, dotted with coves and beaches, just call out for a boating adventure. With Kenora as your starting point, rent a motorized boat or take a guided boat tour from Green Adventures, Tall Pines Marina, Lake of the Woods Docking, Perch Bay, and Legacy Boat Tours. If you're bringing your own boat to Lake of the Woods, check out Northern Harbour, one of central Canada's largest marinas for docking and boating services, and service centre Woodlake Marine.
See the lake's sights on a cruise with MS Kenora or on the elegantly restored Grace Anne II Yacht. The wind picks up on Lake of the Woods too, where sailing is a common pastime and an idyllic way to explore the area. Hop on a sailboat with Sail Kenora or watch the sailing races at the Royal Lake of the Woods Yacht Club, the only inland royally-designated yacht club in the world. And if you're feeling a need for personal speed, rent a Seadoo from Lake of the Woods Docking.
Take the velocity down a notch and use your own body strength to zip along the waters by canoeing, kayaking, or paddleboarding on Lake of the Woods. Rent quality gear from The Hardwear Co., Boardanyone, Boreal Paddle, and Green Adventures. More boating amenities can be found on Sunset Country's site, covering Lake of the Woods and further north.
Go fishing anywhere and everywhere
With an average depth of 7.9 meters—and the deepest point of 310 feet at Whitefish Bay—the lake is home to all manner of fish species, including walleye/pickerel, muskellunge, and northern pike, so if you're there for the fishing, expect success.
You'll find plenty of places to fish in the Kenora area as well as fishing-friendly resorts like  Crow Rock Lodge, which also offers more remote accommodations and hearty meals too. Smaller towns and outposts often provide a rugged and off-the-beaten-path experience of Lake of the Woods: find places to stay and access the lake from the small township of Sioux Narrows-Nestor Falls on the eastern shore, known for the Northern Ontario Sportfishing Centre and a lively fishing culture. Or explore fishing and other adventures at resorts located on the Aulneau Peninsula and some of the lake's other peninsulas and islands.
Whether you're hiking, boating, or simply relaxing at the beach, expect an outdoor wilderness experience you'll never forget on Ontario's side of Lake of the Woods.
6 activities well worth the trip to Lake of the Woods
Pack a bathing suit, picnic basket, and sunscreen for a beach day in Kenora.
Get a bird's eye view of the lake on a floatplane tour with River Air.
Boat out to the Aulneau Peninsula to see massive cliffs, sheer rock faces, and Indigenous pictographs.  
Eat walleye tacos at The Cornerstone and enjoy a waterfront view with your meal at The Boathouse.
Hoist a pint and even take a brewery tour at Lake of the Woods Brewing Company.
Marvel at the sight of the Sioux Narrows Bridge, once the longest-single-span wooden bridge in the world.