Outdoor Gear for 2022
5 key items (both new and classic) for every season in Ontario's Sunset Country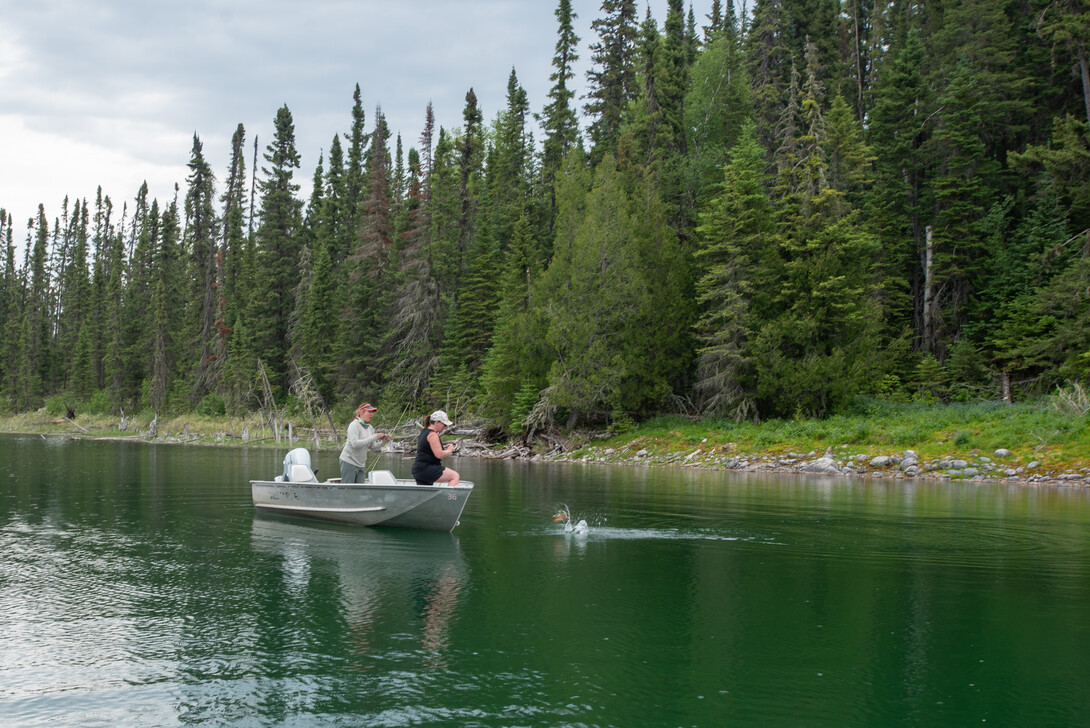 If you're flocking to Ontario's Sunset Country this season it's safe to say you're likely an outdoors enthusiast. There is no shortage of action, experiences to be had, and wonders in this coveted region of Ontario. Sunset Country is a wild and potentially rugged area and depending on where your adventure takes you, it could be helpful to stock up on useful gear for your time outdoors. 
When it comes to outdoor adventure, strategize my packing by identifying what's a necessity versus a luxury, and whether I'm planning an island retreat, fly-in escape, or drive-to experience. Regardless of how or when I use my gear, I couldn't help but notice some awesome new or new-to-me gear that's surfaced this past year. 
Here are my top 5 choices for new outdoor gear for 2022. 
 
1. The Lake Simcoe Power Box 
Function: a portable power source for anglers' electronic needs on the water. 
From fishing electronics to action cameras, the Lake Simcoe Power Box fuels your connectivity on the water with the ease of portability and compactness. 
Don't leave the gear you've come to depend on at home. We all know once we start using tools that help us become anglers it's hard to let those go and go back to fishing blind. Tools like the Lake Simcoe Power Box help you become portable when you don't have your own boat, and even when you do. 
There are a lot of anglers that use this genius compact tool on the ice and from their kayaks for the convenience of size and weight alone, but imagine how handy this would be on a fly-in lake when fish finders, flashers, sonars, etc are rarely an option. Bring your own! And power it all day. Charge everything from GoPros, Fish Finders, Flashers, Mapping technology, to just your cell phone. Their Survival Pack Bundle goes for $250.00 CAD. 
2. Stanley Classic Stay Hot French Press 48oz 
Function: freshly brewed beverages that will stay warm for 4 hours in this twist of a classic Stanley thermos. 
A dependable name for years, I still own my entire thermos set from Stanley after two decades. My mother bought me this French Press knowing my love for coffee, especially of the french press variation. What I love about this particular french press is its massive size. I can brew enough coffee to fill my large thermos for heading straight to the lake, or I can enjoy plenty of coffee to share with company around a fire early in the morning. 
So long as I have boiling water I can make simple delicious coffee, this comes with me from the backcountry to a cozy drive-to cabin. Thanks to the French press design, you can also brew loose leaf tea with ease.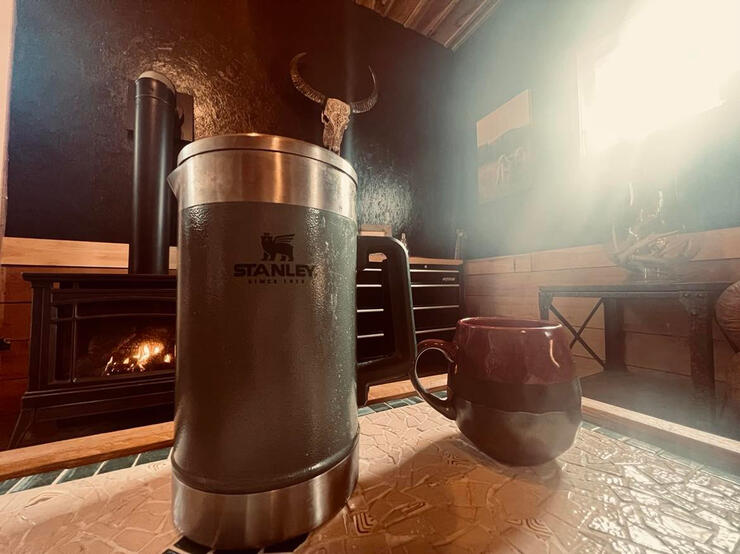 3. Inflatable PFDs
Function: fish, paddle and explore the water from any vessel without restriction or discomfort knowing you have safety on your side. 
These are certainly not new inventions, but important nonetheless. You will barely notice these inflatable PFDs and yet their subtle presence worn properly could save your life. 
As a predominantly solo boater, I wear these PFDs both on my own and with company. It's silly that safety has taken me this long, but now I wouldn't go without my inflatable PFDs. 
Always wear a PFD, period. I will add that these jackets feel more like a lanyard than a vest. I can still fly fish, use my remote for my Ultrex, fight fish with ease, and land fish for other people with even more ease—with no hindrance to my experience on the water by wearing one.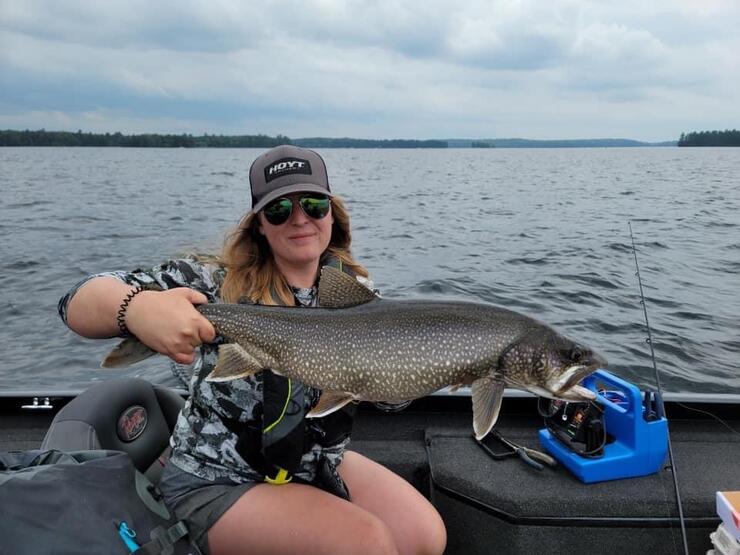 4. Propane Stoves 
Function: offers a secondary cooking and boiling water source in addition to your open pit fire
Propane or gas stoves may be one of the oldest types of outdoor gear—second to maybe sleeping bags and canvas tents. But in the event of a fire ban, which can happen periodically and without warning in Ontario's Sunset Country, they should not be discounted as very valuable gear. You can go with a classic two-burner stove with a windshield, super compact pocket stoves, or if you're traveling by car, bring a full-size BBQ-like stove. 
For the sake of this article being about newer gear, I direct your attention to the Cuisine Art CGG-750 Venture Portable Gas Grille. The propane is stowed in the black bottom of the grille which becomes detached from the stand-alone red part. The wooden top on the grille is then moved to the top of the black bottom where the propane is and is turned into a workstation of sorts where you can prepare your meal. The single temperature control dial is very nifty and this grille has more of a raclette feel to it, which makes your backcountry cooking experience fancier than most. 
5. Nite Ize Hooklock Locking Bungees 
Function: provide security the bungee stays in the anchor point while you adjust, unload or load items. 
The CEO of this product invented the headlamp. Enough said right? No, they keep finding more and more genius solutions! 
No more snapbacks or slacklines while using bungees! I'm surprised by how excited I was to find this great invention. If I had a nickel for each time I've been loading my ice sled, or strapping down camping gear in my boat and bungees have snapped back at my fingers or face, I could afford gas prices in 2022. Having the bungees stay attached to the item you're strapping down instead of getting slack and falling off will save you a headache. 
Sometimes the simplest gear is what makes our day the easiest and all the more enjoyable. I have a set of these on their way for this boating season and I can't wait to hop from home base to home base with these. 
Any Other Gear Junkies Out There? 
Is there anything on this list you've found an improvement on? Or did I miss adding something to my cart this spring? Most of my gear I've discovered through other people who are faster than me at learning the hard way around everything. 
Last year's big purchase was my Minn Kota Ultrex with spot-lock that has changed my life, second to that of my Vexilar, which I use year-round. Next season's purchases will include an electric auger for the incredible amount of ice Ontario's Sunset Country typically gets, and a cot for ice camping. 
This season I'm prioritizing those bungee cords and that Lake Simcoe Power Box. The idea of a portable power source on those fly-in lakes as well carry over to ice fishing season has me completely over the moon. 
Ontario's Sunset Country doesn't require a jumble of gear to be enjoyed, but when said gear helps you stay out and enjoy the region longer, there's really no reason not to invest in making that happen!