Sunrise to Sunset Smallmouth Bass
Regardless of where you want to go bass fishing across our pristine province, there are lakes, rivers, and streams with very little angling pressure.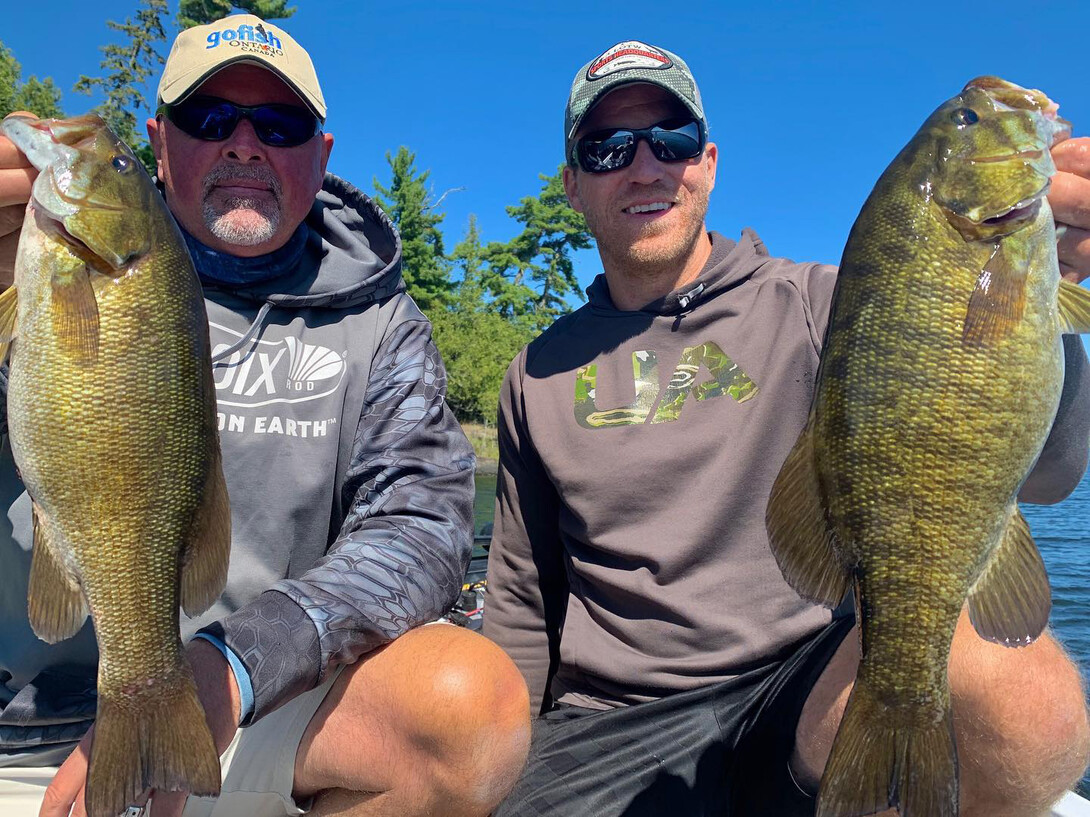 In my line of work, I am blessed to be fortunate enough to be able to explore new adventures on a lot of these lakes just about any time of the year. One particular region in Northwest Ontario, called Sunset Country easily has some of the best bass fishing in the world.
It's not just the numbers of bass, it is the breathtaking atmosphere, solitude, and peacefulness of the natural, beauty of this region's wilderness surroundings that will hook you for life and you will get a better appreciation of why so many anglers across the world return to Sunset Country every year.
Thousands of visitors flock to Sunset Country each year for a variety of reasons: the fantastic trophy fishing for walleye, northern pike, muskie, crappie, and lake trout, but the mighty smallmouth bass, with its cartwheeling acrobats and never-say-die attitude, that is addictive for so many vacationing anglers.
The opportunity to venture into remote wilderness fly-in outpost lakes by floatplane, or spend a week of fishing and relaxing with your kids at a drive-to lakefront cottage is priceless. The Sunset Country Region has over 70,000 lakes and rivers, and the opportunities and options to fish for bass are phenomenal. 
We have had some memorable trips to this region fishing a wide variety of lakes and river systems for smallmouth bass from the early catch and release seasons of early May to the incredible autumn colours of late October, a time when the really big gals go on the bite, big time!
Here are a few personal experiences describing the techniques and baits that made those trips in Sunset Country so enjoyable.
Lake of the Woods
On one particular trip, we fished in late August with some of the local guides on Lake of the Woods with walking-style topwater lures on sandy island points and literally knocked them silly on hot slick afternoons when the schools of smallmouth come to play.
The lake is renowned for having thousands of islands so locating smallmouth bass on island points is not an issue, it is locating the bigger bass with the assistance of the guides that pays huge dividends. 
Small popping style baits are also very popular choices with local and visiting bass anglers who fish them with spinning rods and braided lines, making long casts to cover more water and find more fish faster and with the aid of the braided line, strike to hook up ratios are elevated immensely.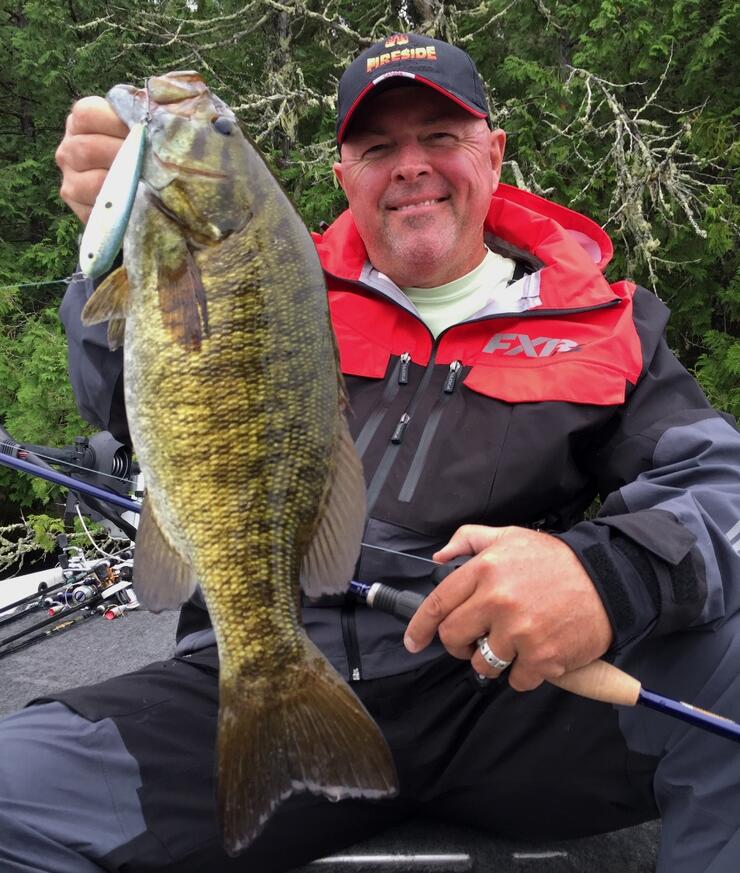 Bass fishing Little Vermilion Lake with Fireside Lodge.
Little Vermilion Lake
Another memorable trip in early June had us visiting another friendly lodge in the Sioux Lookout area on Little Vermilion Lake that has some of the finest natural structure you will ever find anywhere for big muskie and smallmouth bass.
This spring-fed lake has numerous bays, reefs, and deep weed beds which are all excellent bass-holding locations.
The lake forage consists of whitefish, cisco, suckers, perch, and all kinds of minnow life that makes the bass healthy and thick.
We fished with a variety of topwater lures over the thick weed beds, but it was again, the walking style, cigar-shaped baits like the Yo-Zuri Pencil that the bass simply could not resist. 
On numerous occasions, we would hook two bass at one time on the same lure! Angling pressure was non-existent. Every place we decided to fish was void of any other boats or anglers. 
It was like winning the lottery and owning a world-class bass lake all to ourselves.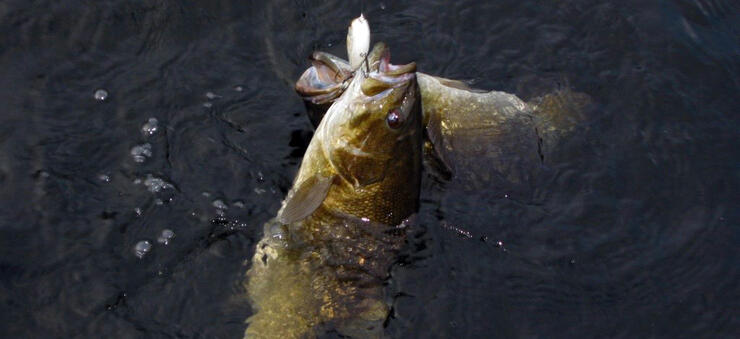 Winnipeg River System
On yet another June trip we ventured to the area near Minaki, Ontario and while visiting with another gracious lodge hosts we fished the Winnipeg River System on Gun Lake for smallmouth bass in front of slow-flowing rivers with waterfalls and caught a ton of bass on tiny topwater poppers in two feet of water with bass hiding behind the shallow boulders who would engulf our baits with tiny slurps but fought like devils in the river current, a ton of fun.
Fishing the immediate shorelines below the river flow we caught a lot of hard-fighting smallmouth in the mid to high three-plus pound class with soft plastic baits and kicking tails rigged onto 3/16 ounce jig heads and slow rolled back to the boat. The thunderous strikes would almost pull the rod out of your grip. Again, not another boat in sight the entire three days we fished the river.
Rainy Lake
And finally, our road trip to a place they affectionately call the 'smallmouth factory', the famous Rainy Lake near Fort Frances.
Rainy Lake's smallmouth bass is some of the best in Northern Ontario, if not North America. The structure of the north arm of Rainy Lake is ideal bass habitat. Smallmouth bass fishing here is truly an avid fisherman's outdoor adventure. There are hundreds of islands with baseball to basketball-sized boulder shoals and reefs coming off of them. Large areas of cabbage and pencil weed alongside these shoals and reefs create unbeatable habitats. Crayfish, baitfish of all kinds, and especially smelts are the main forage.
We stayed with yet another friendly lodge owner who once again set us up with a local guide who wasted no time whatsoever to put us on some of the most incredible smallmouth fishing of our lives.
This smallmouth factory is working overtime producing unreal amounts of thick-bodied bass that seem to be everywhere and anywhere you fish!
We fished four-inch tube jigs cast along shorelines in mid-summer on a hot, slick calm day with scorching heat, yet this had no effect on the numbers or size of bass we caught fishing everything from island points to rock piles, reefs, shoals, and huge cabbage weed beds that are everywhere on this part of the lake. We had severe cases of 'bass thumb rash' from catching and releasing so many bass.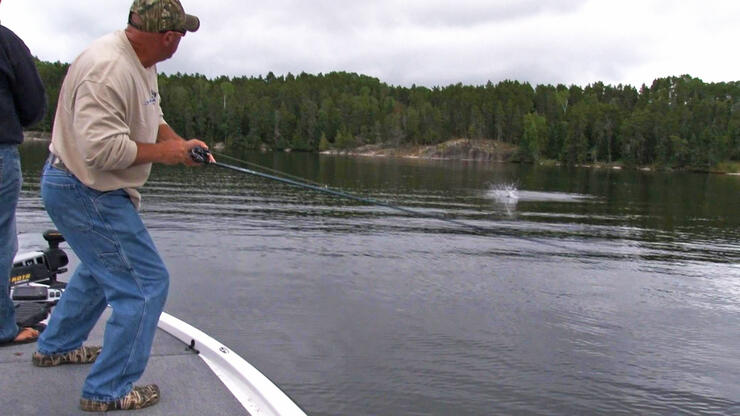 We have never been disappointed during any of our trips to Sunset Country. The fishing, the lodges, the hospitality, the friendships, the freedom. It truly is one of Canada's premier fishing destinations.
Seventy thousand fishable lakes. Never any crowds out on the water. Some of the most diverse fishing in Canada. Not just bass, walleye, northern pike, and lake trout, but also largemouth bass, muskie, black crappie, perch, brook trout, sauger, and whitefish, the region has it all.
When your deciding where to spend your vacation this year, consider the region that has it all, Ontario's Sunset Country, from sunrise to sunset, the bass are waiting for you.
Visit Sunset Country online for more information.