Sunrise to Sunset: The Best Hikes & Lookouts in Superior Country
We've compiled a list of hike-to and drive-to destinations where visitors can experience immaculate sunrise & sunset views.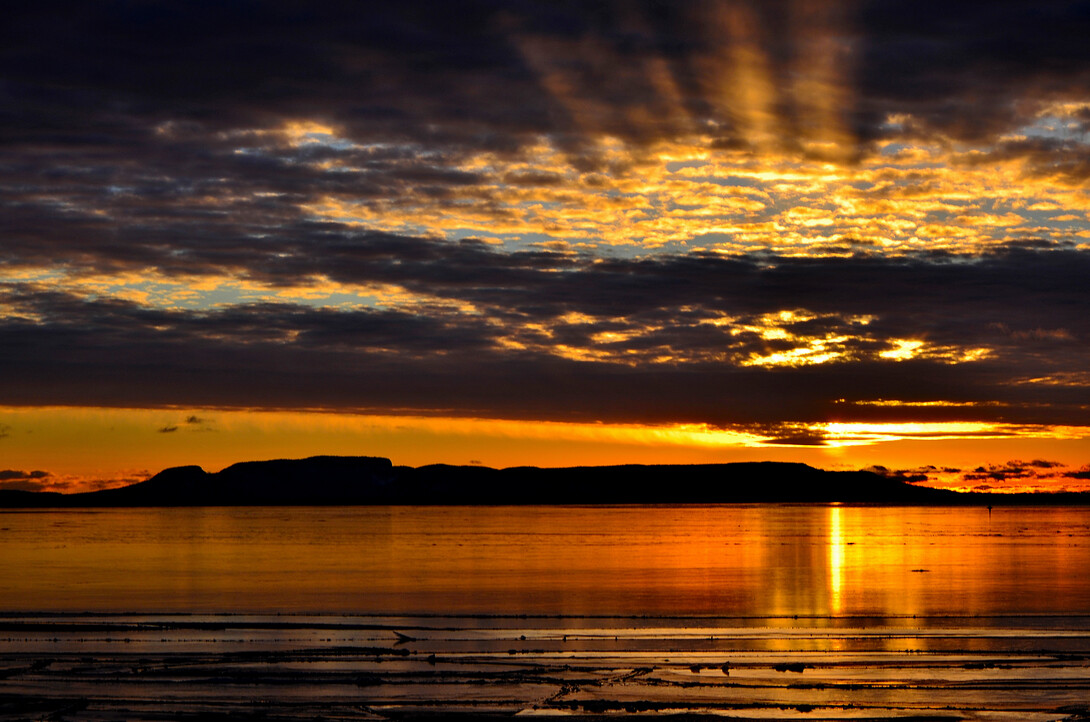 What makes hiking (or driving) to a specific location/lookout worth it? The view of course! Have you ever stood overlooking an immaculate view and wondered to yourself does it get any better than this? 
Yes, it does! When you're enjoying that same view at the first light of sunrise, or savouring the last golden shine of the day as the sun sets. Seeking out sunrise and sunset views has become more and more popular with our visitors and for good reason. Each sunrise and sunset is different—so it's time to experience your favourite view for the first time.
When planning a sunrise/sunset hike it's important to consider which direction the lookout faces. A sunrise hike requires an east-facing lookout while a sunset hike needs a west-facing lookout. To shorten your search and save you some browsing time, we've compiled a list for you!
Here are the best sunset and sunrise hikes in Superior Country.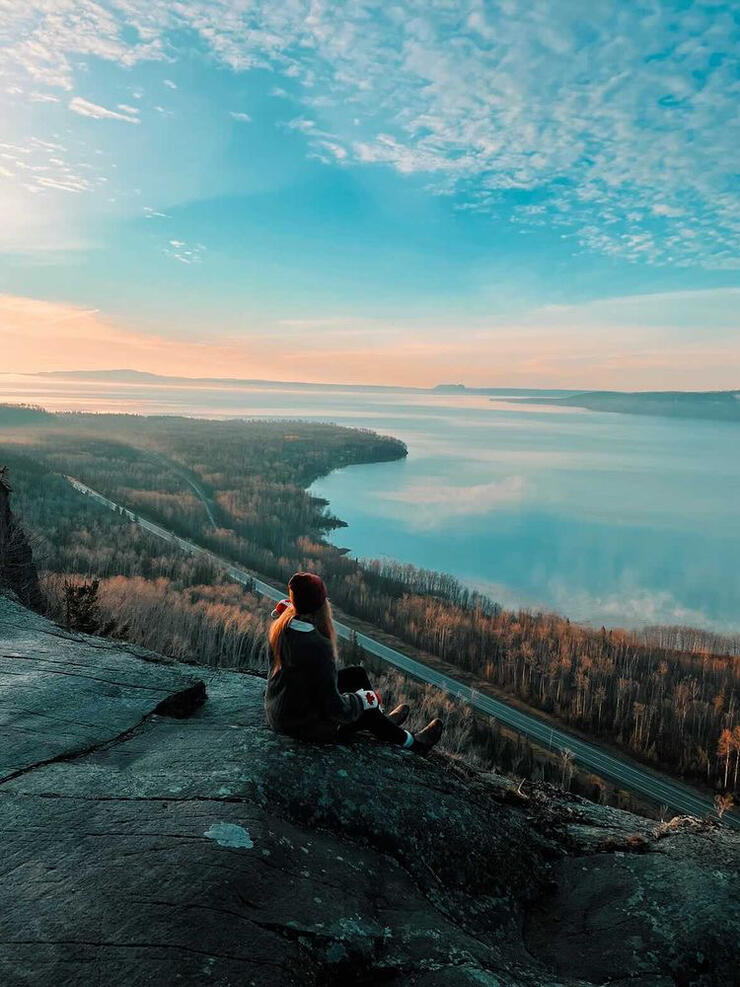 the best Sunrise hikes (east-facing lookouts)
Rabit Mountain Lookout is a 1.8 km trail that leads to an east-facing destination. The lookout has views of Thunder Bay's most famous landmark, Sleeping Giant. It is considered a kid-friendly, easy-to-hike trail that is accessible year-round. Rabbit Mountain is also a dog-friendly trail as long as they're on leash. Can be accessed via Marlwood Road or Belrose Road. 
For further information: Rabbit Mountain Lookout
Mount McKay (Anemki Wajiw in Ojibwe) is located in Fort William First Nation, next to Thunder Bay, Ontario. There are many trails around here and two leading to the main lookout: Mount McKay Lookout Trail and Top of McKay Trail.
Mount McKay Lookout trail is a 4.7 km trail that has east-facing views. This is a moderate - difficult trail with a steady incline throughout. It is a harder trail to find due to lack of signage. 
Top of McKay Trail is a shorter route to the top of Mount McKay at 1.8 km. It is considered moderate - difficult, there is rugged terrain and some steep areas. This is a dog-friendly location, however many warn that some spots are steep for a small pup and they may require assistance. 
Note there is a fee to enter FWFN (currently $2 per walk-in and $10 per car). 
For further information: Mount McKay Lookout
The Nipigon River Recreation Trail is 10.1 km that can be taken from Red Rock to Nipigon or vice versa. Lloyds Lookout is located at the beginning segment of the trail on the Red Rock side and is a short 2.6 km hike. This is a well-maintained and highly trafficked trail for locals. The annual Hike for Health takes this route. Lloyds lookout has a large wooden deck offering stunning east-facing views across to LaGrange Island. There are two other lookouts along the trail, one of which has a pair of the Parks Canada Red Chairs. This is a dog-friendly location and is easy enough to be considered child-friendly. Lloyds lookout is a perfect location for catching the first cast of light at dawn. 
For further information: Nipigon River Recreation Trail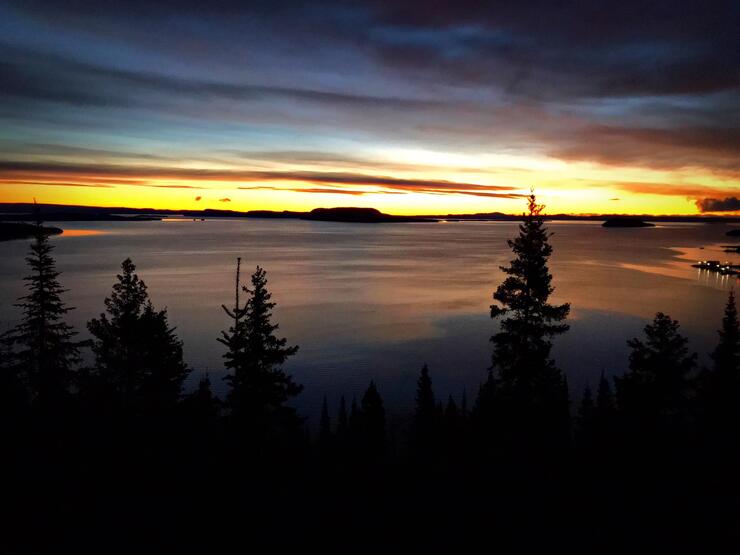 The best Sunset hikes (west-facing lookouts)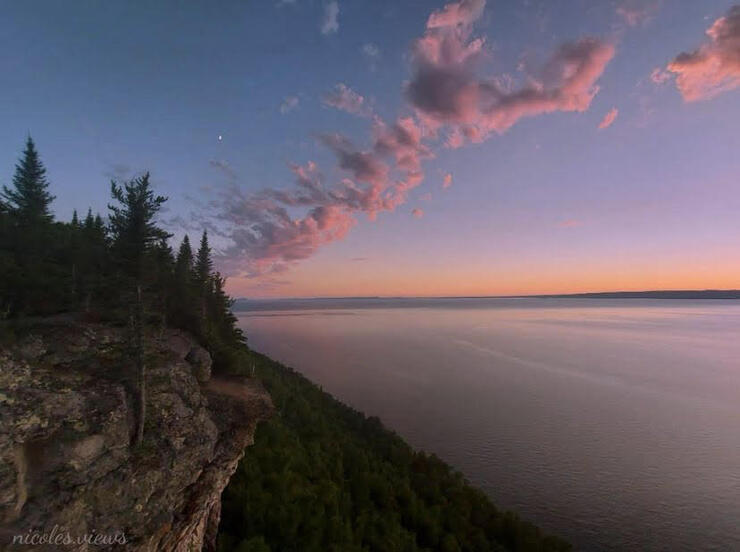 The Thunder Bay lookout is located near Pass Lake, Ontario, at the Sleeping Giant Provincial Park. Although this location does not require you to hike as it is a drive-to lookout, we've added it to the list due to the incredible unobstructed views. This is an easy to get to destination suitable for everyone and even pets (provided they're on a leash). 
For further information: Thunder Bay Lookout
Located just 25 km east of Nipigon, the 7.3 km Kama Cliffs trail is another picture-perfect sunset destination. The main lookout features an expansive view over Kama Point, Nipigon Bay, and Lake Superior. Although the trail is considered to be a difficult hike with one section having a steep ascend, it is well worth it. This is a dog-friendly trail provided they're on a leash. 
For further information: Kama Cliffs Trail

3. Wingtip Lookout (Mazukama Falls): Nipigon
Combined within the Mazukama Falls loop trail, the Wingtip Lookout is one to impress with a mere 180 degree panoramic view over Lake Superior's Nipigon Bay. It is located just a 20 km drive east of Nipigon. The entire loop is 6.4 km and is considered to be moderate - difficult with some sections being steep, however, there are ropes to aid in making the ascend. The trail has lots of signage both at the trailhead to easily find it as well as throughout the loop. Be sure to take the time to stop at Mazukama Falls while enjoying this sunset hike. Bring your fur-pal! This is a pet-friendly location provided they're on a leash. 
For further information: Mazukama Falls
Both, East and West Facing Lookouts
Located in Nipigon, Ontario, just off of Highway 11/17 is the Bridgeview Lookout Tower which features a mere 360-degree view. From the top of the 40-foot high tower you can see Lake Helen, Nipigon River, the Nipigon Marina and the community of Red Rock in the distance. Although not a hike-to destination, this location offers undeniably stunning views perfect for catching either the morning's sunrise or days end sunset. This is a pet-friendly location provided they're on a leash, however, the steps going up the tower are textured to reduce the risk of slipping and some dogs find it uncomfortable to walk on. 
For further information: Bridgeview Lookout Tower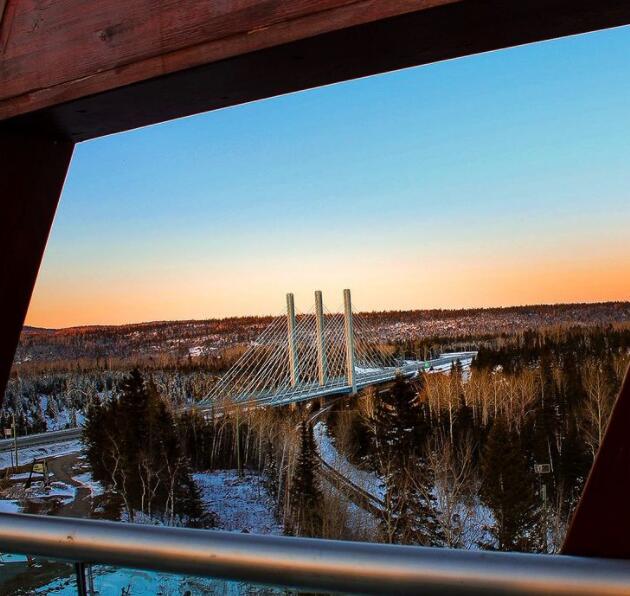 Located just outside of Nipigon down Highway 585 is the trailhead access point to the trailhead of the 6.6 km loop trail for Deer Lake, from this main loop you can access the trails to Lofquist Lake and No Good Lake too. The Lofquist Lake lookout faces east, the Deer Lake lookouts face mainly east and the No Good lookouts are located on either side of the lake, one facing east and the others facing west. This is an all-in-one location! The trails can be lengthy if doing all of them in one shot however is still considered child friendly, bring your fur-pal too! This is a pet-friendly location provided they're on a leash. 
For further information: Deer Lake / Lofquist Lake Hiking Trails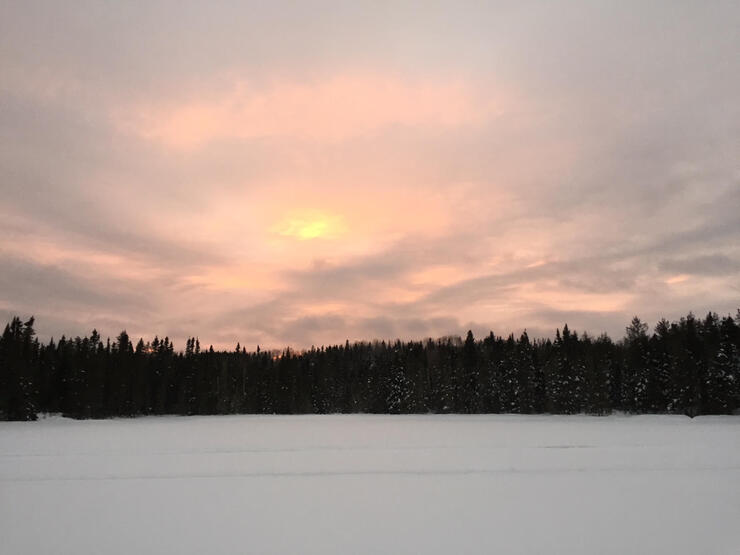 Last but most certainly not least, the expansive Casque Isles Trails. This epic 53 km trail begins in Rossport, following through the forests and shoreline of Lake Superior stretching all the way down to Terrace Bay, Ontario. This is a backcountry campers' dream which is why we've included it among our list. Take on the Casque Isles backcountry camping adventure and catch both morning sunrises and evening sunsets along Lake Superior. The entire trail takes 3-5 days to complete however it is broken down into 5 different segments with 11 different access points. This trail is considered difficult and not recommended for children, however, pets are welcome provided they're on a leash. Be sure to pack the all necessary equipment! This is an epic sunrise to sunset (and over again) excursion. 
For further information: Casque Isles Trail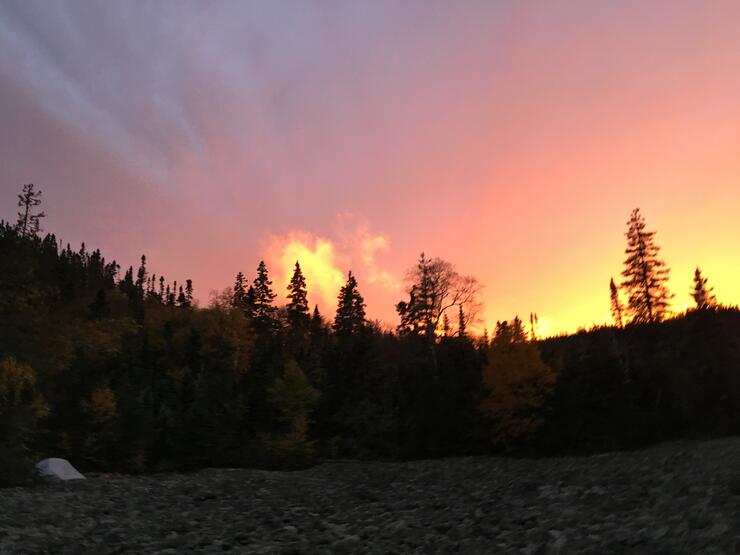 Sunrise and Sunset Hiking Tips 
All of these destinations are between Thunder Bay and Terrace Bay.
Some trails are rather lengthy requiring a considerable amount of time to hike. Take note of this and plan accordingly.
Use the Weather Channel app to check the time of sunrise & sunset on the day you plan to hike. Plan to begin the hike before sunrise/sunset to ensure you'll be at the lookout in time. 
Hiking before sunrise and after sunset can be dangerous—part of the hike will be in darkness or with minimal light. Take needed precautions, bring a flashlight or headlamp, and wear proper attire.
Inform someone of your hiking plan like a friend, relative, or significant other so someone knows when you were planning to return. If there's an emergency on the trail, they'll be able to alert authorities.
Be safe, have fun and be sure to capture the moments!!