9 Amazing Day Trips from Thunder Bay
Discover these nearby adventures around Thunder Bay—and complete your day back in the city with excellent cuisine and comfortable accommodations.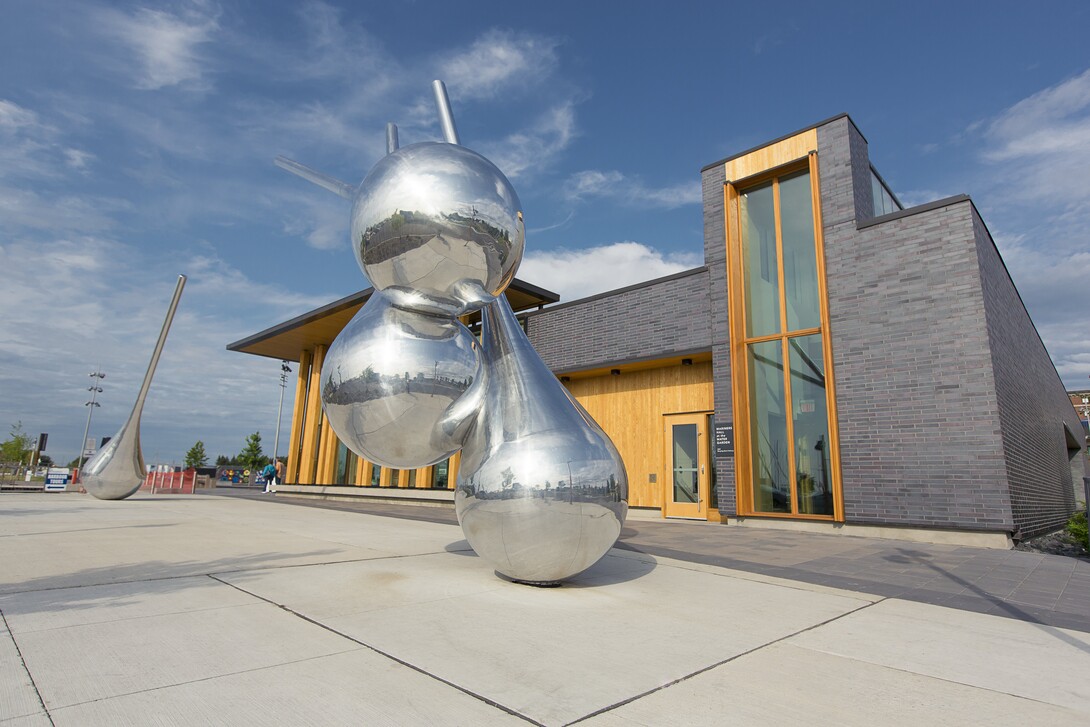 Explore the unique rural destinations surrounding throughout the day and return to Thunder Bays urban amenities to end the adventure!
The city of Thunder Bay is a gateway to endless opportunities for any type of schedule. No matter if you're visiting for a weekend or a whole week, there are routes for you to take to enjoy both urban and rural activities!
30/45-Minute Travel Routes
Just a hop, skip and a jump west of Thunder Bay you'll find the second largest waterfall in Ontario, Kakabeka Falls. This "Niagara of the North" can be viewed year-round, and the park offers a wide range of activities for you to enjoy while there.
How to get there:
Exit the city via Arthur St W, upon approaching the Trans-Canada HWY 11/17, take a left and continue west until you meet the village of Kakabeka Falls. You'll find ample signage to direct you to the Provincial Park located right on the highway on the other side of Kakabeka.
Enjoy while there…
The park itself has numerous walking trails to enjoy year-round, walk them in the summer or cross-country ski them in the fall!
There are multiple viewing decks of the falls on both sides as well as further down to get a better, fuller view of Kaministiquia River.
Before entering the park, you can grab a delicious home-brewed coffee and pastry from the Metropolitan Moose Beanery & Café to enjoy while at the falls. Located in the heart of Kakabeka Falls – right on route!
Side Note: it is highly recommended to view the falls in the spring when the water is at it's highest and the falls is rushing at it's fullest!
Just a short 45 minutes southwest of Thunder Bay, you'll discover Mink Mountain Resort to be the outdoor paradise you've been looking for!
How to get there:
Exit Thunder Bay heading south on HWY 61, follow 61 for 30km. On the left hand side you will see signage for Sturgeon Bay Road which you'll turn down. Follow the road for 10km until you meet the Mink Mountain junction, you will then follow this road for a short 2km until you reach the resort.
Enjoy while there…
If you're an adventurer seeking breathtaking lookouts, pristine trails, and seclusion from the city – this is your location! This is also a year-round location to enjoy hikes in the summer and skiing in the winter!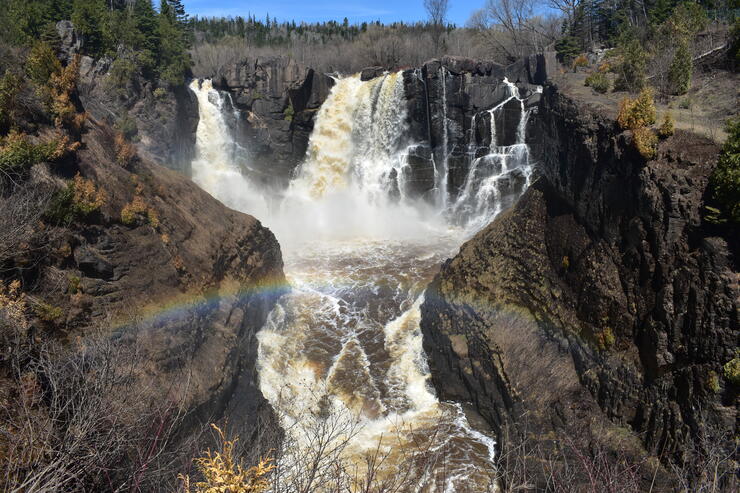 Reaching the border of Ontario and America, Pigeon River Provincial Park is a perfect location to spend an afternoon secluded from the urban hustle and bustle. This is a year-round location to enjoy anytime! 
How to get there:
Travel south on highway 61 N from Thunder Bay, in roughly 65km the Ontario Travel Information Centre can be seen on the left hand side. Once parked at the Information Centre, there is a signed trail head at the north side of the parking lot that will lead you right into the park.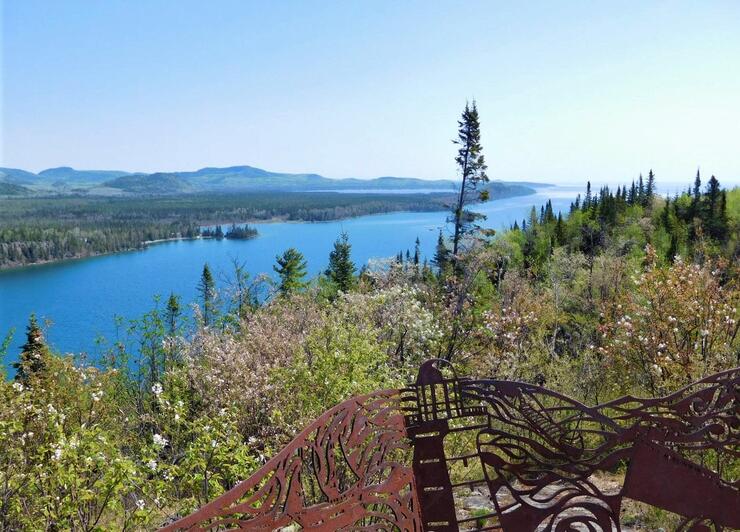 Enjoy while there…
Breathtaking views of Lake Superior and the USA shoreline. High Falls, a 28m high natural wonder along with the 6m high Middle Falls can be viewed from the park along the hiking trails as well.
There is evidence of human occupation dating back to 7000 BC! 
1 – 1.5 Hours from Travel Routes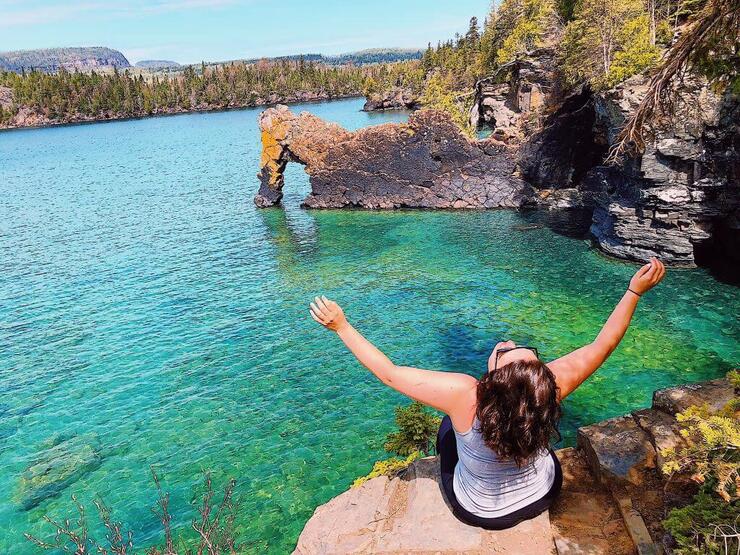 How to get there:
Travel east out of Thunder Bay via Trans-Canada HWY 11/17, approximately 30 minutes into the drive, you'll come to the Pass Lake turnoff. Travel down Pass Lake Road following signage and you'll arrive to the park.
Enjoy while there…
Endless hiking trails (over 100km worth!) ranging in short to long, beginner level to difficult. Natural wonders including the "sea lion" and Tee Harbor. Wildlife viewing in the parks boreal forest; deer, fox, lynx and over 200 bird species.
The community of Silver Islet can be found at the tip of Sibley Peninsula along Sleeping Giant Provincial Park, located within the community is the Silver Islet General Store, a beautiful dock to walk along and see the clear waters of Lake Superior.
We highly recommend visiting the Thunder Bay lookout, it a drive to destination that offers panoramic views over Lake Superior.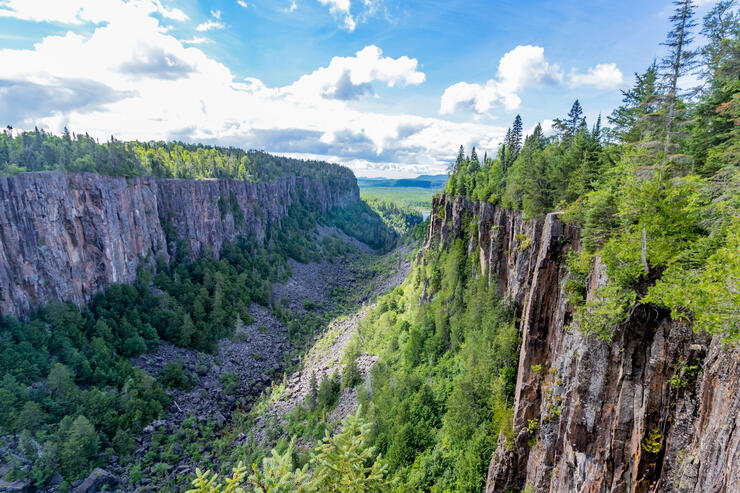 How to get there:
Travel east out of Thunder Bay via Trans-Canada HWY 11/17, after travelling approximately 50km you'll see signage for Dorion and Ouimet Canyon. Take a left off the Trans Canada to Ouimet Canyon Road and follow for merely 12km. There is ample signage to guide you to the park.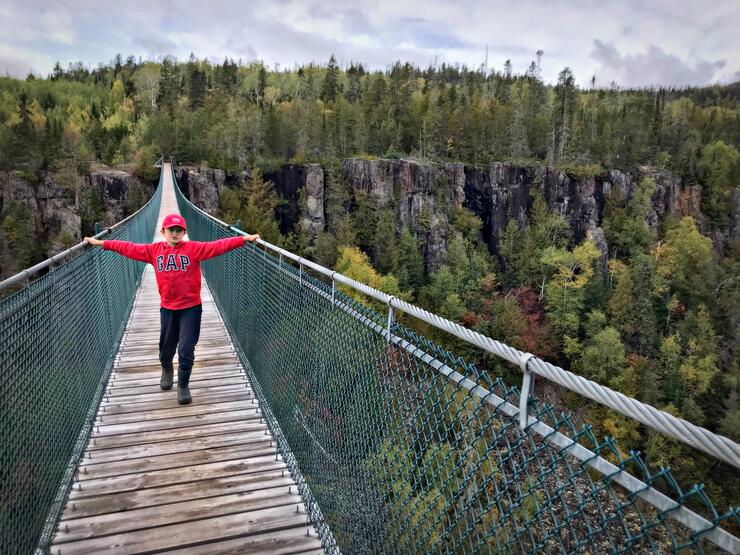 Enjoy while there…
Trails throughout the park to give views of the impressive canyon from either side.
Just before the park, Eagle Canyon Adventures is seasonally open for visitors. Upon leaving Ouimet Canyon (or upon arriving to) turn down Valley Road and follow for 4km to the entrance of the park on the left hand side. Here you can walk Canada's longest suspension footbridge spanning 300 feet and 152 feet above the canyon floor!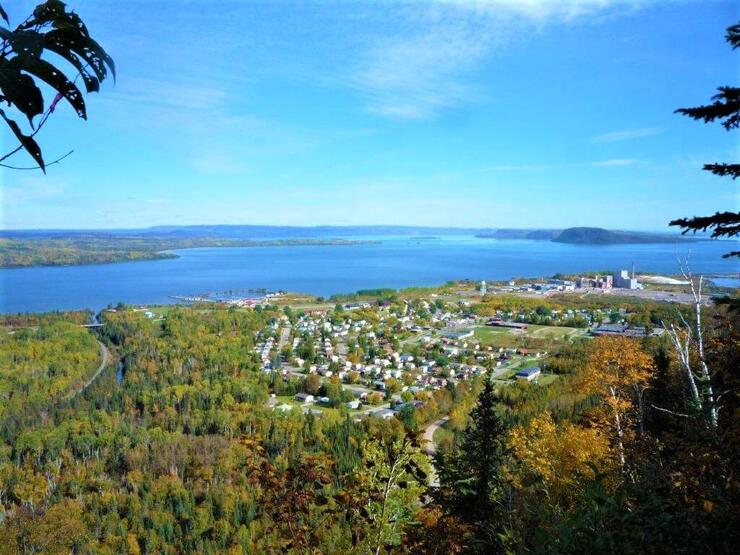 Red Rock is a beautiful lakeside village that offers an equal dose of history, outdoor adventure, and seclusion.
How to get there:
Travel east out of Thunder Bay via Trans-Canada HWY 11/17, after travelling approximately 100km you'll approach the Red Rock exit on the righthand side. Follow the Red Rock Road into the community for 8km.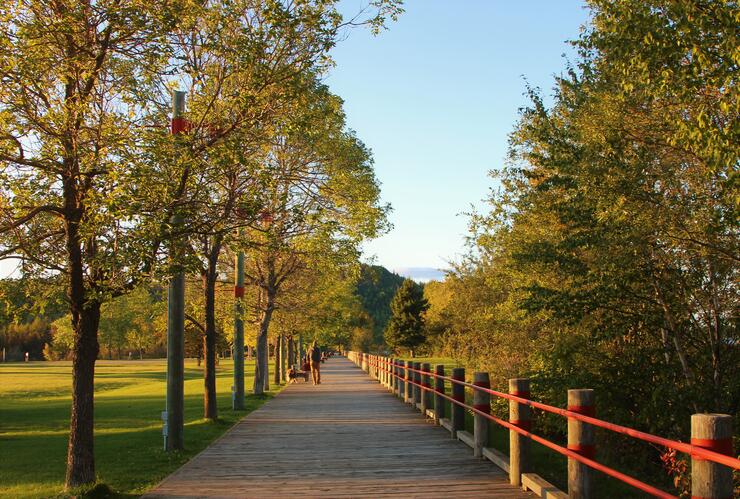 Enjoy while there…
Visit Lloyd's lookout! A short and beginner friendly hike. Located on the Red Rock Road just before the train tracks, you'll find on the left hand side a dirt turnoff which is where the trail head is located. There is signage to help guide you.
Upon coming into the community, visit the Red Rock marina located on the left hand side after crossing the train tracks and North Trout Creek. The Marina has a beautiful Interpretive Centre, splashpad, park and piers to walk out on.
Red Pebbles Café is a great stop for a bite to eat. Located at the Recreation Centre just up the road from the Marina Entrance. Enjoy homecooked meals, daily soups, and specials.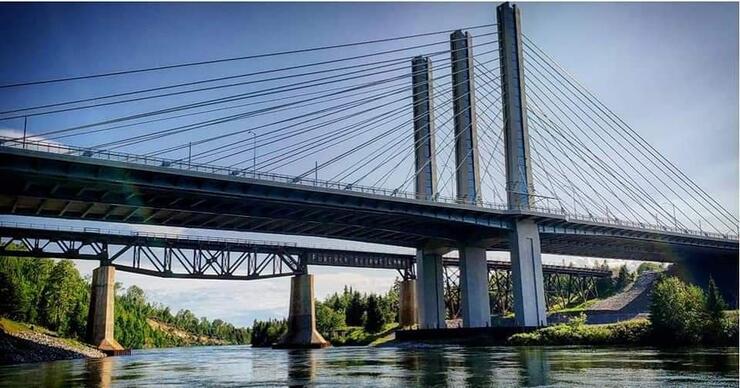 Situated at the most northern tip of Lake Superior along the longest tributary of the lake, is Nipigon. The Nipigon River is home to the World Record Brook Trout, the stunning Nipigon River Bridge and a whole day's worth of adventures, sights, and bites to enjoy! This is a community you will not want to drive through without discovering more of.
How to get there:
Travel east out of Thunder Bay via Trans-Canada HWY 11/17, after travelling approximately 110km you'll enter the quaint community of Nipigon where you can easily spend a whole day!
Enjoy while there…
Conveniently located right on the highway is Ducky's Diner, a perfect location to plan breakfast, lunch or even dinner before heading back to the city. The Diner is warm, inviting and offers a full menu of decadent dishes. From seasonal salads, towering burgers, and their famous array of fried chicken sandwiches, you will not leave hungry!
The Nipigon River Bridgeview Tower is located right off the highway up the second entrance into the town. This 40ft tall tower delivers uninterrupted views of Lake Helen, the Nipigon River and even the closely located community of Red Rock.
Travelling further into the community guided by informational signs, you'll be brought down to the Nipigon Marina, a gateway to adventures. Enjoy a different point of view of the Nipigon River Bridge, take a stroll down the Nipigon River Recreational Trail to get more views of the infamous river or walk along the old CP Rail tracks to the turtle docks to spot a painted turtle.
2-3 Hour Travel Routes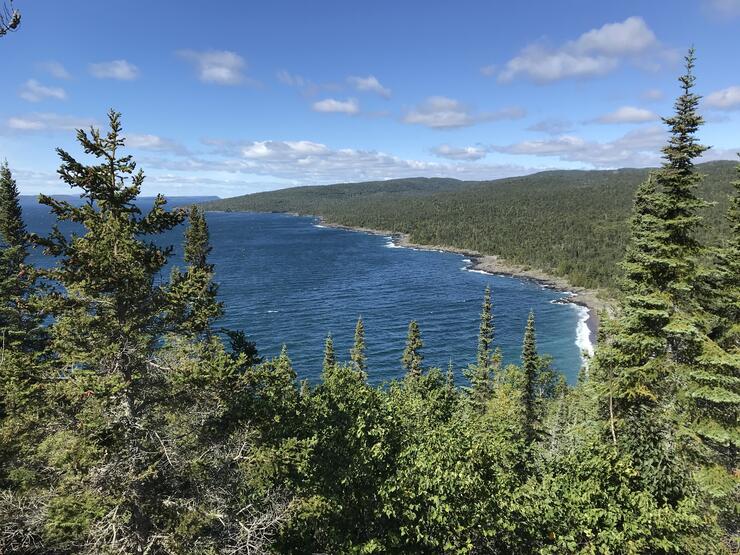 Located right along the highway and spanning down to Lake Superior, Schreiber is an ideal location for a days worth of adventures.
How to get there:
Travel east out of Thunder Bay via Trans-Canada HWY 11/17, at just over 200km you'll enter the community of Schreiber.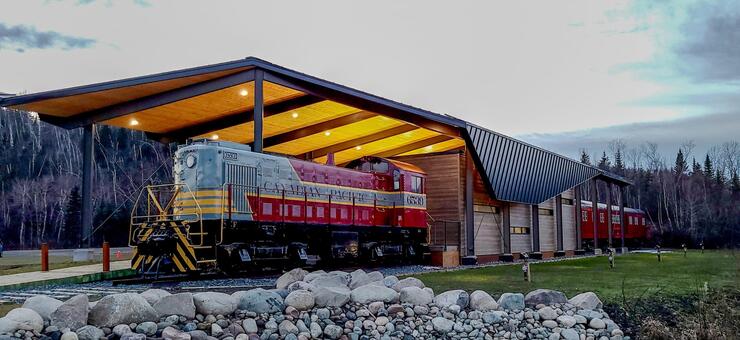 Enjoy while there…
The Schreiber Beach is a pristine Lake Superior location for everyone to enjoy. Hiking, swimming, relaxing or sight seeing; the beach has it all! There is a gazebo to relax at. Either end of the beach has trail access for the Casque Isles Trail, one leading to the Parks Canada Red Chairs and the other to Picnic Table Lookout.
The Discovery Centre is a location you won't want to pass, located right on the highway as you enter. Climb aboard this museum inside a refurbished 1953 train car and learn about this towns history. Learn about the Canadian Pacific Railway through antiques, relics and documents. 
The Voy is a divine location to grab a bite to eat, conveniently located on the highway as well! The welcoming atmosphere and delicious dishes will refuel you along your day of adventuring!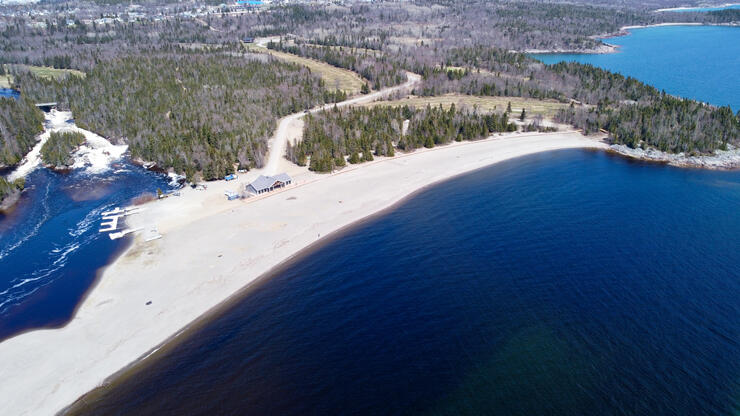 This community is also located right along the highway with access down to Lake Superior. Although it is another small community, it's all about quality over quantity in Terrace Bay!
How to get there:
Just another 14km east of Schreiber is Terrace Bay. This community is also located right along the highway with access down to Lake Superior. 
Enjoy while there...
Just before coming into the community, signage can be seen that directs to Aguasabon Falls and Gorge. This location is easily accessible for everyone to enjoy. There is a boardwalk all the way down to the viewing platform where the falls and gorge leading to Lake Superior can be seen.
The Terrace Bay Lighthouse is located within the community right along the highway on the left hand side. This is an ideal stop during operational season as visitors are able to climb to the top of the lighthouse to get a seemingly endless view of Lake Superior.
Down to Lake Superior, the Terrace Bay Beach can easily take up a whole day! Enjoy beach volleyball, relaxing under the pavilion, swimming or hiking! Other beach amenities include a wheelchair accessible kayak launch, boat launch, restrooms and trail access to the infamous Casque Isles Trail.
Drifters Restaurant and Lounge is a locally cherished location that impresses all who visit. An Italian inspired location serving up all your favorite pasta dishes, daily soups and refreshing beverages. 
Thunder bay's urban amenities to enjoy
After an adventure packed day, take advantage of Thunder Bay's many amenities. Enjoy a meal and return to a relaxing accommodation!
Dine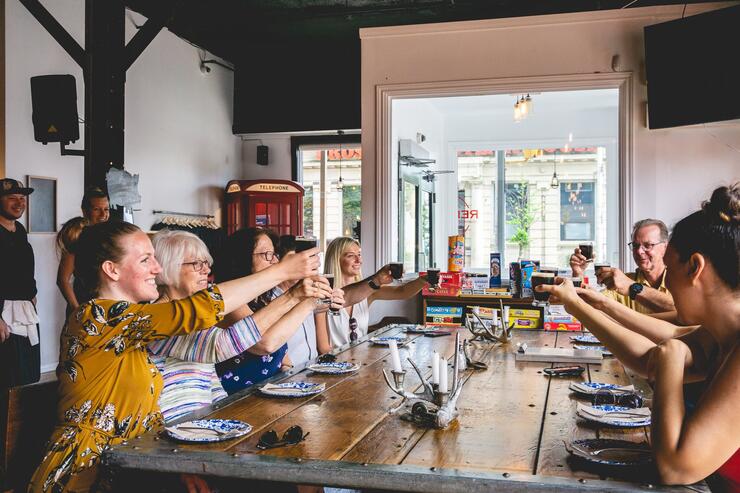 Red Lion Smokehouse is a barbecue/smokehouse restaurant in Thunder Bay's beloved waterfront district. If you love great food and good beer they have created a place where you can enjoy both! Their beer list is made up of craft brews from local breweries as well as favorited British and American brews. 
Cliffhanger Restaurant & Bar is the perfect place to unwind. Offering delicious international dishes served for breakfast, lunch, and dinner. Enjoy spectacular mountain views while you dine and during the summer months relax on the large deck while you soak up the sun or catch the sunset!
Stay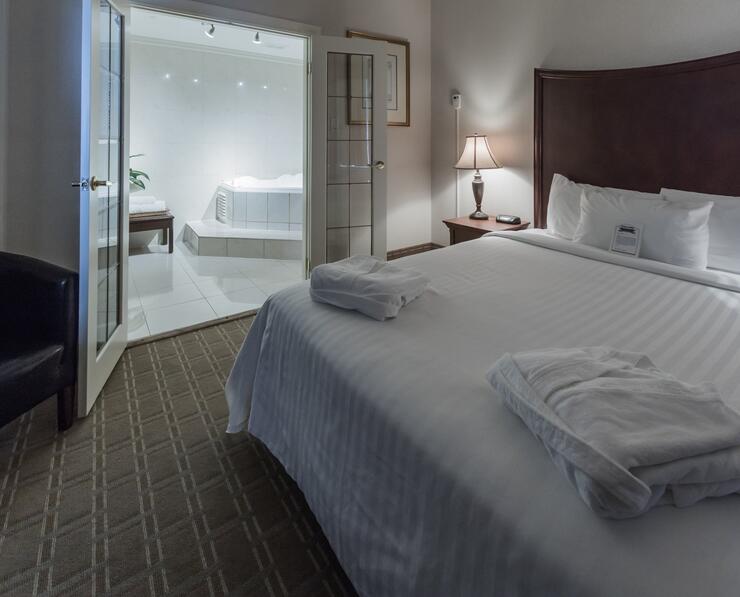 At Days Inn & Suites you can enjoy a relaxing evening lounging by the indoor heated pool or take a soothing soak in hot tub. Centrally located in the heart of the city, everything you could want or need is right nearby for further exploring urban amenities. 
Prince Arthur Waterfront Hotel & Suits has been providing exceptional service and comfortable accommodations for over 100 years! The hotel offers you a warm welcome upon your arrival and is located in the downtown waterfront area of Thunder Bay. The hotel is immersed in Canadian history, and was built as a world-famous C.N.R hotel in 1911!