A Day Tripper's Guide to Nipigon
The most northerly freshwater port in North America boasts a ton of small-town charm, as well as access to one of the world's best beaches, wreck diving, and more.
When the urge for a day trip strikes, it's time to head to Nipigon. Just about an hour's drive east of Thunder Bay it's also an easy hour and 10 min from Terrace Bay and about 2 hours from Marathon. En route, you'll encounter some truly spectacular views of Lake Superior, with towering cliffs on one side and islands dotted around the bays on the other. With a population of around 1,600, the waterfront town is easily accessible off the TransCanada Highway—yet the hum of the highway fades quickly as you enter the downtown.
Here are some fun, interesting options you can mix and match to customize your trip to Nipigon.
Hike Ruby Lake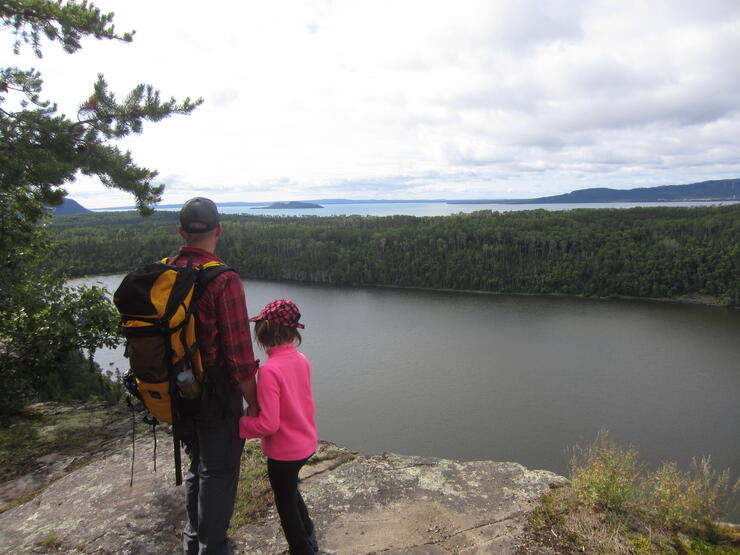 Ruby Lake Provincial Park is on the north shore of Lake Superior at the mouth of the Nipigon River, a couple kilometres southeast of Nipigon. It's a non-operating Natural Environment park that offers a 2.3-km (one way) rugged hiking trail that follows an old logging road through the boreal forest. You emerge atop breathtakingly high cliffs, with views over Lake Superior as well as Ruby Lake. (It is not fenced, so take extra care and leash your dog.) You will likely be able to spot birds like bald eagles, red-tailed hawks, osprey, American white pelicans or peregrine falcons soaring on the updrafts. In the spring and summer, you may see wild blueberry and bearberry plants, and wildflowers like pink lady's-slipper. You can find additional info on other local trails here. Trails are not currently maintained so hike at your own risk.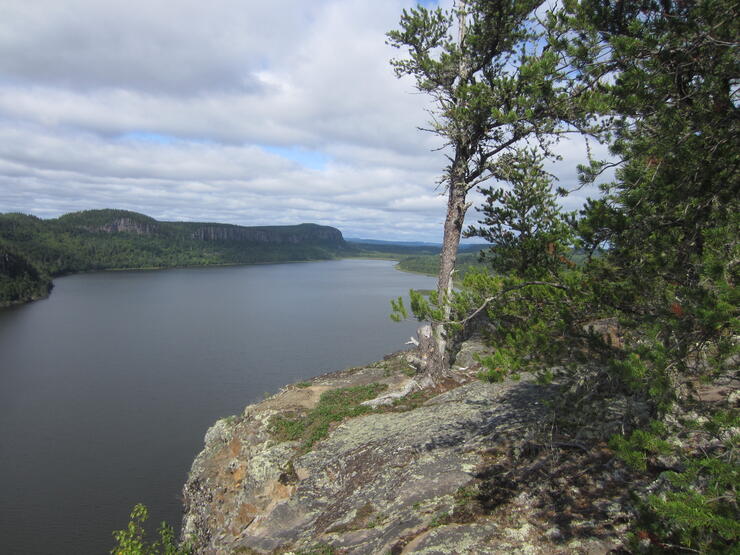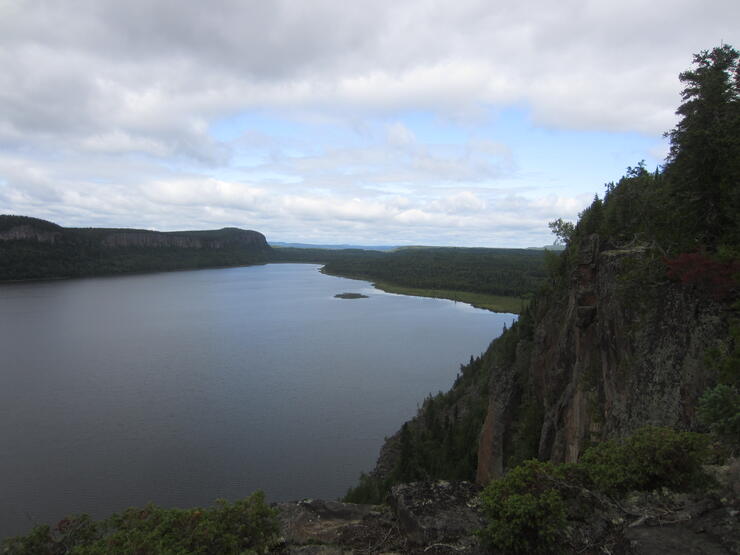 More info on hiking Ruby Lake Provincial Park. 
Grab a Bite (Or lick a Superhero cone)
La Luna Café & Bakery is a great place to pick up take-out or dine-in. Found in the heart of the small town, it's an appealing cosy spot, with local art and handicrafts on display and for sale. It offers yummy homemade baking like bread and desserts, pizzas, soups made from scratch, salads, rice bowls, sandwiches and wraps. They've also got ice cream in some very cool flavours! Or try take-out or patio dining at local favourite The Edgeview at Sunnyside with beautiful views of the Nipigon River and homemade pies, burgers, wraps and pastas.
More info on Nipigon restaurant options. 
Stroll the downtown

Much of Nipigon (the name is thought to come from an Ojibway word that means "lake you cannot see the end of) is clustered around the Lagoon, a sheltered harbour area. Consider a 2.6-km self-guided walking tour that lets you get a look at some historical buildings as well as the attractive waterfront with its marina and boardwalk. One newer addition is the Paddle to the Sea Park (remember the book and the National Film Board movie about the little carved boat that travels through all the Great Lakes to the ocean?). It features 12 fun playground stations, including a splash park to illustrate key parts of the book, throughout the downtown and along the waterfront. Fun fact: the port of Nipigon is the most northerly freshwater port in North America. 
Don't miss some of the local shops too, like the Nipigon General Store which has a little bit of everything, or score a great deal at the Top of Superior Thrift Shop, where we found a $3 plaid shirt with a rhinestone owl motif. Pop into Twigs in Bloom for cute gifts like striped onesies, houseplants, mugs, and wall art. Speaking of art, there are also three murals by renowned muralist Dan Sawatsky at various points about town, that depict moments of local history and are titled "Racing the Train," "Fifty Years of Service" and "The Last River Drive." 
More info on things to see downtown.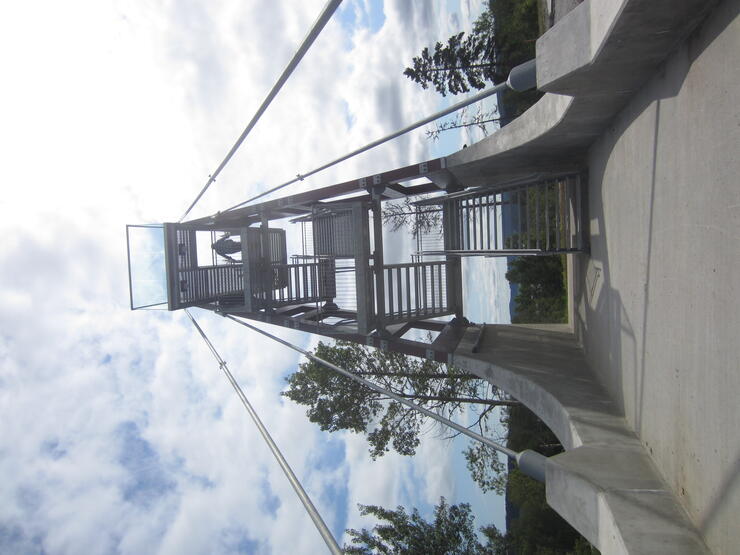 The Bridgeview Lookout Tower is a new, contemporary structure that allows visitors easy access to a dramatic 360-degree view that takes in the newly built cable-stayed Nipigon River Bridge (an engineering feat and the first of its kind in Ontario), Lake Helen and the marina and beyond. Designed by a Thunder Bay architecture firm to echo the cables of the bridge, it swoops 40 feet into the air, and has 65 steps to climb and several viewing platforms bordered by clear plexiglass panels. Take a selfie and tag it #bridgeviewnipigon!
More info on the Bridgeview. 
Get out on the water
There are several local companies to help you have an unforgettable day on—or even under!—the water. By the Bay Adventures offers scuba diving excursions as well as sailing trips around Nipigon Bay, Caribou Cove and Agate Island. Nipigon River Adventures has guided fly-fishing. If you have your own gear, check out the local top 10 list of fishing holes to try to land everything from brook trout and steelhead to whitefish and salmon. Nipigon is also home to the Lake Superior National Marine Conservation Area headquarters, overseeing an area that encompasses 10,000 square kilometres and dozens of shipwrecks. 
If you're intrigued by the incredible rock formations around you, check out this expert "Geotours" guide that outlines nine geological points of interest between Thunder Bay and Nipigon. It includes directions and clear explanations about cool landscapes including amethyst mines, the striking layers of red rocks, Ouimet Canyon, the Sea Lion, Silver Islet, and the Pijitawabik Palisades. Some of these, like the Sea Lion and Silver Islet require a bit of a detour off the highway down the Sibley Peninsula, but are well worth it! Others, like Ouimet Canyon and the amethyst mines, are quite easily reached from the highway, and are worthy of their own day trip, featuring views of a vast, deep canyon and the chance to pick out your own sparkly purple gemstones. 
Live like a local
For more inspiration, visit Nipigon's Exploring the Edge blog for ideas on the best swimming holes or spotting turtles near the boardwalk. Nipigon Township's Instagram is also a good source for ideas. 
Have fun in Nipigon! Don't miss ideas for other day trips from Thunder Bay!