Natural Wonders of Superior Country
Northern Ontario offers a multitude of scenic vistas and natural occurring wonders. Visit massive cascading waterfalls, ancient canyons, interesting rock formations and more!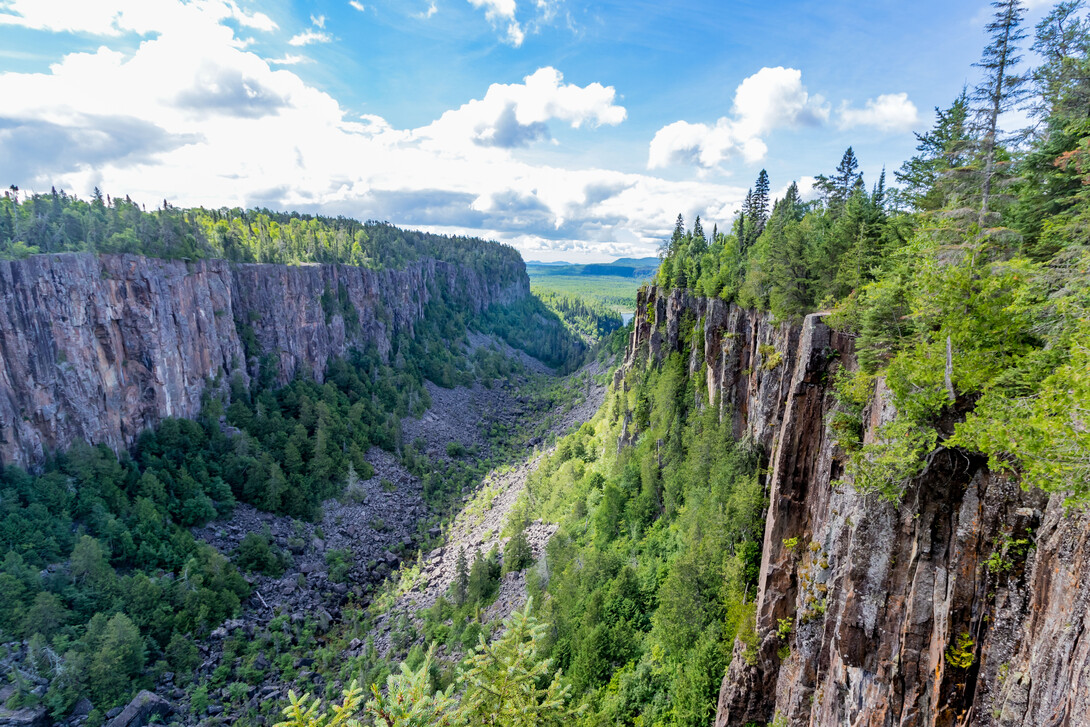 As someone who has grown up in the region, I must say that like most, I am guilty of taking where I live for granted. So, after living abroad, coming back home, and starting my work with Superior Country I was inspired. I wanted to come back, not just as a local but as someone with a tourist state of mind. Someone who is excited to explore, learn, and really discover the essence and beauty of where I live. Nothing should be taken for granted, not even our coldest winters where I have found myself yelling at my dad through the phone "MY CAR IS FROZEN SHUT."
I was embarrassed to admit that out of all Superior Country's natural wonders, there were still quite a few that I had yet to experience. I began working for Superior Country in April 2019, and since then I am happy to report that I was able to cross a couple more off my bucket list. Some of the natural wonders listed below I visited quite frequently when I was younger, and they've given me the best childhood memories to look back on. However, there are still some I am extremely excited to explore.
I hope that after reading this article, you become excited to explore them as well.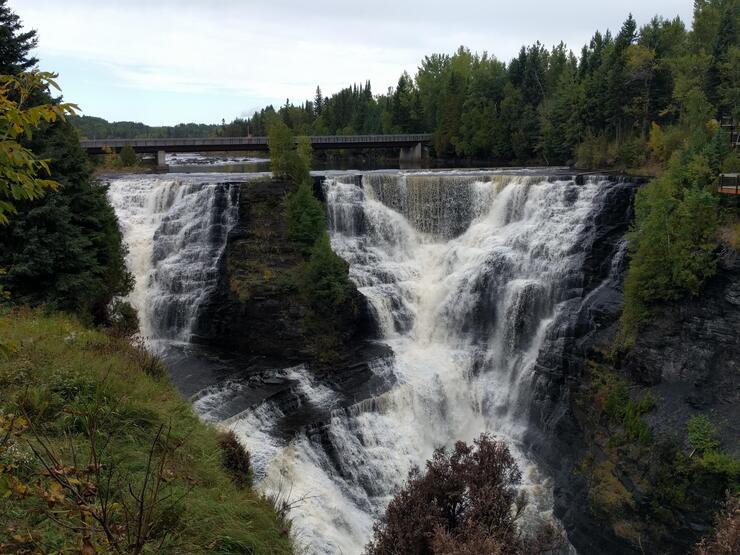 Kakabeka Falls was one of the natural wonders that up until beginning my work with Superior Country I had yet to explore. So, one sunny Saturday morning I enticed my mom to join me on a mini-adventure to the falls. The falls are approximately 30 km west of Thunder Bay, Ontario. This natural wonder is extremely easy to access when coming in off the highway. For someone who is directionally challenged I found it no problem, so that is saying something. You turn off the highway, park, and the view of the falls is maybe 100 feet away or less.
Kakabeka Falls is the second highest waterfall in Ontario and really a magnificent sight to see! Some even refer to it as "Niagara of the North" as it stands 40 metres (130 feet) high, and tons of water beautifully cascades over the sheer cliff. In 2017, Kakabeka Falls Provincial Park celebrated its 60th anniversary; however, the Falls have been a natural wonder for much longer. "Kakabeka" is an Ojibwe word that can mean "sheer cliff" or "thundering waters." After years of the river flowing over the area, it has revealed ancient fossils underneath.
There is an amazing amount of history and culture connected to the falls, and the more I learnt the more I fell in love with it. There is a beautiful legend about the daughter of an Ojibwe chief, Princess Green Mantle, and how she sacrificed herself to save her tribe. She persuaded their enemies that she could guide them in canoe to her tribe; but she really led everyone, including herself right over the falls. Her tribe then became safe. The story is still something that is shared today.
After doing so much research, the moment I was standing there finally seeing them for myself was extremely special. My mother asking me how Instagram stories work, disrupted my moment of appreciation, but once she posted about her adventure, I went back to enjoying the serene moment. The boardwalk begins right from the parking lot and loops all the way around the falls with multiple spots to stop and view the magnificent waterfalls. It is wheelchair accessible and perfect for all ages. When I first set out on the boardwalk I may have thought "catwalk" instead and stopped multiple times to pose while my mother pretended not to know who I was. Point being, there is lots of room to walk and stroll around the natural wonder.
I highly recommend visiting this natural wonder, as it is easy to access, full of history, and most importantly, stunning to look at.
Eagle Canyon is one of the natural wonders that I have many fond childhood memories of seeing. Experiencing Eagle Canyon for the first time can be amazing, but also nerve-wracking as it includes Canada's longest zip line and Canada's longest suspension footbridge. The canyon that you cross over is about 100 feet deep and has amazing views. The phrase "don't look down" really applies to this natural wonder. If heights are not your thing, I still recommend going up to view the canyon if you don't want to cross the suspension bridge or use the zip line. There are also hiking and walking trails to use at the bottom of the Canyon.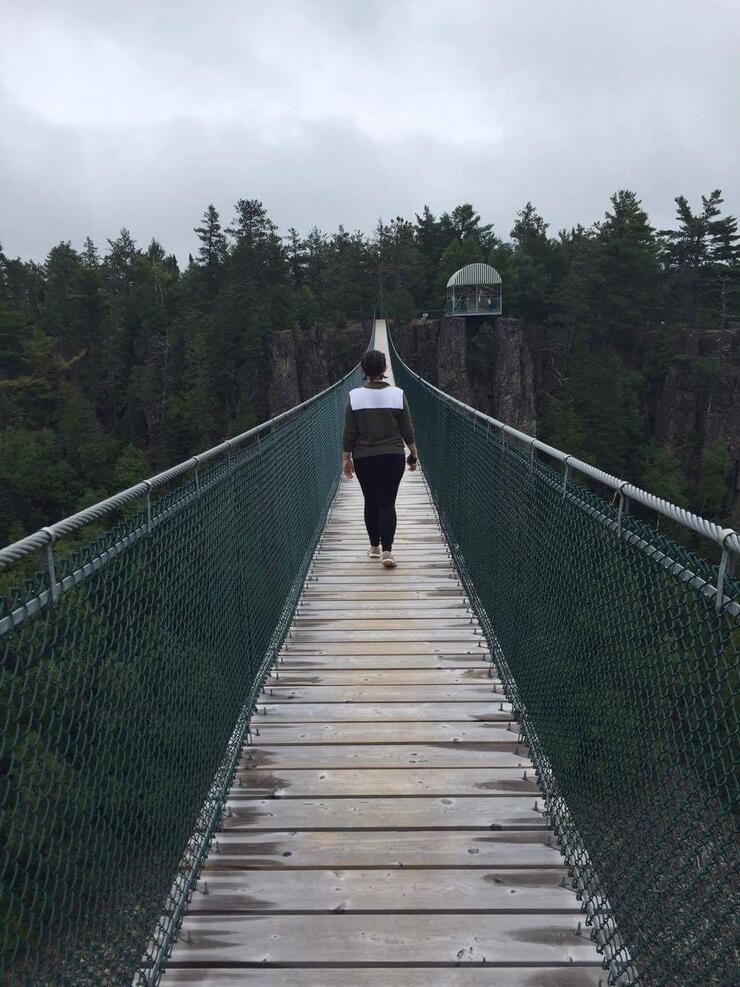 Eagle Canyon Adventures is located north of Highway 11/17 and approximately 42 km from the Township of Dorion, or if you are coming from the west, 65 kilometres from Thunder Bay. Once you turn off the highway onto Ouimet Canyon Road and continue to follow it for about 4 km, then turn right onto Valley road and continue for 2 km until you reach your destination. There you will find a Welcome Center/Gift Shop and lots of space to park. You pay for the activities you would like to do inside, and you can browse all the souvenirs and unique items for purchase that showcase different artisans from the area.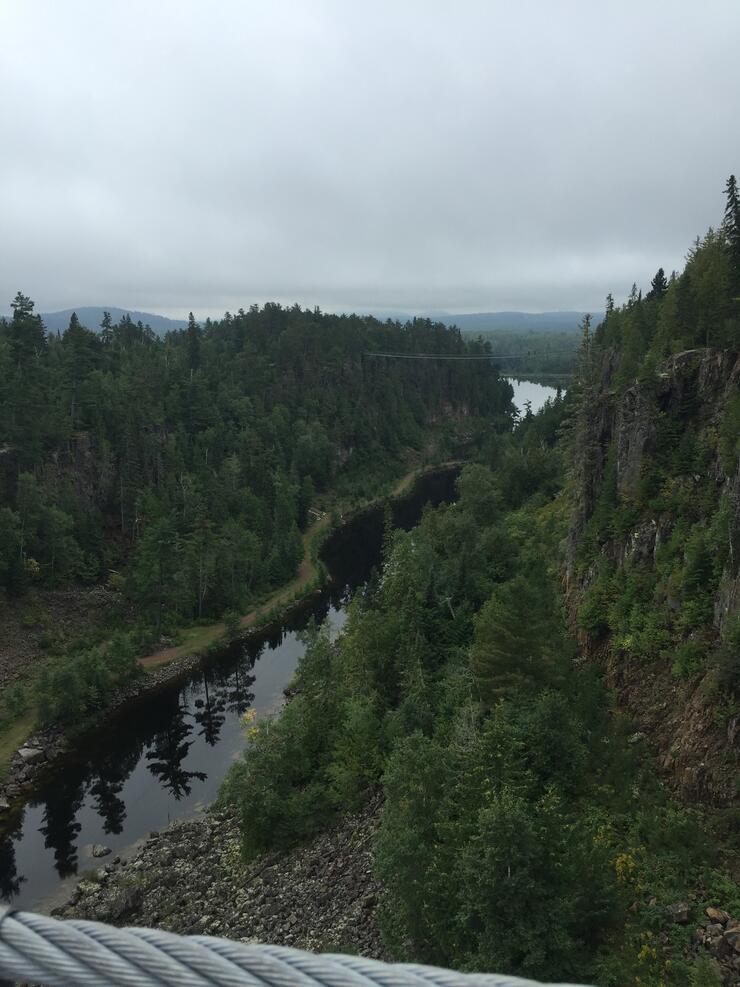 To reach all the fun, you must walk up a long and steep hill. For those that would struggle with this physical activity, they do offer rides up to the top. There are plenty of picnic tables outside  the Welcome Center/Gift Shop to sit and relax and enjoy a packed lunch. There is also a viewing area to watch people finish on the zipline.
"The bridge extends 600 feet across the canyon and hangs at the height of 152 above the canyon floor. If one bridge isn't enough, we also have our smaller bridge which spans 300 feet across the canyon and 125 feet above the canyon floor." – Eagle Canyon Adventures
Eagle Canyon Adventures is only open seasonally, from May to October, and rates are listed on their website.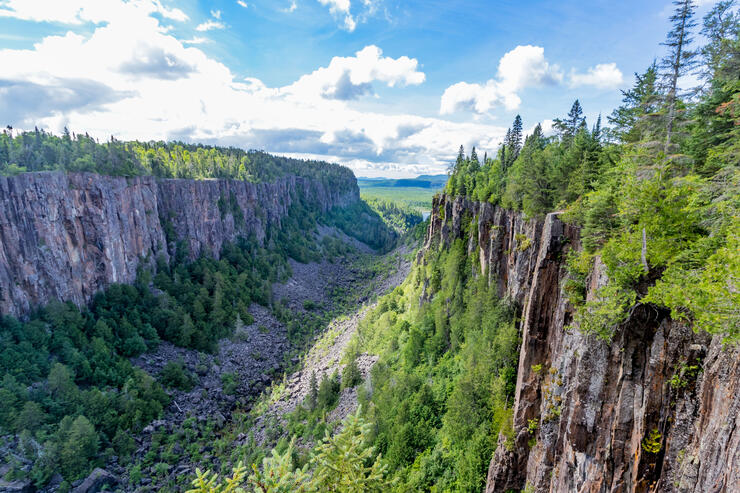 Ouimet Canyon is almost the Part Two to your Eagle Canyon experience, as it is only 7 km north of Eagle Canyon. Instead of turning right onto Valley road, you would continue straight on Ouimet Canyon Road for another 7 km and reach your destination. Ouimet Canyon is an easy natural wonder to experience as you follow the lovely trail to the viewing platforms where you can see breathtaking views of the canyon. Once parked, in the parking lot, the trailhead is visible and easy to find. You follow the trail, which is not long and leads you over some small wooden bridges and gravel paths. The viewing platforms and lookout are wheelchair-accessible and perfect for all ages, so make sure to bring the whole family.
Ouimet Canyons operational dates are the same as Eagle Canyon, from May to October, and all that is asked is to leave a donation before visiting.
This is another place that I have visited quite often, whether it was with family or showing friends from out of town. It is a place we love to show off to tourists because it's quite an amazing sight and perfect for photos.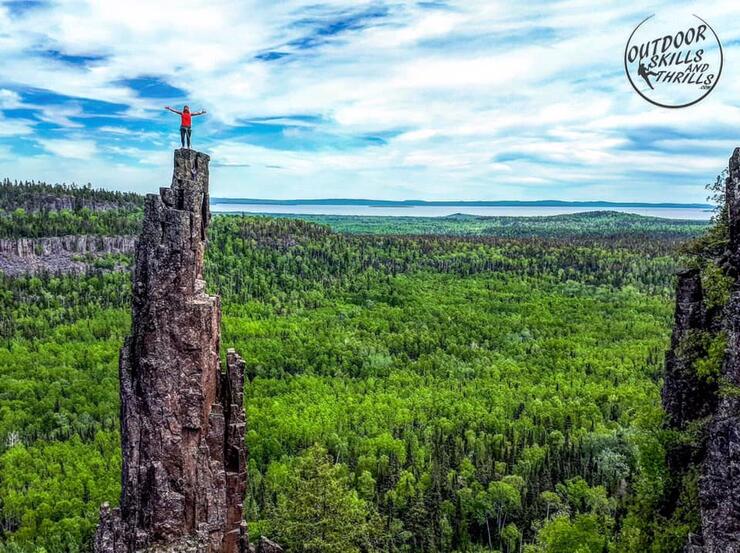 The Dorion Tower is purely amazing and something that I have yet to see. As this is probably one of the hardest natural wonders to access, you must drive, then hike to find the pinnacles. The rock formations are referenced as "the pinnacles," which includes the infamous Dorion Tower.
The Dorion Tower is located again north of Highway 11/17, and for this natural wonder, you also turn onto Ouimet Canyon Road. The directions are listed in detail below:
drive approximately 4 km on Ouimet Canyon Road
turn right onto valley road then travel for 3.3 km
turn left onto tower road
if you have reached the other natural wonder mentioned, Eagle Canyon Adventures, you have gone too far 
it is highly recommended to have 4-wheel drive when using the tower road
follow the road until it ends and park near the tower building 
To start the small hike to the natural wonder, head across the road and the trail is marked and in line with the tower. The hike takes approximately 20 minutes and has been rated as an easier hike. There you will access amazing views of the pinnacles and the Dorion Tower.
If your interested in visiting the Dorion Tower, it is highly recommended to use a local guide such as Outdoor Skills and Thrills.
Agate island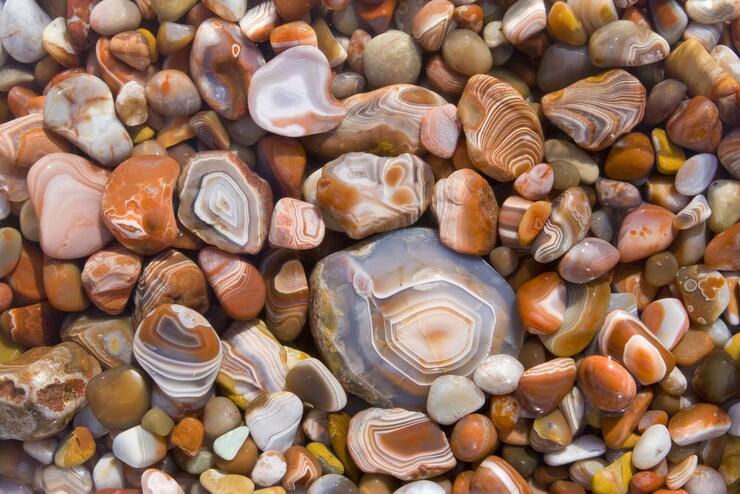 Agate Island is another natural wonder that sadly I also plan to visit but haven't got there yet. It is located on the north shore of Lake Superior, in front of St. Ignace Island and Nipigon Bay. The only way to access Agate island is to travel by boat.
One of the islands most talked-about attributes is its unique and beautiful beach. An article published on CBC stated that multiple television programs have listed Agate Island's beach one of the best natural beaches in the world.
The entire island, beach, and shores are covered in agates. According to Victoria Banning of Superior Country, agates are microcrystalline quartz and "were formed in gas pockets within ancient lava flows. Throughout time with shifting grounds and weather exposure they were freed from the lava. Some distinguishing features of a Lake Superior agate are rich bands of red, orange, tan and yellow coloring caused by iron leached from rocks. They are often smoothed by waves and sand and have a sort of waxy feel." 
If you have a love for geology and exploring, Agate Island should be your next stop.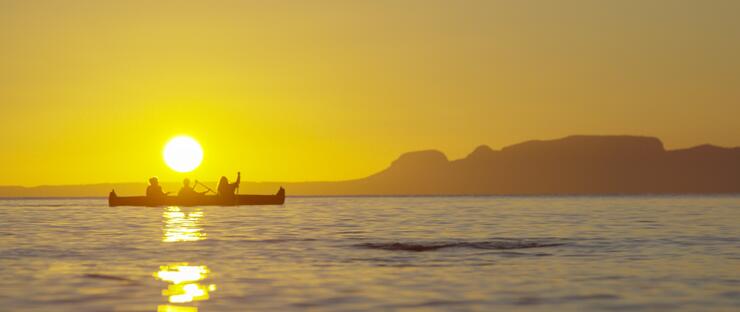 I have experienced this natural wonder my whole life, even a few days after I was born. I have no recollection of that moment obviously, but to get from the Thunder Bay hospital to our home in Nipigon we had to travel highway 11/17 for about 120 km, with stunning views of the Giant right out our car window. I have looked out my window on that trip to and from Thunder Bay so many times, it feels like something as natural walking to school everyday.
The Sleeping Giant is a formation of mesas and sills which means elevated areas of land and sedimentary rocks that resemble the sleeping body of a giant. This natural wonder formed over 200 million years ago and is one of the most famous natural wonders in Ontario. It has made many lists and been showcased in many articles, television shows, postcards and lists of top landmarks.
The are many different versions of the famous legend about the natural wonder, which tells a story about Nanabijou the spirit of the deep-sea water, a curse, silver islet, and a giant turned to stone. 
To further explore the Sleeping Giant, you can visit its provincial park, which is really the ultimate package as it offers everything. You name it: camping, hiking, paddling, educational interpretive centres, and more. You can even hike to the top of the Sleeping Giant for even more stunning views. My favourite is still the view that includes the giant in its slumber on my drive to and from Thunder Bay.
Sleeping Giant Provincial Park is located south of Highway 11/17 where you turn onto Pass Lake Road from the highway and follow it where it turns into highway 587 south for about 34 km.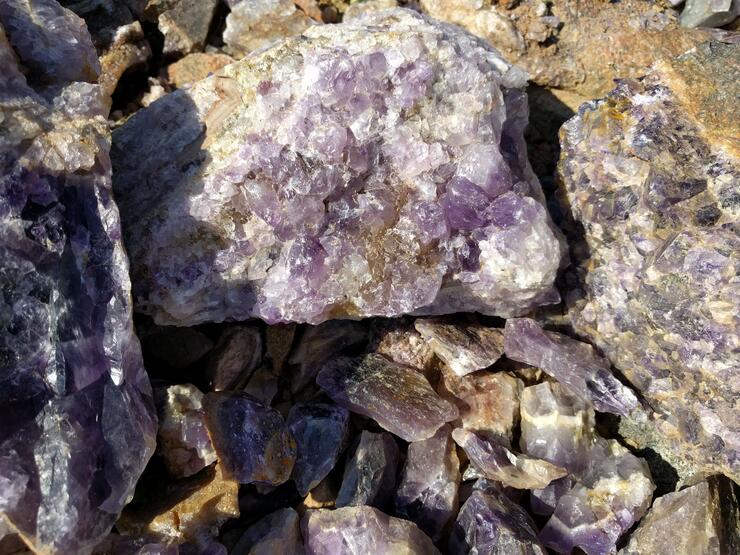 Visiting the Amethyst mine is something that I think every child should experience growing up. This is one of the natural wonders that I have seen before, and it is such a great childhood memory. This is something that is great for the whole family and really makes your travels through Superior Country that much greater.
I remember multiple times my grandparents wrangling all of us grandkids—which, trust me, was not an easy thing—packing us up and bringing us to the Amethyst mine Panorama.
Amethyst Panorama mine is located in between Dorion and Thunder Bay, Ontario just of Highway 17. When coming off the highway, you turn north onto East Loon Road that leads you to the mine. A family local to the area has now been successfully operating the Amethyst mine for over 30 years. They have been dedicated to making sure everyone's visit to the mine is a great memory and really showcases unique qualities of the area. When arriving the first thing you will see is the Welcome Centre with ample parking which can fit all vehicles, trailers, and RVs. Inside and outside is a sight to see, and there are tons of magnificent amethyst there for display and for purchase. After admiring the welcome centre and all that encases, you can then follow a path to areas where you can pick and dig your very own amethyst.
Now, I am not going to lie: when I visited the mine with my grandparents I was about five or six, and the details are very foggy. However, what I remember most is the fun and unique environment. I had the best time as a kid with my cousins, getting my hands dirty and digging for my very own amethyst. I remember my grandparents taking photos of us and enjoying watching us become mini-geologists.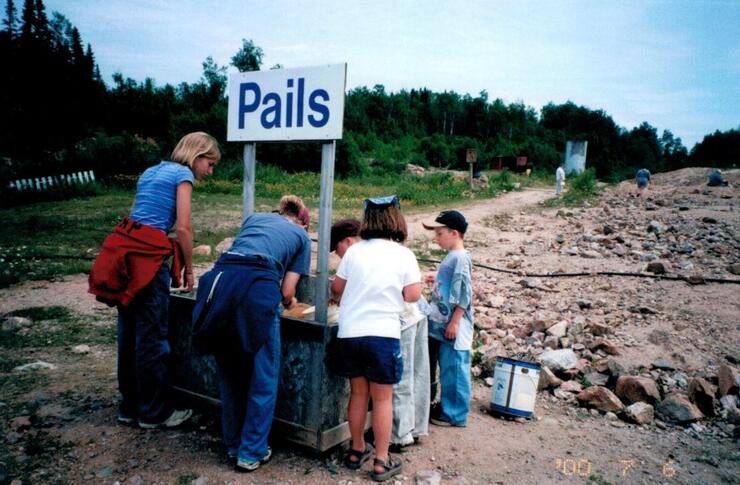 This is really something for everyone, whether you are ready, like my five-year-old self, to get your hands dirty, or you simply want to just view the beautiful gemstones of the north, and maybe purchase some as souvenirs, this is the perfect stop and one of the amazing natural wonders of Superior Country.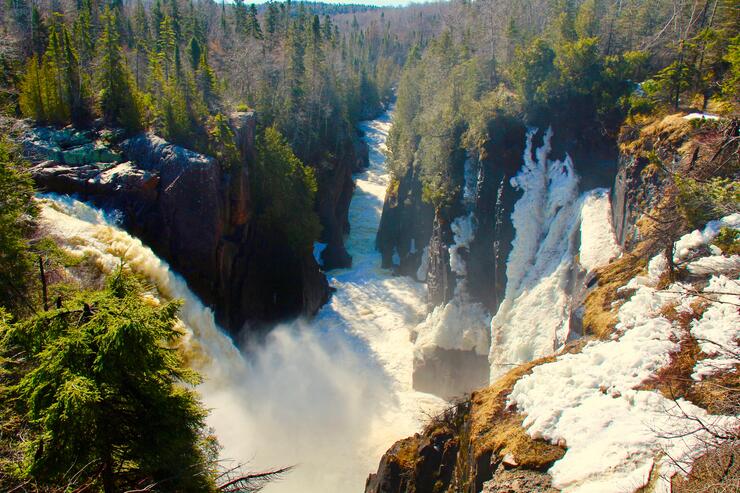 Aguasabon Falls holds a special place in my heart because as a photographer, it has been the perfect backdrop for multiple wedding photos I have taken throughout the years. Heading to the falls is always a favorite past time of mine, whether I was just going to enjoy the view or for photography purposes.
Aguasabon Falls is in Terrace Bay, Ontario and extremely easy to access. Whether you're driving east or west, you can easily spot the sign on the side of the highway where you pull off to park. Like Kakabeka Falls, it's easily accessible by a boardwalk which leads to the viewing platform.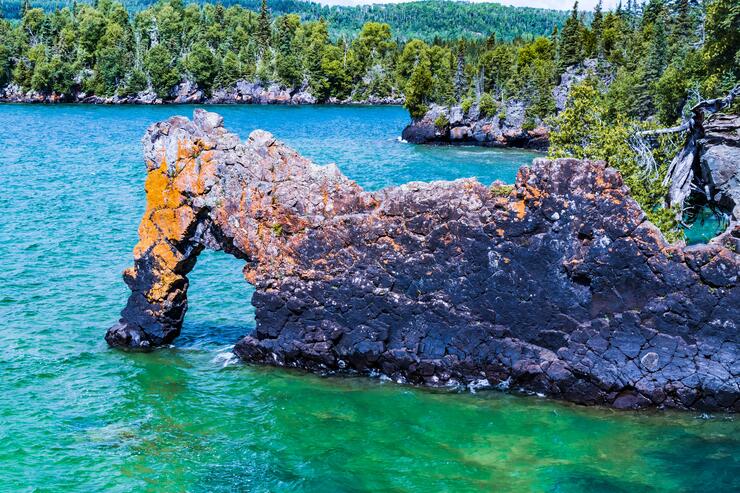 The rock formation the Sea Lion is a beautiful natural wonder of Superior Country and much easier to access than people think. This a rock formation that was left behind after sedimentary rocks eroded away. It was given the name the "Sea Lion" because the rock formation resembled a sea lion looking out into the bay. Since it was formed, the head of the sea lion has fallen off, but is still an amazing sight to see. I mean, how many people can say they've seen an ancient headless sea lion? It is a very pretty spot to hike, as I learned when I saw it for the first time this past summer in order to cross it off this list of natural wonders to see or experience.
The sea lion and the hiking trail to access it is located down the same highway to reach Sleeping Giant Provincial Park as you follow highway 587 South for about 36 km and past the Lake Marie Louise campground, where you will see the Kabeyun Trail parking area on the righthand side. The trail is also right before Silver Islet. It is very easy to find;—as I have stated before, if I can find it then anyone can—the trail begins right there in the parking lot area.
The hike was not too difficult, but there were some narrow and steep areas where you had to be careful. It is almost two hikes combined, as you hike a portion of the Kabeyun trail and then begin the Sea Lion Trail. You follow the Kabeyun trail, which is marked for about 700 metres, until you reach the trailhead for the Sea Lion Trail.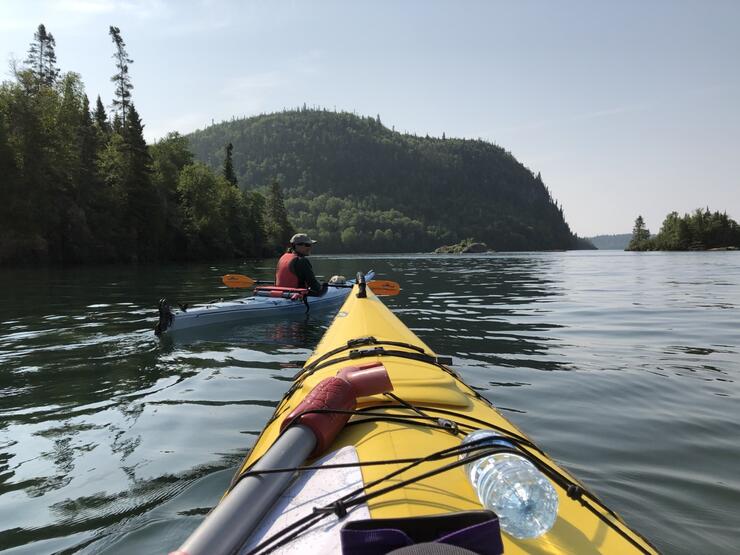 There is nothing more wonderful and mysterious than the greatest great lake of them all, Miss Superior. This is another natural wonder that I have the pleasure of making a lot of memories on the shores of, right directly on her waters, and hikes to view her from the highest point I could find.
One of my favorite past times with the beautiful Lake Superior was a kayaking excursion from the docks in Rossport, Ontario. We went on a guided tour to Healy Island with Superior Outfitters and Parks Canada. It was a four-hour paddling excursion, where watching the executive director of Superior Country Dan Bevilacqua getting in and out of his kayak holds a close second to experiencing the breath-taking views from right on the water.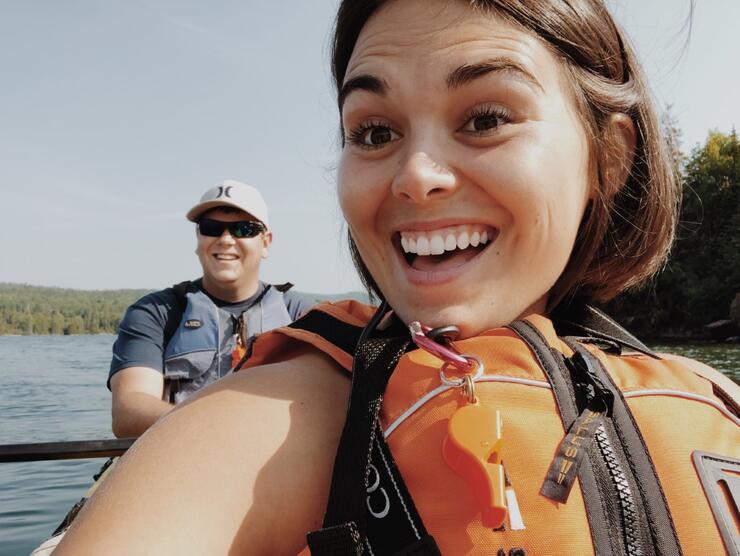 There are many points throughout Superior Country where you can access Lake Superior, with a plethora of activities to take part in. For example, you could participate in a kayaking tour that leaves from Rossport, Ontario. You could launch your boat at the marina in Nipigon, and then head out on an epic fishing adventure. You put your canoe in the water in Red Rock, Ontario and have an amazing paddling excursion. Cliff jumping, viewing Indigenous rock paintings, surfing, or catching the biggest fish you've ever caught—Lake Superior can offer it all.
The largest great lake really is a treasure, and a natural wonder you don't want to miss out on while here in Superior Country.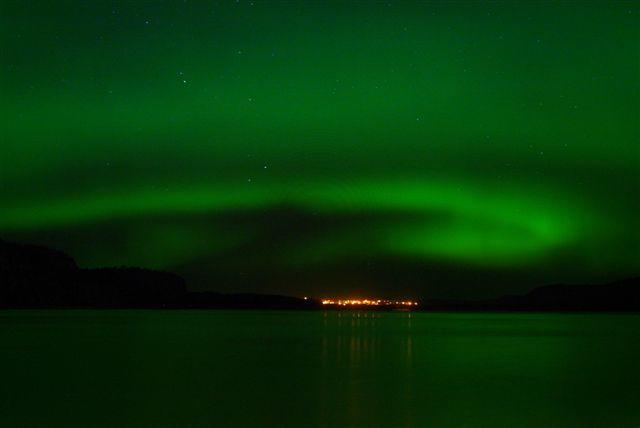 Another very special thing about Superior Country is our access to some of the best viewing spots for the Northern Lights. This is something that had to make the list, as they bring magic and spirit to the area. There is nothing better than sitting in the cold northern air, bundled up and leaning back to view the sky that is bursting with colours and light that you didn't know possible.
Yes, I have witnessed the beauty of the Northern Lights. My memories of the Northern Lights are lovely ones, as they all have taken place at my family's camp about 10 minutes outside of the Township of Nipigon on Polly Lake. My sighting of them has almost always taken place like this…
From either the age of six or to now (age 24), we are sitting outside around the campfire and my dad is usually trying to get my attention as I am most likely singing, chatting, or as a kid, probably running chasing fireflies. He usually yells over "Kid, snap out of it and look up! There's the Northern Lights!" The memories of being surrounded by my family and friends, the smell of campfire in the air, and the sound of the fire crackle in between pauses in conversations while looking up at the Northen Lights is something I'll treasure forever. Eventually, after my dad gets my attention, I then usually find a spot in the grass and lay up and take in the view.
There are certain times of the year where the Northern Lights are the best to view. Every area is different, and the best time to view the Northern Lights in Northern Ontario is between December and March as you have the longest hours of darkness. It is also best to visit places outside of large populated areas to achieve extreme darkness.
Make sure to view one of the most magical wonders of Superior Country while travelling through the area.
I hope this article has helped to inspire you as much as this list inspired me to travel through Superior Country and visit our most natural wonders.