Highway 17 Treasures through Superior Country
The best, most scenic, and most essential stops along Highway 17. Check out our guide to some amazing things to see and do between Atikokan and Marathon.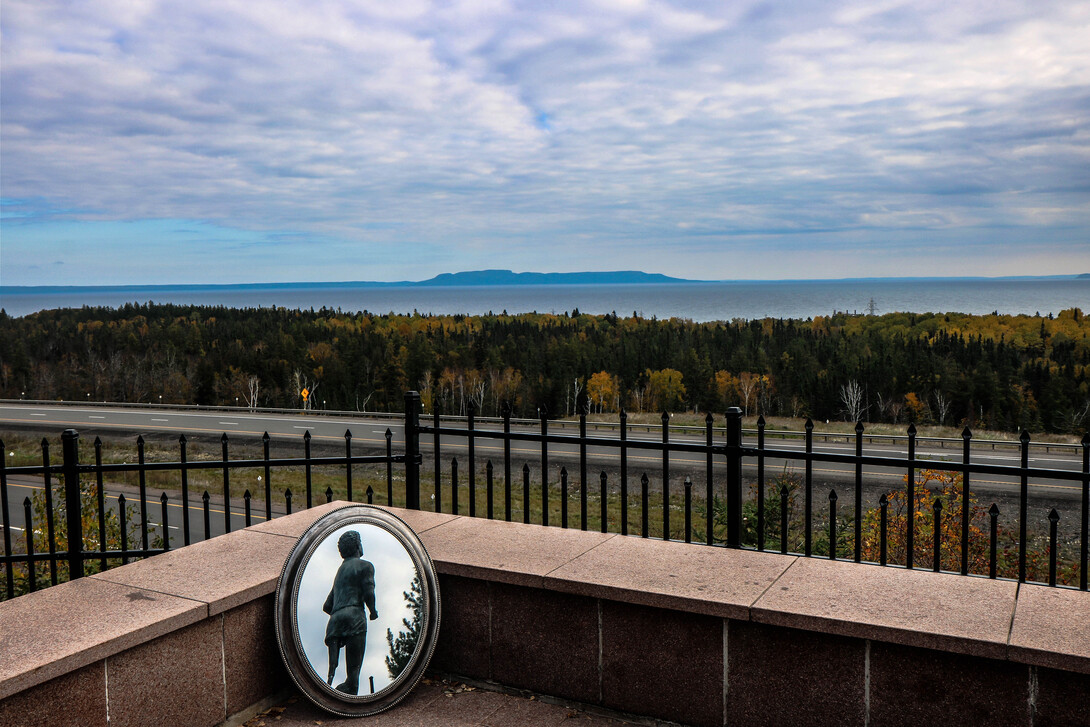 Living in Superior Country can often feel like living in a fantasy world with its dreamy allure and extraordinary views. Its amazing beauty makes the region the perfect place for a family road trip. The area has so many options for fun that prove Superior Country really has it all.
I've had to travel up and down this cool Superior coastline once or twice over the years, so I've rounded up all the information you need to pull off a road trip that's relaxing and unforgettable, not long and regrettable. So, let us begin the locals' guide to a righteous road trip in Northern Ontario: Highway Treasures Edition.  
LOOK AT THAT VIEW!
There are many lookout spots along the Northern Ontario Highway 17. I can't even count the times I made my mom or dad pull over so that I could grab a picture and take in a sight that I never get tired of. Here are the ones I suggest pulling over to check out.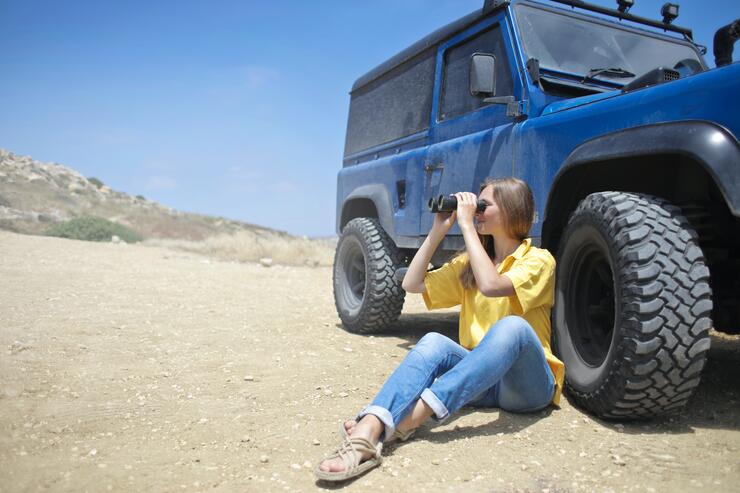 Thunder Bay
The City of Thunder Bay has so many great spots for you to get out, stretch your legs, and admire the stunning view of the Sleeping Giant that rests in Lake Superior just in front of the city. There's a great spot called Hillcrest Park located in Thunder Bay that has the perfect view of the sleeping giant and the quiet streets of this northern city. With picnic tables and huge open spaces, it's the perfect place to sit and eat lunch–if you have little ones with you it's a great place to let your kids run around and enjoy the nice fresh air.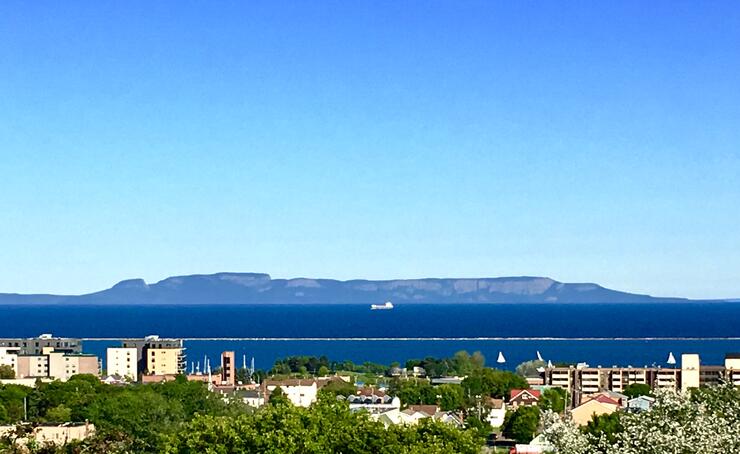 On the way out of the city, the whole highway has an amazing view of the lake and the Sleeping Giant all on its own. I never get tired of looking out the window to peer at the amazing colors of the boreal forest and the giant that rests within the icy blue waters of Lake Superior. However, if you wish to stop for a picture, or if you need a restroom and travel information, you can pull off the highway and go to the Terry Fox Monument and Lookout. This is a gorgeous dedication to Canadian hero Terry Fox and is a very popular site for families and friends alike!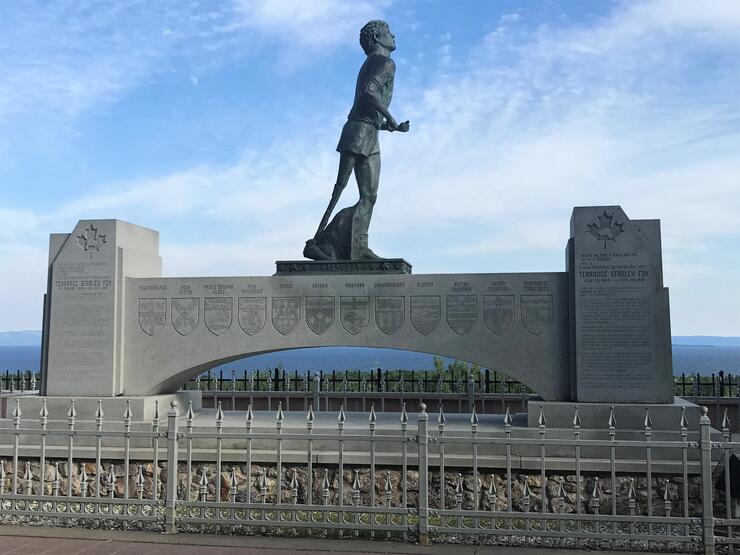 Another amazing spot to check out just outside of the city at Sleeping Giant Provincial Park is the Thunder Bay lookout. This lookout makes you feel like you're soaring like an eagle over top of the colorful boreal forest and shimmering blue lake. It also has the perfect view of the city, pretty as a picture. Speaking of pictures, this spot is a popular one for photographers, so take as many pictures as you can! I know I do!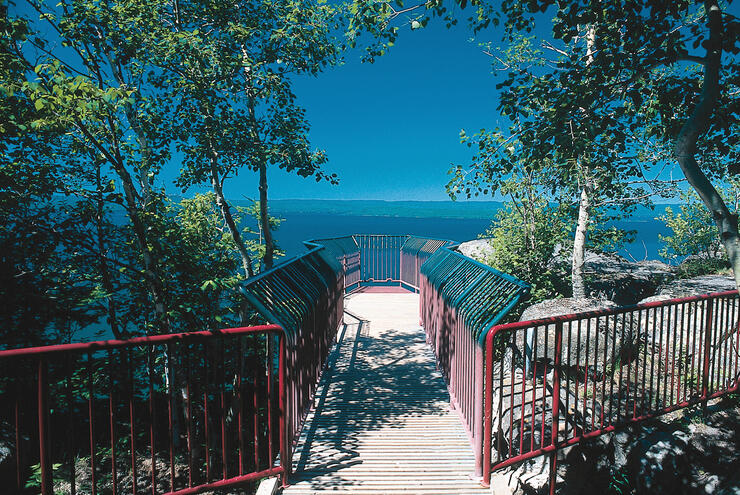 Nipigon
About an hour east of Thunder Bay you will find yourself in Nipigon, which is my hometown. So I can really give you the lowdown on where to get a picture-perfect view for your family and friends. First, you will definitely want to check out the Nipigon Bridgeview Lookout Tower. It is always busy with different people going up and down to check out the thrilling view of the Nipigon River as it flows towards Lake Superior near the town of Red Rock.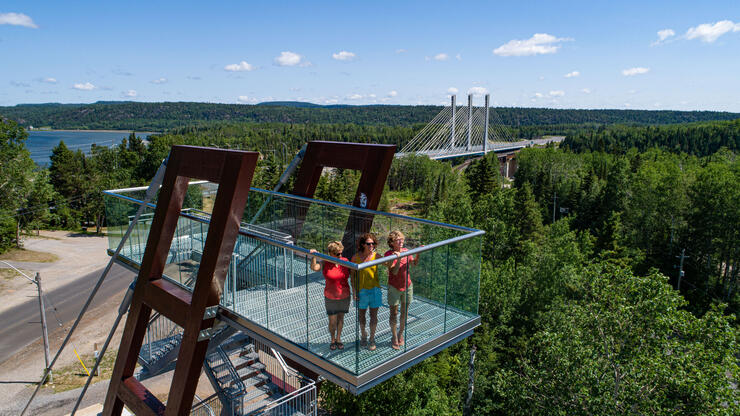 On the other side of the river is Lake Helen, the lake that shores on the Lake Helen Reserve. You can get the perfect view of it by taking the walkway that goes right underneath the Nipigon Bridge. I love this walk, especially on a warm evening when the sun is setting beyond the horizon and the colors of the sky collide with the smooth reflection of the lake. I know, gorgeous, right?  
Rossport 
Another great location to get an amazing view of Lake Superior and the unique rock formations of the Canadian Shield is just outside of the town of Rossport. This lookout is a little bit hidden as it is a quick turn off the highway. For as long as I can remember my mom always brought me here when we were going on a trip somewhere. The view of Lake Superior blending into the sky is something that never ever gets old. Along with an amazing lookout it also has clean bathrooms for you to use, so that's always a plus. 
Terrace Bay
The last stop on our tour of lookouts is in Terrace Bay at the Terrace Bay Lighthouse. The lighthouse is located right in the middle of downtown, so you can't miss it–take in the lighthouse views while you shop the downtown. Or head to the top if you want a picture and check out the the amazing sight of the lake as viewed from above.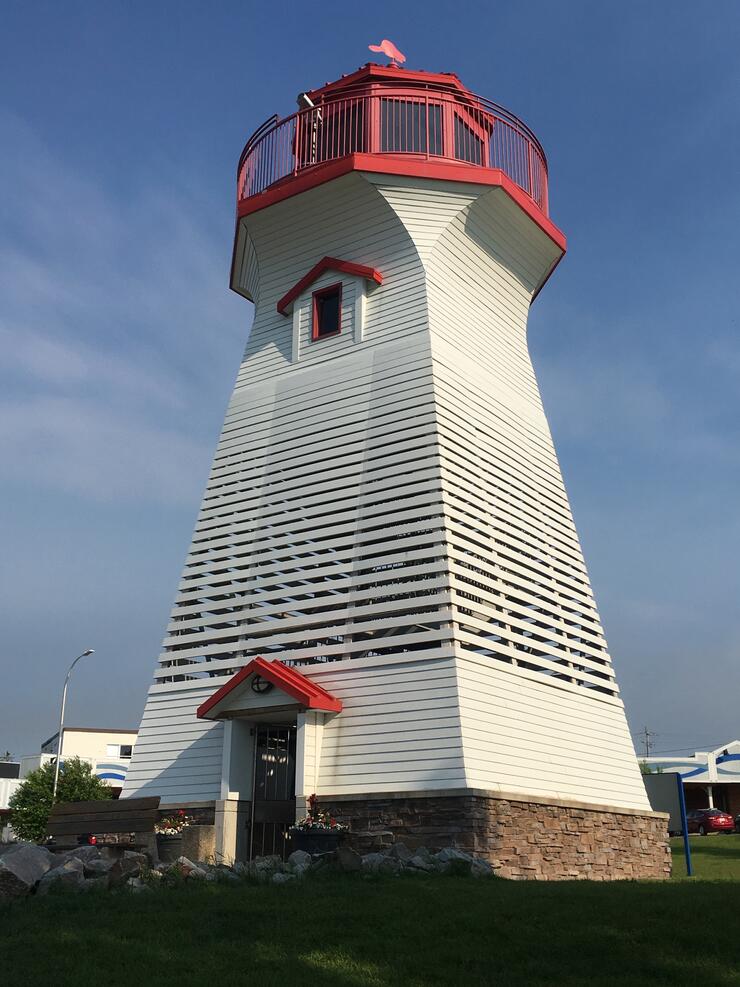 BASKING ON THE BEACH 
There are many beaches on the North Shore that are unforgettable and lots of fun. When my family does road trips along the Superior shore, we always stop to take a refreshing dip in the crisp water after an hour or two of driving. It always does the trick!
Schreiber
Schreiber is a little town located just outside of Terrace Bay and has one of the biggest beaches I've ever seen. The waves are so much fun to splash around in, and it has a super fun playground for your little ones. The beach is a bit hidden near the back end of town, but if you follow the signs, you can't miss it!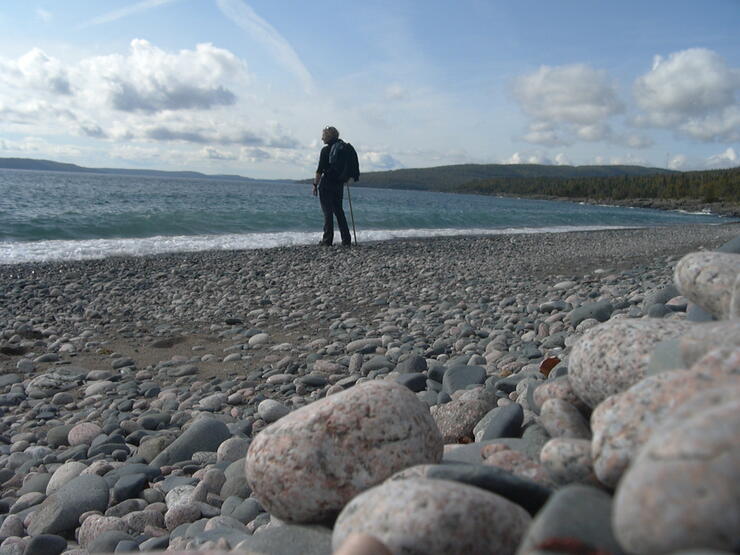 Rossport 
When you get into the actual town of Rossport, you'll find it's as cute as can be. It reminds me of a fairytale village where everyone is kind and the houses and gardens are full of magic and charm. It is such a great place to stop and see the lake too. Since Rossport used to be a fishing town, it is right on the shore of Lake Superior, so it has a great beach with crystal clear water that stays shallow for miles. It also has a great playground that I remember playing on when I was younger. I have so many fond memories in Rossport, it's time you make memories too!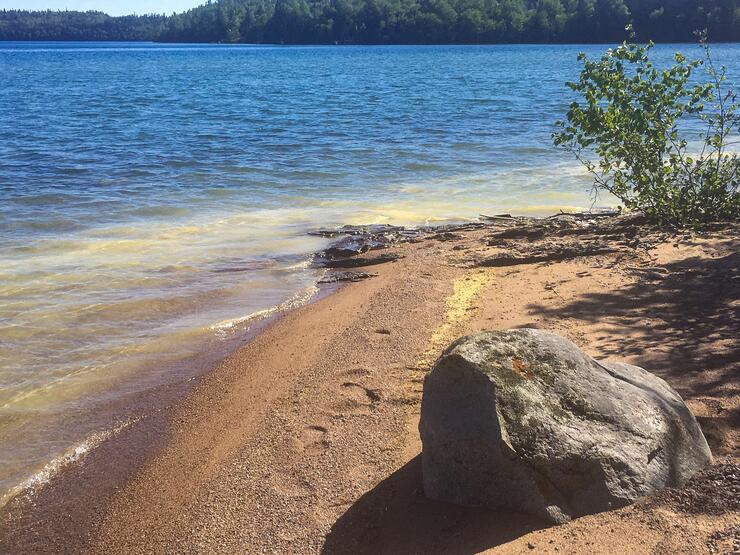 Terrace Bay
Terrace Bay also has the most breathtaking beach with its soft sand and gnarly waves. There's a volleyball net, picnic tables, and plenty of open space for you and your family to run around! Then, just off the beach, you can see lower Aguasbon Falls, as if this place couldn't get any more beautiful. Terrace Bay Beach is truly a gem that can't go unvisited!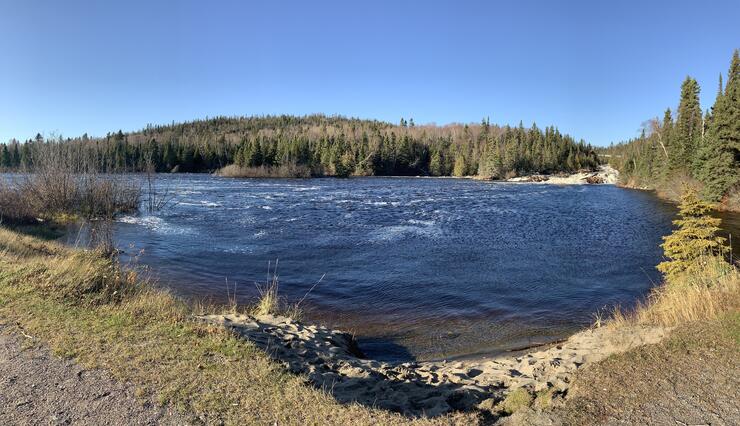 Marathon
Marathon is a town that definitely has a lot to offer. For one, it has two amazing beaches that I always love to go to with my family and friends. Pebble Beach is an amazing sight as the beach is all pebbles and rocks that the strong waves of Lake Superior have pushed up to shore time and time again, hence, the name it is given. It is truly a rock collectors dream! 
Carden Cove Beach is another hidden gem that the North shore has up its sleeve. You'll have to do a bit of looking for this one, but once you get there it will be so worth the little scavenger hunt. It is a bit of a smaller beach, but still as much fun as all of the others. With unique rock formations that are smooth to the touch and soft sand perfect for building sandcastles, you can't go wrong with giving this place a visit.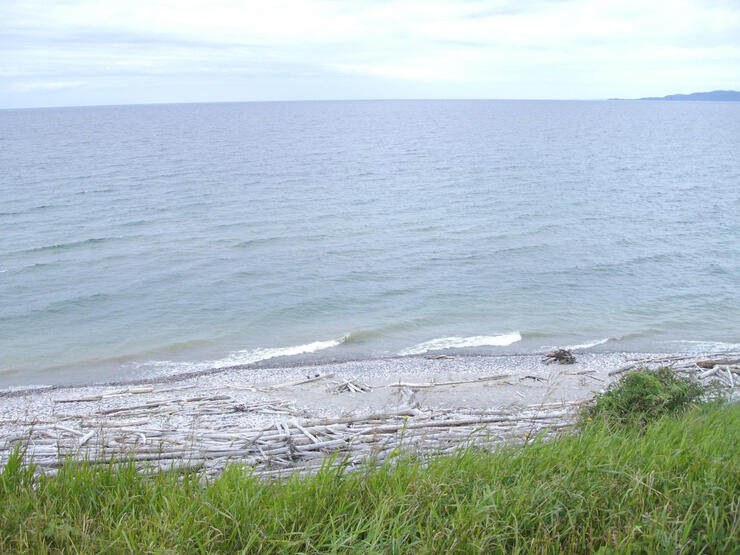 Quick Roadside stops
Hurkett Cove
Just off the highway outside of Nipigon, there is the sweetest place to stop where the Lake goes on forever and the birds soar and sing. Hurkett Cove is a hotspot for bird watchers all over as a variety of birds use Hurkett cove as their home. Some of the birds you can see are Blue Jays, Short-eared Owls, and Bald Eagles. There are so many others on the long list of birds you can spot, you'll have to visit to find out the rest! There are picnic areas and trails here too, so come and visit dear sweet Hurkett Cove and channel your inner bird watcher. How many can you find? 

Atikokan 
Atikokan is our last stop on the list of highway treasures. It is located about two hours from Thunder Bay and is a great place to get out and stretch your legs. Atikokan has a really beautiful spot called Little Falls which has an easy access boardwalk so that anyone can experience the beauty and tranquility this place has to offer. With a picnic area and benches, you can sit back, relax, and listen to the water cascade against the rock into the lake below. Not to mention, it makes for a great picture!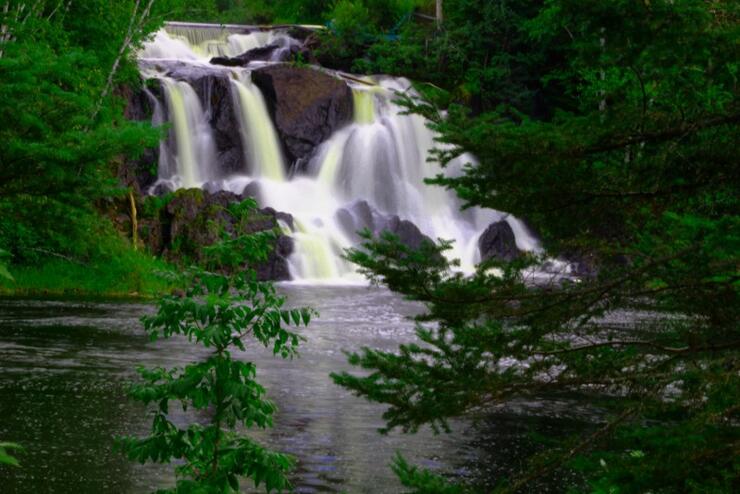 Wherever you choose to pull over and explore, I hope you enjoy the beauty that this gorgeous area has to show you. If you follow my guide to highway 17 treasures on your road trip, it will be the best vacation you have ever had. So, sit back, relax, and enjoy the ride.