Locally Roasted Coffee takes over Thunder Bay
From Rwandan to Columbian, they're all Thunder Bay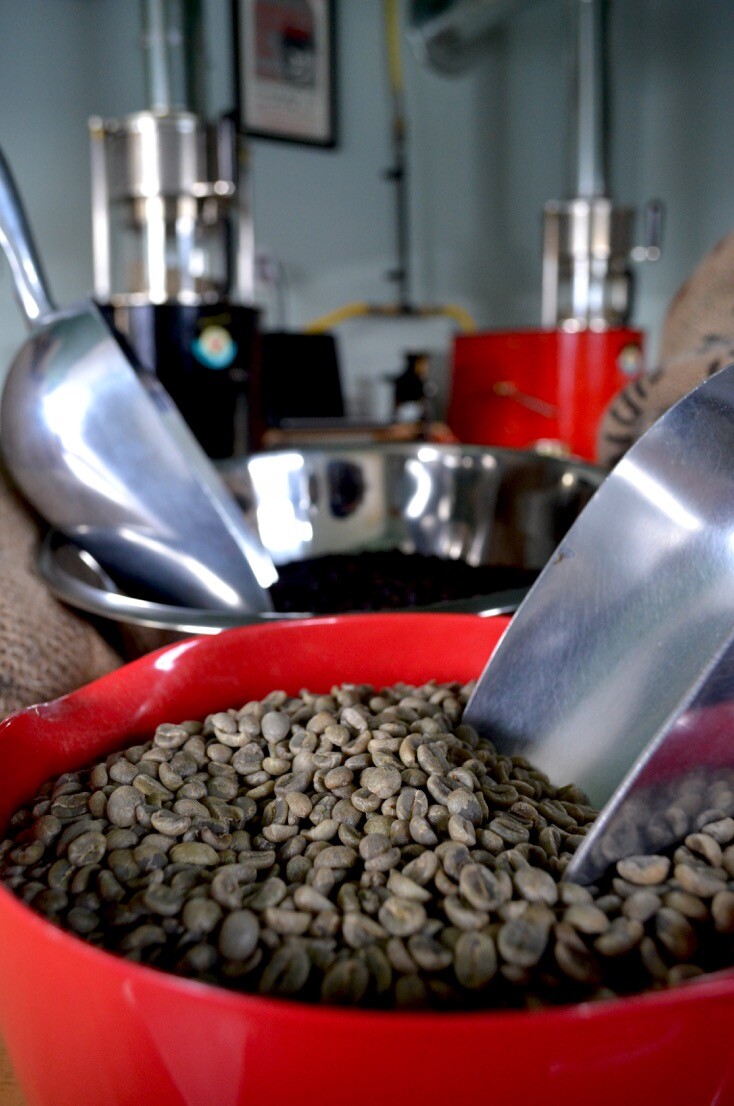 Here in the North, connoisseurs who roast imported beans and connoisseurs who savor the resulting coffee creations have found one another. Both groups happily extoll the knowledge that the coffee sold at the box stores and coffee chains are not comparable to the quality you can get in our local restaurants and coffee shops.
Creating great coffee is an art. And here in town we have Wolfhead Coffee, Rose'n Crantz and St. Paul Roastery amongst a handful of smaller producers creating quality coffee good enough to generate fans throughout the region. This is no small business feat. Being a roaster of beans requires a great deal of investment, commitment, knowledge, experimentation, marketing and a sense of taste. 
Wolfhead Coffee
Roastmaster: Dan Dampier
wolfheadcoffee.com
807-630-4716
Sean from London, Ontario and Andrew from Toronto, are both flight medics who have lived in Thunder Bay for just over two years. They have come to try out Dan's coffee in his newly renovated garage at his home. Sean and Andrew recently became coffee connoisseurs who happily sample new brews of Dan's signature coffee creations. As of this writing the connoisseurs were enjoying Ethiopian Yirgacheffe. 
Dan Dampier, a retired mechanical engineer began his roasting business, Wolfhead Coffee, only last year in 2015 with a major investment in a second hand roasting machine, a Diedrich IR 12 roasting tank, made in Idaho. Brand new, these tanks sell for around a hundred thousand dollars. Looking much like the engine of a miniature old train the tank is designed to roast up to 20lbs in one session, but Dan designed the tank to roast and smoke a pound of coffee at a time. From the hopper on top the beans are funneled into a drum that rotates and heats the beans. Dan can supply a number of coffee shops and restaurants in town and easily expand to other communities. It's quite the leap for Dan who once ran his own mining exploration company and created mechanical engineering designs for companies that were sinking mine shafts all over Canada and the world.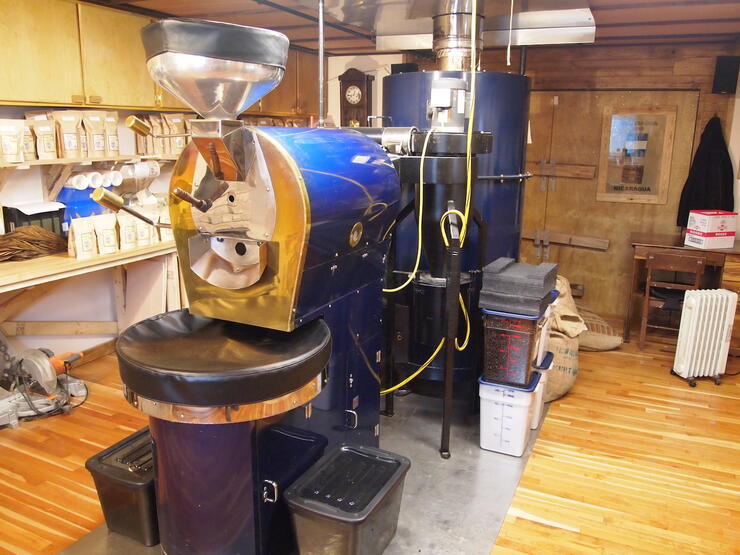 Wanting to spend more time with his young family he planned and tried out different business ventures, settling on coffee, something he was learning to appreciate more intensely, not just because Dan is a coffee lover, but also because the venture offered a challenge. The intricacies involved in producing good and rare coffee tastes are appealing to a patient thinker and tinkerer like Dan, and allow him to create boutique blends of coffee. He spends a good deal of his working time refining his roasting techniques and creating new smoked coffees. Dan obtains his beans from a Minneapolis supplier who deals directly with farmers in various coffee producing countries. Most often the coffee is blended with a few single sourced.
Dan is very open to expanding his fan base, so feel free to give him a call and check out his range of roasted and smoked coffees – no purchase necessary.  
Rose N Crantz Roasting Co.
Roastmaster: Jamie Nichols
www.RnCcoffee.co
807-631-3259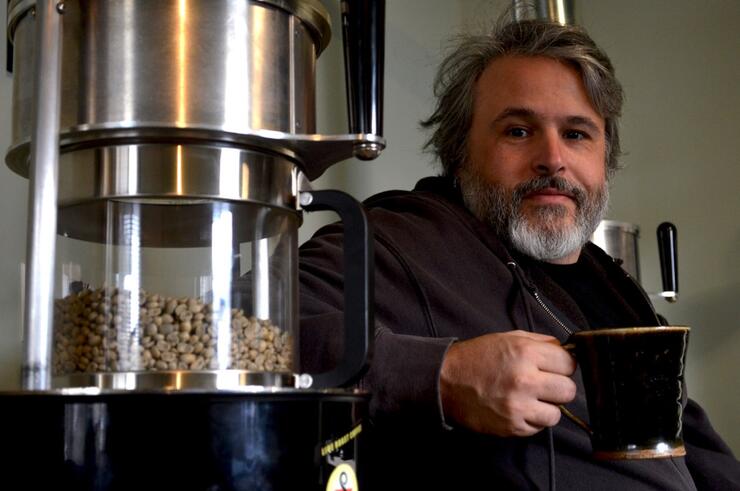 Thunder Bay's Jamie Nichols of Rose N Crantz Roasting Company is on a mission to eradicate the pretentiousness and snobbery associated with the connoisseurship of specialty coffees in order to bring more of us Northerners into the coffee-world fold. This is advantageous for his business, but it also serves to educate the public. 
For instance, as Jamie explains, the taste of coffee is 75% aromatic or olfactory so flavor comes through your the nasal passages in your nose and mouth. The act of bringing the cup to your mouth is what gives you much of the flavor, similar to wine. Which is why wine glasses are shaped as they are and why you are missing out when you cap your coffee cup.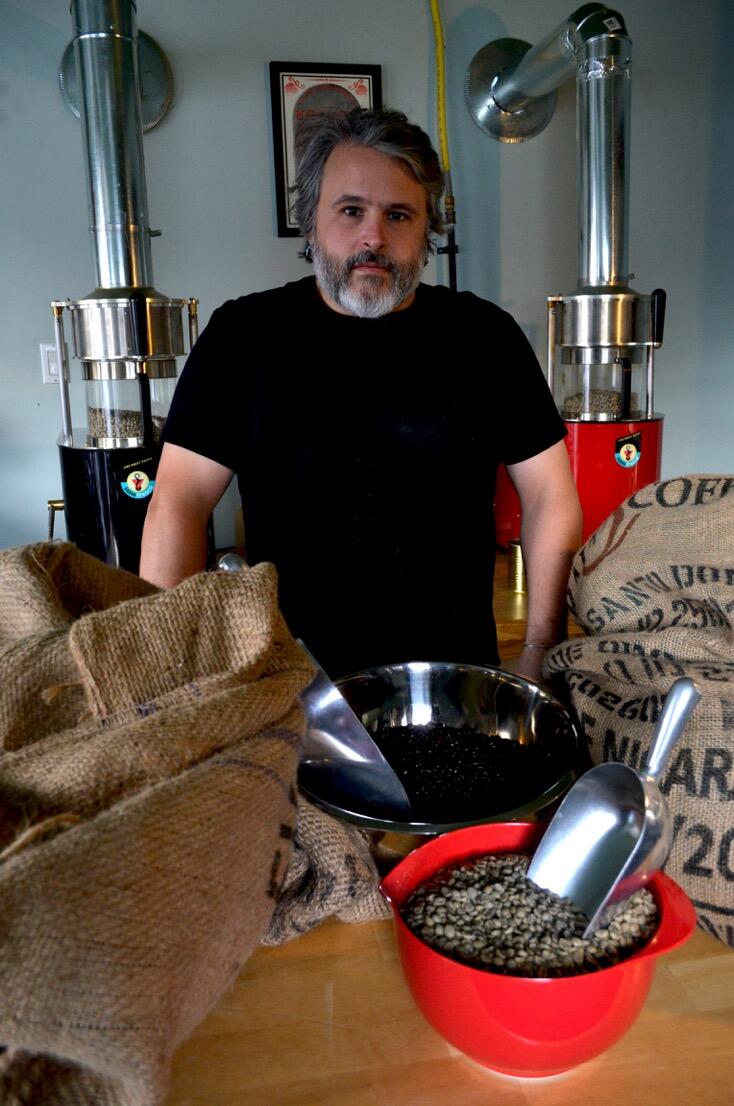 Jamie's brand and logo are all over town. You can find the popular Rose N Crantz beans in retail shops, coffee shops and restaurants – specifically at the Sweet Escape Café and Bakery, bight, Red Lion Smokehouse, the Vitality Food Market, the Study at Lakehead University and many more.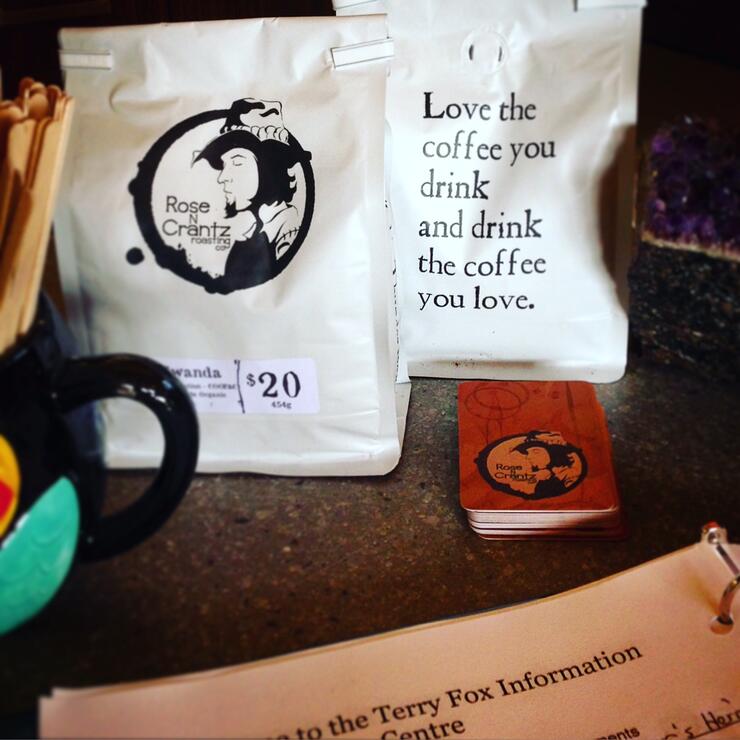 Formerly a cartographer, Jamie had a background in micro-roasting, a popular individual hobby. He wanted to step up from selling to friends and family and run a business from home. So in 2013 after the roaster he purchased had paid itself off Jamie bought a second roaster and is ordering a third. Joining forces with Christopher Merkley who did the design and art for the company they have branched out across the city. 
In his home, looking much like giant popcorn poppers, two small fluid bed roasters can roast two pounds at a time. The third will be a drum roaster, with a bigger capacity. As Jamie's beans are organic products from places like Guatemala, Mexico, Africa or India, each with their own seasons, Jamie follows the harvest rather than ordering a ton of beans and storing them for the year. He orders, processes, and has his beans shipped to Thunder Bay from the U.S. in order to keep the supply fresh and constant. Following the harvest also results in being forced to choose new exciting beans all the time. If a coffee fan has a favourite bean, they will have to wait till the next season's harvest, as Jamie is more interested in single sourced beans rather than blended. 
All the intricacies can make coffee roasting and brewing complicated. The grinding of your coffee, along with its weight plays a big role when mixing coffee with water. For help with specialty coffees, Jamie will visit coffee shops and restaurants to give some instruction and set up the equipment. He's keen to prove that there's value in a restaurant allowing their customers to compliment and complete their dinner with great coffee.