Roughin' It and Lovin' It
The top three close-to-home campgrounds in Explorer's Edge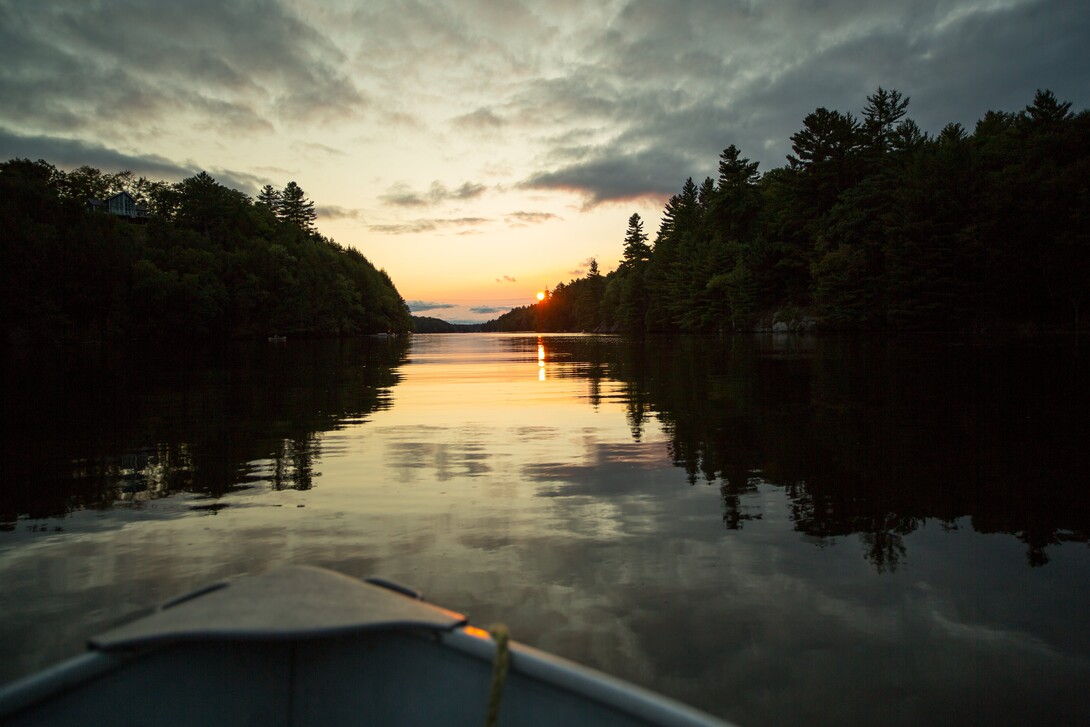 Camping. There's nothing like it—fresh air, sun-kissed days on the lake, roasting marshmallows on an open fire. It's a time for ourselves; when we can get away from it all for a while, spend time with our loved ones and enjoy the wonders of nature.
In the Explorer's Edge region, just a short drive north of Toronto, we're unbelievably lucky to have a vast wilderness of lush forests and serene lakes right at our doorstep. To make choosing your next camping destination a breeze, discover three stunning parks that offer some of the best campgrounds in the province:
---
ALGONQUIN PROVINCIAL PARK
Established in 1893, Algonquin is the oldest and among the most popular provincial parks in Canada. And it's huge! Spanning approximately 7,653 square kilometres, the park is home to beautiful primeval forests, both coniferous and deciduous, and thousands of lakes and rivers. Plenty of room for camping!
In total you'll find over 1,900 campsites in the park, ranging from drive-in campgrounds, to backcountry campsites. The drive-in campgrounds are easily accessible and consist of developed campgrounds, bookable yurts (eight-sided, tent-like structures), Ranger Cabins and RV Camping. Backcountry campsites, on the other hand, are only reachable by hiking or canoeing, but are the best way to explore the park's vast wilderness.
---
ARROWHEAD PROVINCIAL PARK, MUSKOKA
Located just minutes north of Huntsville, you'll find Arrowhead Provincial Park, one of the best places to camp in the heart of Muskoka. Spend a fun-filled weekend exploring the lakes and 15 kilometers of backcountry trails and you might come across its three sandy beaches, the picturesque Stubbs Falls and even some old 1870s homesteads.
The park's 378 private campsites are spread out over three campgrounds: Roe, East River and Lumby. Roe is the most private and least crowded of the three with fantastic fishing. East River is the closest to Stubbs Falls, and makes for an ideal RV excusrsion. Lumbly, meanwhile, is perfect for tents and trailers and has a dog beach nearby.
---
KILLBEAR PROVINCIAL PARK, PARRY SOUND
If you're looking for a Georgian Bay camping experience, you'll find it at Killbear Provincial Park, where the rocky ridges of the Canadian Shield meet sandy beaches. Near the town of Nobel in the Parry Sound district. This is one of Ontario's most popular parks due to its proximity to Southern Ontario and breathtaking scenery.
The seven campgrounds give you an idea of what to expect: Beaver Dams, Blind Bay, Georgian, Granite Saddle, Harold Point, Kilcoursie Bay and Lighthouse. Most of the campsites are just a few minutes from the shore, but premier sites can be booked with stunning views of Georgian Bay in all its glory.