Fall Bass'n in Algoma
Read up on why getting out on the water now is the best time to snag your personal best.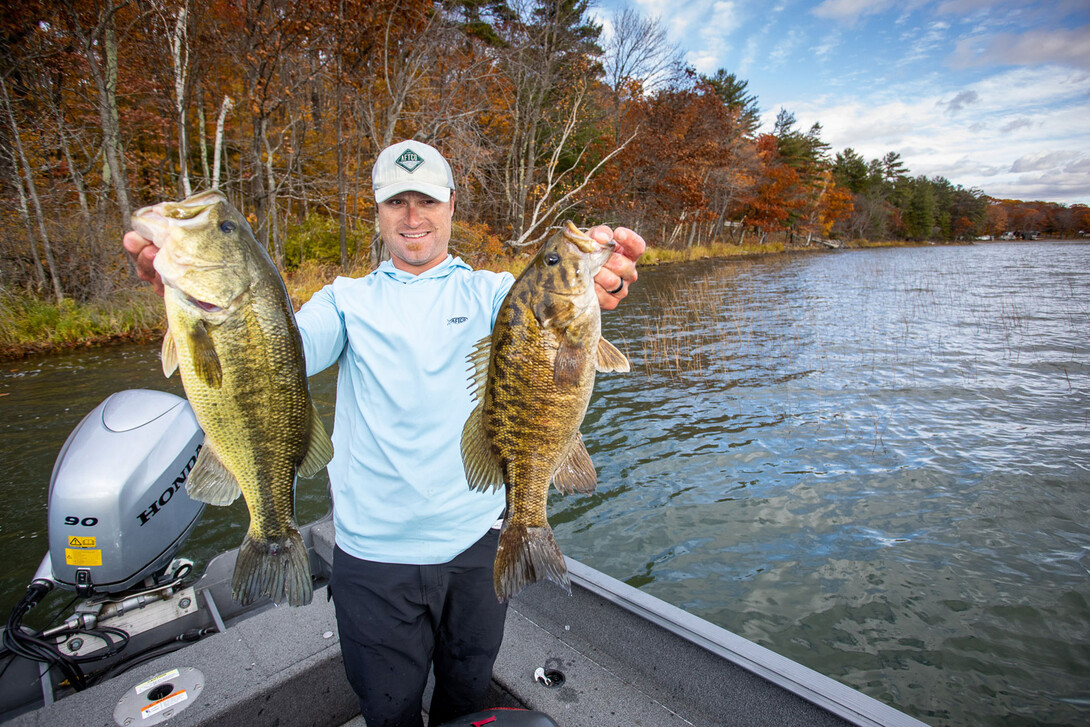 Algoma might be one of Ontario's top fall colour viewing destinations. Personally, my favourite reason to make the pilgrimage has little to do with the leaves changing. I am happy to see green and bronze all day. While fishing for largemouth and smallmouth bass in Algoma is incredible all summer, the fall action takes the experience to another level.
Before I dive into why you should add bass fishing to your fall to-do list, allow me to state the following disclaimer. I love fishing, but I am far from knowledgeable in the pursuit of the big one, so I leave all but the cast and retrieve to the experts, aka the local fishing guide. All the fish and photos associated with this write-up represent a late fall half-day outing with my good friends at Angling Algoma.
Fall Fish, Big Fish
Bass has only one objective in their day-to-day existence: to eat as much as possible and get fat before winter. Fall, with its abundance of baitfish and time running out, puts the feeding frenzy into overdrive. For the angler that is willing to put up with the challenges of late-season fishing, late autumn is the time that personal best bass will show up at the end of your line.
Fewer anglers, more fish
By October, the recreational lake users have moved on to other activities. Even many anglers have put away their boats for the season. Simple math will suggest fewer users mean more room for those that are willing to venture out. With Algoma's expanse of lakes and rivers to choose from, chances are you will have the place all to yourself.
Where there is one, there will be more.
When putting on the pounds is a priority, exercise can be unproductive. When bass finds a location that provides all their needs, they will gladly stay in the area and invite their friends. During this particular outing, we got our fishing fill from only two locations. We hooked into the smallmouth bass on a rocky hump in the middle of the lake (local knowledge–this is why your local fishing guide is your best friend). The largemouth was pulled out of the reeds at the mouth of a small creek.
More is better
You know you're having a good day of fishing when you're complaining about catching fish. Kind of funny that our only gripe on this day was that the pike was getting in the way of catching bass. Not a bad problem to have.
More to life than fishing
If you have spent any time baiting a hook, you know that the best fishing happens at the start and end of the day–during the summer months, that means early starts, late finishes, and long days. Now, as much as I enjoy reeling in the big one, there is more to fishing than fishing, and I find that fall's late sunrise and short day offer a more balanced and relaxing experience.
Yes, in Algoma, peak fall colour is something to behold, but sometimes that colour comes in different shades of green. Fall bass fishing, do it once, and you will be back for more.