A Weekend Tour of Wilderness and Great Eats
Apple fritters, fresh whitefish, craft brews, and more await road trippers along this scenic route.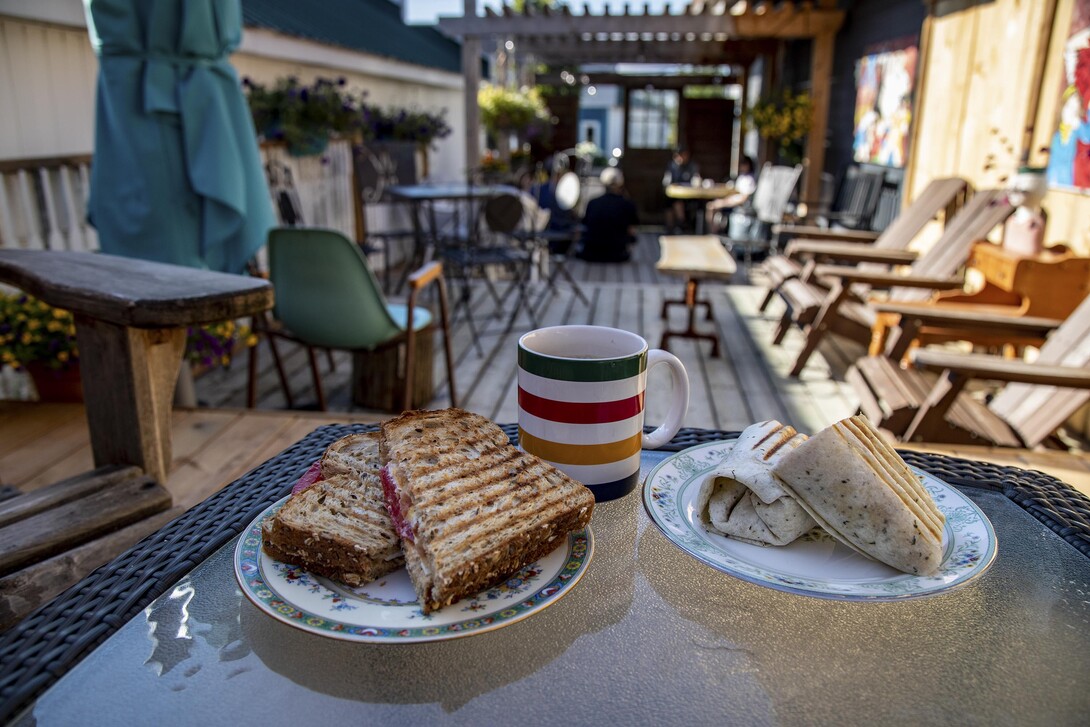 The Grand Algoma Drive has been rated one of the top weekend rides in Ontario, perfect for motorcycle enthusiasts and visitors touring by car and RV.
This scenic loop connects Lake Superior and Lake Huron and allows travellers to experience all the great stuff in between! What we love about this trip is that it encompasses spectacular views and lookouts, beautiful wilderness, twisty roadways, and a lot of things to do—including tasting some of the fresh flavours the region has to offer. The Grand Algoma connects visitors to our small communities and each new spot offers places to stay and interesting places to dine. 
A Taste of Algoma: Rooted in Tradition
The region's culinary scene is influenced by our culture, history, and geography. Traditional foods gathered and grown here are fish (whitefish, pickerel, walleye, trout), blueberries, maple syrup, honey, and foraged foods like mushrooms. Modern farms produce fruits and vegetables, poultry, beef, and dairy, and ingredients for our popular local craft beer and vodka. Fine dining experiences can be found across the region, along with classic chip stands and classic Canadian dishes like poutine. Find farmers' markets in Algoma to visit during your drive. 
It all begins in the Mississagi Valley: Stock Up on Cheeses and Smoked Meats for the Drive
This wilderness drive begins at the town of Thessalon at Hwy 129 and Trans Canada Hwy 17; Hwy 129 leads through some of the most beautiful landscapes in Ontario and is renowned for outdoor adventures like hiking, paddling, and waterfalls.
Make your first culinary stop at the charming Little Rapids General Store to stock up on tasty snacks. You'll find a variety of cheeses, smoked meats, and other goodies from Canada and around the world to build yourself a charcuterie to enjoy in the wilderness.
Side trip: Forestland Clothing & Gifts in Thessalon sells local products like honey, coffee, and other Ontario-made products like jams and preserves.
The Grand Algoma route transforms before your eyes from rolling farmland to mountains, lakes, and trees. This area is also connected to Canada's Group of Seven. Their fellow painter and friend, Tom Thomson, paddled the Mississagi River in 1912. Hike in Aubrey Falls Provincial Park to learn this story.
Side trip: visit the Group of Seven interpretive panel on the Bruce Mines waterfront to see the photo of the painting made by Thomson during his time here. Stop by the Copper Bean Cafe for hot and cold coffees, tasty desserts, soup and sandwiches.
Hidden Gems of Wawa and Area: Picnic with Local Blueberries and Summer Sausage or Dine in on Caribbean Canadian cuisine
A hidden gem along Hwy 101 is Potholes Provincial Park between Chapleau and Wawa. This peaceful spot has "potholes" formed over 10,000 years ago by glacial meltwaters and water flows through these potholes today. This is a lovely spot for a picnic!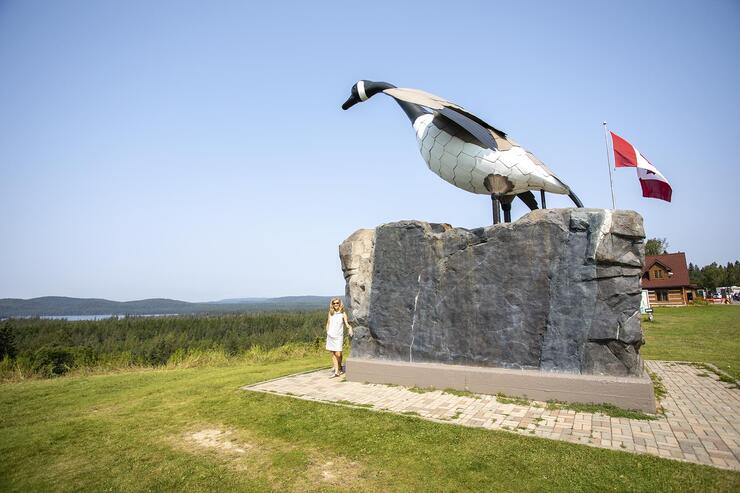 Once in Wawa, visit the iconic Wawa Goose Monument, enjoy some beach time at Sandy Beach, or visit Young's General Store for homemade fudge, pickles, or Grammy Mae's summer sausage. Kinniwabi Pines Restaurant is a good choice for dinner if you like a mix of Canadian and Caribbean cuisine.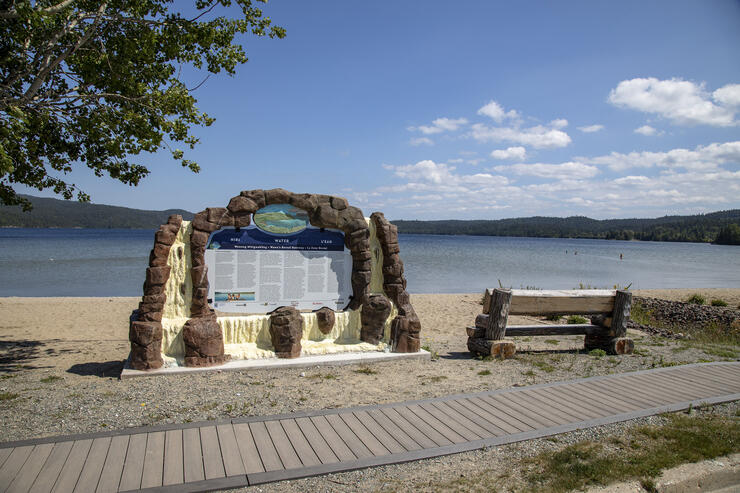 The next day, savour a true taste of Algoma: wild blueberries. Shop for local blueberry products at Algoma Highlands Wild Blueberry Farm & Winery for jams, juice, or wine.
Just a short drive through the farm is the road to stunning Scenic High Falls. This 75-foot-high waterfall lives up to its name! There's a viewing platform, ample parking for RVs, and a picnic shelter.
The Lake Superior Coastline: Agawa Fish and Chips, Fritters and Noodles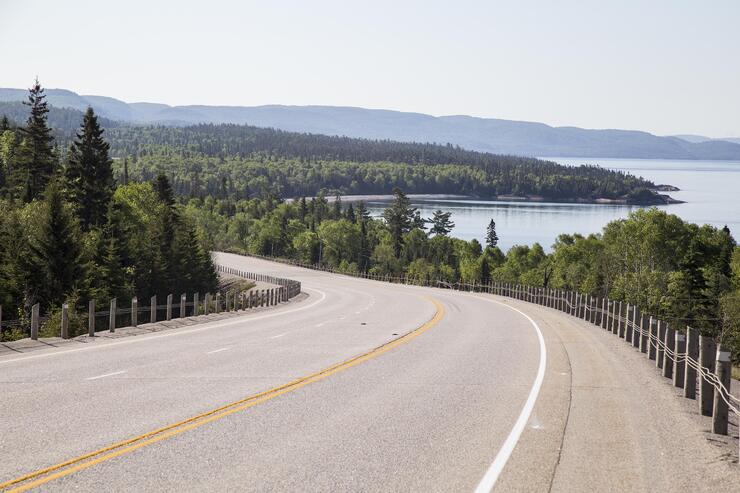 Wawa to Sault Ste. Marie is one of Canada's Top Ten Drives. The coastline of Lake Superior is magnificent with its stunning view of blue-green water, sandy beaches, and rugged cliff faces and mountains.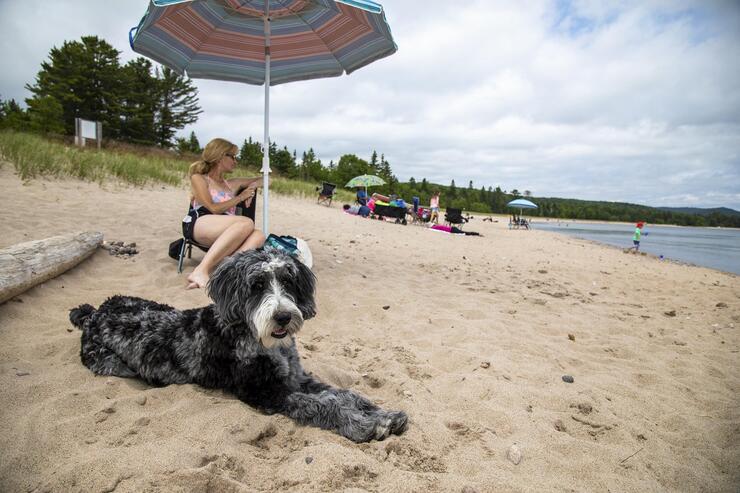 There are many ideal places for a simple leg stretch, swimming, sunbathing, and scenic lookouts to enjoy the view. One of our favourite places to stop along the way is Old Woman Bay with its sandy beach and picnic area. If you look closely, you will see the shape of the face of an old woman along the cliffs. Other stops you'll love are Katherine Cove and Sand River Falls.
Culinary stops we love along this part of the Grand Algoma are The Voyageurs' Lodge for the best apple fritters on Lake Superior, Agawa Fish and Chips features freshly caught local whitefish and hand-cut fries. Sunset Noodle House serves authentic Vietnamese cuisine. 
Outside of Expected: Culinary Walking Tours, Fine Dining, and More in the Soo
The city of Sault Ste. Marie is the largest community on the Grand Algoma and is home to craft breweries, farmers' markets, and restaurants using locally sourced ingredients.
Traditionally, Sault Ste. Marie is known as Baawaating meaning "the place of the rapids." Whitefish Island, the traditional territory of Batchewana First Nation, is in the St. Marys River rapids and was the original meeting place for the Indigenous peoples living in the region. Thrive Tours offers Indigenous interpretive guided experiences for not only Whitefish Island but other trails in the area. 
The city's unique attractions include the Ermatinger-Clergue National Historic Site home to two of the oldest stone buildings northwest of Toronto. Soar into adventure at the Canadian Bushplane Heritage Centre. Connect Algoma's landscapes to the canvas at the Art Gallery of Algoma which is home to a permanent collection of Group of Seven artworks. Or stroll the city's downtown with a stop at the Sault Ste. Marie Museum.
Visitors can book A Taste of the Sault Walking Tour with Blaq Bear Adventures on Wednesdays, Thursdays, and Saturdays. Sample some of the city's fine dining options paired with wine or beer while learning about the community's heritage and culture.
Plan Your Grand Algoma Tour Today
The Algoma region in Northern Ontario is a vast, scenic landscape and is easy to get to—it's located just across the border from Michigan and is also accessible via the Sault Ste. Marie airport. 
Find more experiences, places to stay, and dining options on the Grand Algoma Drive: contact Algoma Country staff at 1-800-263-2546 or order a free Algoma Travel Guide.