Peace Restaurant
Serving up everything from bao to oysters, this innovative spot—run by a Soo-born chef—is the hottest new place to dine downtown.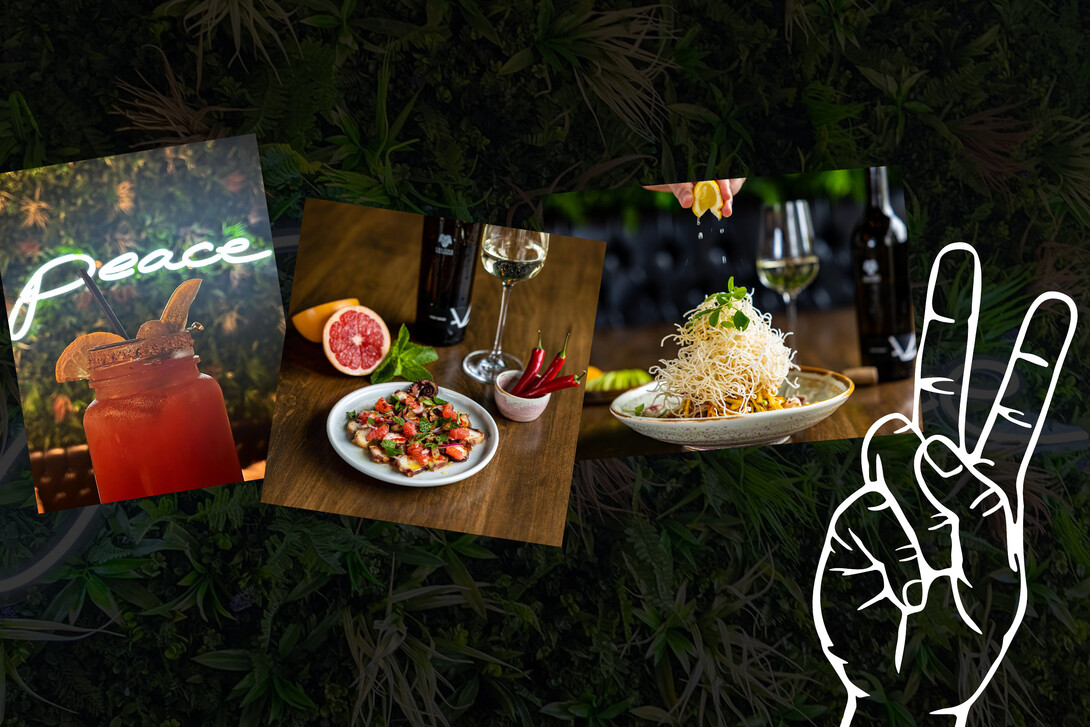 Matt Goodall is the head chef of a new restaurant in downtown Sault Ste. Marie. And he loves his job. "I can be as creative as I want and I look forward to a long career here as well as getting involved in the many opportunities we can bring to the city and our commitment to its downtown," said Matt.
Peace Restaurant is owned by Jeff Elgie and Kevin Rusnell, two entrepreneurs who are well known in the Sault and far beyond. The restaurant is located on Queen Street, in the block between Bruce and Dennis Streets across from the GFL Memorial Gardens. The interior and exterior of the building have been completely remodeled into an inviting, comfortable, trendy, peaceful place to dine with friends, family, and colleagues.
"You learn a lot about someone when you share a meal together." —Anthony Bourdain
I met up with Matt to learn more about Peace and what it has to offer its guests. "Our menu has Asian-inspired dishes with sharable cuisines to encourage dialogue and sharing the experience. We like to say that sharing is caring," said Matt. Opened in December 2021, the restaurant has been a big hit in the community. "The reception has been better than I could have imagined."
A chef with roots in the soo
Chef Mathew Goodall was born and raised in Sault Ste. Marie. He graduated from the Sault College School of Culinary Arts and went on to work in established restaurants in Toronto and Muskoka for several years. He told me, "I returned to the Sault during the COVID-19 shutdown and when an opportunity to work with Jeff and Kevin came up, I jumped at it and am now very happy to stay in the Sault for the foreseeable future."
Bao, oysters, and more!
The innovative menu is divided into sections. First are the Oysters, which are very popular, then Greens, Bao Buns (a kind of super light milk bun with origins in Northern China), and Cold and Hot menu items. Dishes such as oysters baked with yuzu butter and herb; Daikon and Vermicelli slaw; Fried Chicken with pickles, hot sauce, dill ranch, honey and scallions; Peace Maki which comes with tempura shrimp, crab salad, Takoyaki, spicy aioli; Bam Bam shrimp and Korean egg fried rice with corn, cauliflower, Ssamjang, peas, egg, bok choy. These are just some of the offerings. "I like to change up the menu regularly and will be doing so soon. We're just getting started in sourcing locally, and I am looking for opportunities to bring in more."
Local Algoma Products
"Currently we source Algoma grown and produced food from Findlay's Fungus for their beautiful mushrooms, City Meat Market for proteins, Cultured Club Ferments and Carson Beauregard at Harvest Algoma for his micro-greens.
The inviting long bar at Peace offers Ontario craft beer selections including OutSpoken Brewing, Northern Superior Brewing and brews from other parts of Ontario, and exquisite wines and spirits from around the world. At the back of the dining room is a comfortable place to sit down on soft sofas and chairs. "We like to invite our guests to stay a while before or after their meal to enjoy a beverage in comfort here," said Matt.
Local art creates an inviting atmosphere
I commented about the artwork on some of the walls and the front façade at Peace Restaurant and Matt advised, "we commissioned local artist Katrina Thibodeau owner of Discover the Canvas Studio. She's an exceptional artist."
Plans, Matt offered, "we will be open soon for lunchtime". At Peace, we have adopted Anthony Bourdain's quote 'You learn a lot about someone when you share a meal together.' We aim to create an environment that stimulates conversation and connection with delicious, unique cuisine."
What a fantastic addition Peace Restaurant brings to the Sault Ste. Marie dining scene. I look forward to watching how it continues to grow and contribute to the downtown scene.
Peace Restaurant
Owners Jeff Elgie and Kevin Rusnell
250 Queen Street East, Sault Ste. Marie
PH: (705) 450-0077
Email: info@peacerestaurant.ca
Web: www.peacerestaurant.ca
Facebook: www.facebook.com/peacerestaurantssm
Instagram: www.instagram.com/peacerestaurantssm
Visit the Peace Restaurant website and social media for hours of operation.