Experience Your Next Vacation with Mukwa Adventures
A new way to experience ATVs in the Winter
If you're reading this, chances are you've taken a vacation at some point in your life. Living in a climate where cold weather dominates six months of the year, most Canadians are quick to opt for a resort destination with warm temps, aqua blue water, and white sandy beaches.
But what if the thought of a cookie-cutter resort sends chills down your spine? Perhaps you love the winter and don't need to hop on a plane for your vacation, or are just craving a new outdoor adventure? If this sounds like you, consider taking a trip to Northern Ontario and let the outdoor experts at Mukwa Adventures provide you with a one-of-a-kind ATV and wilderness vacation experience.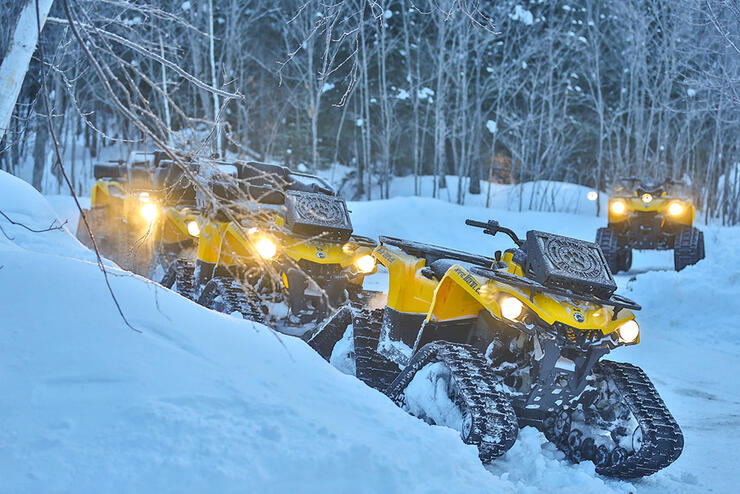 I was fortunate to spend a weekend with the crew from Mukwa while doing a photoshoot this past winter with a professional monster truck driver (and general gear head) Cynthia Gauthier and country musician Larry Berrio (also a gear head). We got to experience firsthand the benefits of vacation centred on the great outdoors. The folks at Mukwa run guided ATV tours as the main attraction blended with outdoor activities, in an effort to re-connect with nature and unplug from our beloved devices, all while providing a memorable and individually tailored experience to each group.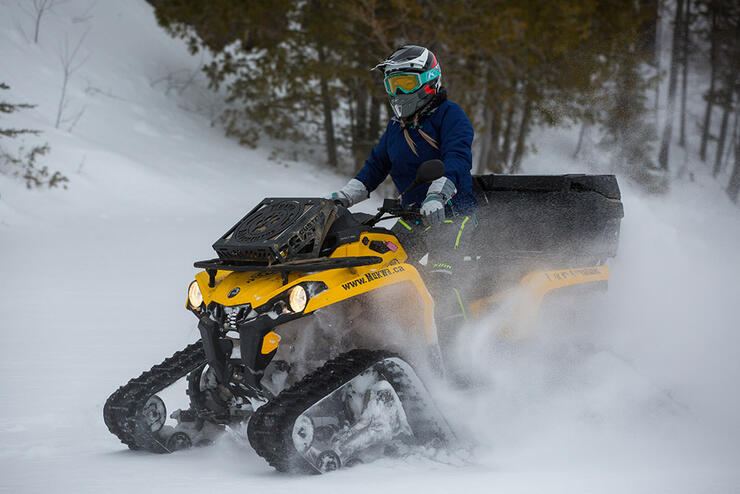 A little background on people of Mukwa Adventures: I've come across a wide assortment of operators in my time working with Ontario Tourism, and owner/operator Arthur Trudeau is unlike anyone I've ever met. His passion and knowledge for his business are quickly apparent in just a brief conversation with him. Bringing the experience of a former volunteer firefighter with official recognition from the OPP for saving lives, there's no better person to be leading groups through remote wilderness.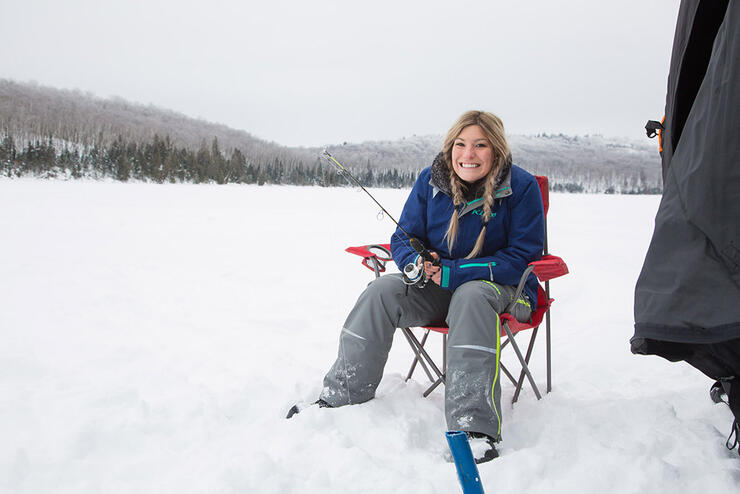 Arthur also draws a wide knowledge base from his roots in First Nations culture, growing up in the North woods as a hunter-gather; many of these skills will be on display when you're out in the bush with him.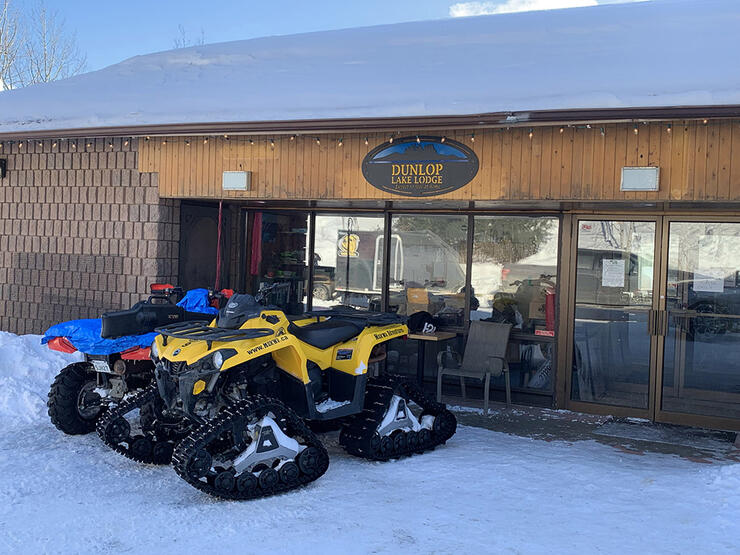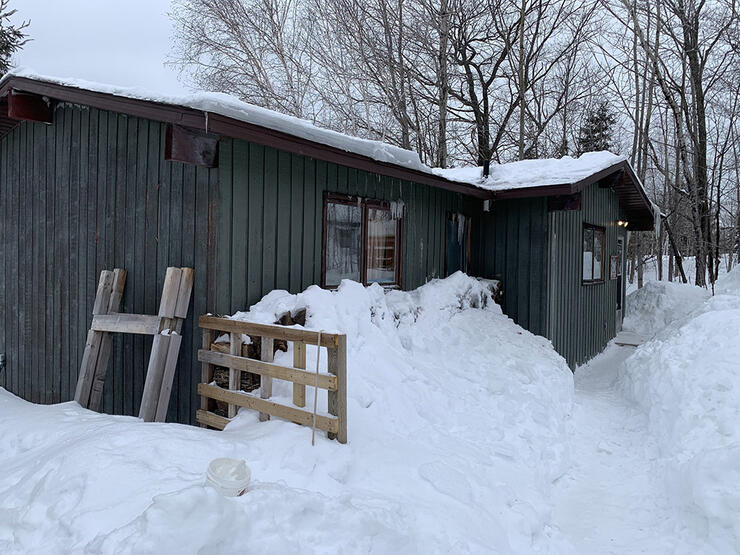 Mukwa Tours is based out of Dunlop Lake Lodge, located in the Elliot Lake region. This provides them with a base camp complete with a main lodge with traditional hotel rooms, and additional cabins on-site complete with wood-burning stoves and full kitchens. A full-service restaurant is also located in the main building, offering a nicely rounded menu of American cuisine and pub fare with generous portions to go around.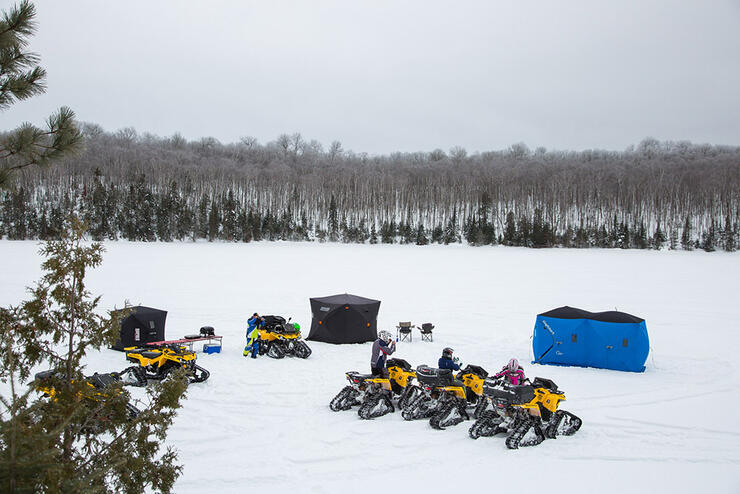 A weekend Adventure Package is the most popular offering, typically seeing guests stay from Friday to Sunday (check out at 11 am), although longer packages can be custom-made to suit individual needs. Friday is a good time to get settled into your lodgings, have a bite to eat, and sign waivers with the crew. The following morning, enjoy a hot made-to-order breakfast from the restaurant, get fitted for a helmet, and pay attention to some hands-on safety training.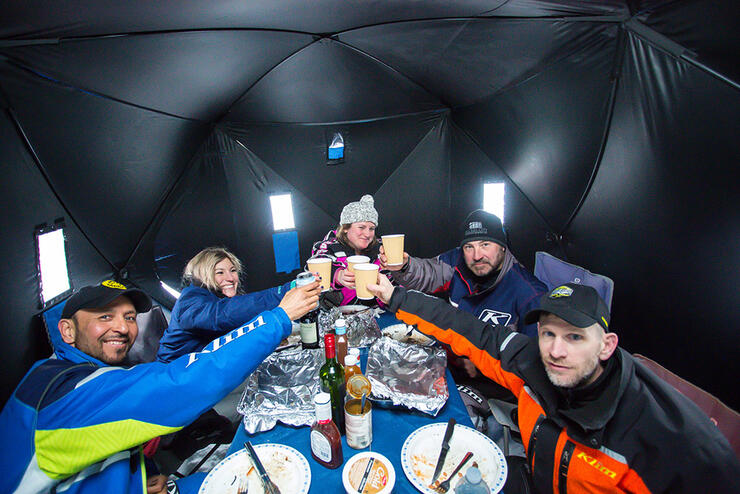 Mukwa uses CAN-AM 450 quads fitted with tracks, which were a little intimidating at first, not knowing how they would ride compared to regular wheels, but you quickly adapt, and it gets really fun really fast. With that said, they are a blast to ride in the snow, and you can expect a powder explosion, kicked up by the tracks any time you're on the throttle.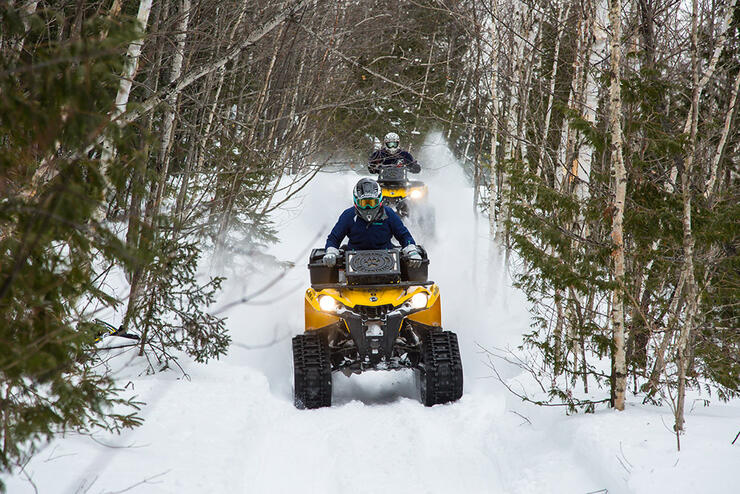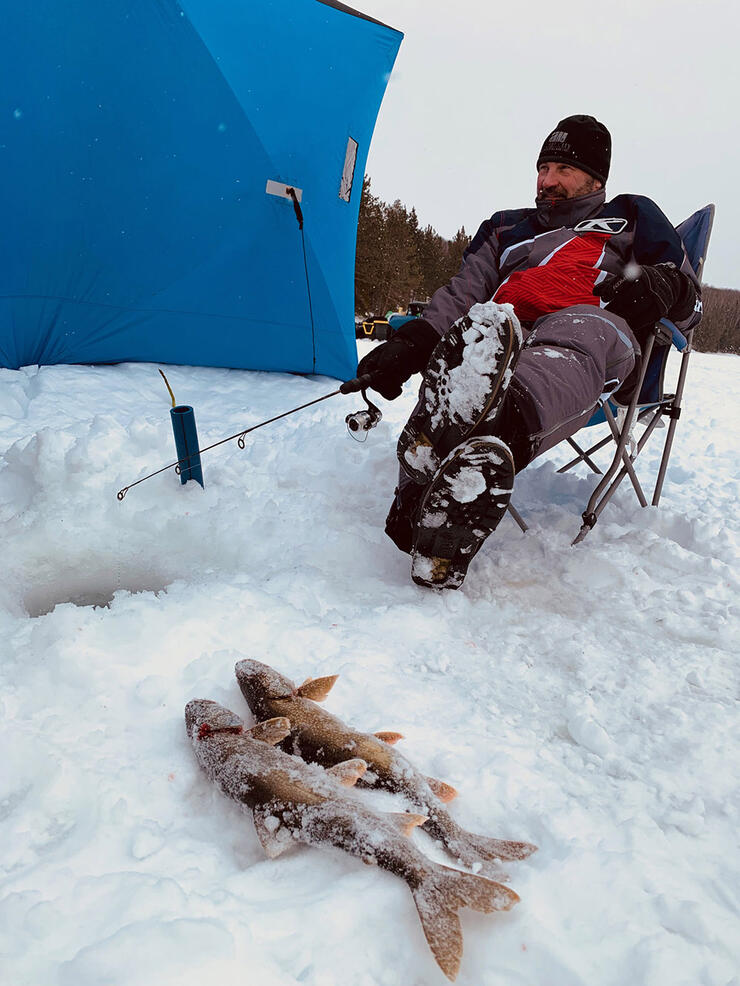 The bulk of our experience was centred around riding trails, ice fishing, and eating delicious food prepared by Arthur and Amanda. I really enjoyed the juxtaposition of being out in nature on a quiet peaceful lake with a few modern conveniences thrown in for comfort. Pop-up ice fishing tents were used to block the wind and provide us with a portable dining room for the four-course meal whipped up by our hosts, all of which was done on-site! We dined on steak, fresh-caught fish, asparagus, and potatoes. As we feasted, you couldn't help but notice everyone was engaged in conversation, not buried in our phones. It's sad to even have to point that out as a positive, but in today's world, it's a reality.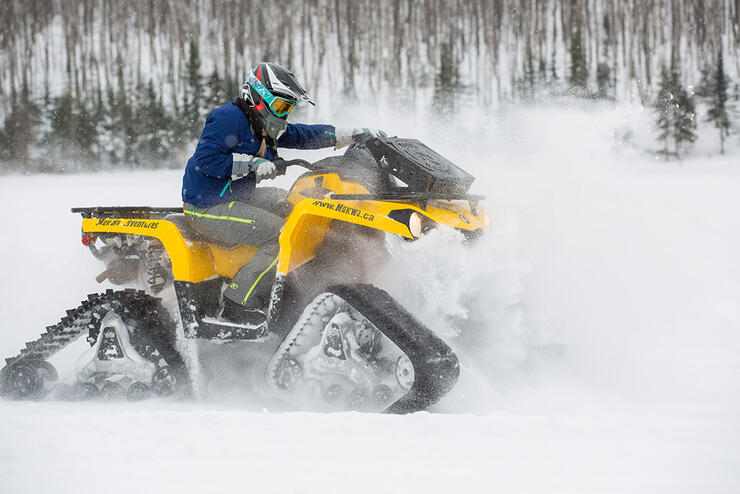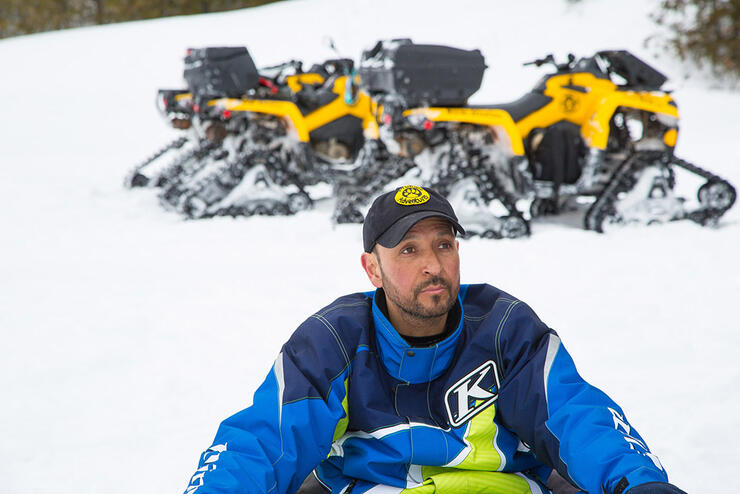 As the sun started to sag low on the horizon, we knew our time was coming to an end. We wrapped up the day in style with a campfire Arthur had carved out of a snowbank (told you he knew the outdoors!), complete with s'mores and marshmallows. I couldn't help but think this is the kind of experience more people need to have in their lives. Spending time with people you care about and sharing new experiences, all while being out in nature, is one of the best ways to achieve memories that will last a lifetime.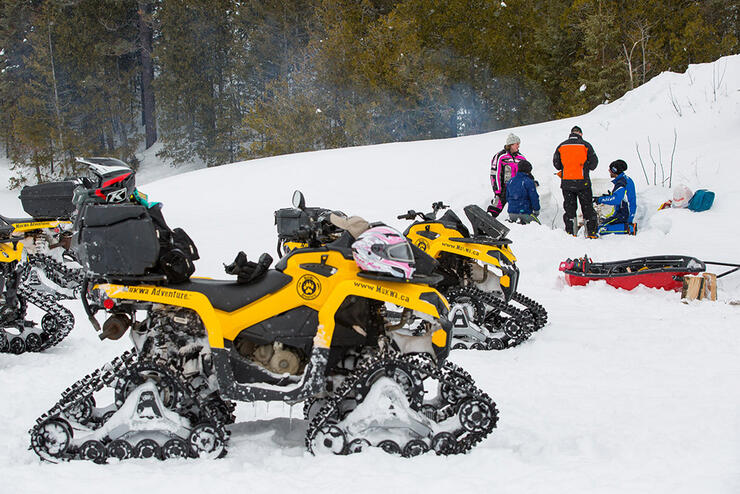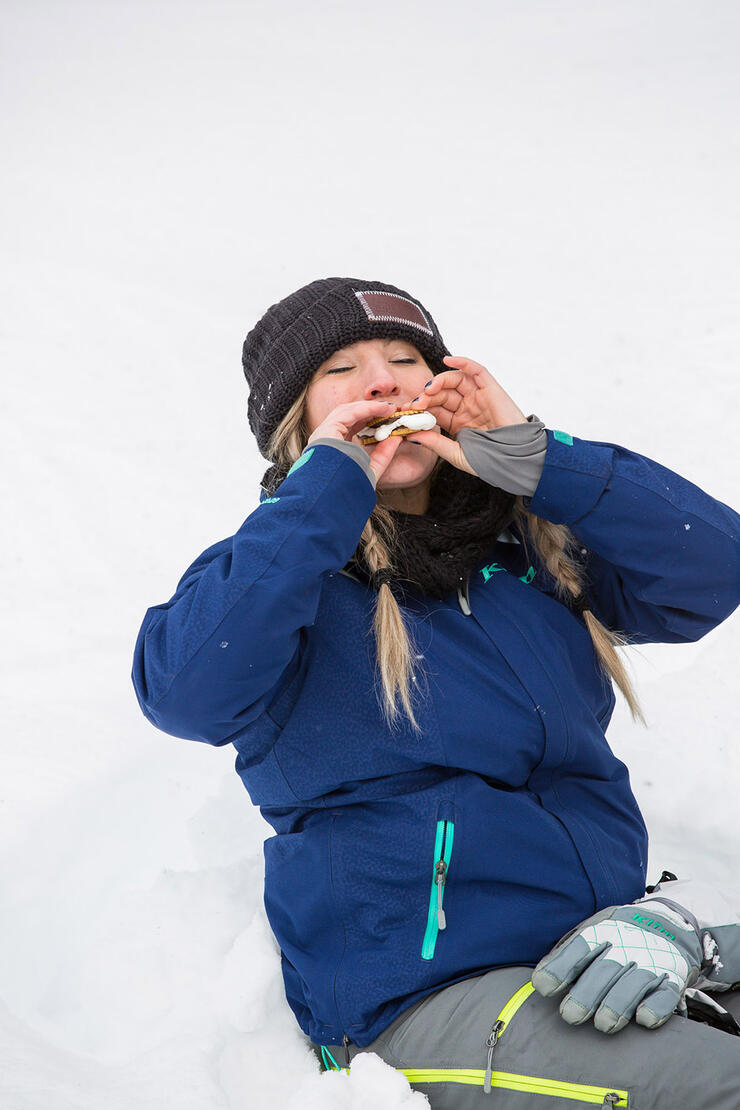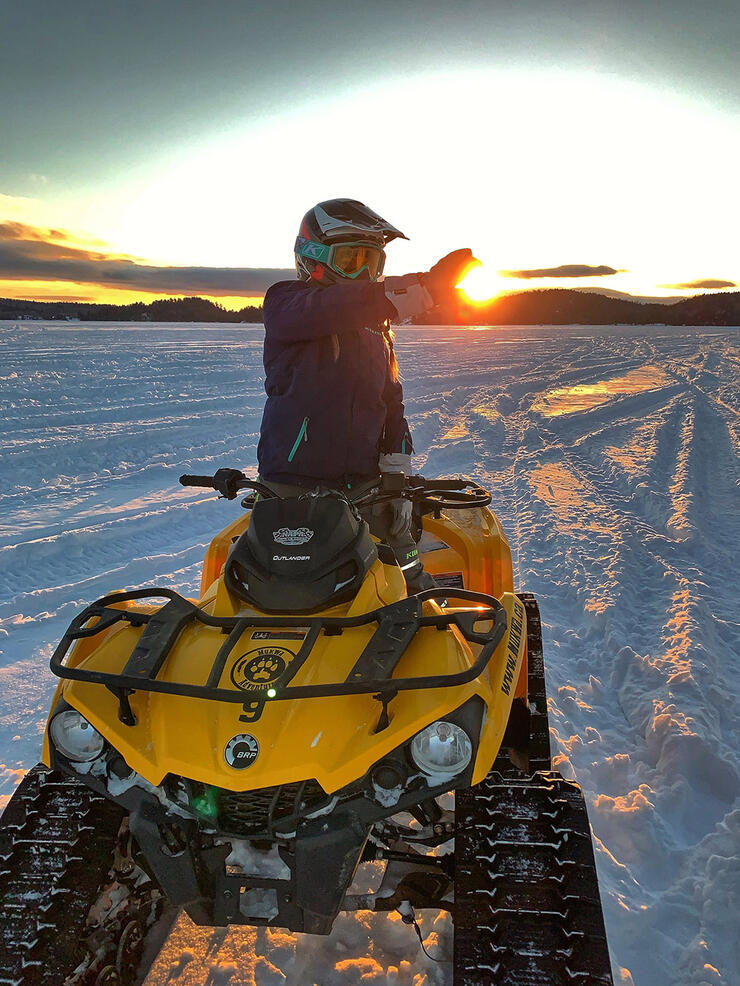 *While our experience took place in winter, Mukwa Tours offers similar packages in the warmer months as well. Fishing is always available at remote lakes at no extra charge; you're just responsible for obtaining a valid fishing license that can be purchased in Elliot Lake at The Trading Post.