5 Amazing Places to Tour with your PWC
Wondering where to hit the water with your PWC in 2022? Here are 5 scenic Northern Ontario places to ride.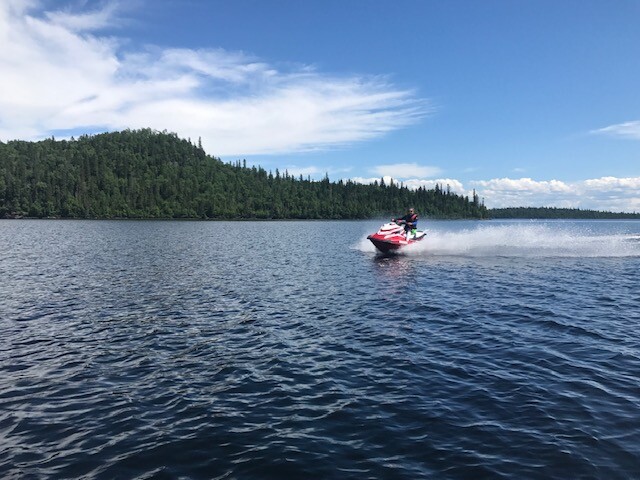 Some of the most beautiful PWC riding in Ontario is on the province's northern lakes. The vastness, solitude, and natural beauty are something special to experience.  
I've had the pleasure of riding my PWC on many northern Ontario lakes and rivers. It's become my favourite region to explore. I'm happy to share a selection of the places I have been and look forward to exploring these areas further. Due to the remoteness of some of these lakes, they are not available to the casual PWC rider. Preparedness, appropriate gear, and a plan are key for successful outings on these waters. Bring your camera and use your smartphone to take lots of photos.
Here are the best places to ride your PWC in Ontario. 
1. the French River via Lake Nipissing and the Sturgeon River
Launch your PWC from Minihaha Bay in Sturgeon Falls. Trailer parking is limited so it's best to get there early. There is a Twigg's Cafe in the main building and washroom facilities are available there. 
A pleasant ride down the gently meandering Sturgeon River takes you into Lake Nipissing. Watch for the slow speed zones. If you ride across the lake to the mouth of the French River, it's about 10 km of open water. With no others around and open water, it's a perfect time to pin the throttle and have some fun on your PWC. When you get near West Sandy Island Provincial Park be mindful of all the rocks and shoals in the area. This is where a depth finder works well with your marine chart GPS. Upon entering the region of the French River, there are many islands to poke around and channels to cruise through. The scenery is Canadian Shield with thick rich forests. The beauty of the area is spectacular, one scenic view opening on to the next. Pay attention to your fuel consumption as there are very few places to fuel up in this area. Heading back later in the day, the waters can kick up making the open water ride to the Sturgeon River a dynamic one. Once at the launch with the PWC back on the trailer it's time for a coffee or hot chocolate and a sweet at Twigg's before heading home. 
2. Nipigon River into Lake Superior
Traveling north of Lake Superior along Hwy 17 takes you to the town of Nipigon (pop. approx 1600). Launch your PWC from the Nipigon Marina. The marina charges a small launch fee and there are services available such as washroom facilities. 
The Nipigon River is not completely navigable to the north due to the Hydroelectric Dam south of Lake Nipigon. Ride down the river and work your way into Lake Superior. Partway down the river you'll find a sign "You are crossing the 49th Parallel." Stop for a photo as it's something you won't come across anywhere else on your trip. Continue into Nipigon Bay and pass by some larger islands before heading out on the lake proper. Be aware that the water in Lake Superior can be quite dynamic. When you return to the town of Nipigon you can receive a certificate commemorating having crossed the 49th parallel signed by the Mayor and the Port Captain.
3. Lake Nipigon
North of Lake Superior you will find Lake Nipigon which is a rather remote lake to explore on your PWC. On Lake Nipigon launch from either High Hill Harbor or from Poplar Lodge Bluffs. They are about a 25 minute drive apart on the eastern side of the lake near Beardsmore. 
Being as remote as it is, you need to plan for everything as the few services are concentrated in the southeastern part of the lake. Be mindful of your fuel consumption and use your GPS as the shoreline is lush with forest and very few cottages. According to locals Speckled Trout thrive in Lake Nipigon due to its cleanliness. The majority of the shoreline is entirely uninhabited so the waters are pristine. A glorious day can be spent on this lake in relative solitude. Turning off the engine allows one to feel the immense beauty, stillness and vastness of nature. The lake stretches out before you. The hills are covered in what looks like emerald green velvet. You may or may not come across another boater. Plan the trip well. Ride off the top 1/2 of the fuel tank. 1/3 to go out, 1/3 to come back, and 1/3 reserve for potential  emergencies.
4. Lake Superior - Thunder Bay
Launch your PWCs at the Thunder Bay Marina located on Sleeping Giant Parkway in Thunder Bay. It has two launch ramps, plenty of parking and a variety of services and excellent restaurants for boaters and tourists. Plan to head out to the Sleeping Giant Provincial Park, but go early in the morning. Lake Superior will kick up later in the day with some pretty significant chop. If you do go out in the afternoon or the water is rough, explore along the shoreline or head up the Kaministiquia River. You'll pass some wood and pulp industry, maybe see a lake freighter or two and eventually find yourself winding along the river along scenic farmland.
The lake with over 14,000 islands is one where you need to pay close attention to your GPS. With all the islands it is easy to get lost as each shoreline starts to look like the next. However, there is some incredible PWC riding to be done on this lake. Gorgeous rocky outcroppings, channels to cruise through, and great scenery makes for a full day of fun and exploration. Depending on where you're riding, you may see the M.S. Kenora making its rounds with the tourists. There is also great fishing here, so take your fishing gear with you. On Lake of the Woods one can launch at the Nestor Falls Government Dock Boat Launch on Sabaskong Bay off of Hwy 71. 
ride your PWC responsibly and enjoy touring scenic northern ontario
These are only a handful of the beautiful lakes that can be explored by PWC in northern Ontario. We have such a beautiful province with an incredible abundance of water and we want to keep it that way. Take your trash with you and if you come across trash floating in the water or on the shoreline, collect it when it is safe to do so and bring it back to your launch area for proper disposal. My philosophy is we are stewards of our environment so leave each place cleaner than you find it.