Sunset Country Grouse Hunting at Birch Dale Lodge
Northwestern Ontario is home to action-packed hunting for grouse.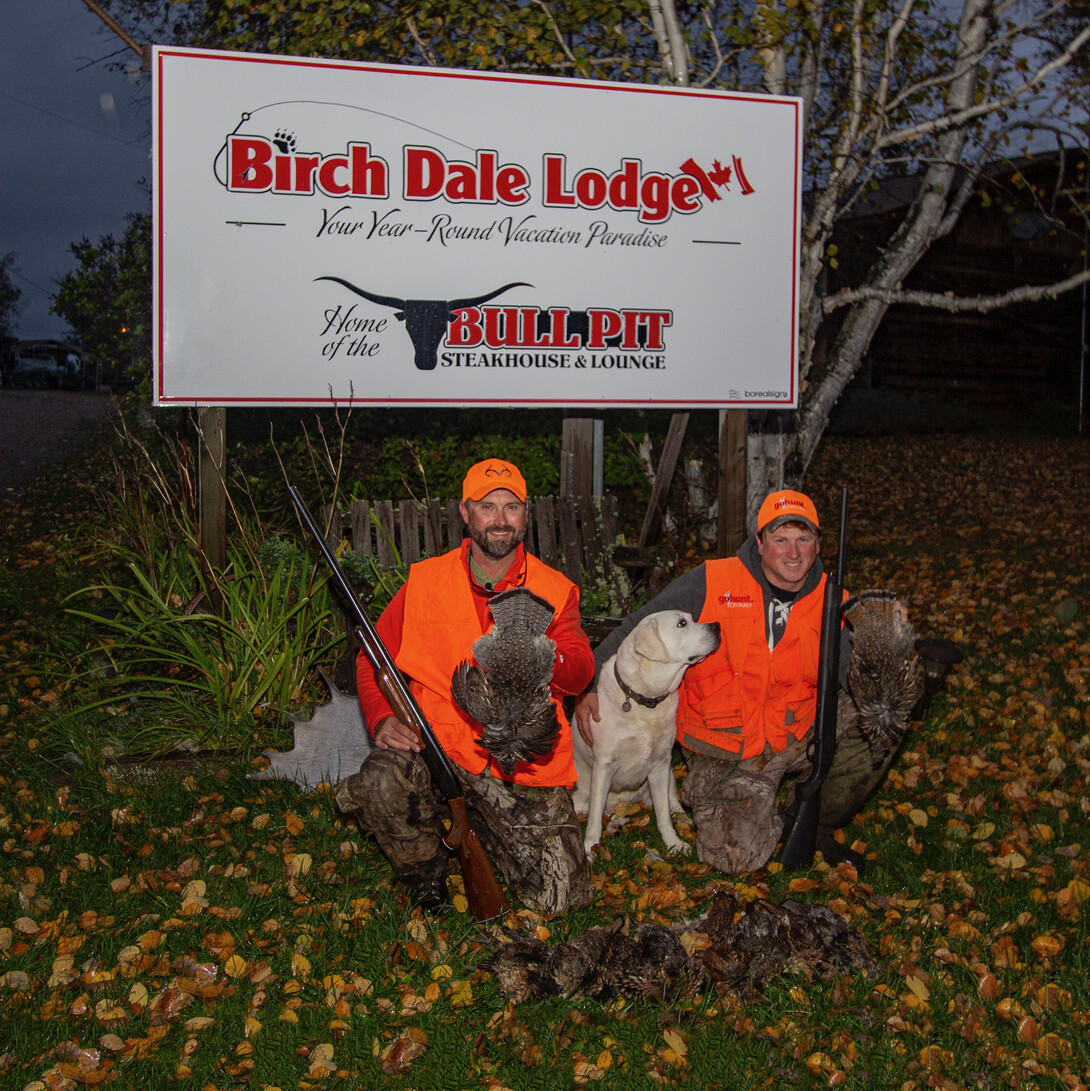 Hunting traditions were instilled in me at a very young age. Whether it was deer hunting camp with my dad and brother, or duck hunting with high school buddies for a long weekend, committing to these annual trips ensured I'd keep strong ties to these people. Those fond memories are solidified in my memory to this day.
After first taking a few solo grouse hunting trips to Sunset Country, Ontario years back with my dog, Rikki, I decided to invite my good friend and co-worker Jeremy Smith on a fun-filled grouse hunt north of the border. This, was after finding out he had been an avid pheasant hunter growing up in southern Minnesota, grouse hunted when he moved to northern Minnesota, and always enjoys times in the field. Grouse hunting with a buddy is one of the most enjoyable and relaxing hunts to experience. And in Ontario, it is action-packed.
That first grouse adventure with Jeremy was about four years ago and is now it's a trip we look forward to every year. This season we continued that tradition as we made our way up to Birch Dale Lodge, located in the bird-filled region of Sunset Country Ontario.
Birch Dale Lodge is open year-round and offers many family and local attractions. It is nestled on Eagle Lake, one of the largest and most diverse multi-species fishing lakes in Sunset Country. Birch Dale offers a variety of packages to fit your needs and budget. They have ten cabins with housekeeping options that can be upgraded to the American Plan. They also offer camping for RVs, campers, and tents.
If you enjoy great food and a friendly atmosphere, the Bull Pit Steakhouse & Grill is located in the heart of the lodge and is open year-round. New in 1996, the 8-foot long charcoal grill allows you to choose from the freshly-stocked showcase, a personal selection of prime-cut Canadian beef, chicken, or lobster, along with specialized appetizers. They have a fully licensed dining room and lounge with pool tables and a scenic deck for your relaxing pleasure.
Sunset Country is the largest region in Ontario, offering thousands of miles of Crown land and endless miles of drivable hunting roads and walking trails. Most days, you will not see another hunter —especially if you hunt on weekdays.
This was a bit of an odd year with the foliage and underbrush still hanging on well into our trip in mid-October, which always makes picking those camouflage birds out in the thick bush more difficult. Having a good flush dog is the ticket and makes the hunt much more enjoyable. Watching my lab Rikki do what she loves is as fun as making a good shot. With her hard work and some good shooting, we had our five-bird limits by noon each day, leaving us plenty of time to do our other favourite activity in Ontario, fishing!
Eagle Lake is a body of water Jeremy and I visit every year, whether on our annual grouse trip or not. The lake is so unique, with over 70,000 miles of shoreline. It's loaded with islands, bays, and mid-lake structures with fish seemly on every good-looking spot. Eagle is full of walleyes, musky, smallmouth bass, and northern pike.
There are a tremendous number of lodges and resorts in the Sunset Country Region, and many of those offer small game opportunities. Birch Dale Lodge is one of the top places I've stayed when hunting grouse over the years. It's smack dab in the middle of the fantastic grouse country and on the shore of an excellent multi-species fishery. If a small game, big game, or great fishing trip is your trigger, then Birch Dale Lodge should be your next call.

For more information on small game hunting opportunities in Sunset Country, please visit www.visitsunsetcountry.com.