Raven Rising: An Indigenous chocolatier is thriving despite the pandemic
With ingredients like haskap berries, alder catkin, and wild rice, this chef-turned-chocolatier is creating unique, edible works of art.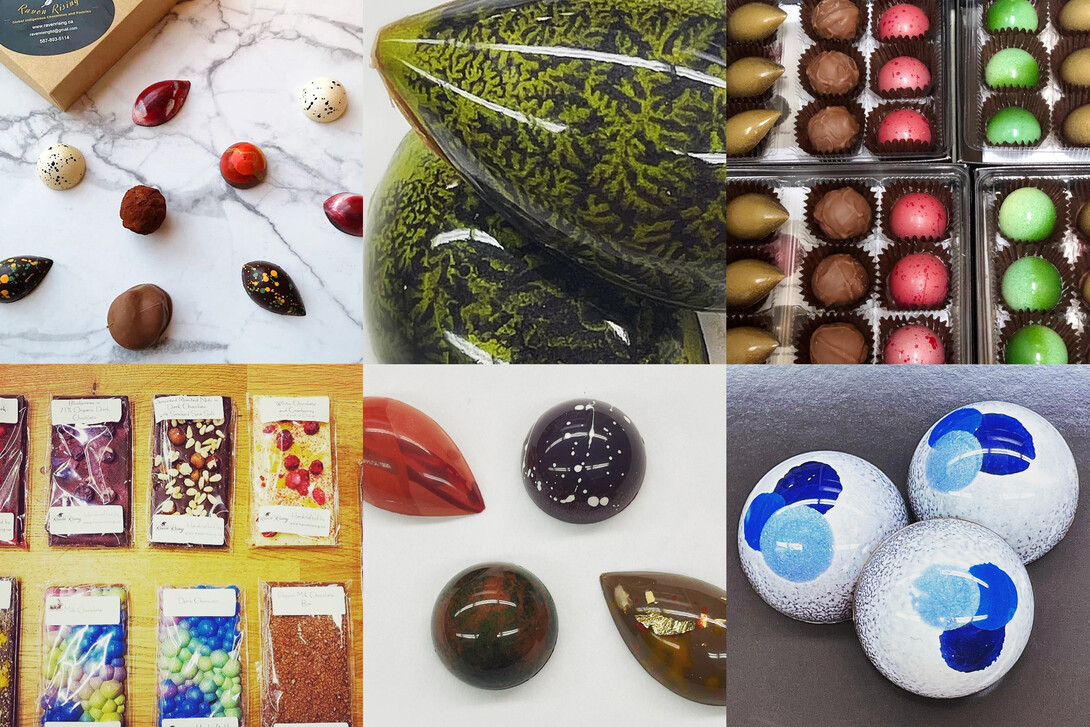 For Chef Tammy Maki, owner of Raven Rising, Global Indigenous Chocolates and Pastry, making sense of who she is has been a life-long journey. In 2019, at the age of 55, Maki found out that when she was a baby, she was taken from her mother, a member of the White Bear First Nations in Saskatchewan as part of the Sixties Scoop. She was put in the foster care system, then adopted by a Finnish-Canadian family in Sudbury, Ontario. 
"I always knew that I was adopted," Maki says. "My adoptive parents ensured I was registered as a status Indian. But when I was growing up, it was not a good thing to be Indian. I was called a lot of derogatory names. It hurts you so much to the core. In the midst of a white family, all blond hair and blue eyed, there was me. There was always that feeling of separation even though I was very much included and loved, and I loved my family.
"I wanted that sense of who I am. There's others who have similar identity issues, and we're all fighting to find out who we are." Even so, Maki didn't want to hurt her adoptive parents so she didn't look for her birth family and learn her truth until recently, as her parents have passed.  
"I always thought I was given up by my birth mother," she says. "I found out I was taken from her. It turned my world upside down." She later discovered she has four brothers, two who were also taken, and two brothers who grew up in the U.S. with her birth mom. Through her brothers, she learned more about her birth mom. "She never forgot about me; that was pretty important to know. She still loved me."
As though discovering these mind-boggling revelations wasn't enough, the timing collided with the pandemic. As a Red Seal journeyman pastry chef who built her career working at several high-end restaurants and resorts, Maki had a thriving business of catering and wedding-cake consultation before the pandemic. Then, everything changed. "It was just gone overnight when the pandemic hit," she recalls. "I decided to rethink everything. COVID gave us nothing if not time. So, I opened up a corporation of one." 
A pandemic pivot to e-commerce sweets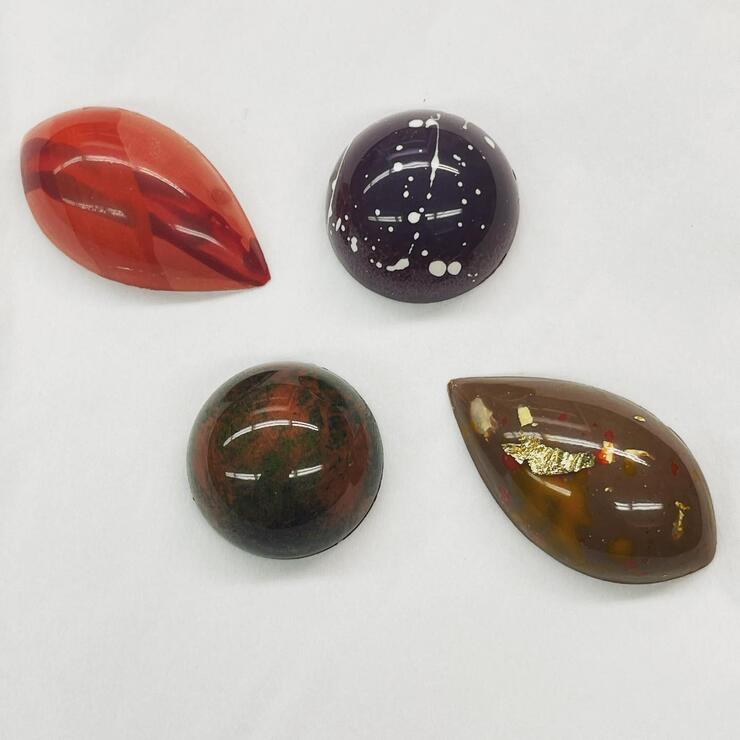 She launched Raven Rising in August of 2020 on an e-commerce platform, featuring chocolates and pastries that showcase Indigenous ingredients from Canada and the world. "It was the only thing that made sense to me now with the pandemic," she says. "My priority is the kitchen production so I can't be stopping every five minutes to manage a storefront anyhow."
Raven Rising represents the next chapter in both Maki's career and her self-discovery. "For myself and for my career as a chef, I wanted to ensure that I wasn't stagnant. My career was always about movement and challenges. It's always about that progression. Chocolates are about as scientific as it gets. They give me the chance to constantly push and learn. To be able to introduce flavours properly in such a small package takes a lot of work. But experimentation is fun." 
Indigenous ingredients = unique treats
She also incorporates her Indigenous heritage into her chocolates. "Me wanting to learn more about my heritage and promote not just local Indigenous, but on a global basis, it's perfect. I share stories about the ingredient, and how it relates to the Indigenous people of that region. Even if it's not Indigenous, I want to tell that story."
And not only are her chocolates delicious, they are beautiful bite-sized works of art. One of her recent chocolate combinations feature alder catkin, which First Nations use to make tea. "I like to have the outside of my chocolates tell you what's on the inside. Alder catkins are gold and greenish hues so my chocolates reflect those colours. It's my artistic interpretation of that ingredient.
"Alder catkin isn't maybe something you think about eating. When I make chocolates I focus on two Indigenous flavours in the box and two of something else—more classic flavours. It's a gentle push into things people are unfamiliar with—that pretty much sums up my whole life. People end up eating the whole box because they're so good."
Other traditional ingredients featured in her products include wild Ontario bergamot, mountain mint, wintergreen, berries, elderflower, elderberry, wild rice, butternut, and hickory. "The list is endless," says Maki. 
Looking forward to a future of growth
Through her new business, she's able to pay homage to her different heritages. "I'm still scared about pursuing my Indigenous family. It's not a simple straightforward thing. I don't want to be seen as an interloper. But the fact is, I am Indigenous. And I'm brought up by Finnish people so why can't I introduce some of that? I really want to embrace different ethnicities."
As her chocolate following grows, Maki continues to create unique and delectable creations. "What I do is art, and it's an experience even though I don't have a storefront," she affirms. "The experience is in the package I'm going to send you, and it's one hell of a package."
To learn more or to purchase chocolates, visit ravenrising.ca. Select products are also available at Muskoka North Co-op.