Undeniably Good Paint
With 30k Instagram followers and her products in Chapters Indigo, Anong Beam shares why her paints made from the land have struck a chord.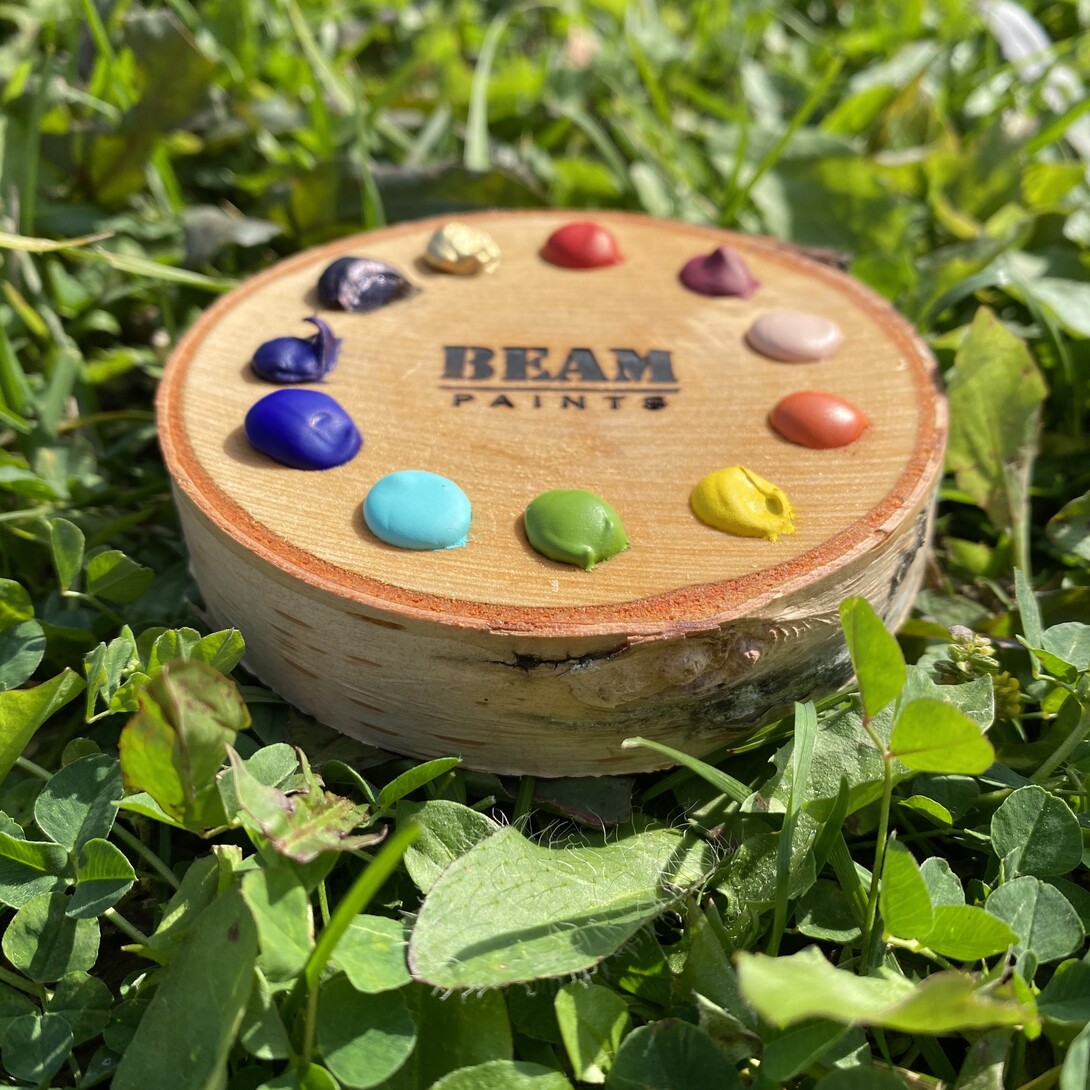 Anong Beam, artist and owner of Beam Paints, has been immersed in art from day one. "My mom and dad were both professional artists," she explains. "Both made their living from creativity. They always encouraged me to be creative."
Growing up in the M'Chigeeng First Nation on Manitoulin Island, Beam's childhood was full of unique art experiences as her parents experimented with all kinds of painting and sculpture. "Art's been a constant in my life," she says. "All the good things and brightness comes to me through my family and art. Art's a window to anywhere; when you're painting, you're making a window into the world and you can see whatever you want through it."
It was while running an arts supply store where she first got the idea for Beam Paints. "There was a chocolate shop across from our store that made its own chocolates. People would come in and ask, 'Did you make this paint?' I would think, 'What? No. Are you crazy?' Then I realized that I did want to make paint."
As much as she wanted to explore paint-making, she couldn't do it at the time. It wasn't until later, after she left an abusive relationship, where she felt like she could start her own business—something she'd always wanted to do. "I was jobless, living on my mom's couch with my two boys, but I felt great. I felt like I owned my life again."
For Beam, paint-making meant a new beginning, but also a return to her roots. "It's really hard to learn to make paint. There's not a lot of info out there," she explains. She soon recognized that she already knew how to make paint from her parents. "My dad took me along and showed me how to know if a rock had pigment, how it felt, how to process it."
Just as her ancestors did before her, she draws from the land to make her paint. "Even when I make a more modern colour, like neons, I still mix with limestone from Manitoulin. A little bit of Manitoulin earth is in all of them. I live on an island that has a lot of rocks that are great for paint-making—that's a stroke of luck in itself."
Taking traditional knowledge and applying it to paint-making is exactly how Beam Paints was born in 2017. "The biggest thing for me is finding a way to pull more traditional Anishinaabe paint-making and bring that into current technology and find a way to bring those two ideas together. If our ancestors were here, I think they'd be upset if I didn't use some of this modern sparkle. What I do is really my own modern version. I think that's why it really struck a chord with people."
And that it has. So much, in fact, that Beam Paints has been picked up by Chapters-Indigo where it's available online and in 89 stores. "That was really amazing; they just emailed out of the blue," Beam recalls. "We are the smallest company that they've ever worked with. It was a big learning curve, but our paints being successful in Chapters mean I can hire more community members; it's really exciting.
Initially, Beam actually declined to work with Chapters-Indigo because one of the vendor prerequisites is that products must be poly bagged. "We're trying to be plastic-free, but Chapters worked with us to make it work." Beam packages her paints in off-cut pieces of birch and cardboard with craft paper. Visually, Beam Paints don't look like any other art supplies. "Our packaging is different. We use an image of our culture in our logo and Anishinaabe names for paints. We're the only paint manufacturer in Canada who is Indigenous—all of it makes me smile."
Bringing her culture to a mainstream brand like Chapters-Indigo also brings Beam happiness. "I always love going into Chapters, but it felt a bit like another world because nothing really reflected where I come from. I'm happy to open up that sense of place in there. I hope Indigenous kids can go in and see something from their community." 
These beautiful aspects aside, Beam Paints are, first and foremost, affordable quality paints. "The number one thing about our paint is that it's the most concentrated professional paint you can find," Beam affirms. "Someone early on said it doesn't matter if the paint is good because that's not why people buy it. That really irritated me. But it also lit a fire under me to make an undeniably good paint."
And so she has, along with a business that's making a difference. "We hire Indigenous people; we have a lot of social conscience, and I'm really proud of that. I have young sons, and they're learning about the ecological problems in the world. It's really important to me to be able to tell them what I'm doing. I don't want them to feel powerless. A problem is an invitation to a solution—how can I make this better for everyone?" 
To learn more about Anong Beam's artwork, visit anongmigwansbeam.com.
To learn more about Beam Paints and to purchase, visit Beam Paints or Chapters Indigo.