The Land That Gives Life
This traditional Indigenous territory was recently named a UNESCO World Heritage Site. Here's how to experience it for yourself.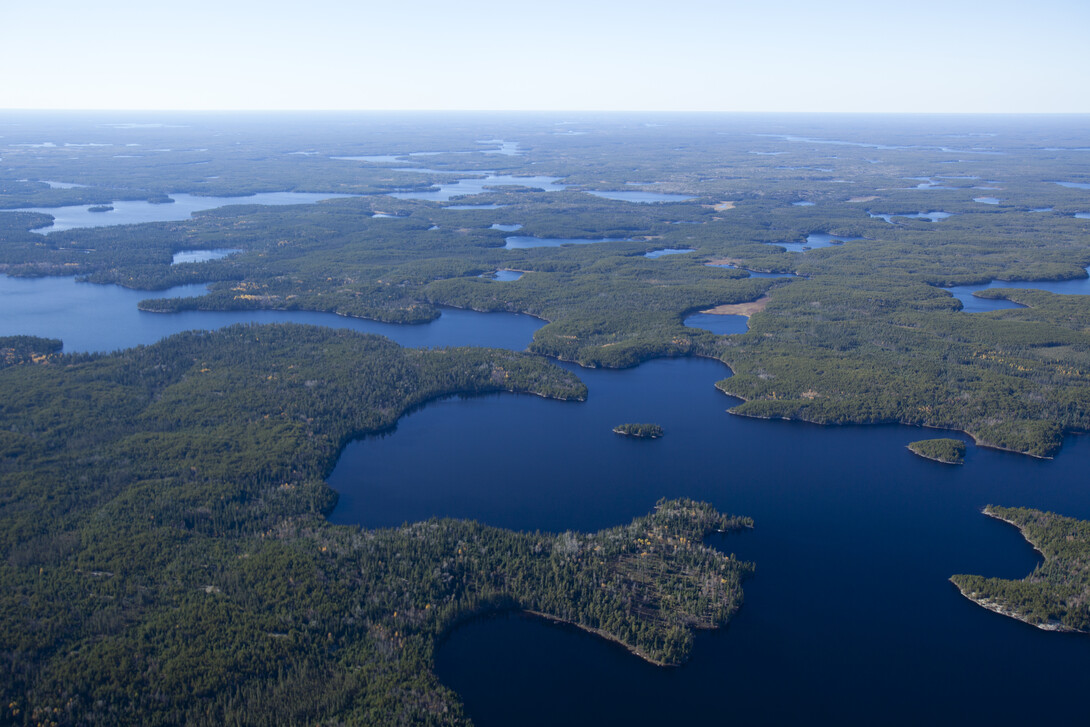 A forest may be a lot of things, but it's never empty. The natural state of a forest is one of constant activity: it is a busy place in which the lives of animals, plants, and natural phenomena are constantly intertwined. In many places across Canada, the land many believe to be "empty" wilderness is in fact not only full of animals, but has long been inhabited and heavily traveled by the Indigenous peoples who have occupied these lands for thousands of years.
Opportunities are rare to experience northern land and forests the way they have traditionally been encountered—full of wildlife, and in active use by local Indigenous peoples, who hunt, fish, and gather food and medicine from the land. At the Pimachiowin Aki UNESCO World Heritage Site, straddling the border of Ontario and Manitoba, visitors can have it all. 
What Is Pimachiowin Aki? 
Pimachiowin Aki—literally, "The Land that Gives Life"—is such a fine example of these principles in action that it was named a UNESCO World Heritage Site in 2018. It's important to stress that Pimachiowin Aki isn't just a World Heritage Site—it's the only World Heritage Site in Canada boasting both natural-heritage and cultural-heritage values. This is not an accident: it's hard to describe the natural aspects of Pimachiowin Aki without noting the land's day-to-day importance in the lives of the Anishinaabeg who have lived off its bounty for millennia. Yet Pimachiowin Aki isn't just Anishinaabe cultural site, either: it's a superlative example of the boreal shield ecozone, featuring enormous ecological and biological diversity. Pimachiowin Aki is a site of natural beauty so overwhelming it is humbling.
Pimachiowin Aki's vast boreal forest boasts an array of rivers, lakes, and wetlands (inside its area are two provincial parks, Woodland Caribou Park and Atikaki Wilderness Park). All this territory is located within the traditional lands of Anishinaabe First Peoples, or Anishinaabeg. In particular, Pimachiowin Aki is the homeland of four Anishinaabe (Ojibway) First Nations—Bloodvein River, Little Grand Rapids, Pauingassi, and Poplar River—reflecting above all the Anishinaabe value and tradition of Ji-ganawendamang Gidakiiminaan ("keeping the land"). Because Pimachiowin Aki's 2,904,000 hectares of wilderness contain the Berens, Bloodvein, Pigeon, and Poplar rivers, it has been a sacred centre of Anishinaabe life in the region for at least the last 7,000 years.
What to do and where to stay at Pimachiowin Aki
Visitors to the site have the opportunity to experience the wilderness much the way it has been for thousands of years—as an active ecosystem whose forests and waterways teem with beavers, eagles, and other birds and animals. For those who wish to travel the land in the traditional style, there is no better and more peaceful way to experience the enormity of such luscious land than travelling by canoe, though those who wish to get around the territory faster may use outboard motors. In the future, they'll even have the option to charter a plane to get flown deep into Pimachiowin Aki. An all-weather road connects the Bloodvein First Nation to the territory, and those with specific transportation needs can find local outfitters who will help get them where they need to go. The closely situated towns of Red Lake and Cochenour are a great base for exploring. Both are serviced by the Red Lake airport--a one stop shop for passenger and charter flights. Viking Outpost is a great full service fly-in resort as is the Sydney Lake Lodge. The Howey Bay Resort offers remote outpost cabins for those seeking solitude and be sure to check out the fly-in fishing and hunting vacation packages at Excellent Adventures.
The Red Lake Regional Heritage Centre is a useful introduction to the region, although Pimachiowin Aki itself offers no visitor centre of its own. Instead, the standard introduction to Pimachiowin Aki is a confrontation with the enormity of the global boreal biome, in which wildlife travels widely, nutrients flow, species move around the territory, and predators and prey engage in the dance of hunting and sustenance. A soaring and humbling rocky landscape surrounds the many rivers and creeks that travel swiftly throughout the territory, alive with beavers and waterfowl, as well as visited by birds of all kinds and frequented by thirsty local animals. 
explore indigenous pictographs and learn some Anishinaabe
But visitors to Pimachiowin Aki have lots of options if they want to explore with a guide: those who fish or hunt can easily find knowledgeable guides to lead them to the best areas of the site for those activities, while there are a variety of educational opportunities for those who want to learn the history of the river and of the people who've lived on it since the period of the Stone Age before China domesticated rice. With a history that long, Pimachiowin Aki boasts pictographs dating back to the Bronze Age, as well as comparatively more recent sacred and ceremonial sites.
Local guides will happily teach you the basics of the Anishinaabe language, Anishinaabemowin, so you can understand the meaning and history of the names of rivers, lakes, and other sites in the territory. Like many Indigenous languages, there are words and phrases in Anishinaabemowin that have no counterpart in English or French. Guides will explain how Anishinaabeg relate to the animals, who have shared their territory for millennia, and how the language of animal names and behaviour is central to Anishinaabemowin. This sharing of knowledge, beliefs, and practices is one of the most lasting gifts visitors to the territory can take away from Pimachiowin Aki.
relax and recharge in beautiful Pimachiowin Aki
There are few nicer ways to close a day in Pimachiowin Aki than by sitting on the deck of a remote lodge overlooking a lake or river—but Pimachiowin Aki offers social occasions too, such as fish-fries and shore lunches. Because, after all, a visit to Pimachiowin Aki is a celebration of the beauty of the land and the unbroken lineage of Anishinaabe culture and tradition—but it's also a nice vacation in a beautiful place. Put your feet up, embrace your surroundings, and enjoy the pleasure of experiencing an ancient, untouched landscape.
To inquire about local guides or other information, please contact: