69 Reasons Why Canada Does Beer Best
What better reason to go for a ride than to pick up some fine Ontario craft beer? Below we present the places that are making us proud and the routes to get there...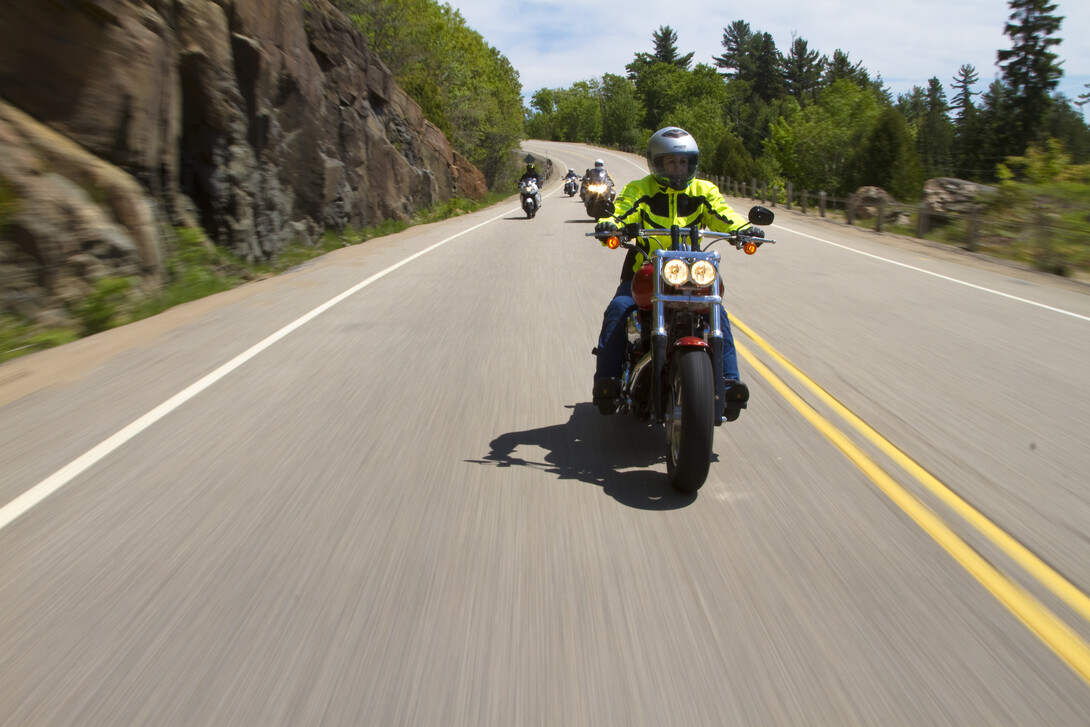 Ever wonder why so many motorcycle riders are also beer drinkers? Could it be that the curious spirit that drives the rider to continue on that extra mile, to see what's around the next bend is the same one that impels the brewmaster to tirelessly experiment with yet another another batch of brew? Sometimes you just have to know "Could this get any better?" And just when you think you've seen it all, something new emerges that rewards that part of you that wants to be surprised, delighted and impressed. 
Microbreweries are popping up across Ontario in increasing frequency. Time to explore! Here we offer some of the best brewpubs and small-scale breweries across this fine province, along with the best routes to get to each of them. Most operations are run by inquisitive souls just like you who are more than happy to have visitors come by to share in their findings. So plan a trip to your local (or more fun—not so local) microbrewery and quench that thirst for what's new!
Drinking and driving is dumb. Don't do it. What we do recommend is that you visit one of these establishments, pick up some of their wares and take them to the nearest B&B, Hotel or Resort, throw the keys in the lake and enjoy your haul there. If you've still got the bug for riding you can focus that energy on planning out the next day's adventure—the roads will still be around tomorrow and you'll want to be, too. 
Northwest Ontario
Northeastern Ontario 
Another new brewery in Ontario's North! Originally started as two guys making beer for their friends, this has grown into one of the Soo's thriving businesses. Pick up some of their OutSpoken Blonde Ale for a refreshing end to a day exploring Algoma Country's famous motorcycle roads.
Bruce Peninsula, Southern Georgian Bay and Lake Simcoe 
Algonquin Park, Almaguin Highlands, Muskoka & Parry Sound
Haliburton Highlands to the Ottawa Valley
Brewing small batches of a variety of beers worthy of the adventurous spirit inside us all. Located on the banks of the mighty Ottawa River their retail store is open 7 days a week. 
Peterborough, Kawartha Lakes & Northumberland
Serving up fine, handcrafted ales and delicious food, the Olde Stone has been a fixture in downtown Peterborough since 1996. A cozy and welcoming place for the weary rider any time of year. Visit the patio through the summer and in those colder, in-between months you can count on warming up by the fireplace and enjoying a pint at the large mahogany bar.  
Located in downtown Peterborough, this microbrewery is currently producing six distinct styles, some available year round, others available seasonally, all made with natural ingredients. Drop in to the tasting bar or relax on the patio and hatch plans for your next motorcycle adventure in the Kawartha Lakes area.
Southeastern Ontario
Ontario's oldest brew pub is an 1800's inspired brick and stone located in the heart of beautiful and historic downtown Kingston. An excellent remedy for the road-weary rider is a stop on their patio some traditional pub food paired with a pint of the Whitetail Cream Ale. 
Brewing small batches of some interesting beers, this is another reason to plan a trip to Kingston. Visit the Tap Room for some great atmosphere or grab some goods from the Bottle Shop and take them back to the hotel. 
Located on a bicentennial family farm just outside of Kingston and using the hops, wheat and barley grown there to brew beers emboldened with the unique character of rural Canada. Soon to include a tasting room and retail outlet. Check back soon because this would make a great day trip destination!
This microbrewery make a great excuse to ride out to Prince Edward County. Take a tour of the operation and visit their retail store to take some of their ever-changing line-up of excellent beers. On Saturdays in the summer they have a someone working a cart cooking up sausages and other goodies.
Located at the Gateway to the Trent Severn Waterway, this is Quinte's favourite microbrewery. Stop by for the by the glass tasting bar and pick up some to take away. Their Gateway Pale Ale goes down smooth after a day riding in Prince Edward County.
This is the real deal—a family run, DIY, organic microbrewery making the magic happen in the far east of Ontario. Head out there any day of the week for an informational tour and pick up some fresh beer from the store. They've also got a great patio serving beer and food open on Saturdays throughout the summer. 
Ottawa and Countryside
A craft brewery focusing on retail sales and customer service. Visitors are encouraged to come by and see how it's done Thursdays, Fridays and Saturdays from Noon to 8pm and Sundays Noon to 5pm (closed the rest of the week for brewing). Drop in and pick up a few growlers of their award-winning Pink Fuzz Grapefruit Wheat. 
With respect to their ancestral heritage the descendants of the 3 Three Brewers share their love of the foam brewing their golden beverage throughout France, the world and, lucky for us, in downtown Ottawa. This gourmet restaurant with a microbrewery within has been consistently amazing customers since 1986.
York, Durham and the Hills of Headwaters 
Award winning hand crafted European style beer made in Nobleton. Stop by the store when in the neighbourhood.
Located in the historic district of Port Perry, the brewery is housed in the former Ontario Carriage Works. Open Tuesday to Sunday 11am to 9pm with tours available at noon, 2pm, 4pm and 6pm. Meet the team and walk through the brewing method with the brewmaster then finish off at the tasting room to sample and compare some of the award winning craft brews.
Stop in anytime Monday to Friday between 9am to 5pm and pick up some of the local beer. Try the Hockley Dark, an ingenius hybrid of a Northern Brown Ale and a Midlands Mild, with a body tweaked to give it a lighter, more North American appeal. 
Niagara 
Located in the heart of one of Ontario's biggest tourist destinations, Taps On Queen is ideal for the rider looking for a refreshing local brew after a long day checking out the sites. The restaurant serves excellent beer-inspired food that's all locally sourced. They have specials and/or live music going on 7 nights a week. Definitely a good reason to cross the U.S. border for a fun night Canadian-style!
A 2.34 hectolitre craft-beer nanobrewery in the heart of Ridgeway. They'll be expanding it in summer 2014 to add an additional 15 hectolitres as well as renovating the popular Tap Room. Located in The Sanctuary Centre for the Arts—an exquisitely re-invented 20th century church—it's great spot for a visit from across the border. Watch for events throughout the year and exciting new brews alongside their tried and true favourites. 
A brewpub with a focus on the quality of the the food to as well as the ales. Just looking at their Facebook page will make you hungry (and thirsty!). Great food specials throughout the week will have you making more than one trip to this Southern Ontario haunt.
Just down the road, past the old oak, in the big red barn. Make a trip out to Niagara-on-the-Lake to sample the Farmhouse Ale Collection. Public tours and tastings available Saturdays and Sundays from 11:30 to 3:30pm. Call 289-868-9627 for bookings.
Hamilton, Halton, and Brant
Huron, Perth, Waterloo and Wellington
F & M Brewery has been going strong since 1995. Their Stone Hammer line of brews can be found at better bars and restaurants in Wellington County and throughout Southern Ontario. They just won a couple of golds at the 2014 Ontario Brewing Awards with their Maple Red Ale and Coffee Stout.  
Opening winter 2014...
A new microbrewery in the small village of St. Jacobs in the Waterloo area proving that good things come in small batches. Tours and tastings are complimentary but make sure to call for groups larger than 10.
Renowned for it's theatre, fine food and cultural advantages, Stratford, Ontario is also home to a first-class producer of premium microbrewed beer. The company's signature beer is Stratford Pilsner—perfect for sipping from a patio or backyard BBQ. 
Experience this downtown Waterloo restaurant featuring a newly renovated cavern, a remnant from the brewery that operated at this location in the 1800's. They're brewing Canadian and European style craft beers on the premises now and it's a worthy destination for a trip to the area.
Ontario's Southwest
Growing up from a local pastime this has become a full-fledged business serving small batch craft beer to Southern Ontario. Almost operating like a club, you have to check out the website to get an idea for what's going on here. Their inspired brews are available 7 days a week only from their on-site retail outlet. 
Brewing a family of craft ales inspired by movement and evolution. Ideally paired with a burger from the restaurant, also located at 888 Erie Street.