Rally to the Valley
From historical landmarks to great eats, and some places to simply stretch your legs, here are the highlights worth riding to in the Ottawa Valley.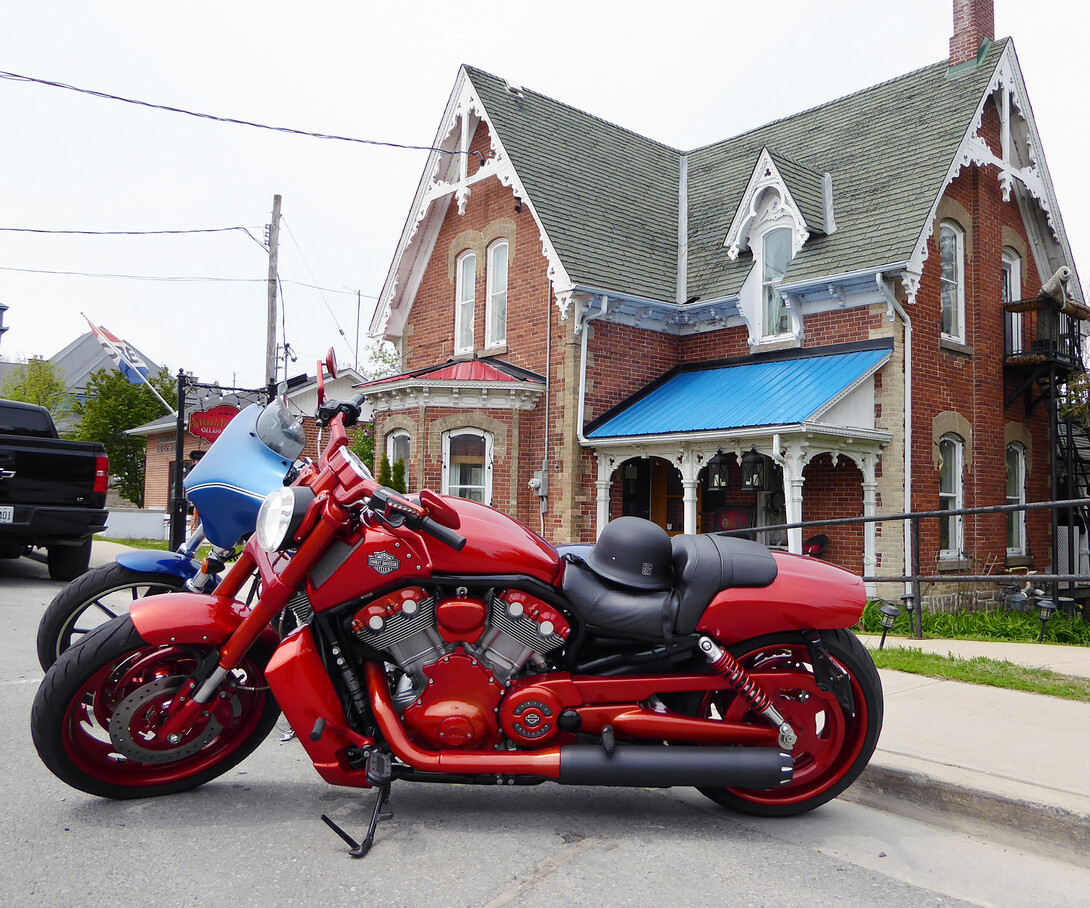 I live in Montreal, just a 45-minute ride from the Ontario border, so for day rides my club often ventures east, following the river that divides the provinces, and explores the Ottawa region. Although it overlaps with Ride the Highlands' Deep Valley Run, it's an area often overlooked by motorcyclists, which is a shame because the countryside in Southeastern Ontario is beautiful throughout the riding season, the roads are well-maintained, and quaint little towns lay hidden along the way to stop for lunch or a break. The following are some of my favourite destinations in the Ottawa area. 
1. Merrickville
One of my favourite rides is to take Highway 34N at Lancaster (just after crossing the border and filling up with Ontario's cheaper gas) up to Alexandria. Then I turn left onto the 43 and take it all the way into Merrickville. If you are into history, particularly the War of 1812, then this town is a must, as it was settled by Loyalists and still has all the signs of that early period. It is a charming Victorian village on the Rideau Canal and has more designated heritage buildings for its size than any other town in the area.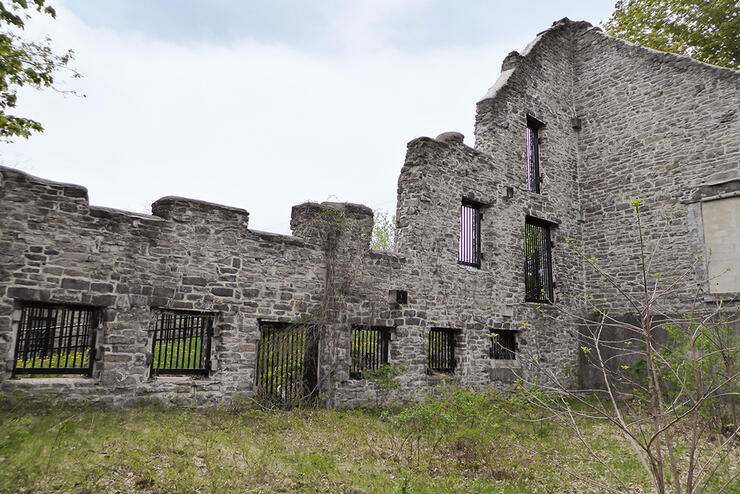 There is a lock station there and a dam, and as you ride over them, the water on the west side of the road is sometimes higher than the road surface. It's an unusual feature of the civic planning. Don't miss a stroll through the ruins, old mill, and historic block house. The blockhouse was built in 1832-33 to protect the lock, and is the largest on the Rideau Canal and second largest in Canada.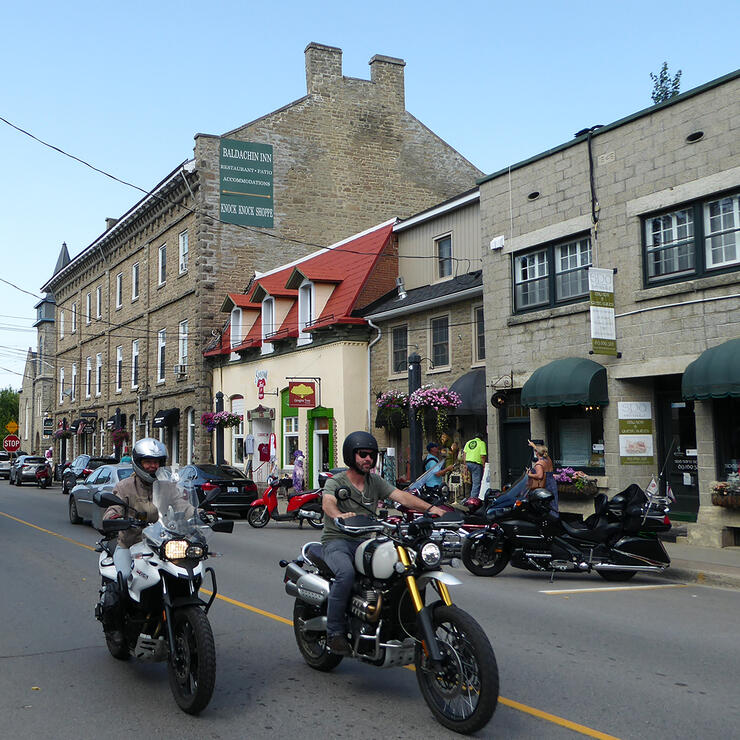 The main strip is charming, with heritage stone buildings lining the road. You can pick up an ice cream at the Downtowne Ice Cream Shoppe or an exquisite coffee at The Village Bean Coffee House. If you are hungry, there are pubs, restaurants or, for a quick bite outdoors, Bob's Fresh Cut Fries, which I can attest has delicious fish & chips. There are specialty boutiques selling fine foods, artisan-blown glass works, household designer items and, as you would expect in such a town, quilts. If you're into used books, there's The Merrickville Book Emporium.
 A stroll through Merrickville is like stepping back in time 250 years, so if you really want to escape modern city or suburban life for an afternoon, Merrickville is a good destination. 
2. Perth
Continue further west along Highway 43 and you pass through Smith Falls, Port Elmsley, and into Perth. Like Merrickville, Perth is a settlement stemming from the War of 1812 and is now 200 years old. It also has many heritage buildings, and the Perth Heritage Conservation District has worked hard to maintain the town's distinctive charm. Stretch your legs off the bike by doing the self-guided walking tour, or stretch out on the grass in Stewart Park beside the water and relax. 
Next to the Crystal Palace you will see The Mammoth Cheese, a replica of the 22,000-pound block that was sent to Chicago for the World's Columbian Exposition in 1893. The product of 10,000 cows and 28 local milk producers, it made a splash, so to speak, when it broke through the floor of the exhibit.
If gazing at it makes you hungry, there's a wide selection of food from diner-style restaurants to fast food chains, but if you just want a snack, Perth has some great cafés and bakeries. Check out the Perth Pie Co. or the Sunflower Bake Shop. If you're just after a coffee to charge you back up for the ride home, there's Café Bean, Café Hideaway, Coutts Coffee Roastery, and The Twisted Fork Cafe. With all these options and boutique browsing as well, Perth is a delightful destination. 
3. Carleton Place
Quick: Who shot down The Red Baron? If you answered Billy Bishop, you'd be wrong. It was Captain Roy Brown, and he was born and raised in Carleton Place, Ontario, located at the intersection of Highways 7 and 15 on the Mississippi waterway. The Roy Brown Museum has interesting artifacts commemorating the WWI ace, and there's a large mural depicting the famous dogfight. 
Like Merrickville and Perth, Carleton Place was settled by Scottish and Irish immigrants, and its history is evident in the Neo-Gothic architecture of its town hall, old postal office, and other buildings downtown. Today it is more cosmopolitan, and you will find Italian, Indian, and Chinese food for lunch or dinner. If you are stopping for the night, there are no less than three microbreweries: Stalwart, Braumeister, and Ashton. If you're just stopping for a break, the downtown has a wide selection of cafes and independent stores to browse.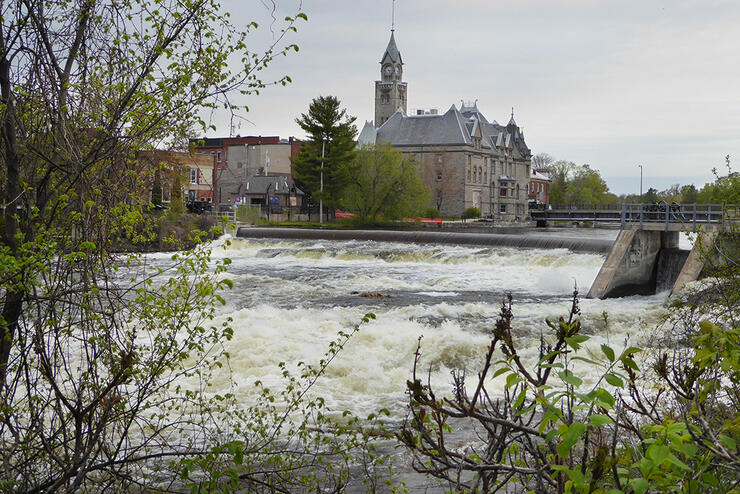 4. The Diefenbunker
If Cold War history is more your thing, you have to spend an afternoon at the Diefenbunker Museum in Carp, just west of Ottawa. If you haven't heard of the Diefenbunker, it is a large underground facility commissioned by Prime Minister John Diefenbaker in 1959. It was built as a response to escalating Cold War tensions and designed to withstand a 5-megaton nuclear blast a mere 1.8 km away. It had to be able to house a skeletal government and military command with their families and allow them to be completely self-sufficient for 30 days. At over 32,000 cubic yards of hand-poured concrete and 5000 tons of steel, it is an engineering marvel of its day.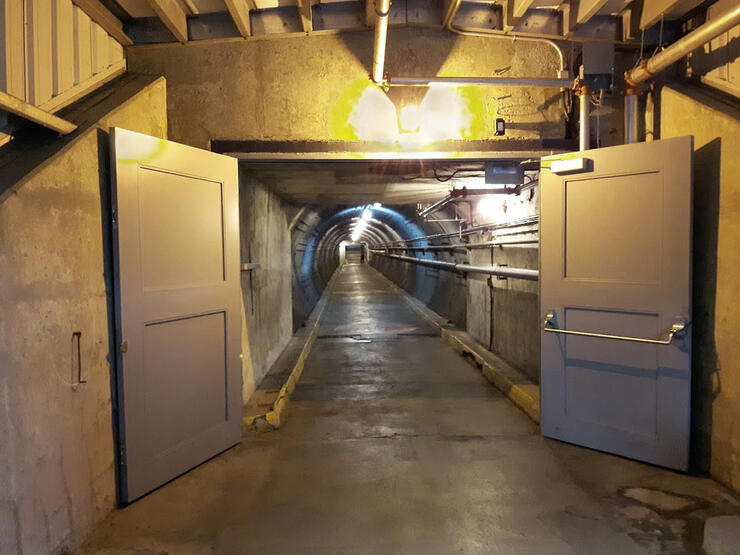 But more interesting than its engineering is its cultural significance. If you are of my generation, you probably grew up with the image of a mushroom cloud hanging over you. As a child and teenager, I often wondered what a nuclear war would look like, and going to the Diefenbunker put some physical reality to those imaginings. The museum still has all the original machines and equipment of the era, and the curators have arranged it in rooms to simulate a nuclear attack. (I was happy to see the Eastern Townships in Quebec were the first to receive the fictitious radiation fallout.) There is a classroom for the children, a pharmacy, a cafeteria, sleeping quarters, a decontamination area, and of course working areas for the government, including a CBC media room, cabinet room, and more. 
It's four floors of your worst childhood fear, and better than the haunted house at the fun fair. Someone has spent a lot of time imagining this Cold War worst case scenario and bringing it to simulated life. I found myself fascinated!
5. The Trans-Canada Adventure Trail
Okay, this one is not so much a destination as a route. Because I'm an adventure rider, I have to include something for my ADV buddies. The TCAT is a dirt trail that goes east-west across Canada so you can hop on it anywhere, but it passes right through Ottawa and so I'm including it here. In fact, Ottawa is one of the few places where the trail passes through an urban centre. 
Like the Trans-America Trail, the TCAT is a series of connected dirt roads and trails. There are some technical sections, but generally the TCAT is not difficult and even owners of large ADV bikes like the BMW 1200GS should be able to do it, depending on skill level, tires, and seasonal conditions. GPX files are available from Gravel Travel Canada, and you are never very far from gas, food, a warm bed, or a mechanic.
After leaving Ottawa to the west, the trail passes through Almonte, Carleton Place, Merrickville, Calabogie, to Ompah and further east, all the way to Vancouver Island if that's where you're headed. In Ontario, there is camping in Granite Lake and Silent Lake in Bancroft, and of course accommodations in any of the towns along the route. If you are up for some mud and prefer dirt to asphalt, look into the TCAT as it passes through the Ottawa region. Not sure? Check out Masons ADV and his series of videos of a multi-day ride he and two buddies did last August. 
So when planning your next ride, don't make the mistake of overlooking the Ottawa Valley. These and other destinations in the region offer a variety of good riding with beautiful countryside and historical landmarks along the way.