Fall Colours Motorcycle Tour of Algonquin Park
An unseasonably warm and dry September has created a unique chance to see the sugar maples at their best, alongside the later changing poplar, birch and tamarack. Now's the time—gas up and go!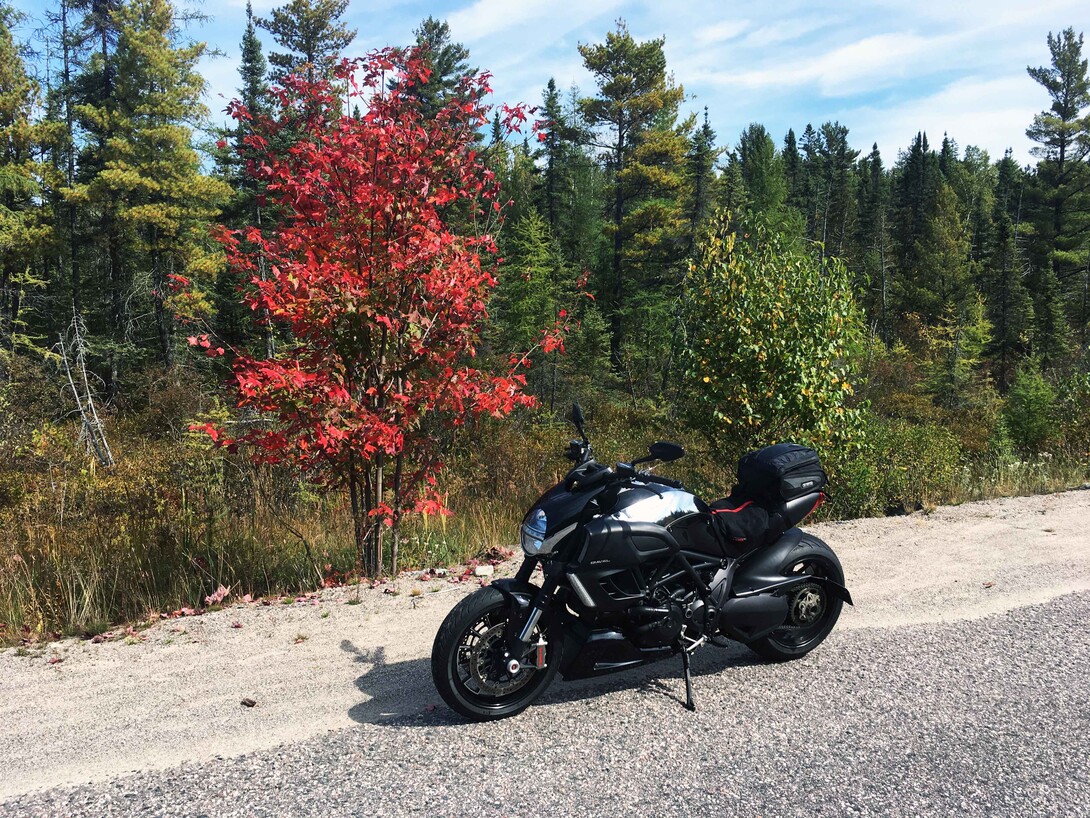 As the season for motorcycling in Ontario winds down, there are still plenty of warm days to get out and explore and make it to some of your bucket list rides.
I did just that when I decided to head to Algonquin Provincial Park on my motorcycle. This was the first time that I'd been around Ontario's largest park in its entirety on two wheels. As an avid snowmobiler, I have done the famous RAP tour a handful of times during the winter, but being there during the summer months gives you a totally different perspective. With over 2,400 lakes and a footprint of over 7,600 square km, circumnavigating Algonquin is no small feat. 
I scheduled my ride for midweek to complete what would end up being a 730-km round trip. Riding solo gave me the opportunity to go at my own pace, make minimal stops, and complete the full-day ride. If you're riding in a group or wanting to stop to check out some of the sights, this ride is manageable in two to three days without rushing.
I started out early in the morning in Bobcaygeon, Ontario with a full tank of fuel. I rode eastbound, picking up Highway 507 north, arguably be one of the best motorcycle roads in Ontario.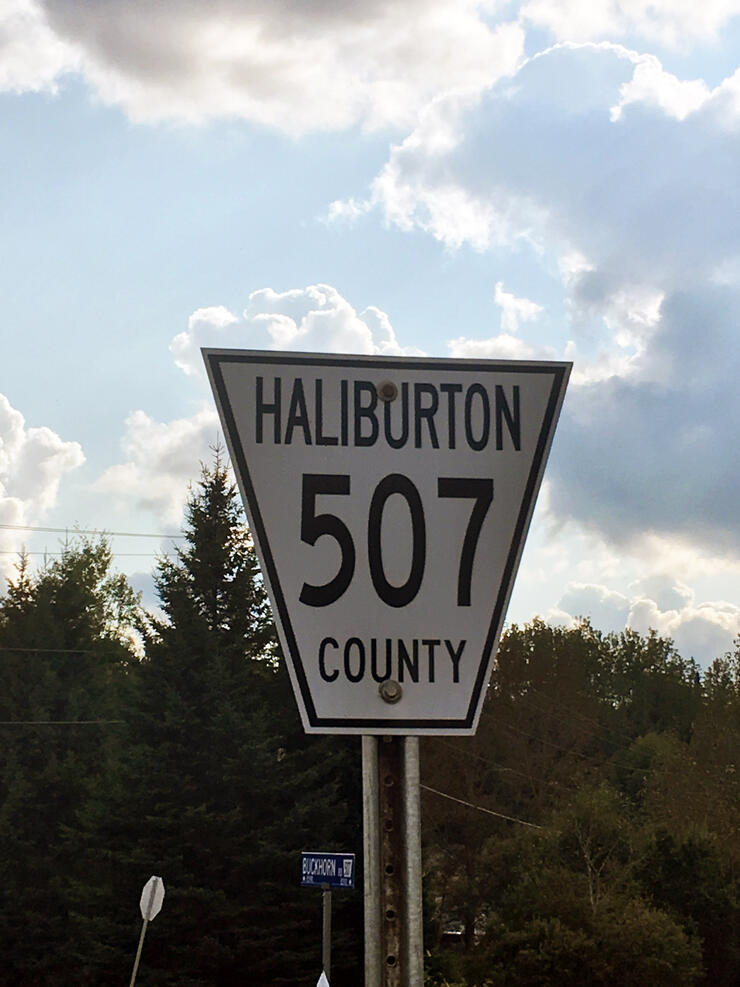 This twisty section keeps me grinning every time I make my way up it. Heading towards Gooderham, the bike and I merge onto the 503, the 118, and 648, passing through Wilberforce. These roads give you ample chance to lean the bike over through many sweeping turns. Hanging a left onto Country Road 10 took me past Elephant Lake and to the southeastern part of Algonquin Park before coming into the small community of Maynooth.
The next section was Highway 523 (part of the Dynamite Alley Route), which was one of the best sections of the day. Traffic was nonexistent and I felt isolated as I carved through the turns. With lots of elevation changes and scenery overlooking the valley, this was one road that I wished was just a little bit longer.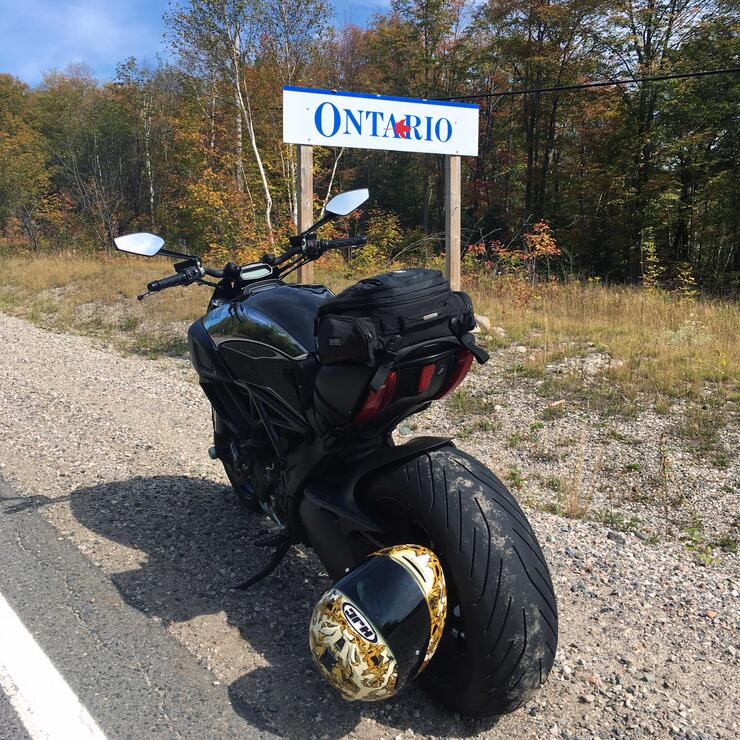 Where the 523 ends is where you meet up with the Highway 60 corridor, which will take you through the middle of Algonquin Park. I had the opportunity to ride through the park via Highway 60 last week, and even though the leaves were only starting to change colour it is a beautiful section of highway. Don't be looking to fly through the park, as you will come across many travel trailers, trucks, and others enjoying the view. Take your time, pull off at some of the lookouts, and grab some great pictures along the way.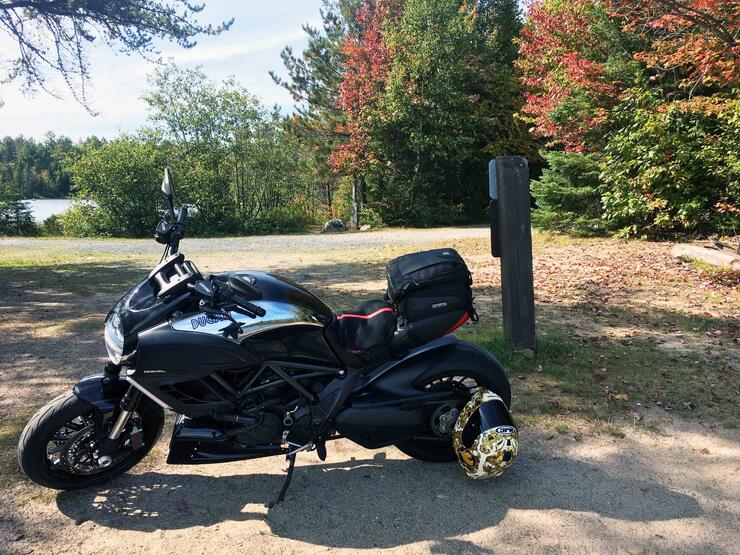 This trip did not include heading west on Highway 60, as I was going up and around the top of the park. I made my way to the town of Barry's Bay, which would be my first gas stop of the day. Continuing along Highway 60 east through historic Wilno, I made a left onto Country Road 67. As you wind by Round Lake, you'll pass the gates to Bonnechere Provincial Park on your way towards Pembroke. I took Country Road 26 north to Petawawa, home to the 4th Canadian Division Support Base, and had a chance to stop for a quick stretch at a Sherman Tank time capsule that won't be opened until July 1st, 2105.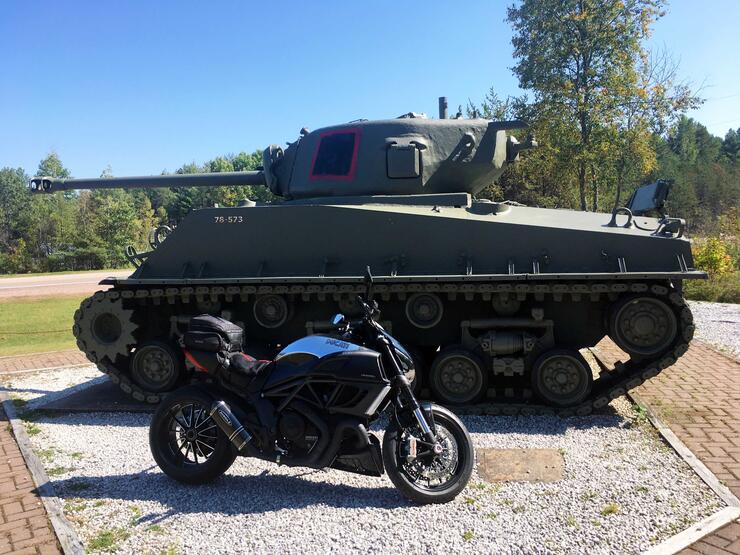 Continuing along the next section of my journey is the run across the top portion of the park. Highway 17 has some magnificent views, lots of picnic areas for rest stops, and passing lanes that can keep you rolling if you are going at a quicker pace. Highway 17 runs parallel to the Ottawa River, where you can catch glimpses of the Province of Quebec as you ride. I rode through towns such as Chalk River, Deep River, Stonecliffe, and Deux Rivieres—just to name a few—all of which had some sort of familiar surroundings from past snowmobile adventures.
Cruising into the town of Mattawa, Ontario, "the meeting of two rivers," I stopped for a home-cooked meal at the Valois Motel and Restaurant, which is right on the shores of the Ottawa River. Mattawa is a real powersports-friendly town with OFSC trails and the VMUTS (voyageur multi-use trail system) all on its doorstep.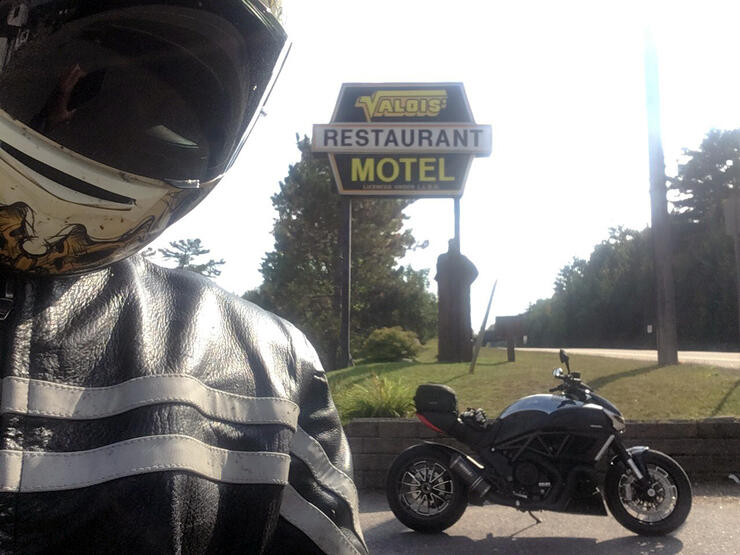 Brian and Shelagh from Valois said, "there are no restrictions on the roads for ATV or snowmobiles; trails come through the town, and gas is nearby, making Mattawa a great destination for recreational activities." They took the time to talk to me about the area and made sure that I didn't leave hungry. After topping off the tank with fuel, I was on my way towards the City of North Bay.
Coming into North Bay, the pace slowed as I made my way to Highway 11 South. Highway 11 is a straight run, mostly made up of double lanes which can make up for lost time if needed. Turning off the highway to Huntsville, I stopped for my last tank of fuel before hooking back up with Highway 60, then south on Highway 35 for the last leg of my journey. Highway 35 takes you through cottage country areas such as Dorset, Buttermilk Falls, and Minden. Just south of Minden I caught the 121, which would be my last 50 km of the day. Cruising through Kinmount, I was almost back to my original starting location.
At this point, the sun was starting to set and the air was cooling off to a normal fall evening temperature. The 730-km roundtrip had been a long but satisfying day. With the leaves being at about 50% of their fall colours, Ontario's oldest Provincial Park is a great place to visit during the fall. If you are looking for full colour, Algonquin's peak is usually from the end of September to the first week of October. For bikers who want to camp, it's easy to find a campground in the area, just be sure to book early to avoid missing out if you have a date in mind. There is no shortage of scenery, wildlife, or twisty roads for motorcyclists to enjoy. Algonquin Provincial Park is close to both Ottawa and Toronto—grab a few riding partners, or venture it solo. There is still plenty of time to enjoy the fall on two wheels!