And a Vespa shall lead them all...
Finding a community of like-minded riders helped this newbie Vespa owner weather the pandemic in style.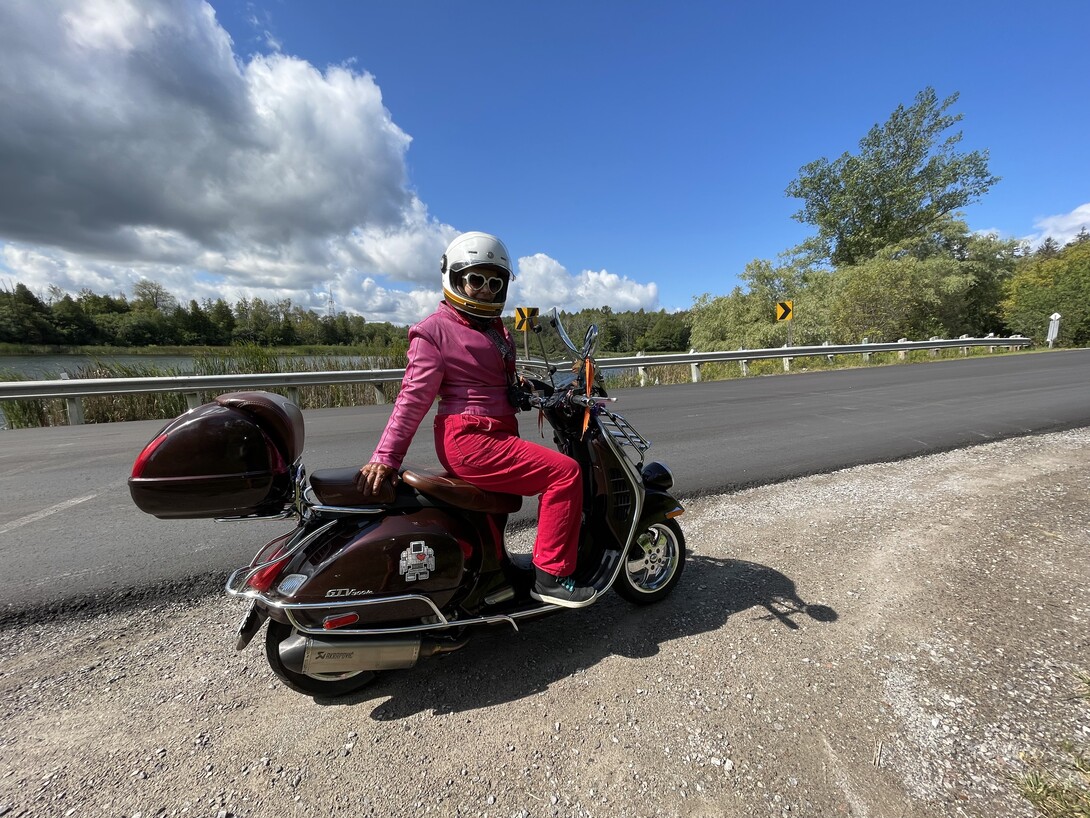 My name is Georgette and I'm a Vespa rider. 
I wasn't always though. Here's how it happened. 
Step one: making friends
I met Mondo Lulu in 2007 through the Toronto Flickr photography social meetups and we became fast friends. In 2008, he started on his own riding adventures when he decided to get his motorcycle license.
As he made friends in the Toronto motorcycle and scooter communities, I joined him at various outings, taking photos and making friends along the way. I was interested in getting my own license but spent several years as a photographer of events like Mods 'n Rockers, MotoSocials, Pride parade, Distinguished Gentleman's Ride, and International Female Ride Day instead. 
In 2015, our friendship became a relationship, and we rode everywhere together with me as his passenger and as we joked, his personal moving GoPro. I became very comfortable with shooting on the road and took hundreds of pictures from my backseat POV. 
Getting a license and my first ride
In late June of 2019, I finally bit the bullet and got my own license and did my training course with Learning Curves. I bought my first Vespa—a 50cc "S" model which I named Lola. She was small, nimble and easy on gas as well as on the pocketbook for insurance. 
It was love at first twist of the throttle! 
I was excited to ride everywhere—I dragged Mondo *everywhere* and we ventured farther and farther as my confidence on two wheels grew. Treks around the GTA and beyond were not uncommon. I was introduced to the Toronto Vintage Scooter Club and the Barking Mad Scooter Club and enjoyed the group rides with a crew of like-minded folks. 
I quickly understood why so many people love riding—the freedom, the fun, the adrenaline and the community. I loved my first riding season and was so excited for 2020 —to venture farther, to have the honour to ride on my own as an ally in the Pride, to adventure out to Freedom Machine and so much more. 
But then came Covid, which stopped all those plans in their tracks. 
Thankfully, it didn't stop Mondo and I from doing rides here and there, and as things opened up a bit, to do ventures further with a few friends. We could be social but still be safe and distanced - I really feel having my Vespa and having a great riding partner saved my sanity in 2020. 
We had the honour of riding with the Amazon Motorcycle Club on the day of the cancelled Pride Parade in early July 2020 and again this year in 2021. It was a small group of riders, but we brought smiles all over the Village and throughout our route.
Due to the lockdowns in 2020, International Female Ride Day was moved from its usual May date to August, so a small group of us rode through the streets of Toronto then I took the lead to bring the group to one of my favourite out of town cafes in Schomberg—the Grackle Coffee Co. It was my first time leading a group—my 50cc scooter buzzing in front, with much-bigger motorcycles roaring just behind, as we took on the hills of York Region's back roads. A beautiful, scenic ride, we passed towns like Snowball, Kettleby, and Pottageville, before reaching our destination.
"And a Vespa shall lead them all...", Mondo quipped, being the honorary male rider in the group. It was an honour, especially since these women had been riding for longer but they were great cheerleaders along the way. 
Earlier in 2020, I became friends with Jacquie Jeffery and she introduced me to her Cute Scoots female rider group, which eventually became the Piper Doves. It was great to have another womxn powered riding group, along with the Litas Toronto motorcycle crew, but with a scooter focus. This supportive, fun-loving group welcomed myself and Mondo with open arms … well, as open as could be allowed with a pandemic going on around us. This group of gals have become wonderful friends and I know they are there for me if I need them, riding season or not. 
Consisting of many new riders, I have been proud to watch the Doves group venture beyond the Toronto borders: it was back to Schomberg in September 2020 for the Distinguished Gentleman's Ride, which, for us, ended in a picnic in Nieuwland Park.
A Vespa ride to Hamilton
2021's big adventure in July was a trek out to Hamilton to meet up with the Hammer Down Scooter Club at another fave out of town rider-friendly cafe, Steeltown Garage. It was a long day that ended with us trying to get back to Toronto before the skies opened up on us. We got a bit wet on the way back but the crew were happy troopers, though tired and a bit sore. For more details about this adventure and photos, please check out this story on our Hamilton adventure. 
From my first ride on July 7, 2019 to the end of October 2020, I clocked 10,861kms on my beloved Lola! I realized I was ready to move up to a larger ride and bought a 2011 GTS300 Vespa from Fada Scooters and named her Coco Mama Bear since she is a lovely chocolate brown and has an awesome sounding Akrapovic pipe. 
We got in a few great rides before the season ended and crossed our fingers that Covid would be overcome and many more adventures would come our way, especially since I would be able to travel farther with a highway-capable ride. 
top spots to ride my Vespa in the GTA
Unfortunately, we are all struggling with the challenges of the pandemic but I, along with my riding crew are still hunting coffee, ice cream and winding roads all around the GTA and beyond.
In Toronto, our regular bike-friendly spots for the Piper Doves include:
Ed's Real Scoop on both Queen Street East and on Roncesvalles Avenue. We highly recommend their Burnt Marshmallow and Tanzanian Dark Chocolate flavours. 
The Flying Squirrel Motorcycle Co. for coffee and hangs with a wide variety of riders. The Piper Doves and I are looking forward to them holding more Bike Women's events in the future as well.
When we want to venture a bit further, there's Grackle Coffee Co. and Steeltown Garage. We also head out to Back Road Motor Coffee in Mississauga, especially for their recurring Thursday night motorcycle social event.
The rise of scootering across Ontario
I think that scootering became even more popular last season due to Covid - people needed an economical way to travel and to get into the outdoors and escape the stress of isolation. Join us, won't you? 
Looking ahead toward spring 2022
I am hoping that the 2022 riding season brings more opportunities for venturing farther and bringing the community closer together once again. I am optimistic to have the honour yet again to ride with the Amazons Motorcycle Club as an ally in a full Pride Parade, with all the positivity and excitement of the crowd. 
I would love to plan a proper riding vacation for a couple weeks, to venture further north in Ontario, with various stops along the way to explore and hike when my legs need a stretch and take in the scenery. I am hoping to make it to Freedom Machine in Durham, Ontario next year and lure some of my Piper Dove crew along for the adventure. 
Thinking bigger, it would be a wonderful and exciting challenge to return to the Canadian east coast but via two wheels instead of four or by plane like I have done in the past. I love the scenery, the food and the friendly people of this part of our country and I feel that riding there with my trusty Vespa would give me a new perspective and more opportunities to interact with others along the way. 
In the meantime, I look forward to more adventures with my partner in crime, Mondo, along with my scooter crew for the rest of the season, including a Halloween ride and remain hopeful for next season to take me further and cross off a few bucket-list treks. 
Happy riding all—stay safe.