Winter Motorcycling at Grand Prix de Snow
New event offers thrill-starved bikers a reprieve from the long winter.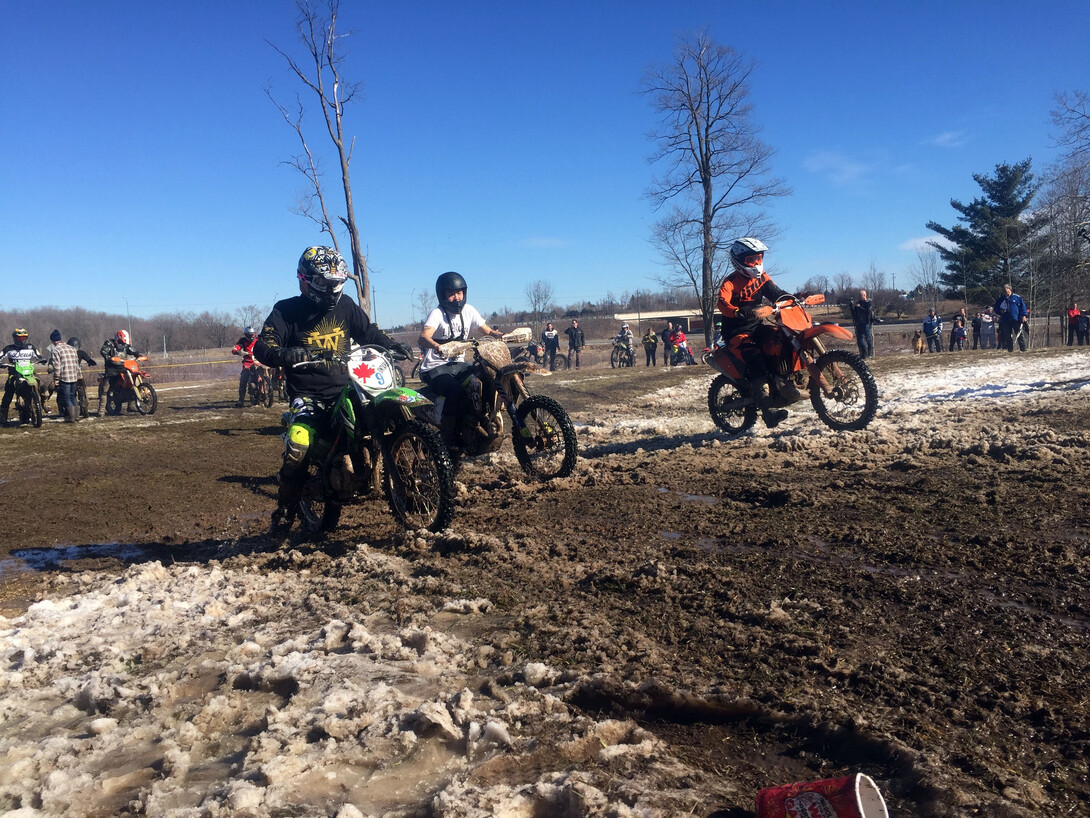 There's no nice way to say it, for those of us who love life on two wheels, winter just sucks. With thousands of kilometres of incredible roads and calendar loaded with a wide array of events to keep you busy, life during the Ontario motorcycle season is a rich one. But come December, it's over (unless you're Brokentooth, but that's another story). So when I heard that there was something going on in the middle of winter and so close to home, I had to check it out.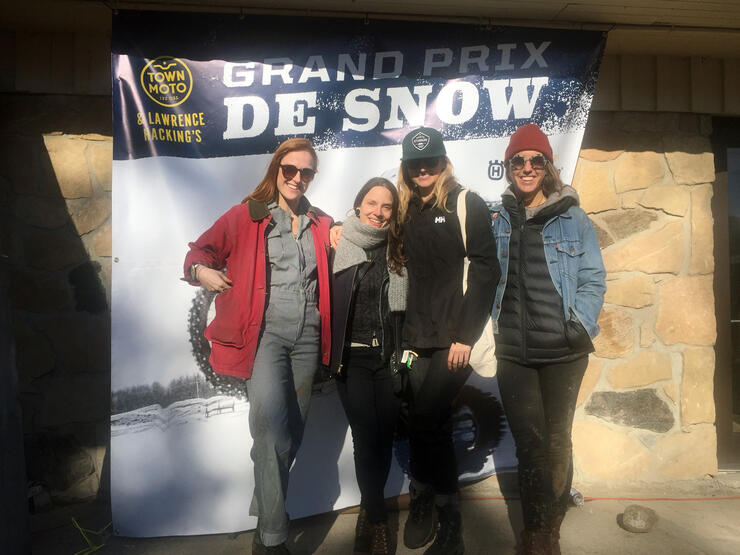 On Sunday February 19, Town Moto and Lawrence Hacking teamed up with Husqvarna Canada to host The Grand Prix de Snow at the Mohawk Inn and Resort in Milton Ontario, 45 minutes west of Toronto on the 401, exit Campbellville Rd. This rip-roarin' community event was an ideal time to reconnect with old friends and make new riding friends, as anyone itching to take their dirt bike out, or watch the races, was encouraged to come down to the track that day. There was even a Ural side car whipping around and a mini-track! The family environment made it enjoyable for everyone. 
A pay-what-you-can registration fee for racers and attendees supported the Milton United Way and entered you in a raffle with awesome prizes like Biltwell helmets, Roland Sand's jackets and Women's red wing heritage boots, to name a few!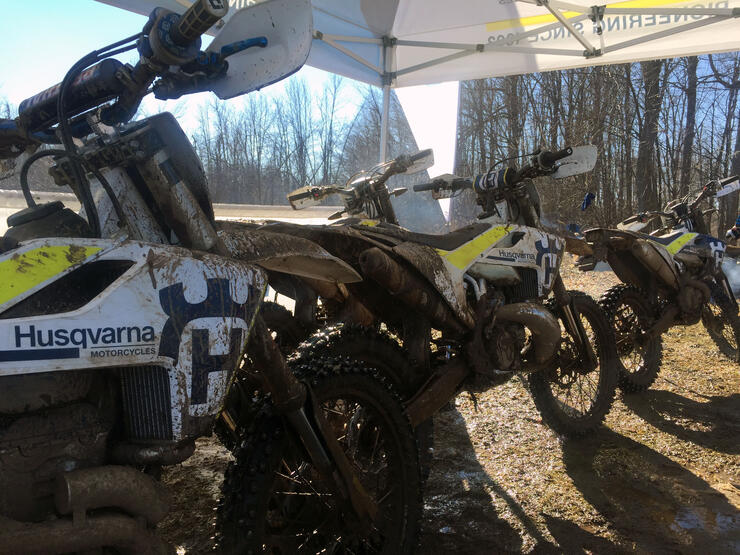 The action really got underway around noon. The crowd was fueled with all day coffee, hot chocolate and food from the Mohawk Chop House as well as the notorious Town Moto "Dog Zone" hot dogs. The sun was beaming and so were the smiles as riders got in some track and trail rides. The sunny 12° C weather quickly turned the snow into mud, but that didn't stop anyone from signing up to race.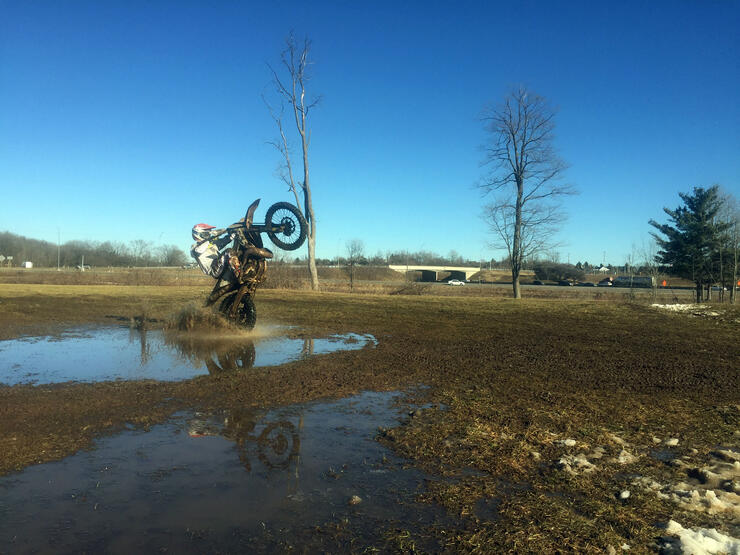 There were several rounds of races. The way it worked was that racers would start a few yards away from their bikes. When the bell rang out, they ran to their bikes, kicking them on and zooming through flying mud and sliding onto the track. It was casual and welcoming to everyone, no matter what riding experience you had.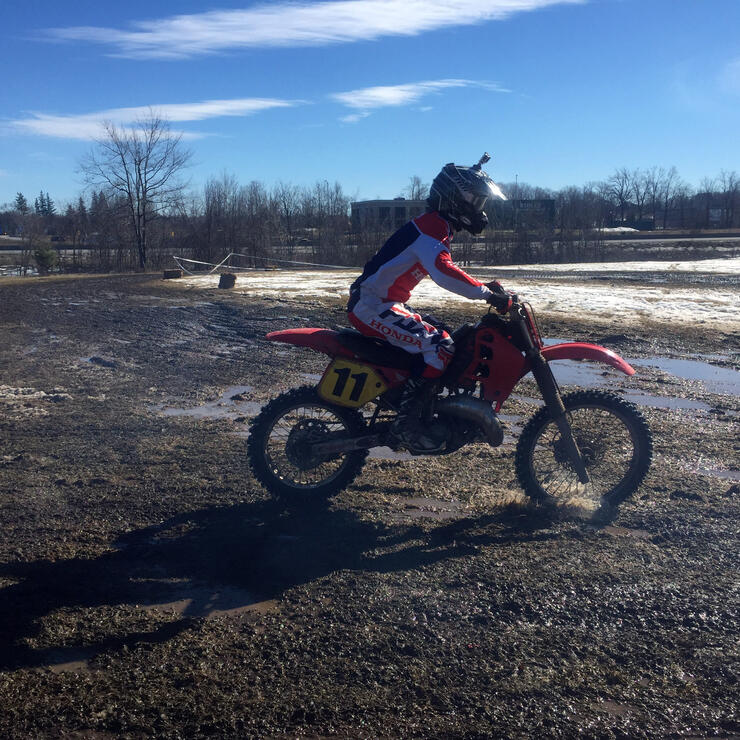 Husqvarna Canada Representative JR had a selection of their bikes out ready for test rides! This was by far one of my highlights of the event. I took an FE 350S out around the track and into the woods for an exhilarating and hilarious mud-ride. I've ridden an enduro around town and on dirt roads, but never on muddy trails. Let's just say that as a rookie, I'm hooked! 
Lawrence Hacking, a world circuit Enduro racer since 1971, was thoroughly enjoying himself at the track that day. Lawrence is a major contributor for promoting the sport of motorcycling, and is behind events such as the Grand Prix de Snow (in it's first year) and Grand Prix de Mud (five years strong), which is on again this summer. He created the Overland Adventure Rally as well.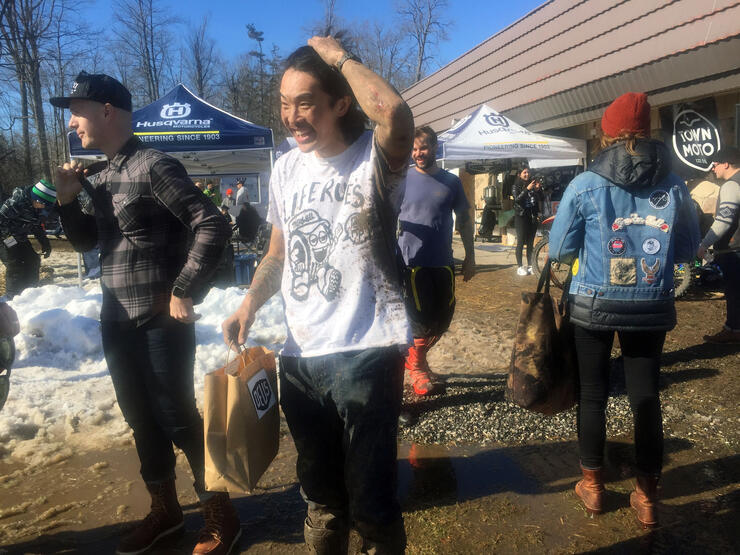 After prizes were awarded, the remaining hats and t -shirts were out for the picking for the rest of the crowd. Lawrence closed the day with a gracious thank-you to sponsors and participants, and encouraged all of us to help clear the track of hay bins as we said our goodbyes. 
February can be a rough month for us — on the cusp of riding season and after a long winter. I love events like Grand Prix de Snow that allow folks to reconnect in the moto community, get out of the city, and bring the whole family out for some fun. 
Looking forward to Grand Prix de Mud on June 11th, 2017!!