Riding High(way 400)
When I ride the 400—usually on my way to Northern Ontario—I know there'll be new adventures, new people to meet, and fun galore.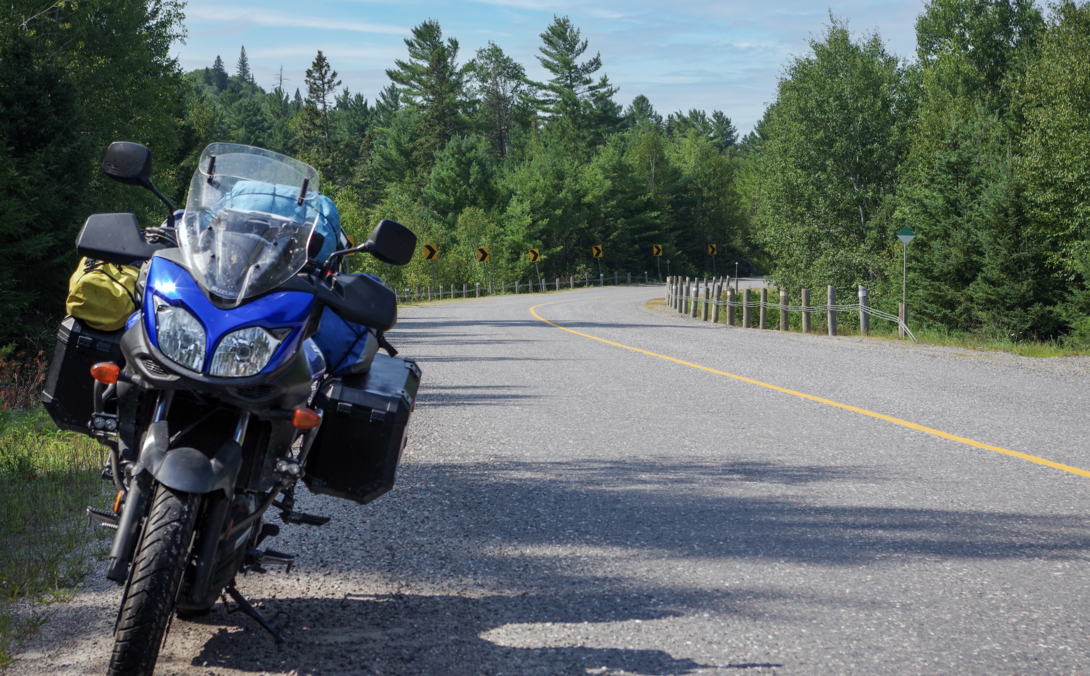 For someone who loves leaning his bike over in the twisties, it might seem antithetical when I say I love riding the 400. Officially known as the King's Highway 400, it runs north from Toronto for 226 km until it meets Highway 69, about two kilometres past the Highway 559 Interchange. 
Riding the 400 is like flying. It isn't fun in itself; it's the places it takes you to that excite. The 400 is a gateway to many things to see and do, roads to ride, trails to hike, provincial parks to camp at, craft breweries to visit—you name it. When I ride the 400—usually on my way to Northern Ontario—I know there'll be new adventures, new people to meet, and fun galore. At a minimum, it's one day up, one day of riding/doing stuff, and one day to ride home. More likely, though, I'm going for four or more days because it takes some time to get there and back. For me, it's always been well worth the time!
So, come with me as I share…
My top 5 reasons to ride the 400 gateway
When I tour on a motorcycle, I feel the road, smell the changing landscape, and am immersed in the weather, whatever it may be. Maybe that's why I like to camp. I enjoy being sensually close to the elements. So far, I have been 100 per cent satisfied with every provincial park at which I've stayed. (Maybe it's because I try to be a don't sweat the small stuff kind of guy.) The staff are always hospitable and helpful. Possibly the best part, however, are the fellow campers I've met. There is something about sharing the outdoors that seems to bring people together in the nicest of ways. You can read more about my people-meeting experiences here. Two of my favourite parks are Grundy Lake Provincial Park and Lake Superior Provincial Park. 
Grundy Lake Provincial Park is located one kilometre east of Highway 69 on Highway 522. There are two reasons to make this a stop. The first one is that it is a beautiful park with great campsites and on-the-easy-side hiking trails. It's also near Highway 69, so it doesn't take you far off your route. The second reason to stop is to ride Highway 522 east to Trout Creek and back, a 210-kilometre round trip. 522 isn't the twistiest, most scenic, or best-at-anything road, yet it gets listed by motorcyclists as a favourite. It's worth the time to camp at this park so you can ride it. 

Lake Superior Provincial Park (the Agawa Bay campground) is on Lake Superior. My campsite was surrounded by tall pines on one side, and faced Lake Superior on the other. I took my camp chair out to the beach and sat and watched the sunset. Later, getting lulled to sleep by the rhythm of the crashing waves was relaxing and magical. There are other parks at which I have camped, and lots more I still want to visit. Camping in the Provincial Parks is a great reason to ride the 400.
Every time you turn a corner, there seems to be a sign announcing yet another waterfall. That's okay! What's not to love about water cascading over a precipice? Visually, it's stunning. Aurally, it's mesmerizing. Ironically, the thunderous power of crashing water is calming. Visiting a waterfall is a pleasant respite. There are loads of waterfalls I have yet to see, but here are a few of my favourites.
Kakabeka Falls is located in the Kakabeka Falls Provincial Park, about 30 kilometres west of Thunder Bay. At 40 meters high, it is three-quarters the height of Niagara Falls. This is probably why it is colloquially referred to as the Niagara of the north. Although it's not as high or wide as Niagara, it is still stunning. The falls are a great reason to camp at Kakabeka Falls Provincial Park.

The waterfall on the Aux Sable River is located in the Chutes Provincial Park, just off Highway 17 in Massey. The park also has a number of hiking trails and is a great base if you want to explore Manitoulin Island.

Aubrey Falls is 85 kilometres north of Thessalon on Hwy 129. It is located in Aubrey Falls Provincial Park, a non-operating park with no activities or facilities. The falls are a short hike from the parking lot, accessible from 129. 
"Cresting the hill, my shocks extend as my bike seems to defy gravity. It rose up, and my stomach followed. There was no indication as to which way the road turned. I stayed alert: to turn hard left, to turn hard right, to avoid a logging truck, or to go straight. But the road never went straight. The road's course followed the winding of the river; its undulations echoed the hilly terrain." I wrote this about riding Highway 129 in my article My 933 Kilometre Ride in Northern Ontario. Yes, it is that much fun. Unless you're riding up to 101 and west to 17, I recommend riding from Thessalon/Highway 17 to Aubrey Falls and back down the same way. The fun part of Highway 129 is all south of the falls. And anyone who loves riding the twisties knows the same road offers different challenges in each direction. This is one of my favourite roads in Ontario. Ride it! There is a reason it is called Canada's Tail of the Dragon.
When it comes to riding, Manitoulin Island is more relaxing and scenic than challenging and technical. But that's okay. Chilling out, visiting the sights, and partaking in the island's activities is the reason to go. There are lighthouses to visit, hiking trails (e.g., Cup and Saucer Trail) to hike, waterfalls to discover (e.g., Bridal Veil Falls), and many other activities. One of my favourite parts was getting onto the island, which I did via Highway 6 and the swing bridge at Little Current. It's a fun ride. "Highway 6 curls its way around the rocks and over the islands before arriving at the bridge." I cited this from my piece on visiting Manitoulin Island.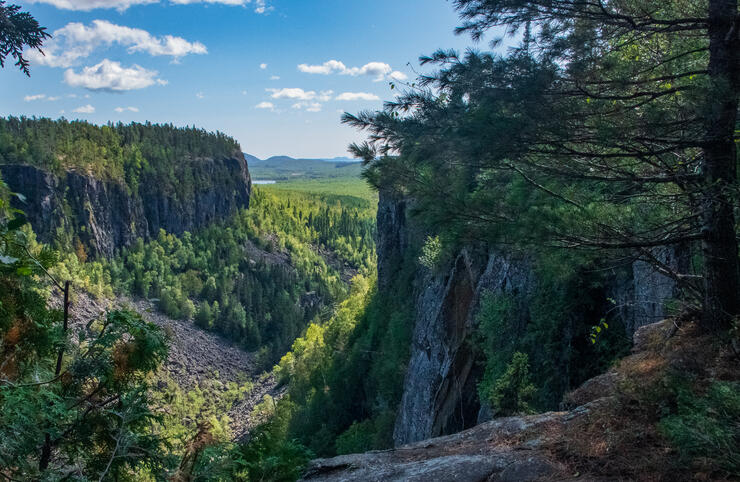 I first discovered Ouimet Canyon while I was surfing the internet. WOW! I assumed it was located in a remote region. To my surprise, the canyon is in Ouimet Canyon Provincial Park (also a non-operating park with no activities or facilities), only 12 kilometres off The Trans-Canada Highway. I rode the 400 specifically to visit Ouimet Canyon. Take the time to visit. It's worth it. See my article 8 Scenic Motorcycle Rides to Ouimet Canyon for more info.
Whether I'm camping in a provincial park, discovering a new road, being awestruck by a waterfall, or exploring places like Manitoulin Island or Ouimet Canyon, it is the 400 that gets me there. King's Highway 400 really is a gateway to some great adventures.