Around Georgian Bay Your Way
He wants to ride it, she wants to drive. Why choose when you can do both?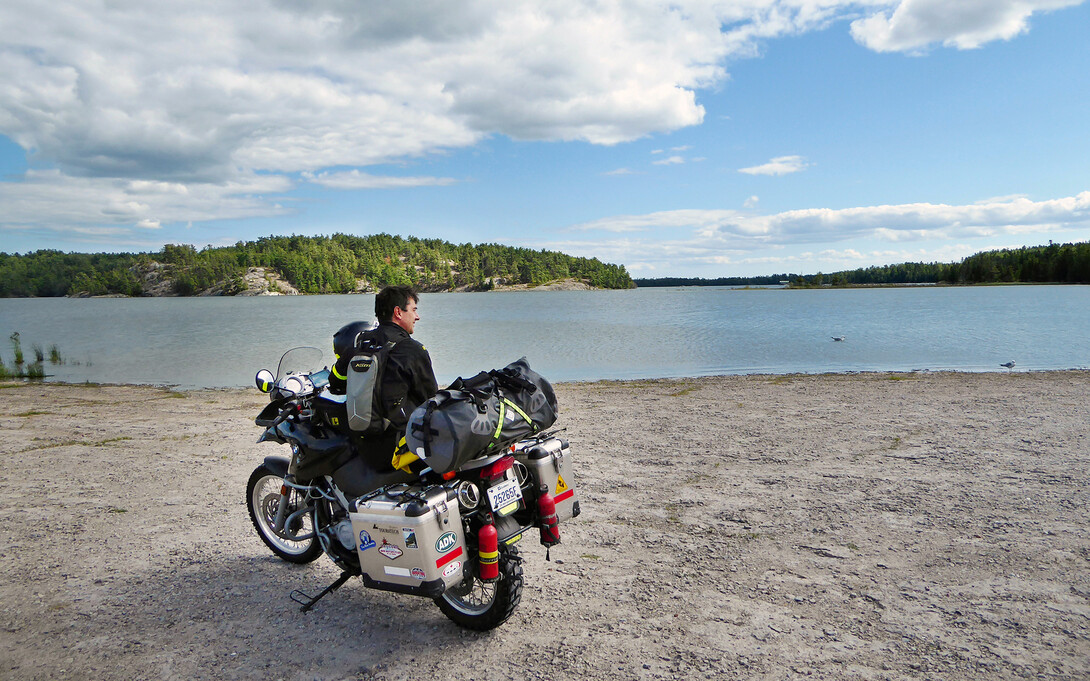 Do you ride but your significant other does not? Yeah, you can go two-up, but on a long tour that can be tiring. My wife is good for a day-trip or two, but a week-long tour was not an option. When we decided we wanted to explore Ontario's Bruce Peninsula together this year, we decided to try something new: she would drive in the car, and I would follow on the bike. This way we had the best of both worlds.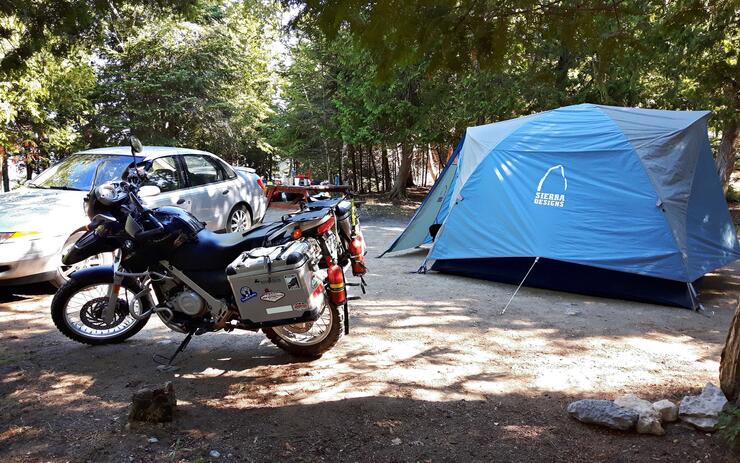 We decided to do the Georgian Bay Coastal Route going counter-clockwise. My wife said trying to stay together is stressful so initially, we decided to have set destination points, but we soon realized that navigating the open roads of Ontario is a lot easier than the city streets of Montreal so we did it in tandem. This meant we could enjoy the scenery together.
We left Montreal and headed northwest from Ottawa on Highway 17, along the Ottawa River and into North Bay. From there we turned south on Highway 11 and across on the 654 to the 534 and on to Restoule Provincial Park.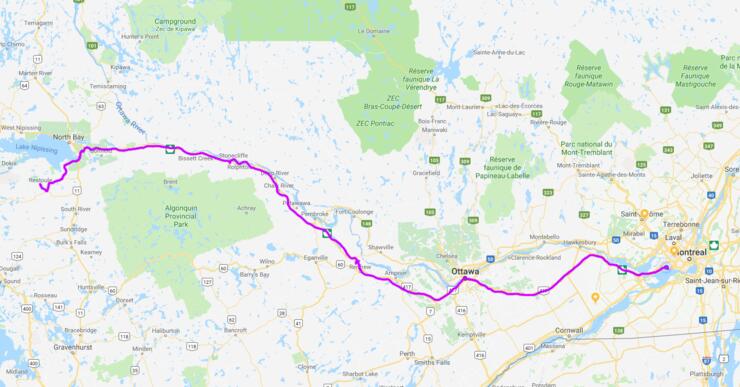 One advantage of having the car was that I didn't have to be so economical in my packing; I had some creature comforts like a larger tent, thicker air mattress, and hiking boots that I normally wouldn't have had if I'd been on my own. We also had a full electric cooler!
My gas light had flicked on just as we entered the park so we stopped at the general store at the corner of the 534 and 654 the next morning. I love general stores! They are like from another era with food, clothing, hardware, souvenirs, and yes, gas, all to AM radio. 
Perhaps the prettiest stretch of road on the entire tour was the 522 that took us west, out to the 69. While officially a stretch of the Lake Nipissing Circle Tour, the 522 is well worth a detour if you get the chance. Although the surface is bituminous (i.e. tiny stones embedded in asphalt), it's in excellent condition, allowing you to take the winding corners with confidence. The road snakes through the forest with sections cut into the Canadian Shield granite and Precambrian rock and other sections opening up to an enormous sky with views of wetlands and distant hills. 
Our camping stove was acting up so while riding through Sudbury we stopped at Ramakko's, a huge outdoor store on Highway 46, just off the Trans-Canada Highway. Brad there is an expert on stoves and after a little troubleshooting, he confirmed that, indeed, the stove is finished. The staff didn't have to try to fix the stove we walked in with, so Ramakko's gets a two-thumbs up from me. If we'd had more time, I could have lost myself in that store, but we were on a tight schedule to get to Manitoulin Island by the evening. 
Another very memorable section of road was Highway 6 that took us south onto the island. Unlike the 522, the 6 has large, sweeping curves that carve through sections of rock. The surface is immaculate and with a speed limit of 90 km/hr, you can enjoy those sweepers. I saw at least three different types of rock at the roadside, and as you descend onto the island it's like riding down through the eons, eventually arriving at rich farmland. Now haybales, horses, and glowing canola fields line the road. 
Manitoulin Island is a magical place, unlike any other I've been to. Time there seems to stand still, and a souvenir T-shirt I saw said appropriately, "I'm on island time." A visit to Bridal Veil Falls is a must. Be sure to gather your courage to swim under the falls! My wife was hesitant but after a little encouragement she did it and was giggling like a schoolgirl. Be sure also not to miss the fish & chips at Lake Huron Fish & Chips. You will not only enjoy some locally caught Whitefish but also discover the coolest, trendiest music the "kids" in the kitchen are playing. 
Another advantage of travelling the way we did is that it forces you to slow down and take in some local culture. Last year when I toured solo it was all about the riding, but this year I took some days off the bike and explored by air-conditioned car. It was a welcome break during the midsummer heat and a chance to rest my ageing back. 
After a few days on the island we took the Chi-Cheemaun Ferry from South Baymouth to Tobermory. Ferry staff provide rope to tie down your bike, but some bikers brought tie-downs for this purpose. Also, be sure not to use your centre-stand—you want to keep your wheels on the ground—and park the bike in gear.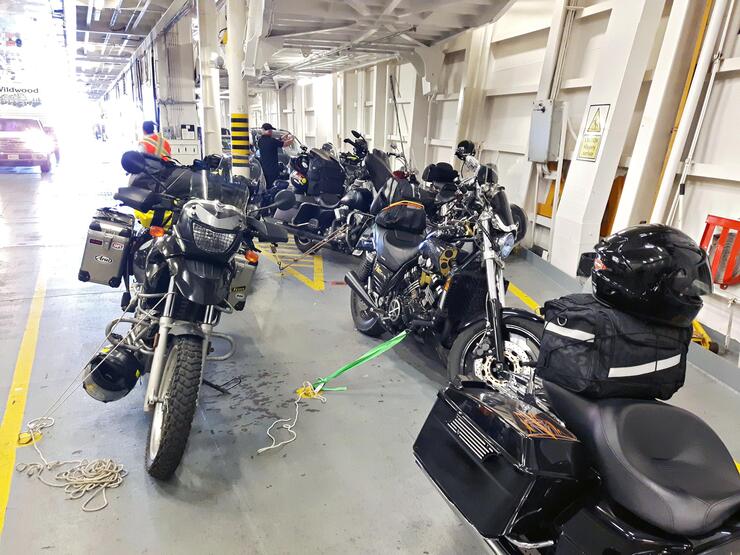 The highlight of the tour off the bike for me was definitely swimming at The Grotto, a protected cove with clear, emerald water and a natural cave. It's a little cold so tough getting in, but do be sure to get in because it's a once-in-a-lifetime experience. 
You can only get to The Grotto on foot, and because of its popularity, there are time restrictions on parking at the nearby parking lot. One way around this is to stay at or buy a day pass to The Bruce Peninsula National Park. Then you can leave your car all day at the site and enjoy a short hike to the watering hole. After your swim, head into Tobermory and enjoy a pint of in-house beer at The Tobermory Brewing Company. 
I ride a 2006 BMW f650GS adventure bike and was itching to check out some of the many dirt roads I was seeing. When we left the park, my wife and I split up so I could ride Forty Hills Road, a ride I discovered in the local tourism newspaper. You turn left going south on Highway 6 just outside the park onto Dyers Bay Road. Turn right at Brinkman's Corners and enjoy. Forty Hills starts out straight enough, but gets "interesting" soon after the sign reading "No Winter Service Beyond This Point." 
I didn't take any photos of the more twisty section because I was too busy enjoying the road, but if you have a dual sport bike and don't mind a little dirt, trust me and make the detour. Forty Hills spits you out on Highway 9 that hugs the coast and takes you through quaint Lion's Head and into Wiarton. That's where I met up with my wife before heading east on Grey Road 1, The Scenic Route. Be sure to pull off at some of the lookouts over the bay and read about the fate of the Jane Miller. Grey Road 1 connects with Highway 26 at Owen Sound and the Scenic Route continues all the way around the southern tip of Georgian Bay, taking you through the iconic vacation spots of The Blue Mountains, Wasaga Beach, and into Parry Sound on the east shore. 
Before heading home to Montreal, we wanted to see Killbear Provincial Park; someone wearing a Killbear T-shirt we met at the ferry said it was the nicest park he'd stayed at on his trip. It's a very popular campground, but you can buy a day pass without any problem or, as we discovered, enter with a permit from another Provincial campground. No wonder it's so popular; Killbear has it all—private campsites near the water, sandy beaches, walking and cycling trails, and well-serviced comfort stations. We hiked out to the Lighthouse at the tip of the park. 
The Georgian Bay Coastal Route contains a variety of well-maintained roads offering some great riding with spectacular views. I think what I enjoyed the most about this trip is its inescapable proximity to the rugged rawness of natural wilderness while never straying far from a microbrewery, fish & chip shop, farmer's market, or quaint village strip. If you want to get out of the city and unwind on a windy road that carves through ancient rock and forest, The Georgian Bay Coast Route is your ticket.