The Big Belly Tour—A Complete List of Ontario's BBQ Joints
Delicious BBQ paired with the ideal motorcycle route to get you there. Bring your appetite!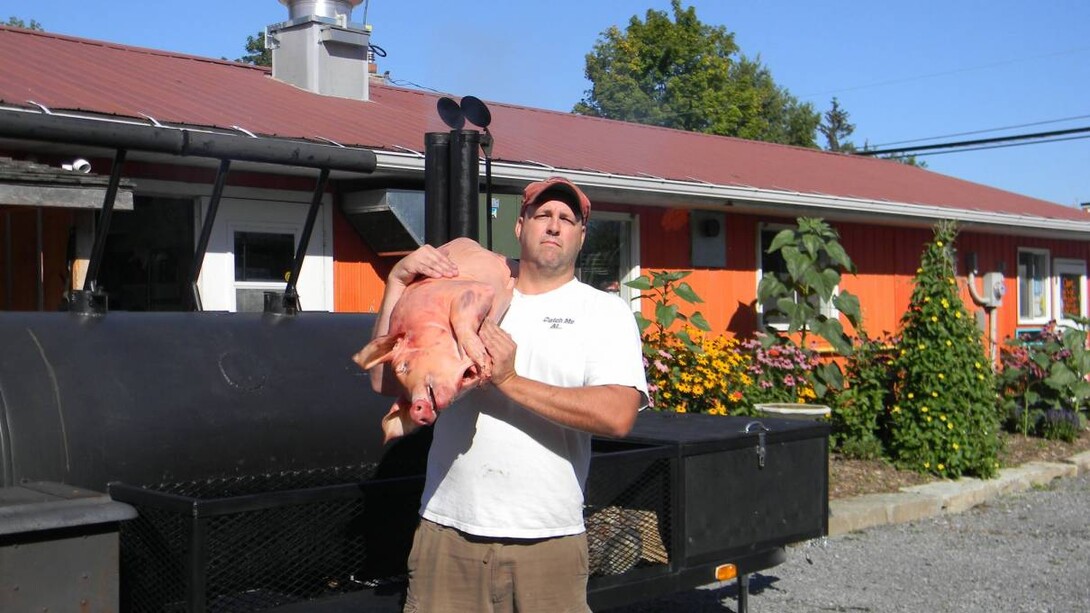 After a long day's ride (or even a short one), nothing hits the spot quite like some good old-fashioned BBQ. If you've ever taken a trip to the southern U.S., you may have visited one of the pit BBQs or rib joints and thought how lucky you are to be in the only place that can actually do BBQ right. Well, guess what? We're doing BBQ up here north of the border and what's more: it's actually better in Ontario! While most places look to the south for inspiration—Memphis and Carolina BBQ styles are well represented—you will find a northern touch in many of the menus of these fine establishments.
This is a big list, totally worthy of Ontario's enviable girth, so we're going to need a lot of help finding the very best in the province. Let us know your favourite BBQ joints to stop in at while riding in Ontario.
Click here to jump to the top of the Southern Ontario List
Northern Ontario
Timmins
Recommended Route: The Great Legends Tour
Get Ribbed Smokehouse & BBQ Pit 
A family-owned business where "authenticity takes time," Get Ribbed serves delectable meats cooked to perfection in their custom-built Texas smoker (the only authentic fruitwood-smoked southern BBQ joint in Northern Ontario). Located right on the Mattagami River in beautiful Timmins, it's the ideal spot to pull over and refuel the belly.
North Bay
Recommended Route: The Lake Temiskaming Tour
Cecil's Brewhouse & Kitchen
This local drinking hangout has been transformed into a top-notch restaurant and pub located on the shores of Lake Nipissing, right there in downtown North Bay. An ideal stop for a group ride lunch or dinner. Or start the day off with their famous brunch. The Back Ribs and Chicken is a sure bet, but check out whatever they have on special. 
Sudbury
Recommended Route: The Georgian Bay Coastal Route
JD Southern Smokehouse
This classic smokehouse on Paris St features a range of southern cuisine and BBQ, including lighter fare like wraps and salads - every single one featuring smoked chicken. The brand is strong with this one. You definitely won't leave hungry.
Cochrane
Recommended Route: The Great Legends Tour
JR Bar-B-Q
Fall-off-the-bone ribs just off the Trans-Canada. This Tex-Mex-themed resto also does good chicken. Large portions ensure you'll leave with a full tummy. 
Sault Sainte Marie
Recommended Route: The Grand Algoma 
Smokey's BBQ Pit and Patio 
Located right in downtown Sault Ste. Marie with a patio and smoker on site, this is a perfect destination for the weary traveller looking to get their fill of BBQ and beer. 
Service Grill Wings & Steakhouse
Traditional pub serving pizza, ribs, wings, and all the usual comfort food at affordable prices. Check their Facebook page for specials and evening entertainment.
St. Joseph Island
Recommended Route: The Grand Algoma 
Tilt'n Hilton Steakhouse & Beverage Co.
Acclaimed as an Island staple, it's a great place to grab a steak while cruising Algoma Country. They've got a diverse menu (including homemade fries and fresh fried fish) and a homey atmosphere.
Kenora
Recommended Route: The Nor' Wester
Log Cabin Tavern
Located on Rabbit Lake Road, just north of Kenora city centre and beautiful Lake of the Woods, this casual bar and restaurant has a choice menu with tasty daily specials. A perfect stop on a long Northern Ontario ride. 
Thunder Bay
Vermilion Bay
Recommended Route: The Nor' Wester
Buster's BBQ
Just west of Vermillion Bay on Highway 17 you'll see the signs (with moose antlers in the logo) for a place called Busters Barbecue. You may think your eyes and stomach are getting the best of you, but this is actually a really amazing BBQ restaurant way up north. With a Canadian twist on regional southern barbecue, this award-winning restaurant has been featured on the Food Network and has been winning top awards for almost 10 years. People come from all over to fill up on ribs and brisket and bring home some of the best sauces. Perfect stop for a day cruising in Ontario's Northwest. 
Click here to jump to the top of the Northern Ontario List
Southern Ontario
Leamington
Recommended Route: Cruise the Coast
Ray's Ribhouse
Classic rib house in Leamington with solid specials like Wednesday's 1/2 rack of ribs for $10 and Thursday's $5 wings. Check the restaurant for details and different specials throughout the year.
London
Recommended Route: Visit Middlesex Route
Smok'in Joe's BBQ
Excellent affordable BBQ joint known for its fast and friendly service. Lots of solid choices on the menu including the Z-man burger which comes with pulled pork and creamy garlic sauce. Great spot to stop in and fuel up for a ride.
St. Thomas
Recommended Route: Experience Elgin County
St. Thomas Roadhouse
The best pulled pork sandwich in St. Thomas. Perfect place to watch the game and unwind from a day's riding in Ontario's Southwest. 
Charing Cross
Recommended Route: Ride the Windsor Essex Peninsula
Traylor Parkers
Ontario BBQ done the Texas way this popular spot is getting a lot of love from meat lovers across the province. Check out their smoke-fried chicken wings. 
Windsor
Recommended Route: Ride the Windsor Essex Peninsula
Smoke & Spice
Recently moved to a larger location to accommodate the number of locals coming back for more, this place is solid in all respects but the smoked meat is the real draw. Pulled pork, smoked wings, ribs, and impressive sides, but most of all you've got to try the pulled pork sundae. 
Cambridge
Q BBQ Public House
As Cambridge's first smokehouse BBQ, this place has earned a reputation for serving up the most mouthwatering platters in the region. From the St. Louis Side Ribs to the Pulled Pork Platter, you can't really go wrong here. 
Kitchener-Waterloo 
The Crazy Canuck
Casual place with a unique take on favourite comfort foods. Suitable for both vegetarians and carnivores. Features are the homemade sauces, smoked meat poutine and a killer pulled pork sandwich.
Kentucky Bourbon & BBQ
Local fresh smoked meats and delicious sides. Load up on a Kentucky's meat platter, jambalaya, or melt-in-your-mouth fried chicken.
The Lancaster Smokehouse
This Kitchener favourite has a simple mission: keep it local, keep it fresh and homemade. All of their locally sourced meat is smoked over 100% Hickory hardwood using their own recipes for the rub and sauces. They use only the freshest ingredients and nearly all of the menu is made from scratch. Open Monday to Saturday. Watch for regular blues nights. 
Barrie
Recommended Route: 5-Hour Lake Simcoe Tour
Big Bone BBQ & Wicked Wings
These guys have been at it for 20 years and have racked up over 50 BBQ championships for ribs, chicken, and sauces. 
Collingwood
The Smoke
Offering traditional fare like smoked ribs, beef brisket, and pulled pork alongside more adventurous numbers like smoked trout, smoked balls of meat, smoked beef short ribs, smoked portabella mushroom burger, wild boar bacon, and smoke banana ice cream all in a casual atmosphere. The Smoke experience isn't complete without taking some time out on their patio to relax and wind down from a day's ride. 
Midland
Recommended Route: Georgian Bay Coastal Route
The Hungry Hustler
These guys specialize in Caribbean and Southern favourites, and some serious signature beef ribs that are smoked low and slow for over 8 hours. Customers rave about their amazing burgers and hand-battered fish.
Port Elgin
Recommended Route: Along the East Coast of Lake Huron
Allan's Fireside Grill
Ideal spot for BBQ just off the shores of Lake Huron in downtown Port Elgin. Monday and Tuesday it's Rib Night, Wednesdays are 1/2 price wings and Friday offers a steak special. Relax on the patio or in the cooler months you can warm up next to the fireplace.
Grey County
Recommended Route: Saints & Sinners Loop
Rusty's Bar & BBQ
The perfect place to break from an afternoon cruise in the Blue Mountain area. Rusty's is right at the base of the mountain, has a nice wooden decor, and most important of all: the brisket sandwich is huge and really tasty. 
Brantford
Recommended Route: Cruise the Coast
Camp 31
With their sister restaurant operating out of Alabama, you can count on Camp 31 to serve real southern bar-b-que. Includes road-trip-worthy ribs, tremendous sides, and homemade iced tea. This is one of the best BBQ joints this side of the 49th.
Zander's Fire Grill & Brew Lounge
This place has something for everyone. Specials throughout the week including all-you-can-eat ribs on Wednesdays and a full Prime Rib dinner on Friday and Saturday nights. Kids eat free on Sundays.
Strodes BBQ & Deli
Feeding the meat lovers of Brantford since 1937, Strodes has become famous for its sausages and smoked kielbasa. They do everything from pulled pork to chicken schnitzel to lasagna. Everything is made fresh on-site. 
Hamilton
Recommended Route: Snake Road—Best in the South
Memphis Fire Barbeque
Serving southern BBQ and 50's drive-in classics, this is notable for its breakfast menu—try the Sausage Bacon Biscuits. The perfect way to start off a day before exploring the renowned riding roads between Winona and Lake Erie.
Saltlick Smokehouse
Fresh, local, beautiful BBQ done up right. Think slow-smoked local pork shoulders, jerk chicken tacos, and 16-hour brisket, plus soulful sides that really stand out.
Milton 
Recommended Route: Forks of the Credit
Memphis BBQ & Wicked Wings
Long-time source for Southern BBQ in the area. Winner of over 50 BBQ championships for ribs, chicken and sauces. Great food and lots of it. You will leave satisfied. 
Niagara Falls
Recommended Route: Niagara Parkway
Brasa Brazilian Steakhouse
This is the place to go for a special dinner on a night out in the Niagara Region. With unlimited portions and 12 succulent cuts of meat carved at your table and a huge buffet, you can't go wrong here. The best cuts are the ribeye and beef bottom.
St. Catharines
Romby's Tavern & Smokehouse
Award-winning cherry wood smoked chicken wings, 12-hour smoked brisket, and rave reviews from customers: this place is definitely worth a stop.
Bowmanville
Hanc's Fries
Chip truck serving fries since 1971. Kick it up a notch with the rack of smoked baby back ribs or a pulled pork grilled cheese.
Orangeville
Grand River Chop House
A casual dining experience in Grand Valley, just outside of Orangeville. Using all fresh ingredients and local meats has made it a very popular spot among the locals. The best is their hormone, antibiotic and additive-free, dry-aged for 21 days steaks. Serving an ever-evolving choice of cuts. 
Oshawa
Haugen's Chicken & Rib BBQ
The inspiration for putting this list together, this is THE place for motorcycling and BBQing in Ontario. With a huge weekly motorcycle cruise-in every Thursday at 5 pm, riders have been coming to this iconic landmark to meet and eat with friends for years. If you haven't been before, it's worth planning a trip around. As for the food, the name say it all. But why choose one over the other when you can have the best of both worlds with a Chicken & Rib Combo?
Stuttering John's Smokehouse Bar & Grill
Nice little bistro in the 'schwa with good prices for good BBQ. Favourites are the pulled pork sandwich for lunch or the BBQ ribs for dinner.
port perry
Horn Dawgs
After three years of winning so many awards at the various ribfests around the province, they've finally opened up a restaurant in Port Perry. Serving killer ribs, wings, sandwiches, sides and award-winning sauce, this place is a big favourite among the locals. Open Tuesday through Saturday.
Kawartha Lakes
Recommended Route: Where to Ride in the Kawarthas
St. Dave's Diner
Voted Lindsay's favourite Breakfast, Lunch, and Family Restaurant, their ever-changing menu feature familiar standby's alongside unique creations like the "Revved-Up Rostis." A perfect side-of-the-road stop.
Keene
Recommended Route: Where to Ride in the Kawarthas
Muddy's Pit BBQ
With motorcycle parking, live music, amazing slow-cooked ribs, pulled pork, beef brisket, and specials throughout the season, this may be our favourite choice for Ontario BBQs. Only open from April to the end of December so make sure to get there as often as you can this season! 
Ottawa
Recommended Route: Ride the Ottawa Valley
The Smoque Shack
Big portions of top-quality Canadian meats done right using Quebec maple and Ontario applewood in the smoker. From Jamaican jerk to Tennessee chicken they pay delicious homage to BBQ's roots. Favourite: Pulled Pork Sandwich. 
Fatboys
This is a great place to watch the game and eat some dry-rub ribs. They also have an All You Can Eat special every Monday from 4 pm till close.
Lake St. peter
Recommended Route: The Fall Loop
JC's Smokehouse
Serving the very best smoked meat this side of Algonquin Park, JC's is on the winding (and very fun) Highway 127 between Maynooth and Lake St. Peter. The focus here is on the meat—and it really shows—but an expansion to the menu to add more sides is in the works. 
Dorset
Recommended Route: The Highlands Fall Loop 
Trading Bay Dining Company
Brisket, ribs, and pulled pork in a homey atmosphere with a great waterfront view. Try their signature Dorset Sweet and Smoky BBQ sauce.
MARMORA
Recommended Route: Riding and Relaxation
Iron Rooster Rotisserie & Grill
A chicken joint that knows what it's doing, they specialize in rotisserie chicken smothered in great sauces and a formidable sandwich and burger menu that keeps people coming back.