Have You Experienced Canada's Epic Figure 8 Road Trip?
Add the Heart of Canada Touring Route to your bucket list. Crossing two provinces and running nearly 1500 km, this loop offers road trippers the chance to experience Indigenous mounds, epic waterfalls, and loads of historic towns.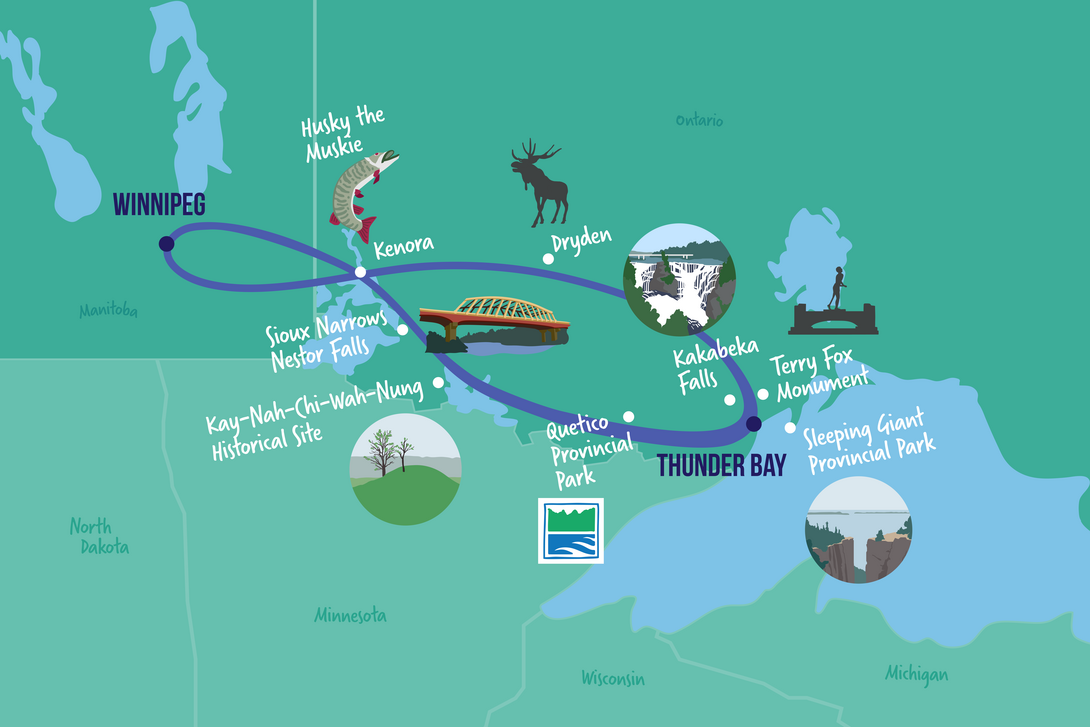 The Heart of Canada Touring Route is a bi-provincial, regional route in Central Canada spanning from Winnipeg in the west to Thunder Bay in the east. Equidistant from major cities and east and west coasts in Canada, it is a region usually only explored by travellers crossing the country. That's a shame because its remoteness is its charm—and main appeal. The route has a lot to offer the whole family and it's the perfect opportunity for an RV, motorcycle, or car trip to rediscover the great outdoors in Northwestern Ontario.
What is the heart of Canada touring route?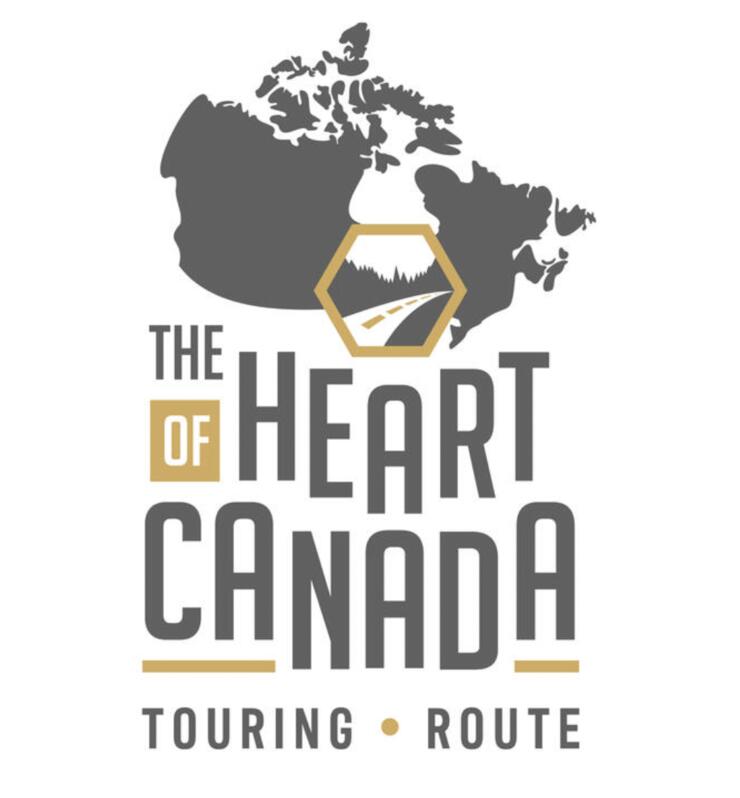 The 1,500-kilometer route is a joint initiative of Destination Northern Ontario and Travel Manitoba. It's roughly in the shape of a figure 8 and can be driven in either direction—the route intersects near the lakefront town of Kenora.
Starting in Winnipeg, for example, travellers can take Highway 1 to the Ontario border where it turns into Highway 17. Continue on the Trans-Canada Highway as it turns south onto Highway 71 just past Kenora and skirts the eastern border of Lake of the Woods. Just before the US border, turn left onto Highway 11 just west of Emo and take that all the way into Thunder Bay. The return leg takes you westward on Highway 17 out of Thunder Bay to West Hawk Lake before hooking up on Highway 44 for the final loop back into Winnipeg.
Begin the figure 8 in Winnipeg or Thunder Bay
If you are coming from Winnipeg, your first stop is in Kenora. After your photo-op with Husky the Muskie, why not spend the afternoon at Garrow Park Beach for some swimming and hiking on the nearby trails. The Muse Lake of the Woods Museum has over 25,000 artifacts that tell the story of Kenora and the region, while the Lake of the Woods Brewing Company has an excellent taproom that's a great place to unwind after a day of exploring. If you are RVing or camping, Anicinabe RV Park and Campground is a stone's throw away. 
Next Stop: Sioux Narrows - Nestor Falls
Continuing east out of Kenora, you soon turn onto Highway 71, one of the top 30 motorcycle roads in Ontario. This road winds through wetlands, lakes, boreal forest, and rock cuts—quintessential Canadian Shield geography. Lake of the Woods is prime cottage country that offers some of the best fishing in the world, so if you are an angler, you might want to check out the Northern Ontario Sport Fishing Centre and spend some time at Rushing River or Sioux Narrows Provincial Parks. There's lots to explore in Sioux Narrows - Nestor Falls, too.
An afternoon at the Manitou Mounds
Also on Highway 71 is Kah-nee-chi-wah-nung (also known as Manitou Mounds), a National Historic Site and educational opportunity for the kids. Aboriginal peoples have been meeting here for centuries and the site contains evidence of Ojibway and ancient Aboriginal settlements dating back over 5000 years to the time of Canada's earliest inhabitants. Here's a guide to visiting the mounds.
On to Thunder Bay and beyond
Highway 11 takes you past the large Quetico Provincial Park into Thunder Bay, the eastern tip of the tour. Be sure not to miss the moving Terry Fox Memorial with a lookout over to the Sleeping Giant. Fort William Historical Park is another important Canadian historical landmark. At this trading post in the late 18th century, Aboriginal Peoples met and traded with representatives from the North West Company who had made the annual voyage by canoe up the river systems from as far away as Montreal. 
In addition to the historical settlements, the park has a large amphitheatre for musical events and an observatory for stargazing. For the full experience, you can even plan to sleep in the fort in one of the renovated and modernized accommodations previously used by North West senior clerks. If you are RVing or camping, you can also stay at the RV and Tenting Campground in the park for as little as $25 for unserviced and $35 for serviced sites. Finally, before you leave Thunder Bay, if you enjoy hiking, there are over 100 kilometers of trails in Sleeping Giant Provincial Park. The landform is renowned for its shape when viewed from Thunder Bay, but up close it offers wildlife viewing, birdwatching, and breathtaking views of Lake Superior and the surrounding area. Don't miss the historic mining community of Silver Islet at the south end of the park. 
Begin the return loop with a stop at Niagara of the North
As you start your way back west, Kakabeka Falls is worth a stop. It is the second-highest waterfall in Ontario and is referred to as Niagara of the North.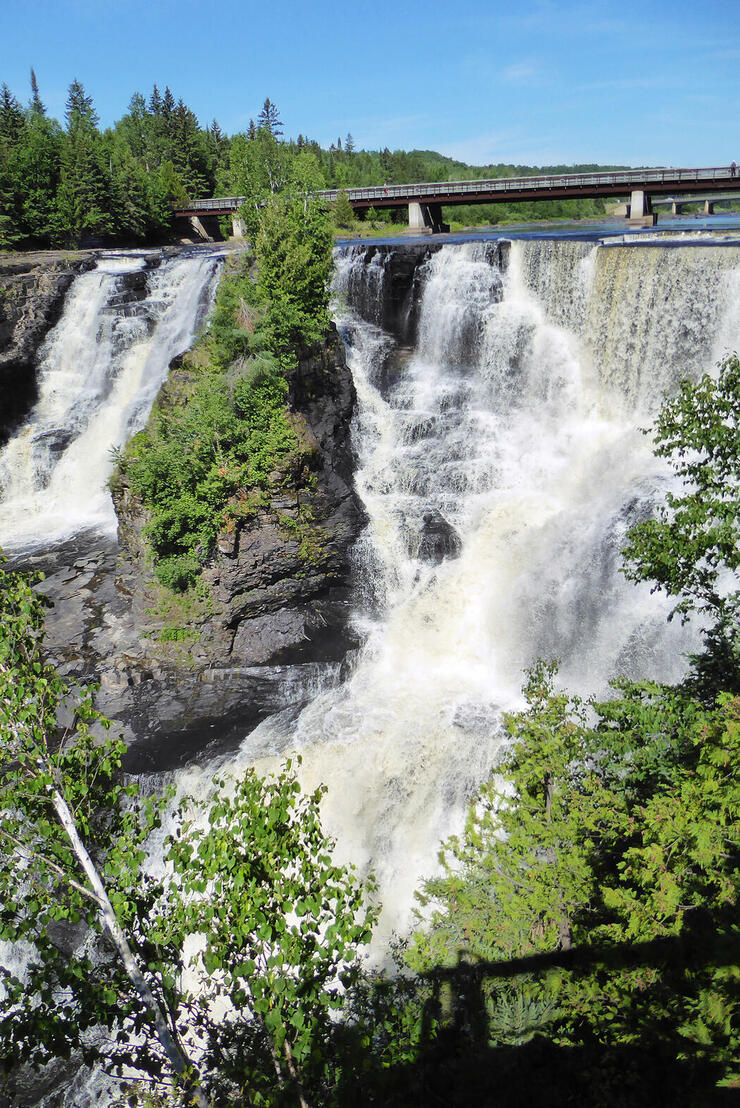 Then settle in for a bit of a drive through some of Canada's most remote and pristine wilderness. One of the things I love about being this far north is the sensation of open space and big sky, the perfect antidote to the confinement we have all endured through the past year.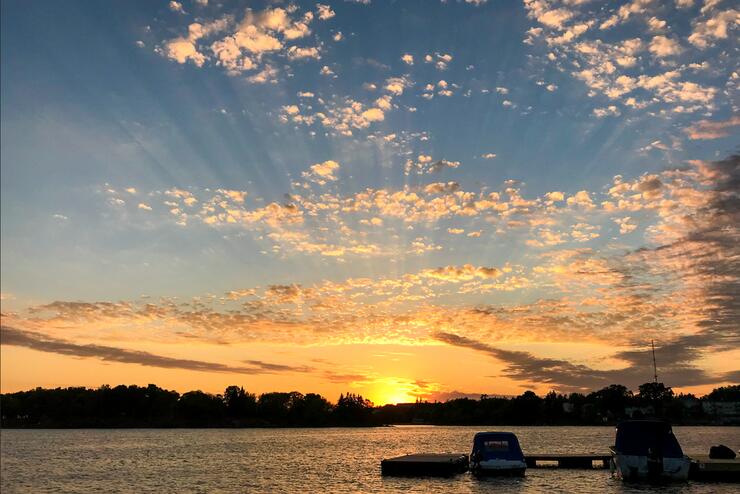 Discover Dryden
When you are ready to stretch your legs, Dryden has a good museum, and lots of places to stay if you're looking to spend a night or two. After exploring these top things to do in Dryden, you can get excellent coffee and baked goods at Comfort Table Bakery just a little further at Vermillion Bay. Soon you will be passing through Kenora again, but before long you turn right onto Highway 44 for the final leg back into Winnipeg. 
An epic Ontario road trip 
I've described this tour as starting and ending in Winnipeg, but it's equally great starting in Thunder Bay, which is not as far as you may think. In fact, last year my wife and I drove out to Thunder Bay from Montreal in four days, camping along the way. If you're coming from the east, you get to add the magnificent drive across the top of Georgian Bay and Lake Superior to your vacation. The lookouts alone are worth every kilometer!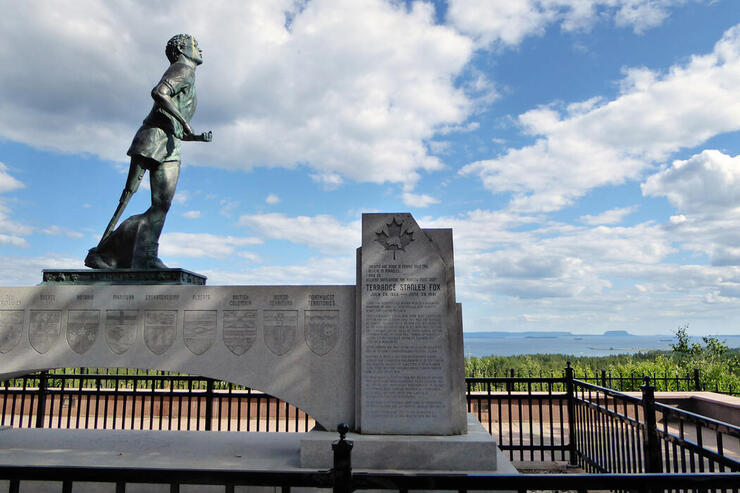 This summer I am returning on my motorcycle to experience it all again. Whether you are coming by motorbike, car, or RV, from Winnipeg, Toronto, or the United States, the Heart of Canada Touring Route is an ideal summer vacation destination.