Algoma's Highway 129
No frills, no extras: this remote 200-km stretch is all about the riding. It's roads like this that motorcycles were built for.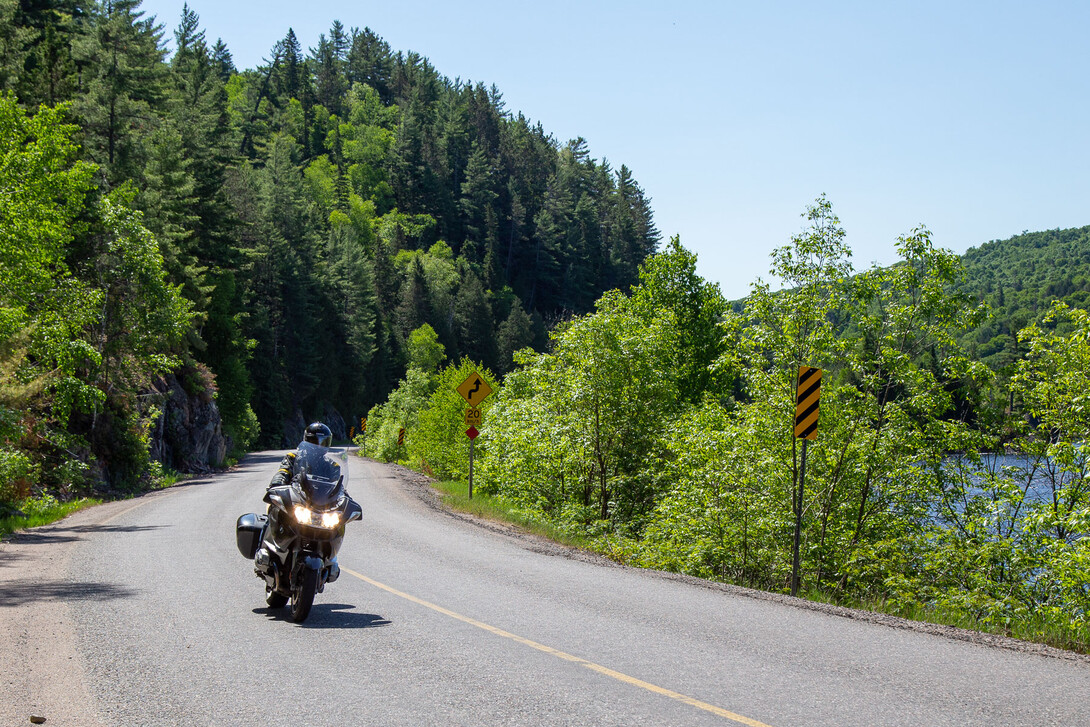 Number five on the list of Ontario's best motorcycle roads and definitely one of my personal favourites, Highway 129 from Thessalon to Chapleau ticks off so many boxes on the "reasons to ride it" survey: it's long, it's remote, virtually no traffic, and of course, it's twisty.
Where is it?
Located in the rugged landscape of Ontario's Algoma Country, 95 km southeast of Sault Ste. Marie, this 200-km thriller is such an awesome ride that two of Algoma's preplanned motorcycle touring routes, The Grand Algoma and the Island North Tour, both partake in the twist fest.
The Ride
Turning north from Highway 17 at Thessalon, you're gently warmed up for what's to come courtesy of some big sweepers and excellent pavement. As the road dips in to the river valley, the landscape closes in around you, the turn radius decreases, and the frequency increases. Soon you are zigzagging between the river and a rock face.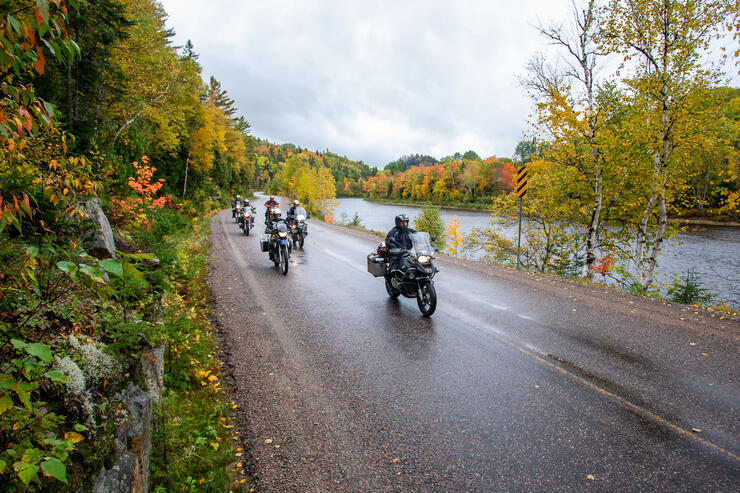 The meat of the good times happens in the first half of the ride. From around the midpoint on, the road straightens and aims for the horizon. Here it's less about the turns and more about the remote expanse of Ontario's north. Two hundred kilometres in, and at the road's end you have the options of continuing west along Highway 101 and the Grand Algoma to Wawa, go east to Chapleau and beyond, or turn around and repeat. 
Road conditions go from excellent to good, with a few bumpy sections. As is typical in the north, watch out for sand in early season. The spacious shoulder at the south end soon shrinks to none. Around the halfway point the Island North Tour departs Highway 129 on to 556 and heads west. Keep in mind that Highway 556 is a gravel road for around 80 km before you get back on pavement.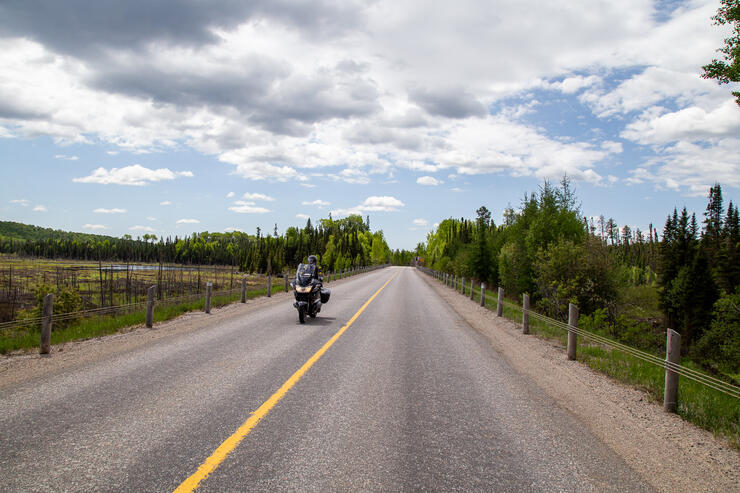 Fuelling Up 
A wise man once told me: "Never pass up a chance to fill your gas tank." There are few places these words apply to more than Northern Ontario, where gas pumps can be few and far between. While Thessalon offers all amenities that make for a pleasant visit, what it does not offer is gas. Whether you are coming from the west or east, it is wise to fill up along Highway 17 prior to churning north. That said, fuel is available along Highway 129. You can top up your tank 35 km north of Highway 17 at Tunnel Lake Trading Post, then again around km 95 at Blackcreek Outfitters and Aubrey Falls Trading Post and Resort. Chapleau has everything needed to refuel both rider and machine.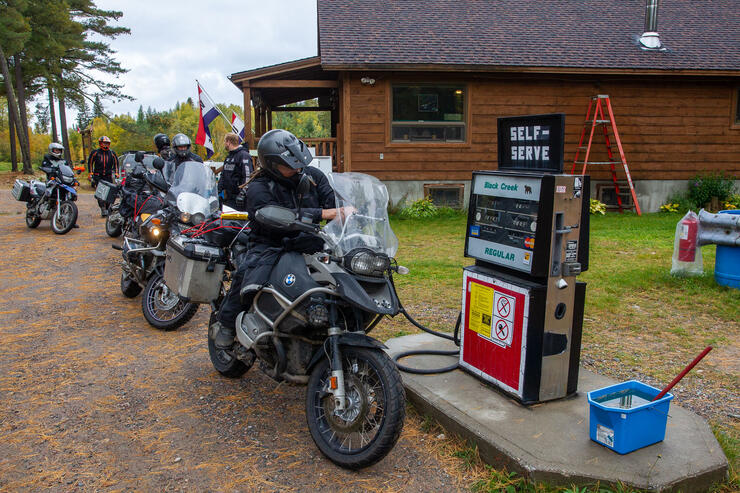 Stay and Eat
If your adventure requires more time than a day, you can find a room in Thessalon or Chapleau, but in between the accommodation options are of the cabin sort. Blackcreek Outfitters, Aubrey Falls Trading Post and Resort, Wakomata Lake Cottages, and Snowshoe Camp all offer a variety of cabins in all sizes. Aubrey Falls Trading Post has a licensed restaurant serving breakfast, lunch, and dinner. You'll find more culinary options in Thessalon and Chapleau.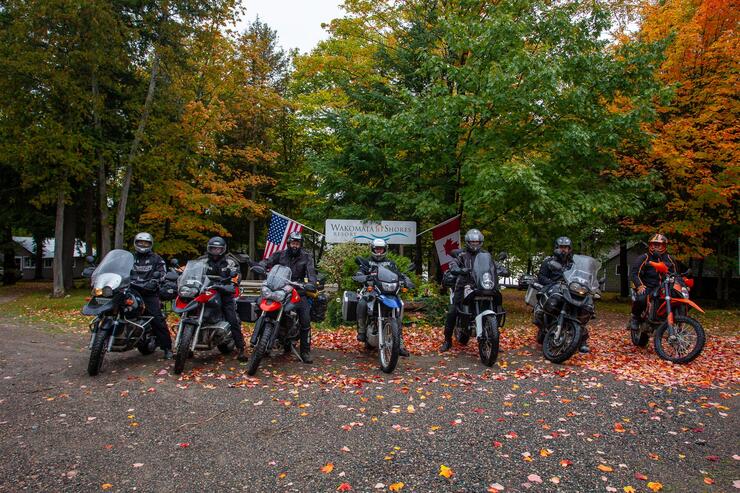 This is a rider's road, and while the scenery is spectacular from the seat of your bike, the stopping options are few. The ride's most memorable encounter might just be the people that live and make their livelihood in these remote parts. So be sure to stop and chat awhile, or better yet, stay a bit.
Most roads offer a way to a destination. Algoma's Highway 129 north is a destination all of its own. Its place on the list of Ontario's best motorcycle roads is well deserved, and it's definitely one of Ontario's must-rides.
Check out our series on Ontario's Best Roads: