7 Breathtaking Mountains in Ontario
All-seasons adventures await in the province's almost-alpine.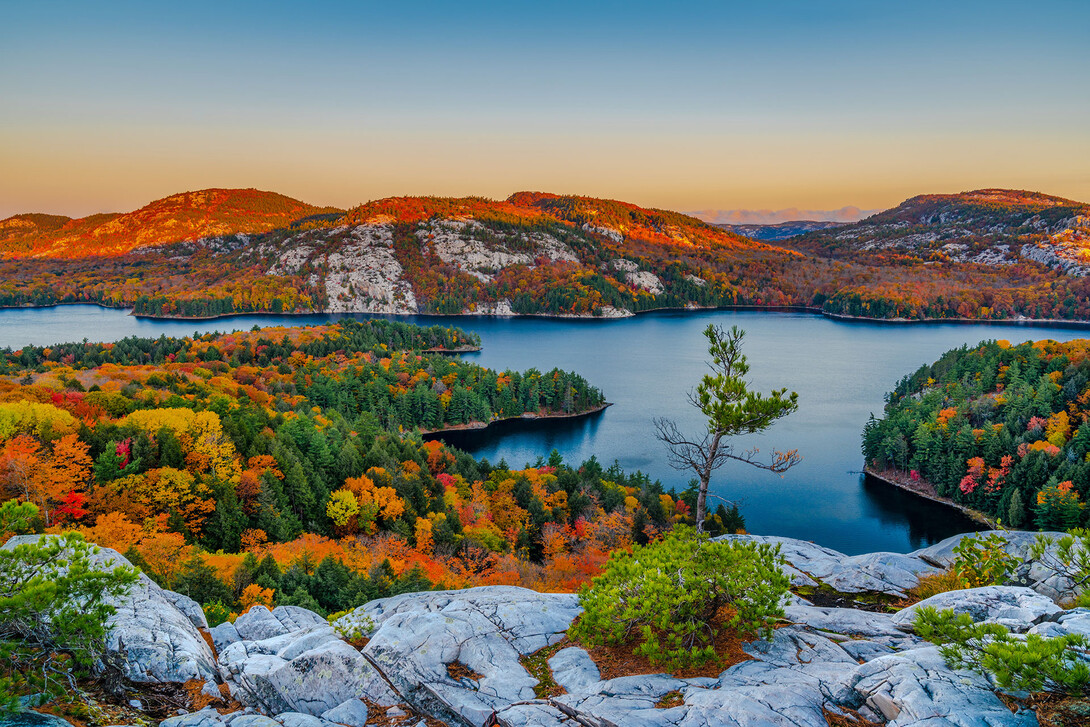 Believe it or not, there are mountains in Ontario. Ontario's mountains are the remains of the Canadian Shield, the worn-down leftovers of the oldest—and once the tallest—mountains on the planet. As a result of eons of erosion, mountains in Ontario are rounded and undulating, without the dramatic serrated summits of the Canadian Rockies or the Himalaya. It goes without saying that the largest mountains in Ontario have a mere fraction of the elevation of alpine summits elsewhere—but that doesn't mean they're not worth exploring. So grab your hiking boots, mountain bike, skis or canoe, and use your imagination to see evidence of the former cloud-raking glory of Ontario mountains.
Our list of Ontario mountains focuses on Northern Ontario (with a notable outlier). Spend any time up here and you'll no doubt come up with a definitive answer to the question, does Ontario have any mountains? Absolutely!
Check out this short list of Ontario's tallest peaks, including year-round adventures for all outdoor enthusiasts—from hiking to skiing, canoeing and mountain biking.
La Cloche Mountains
Of all the mountains in Ontario, this range rising out of the crystalline waters of Georgian Bay, about an hour's drive from Sudbury in Killarney Provincial Park, is perhaps the most spectacular. The La Cloche Mountain Range is defined by its unique quartzite geology, which imparts a glistening white sparkle to the bare summits of Silver Peak and the Crack, both of which are accessed via challenging hiking trails off of Highway 637, near the George Lake Campground.
Killarney is also one of Ontario's most popular backcountry canoeing destinations and lucky paddlers can reserve a campsite on OSA Lake, which is surrounded by the austere La Cloche hills. Killarney inspired some of Canada's greatest landscape paintings. The area around Grace and Nellie lakes, part of a long-weekend canoe route starting just off of Highway 6, is particularly iconic.
Algoma Highlands
The wild terrain just north of Sault Ste. Marie represents some of the world's oldest mountain ranges. Spend some time exploring these magnificent highlands if you've asked the question, where are the mountains in Ontario? The Algoma Highlands is an all-seasons playground that offers great opportunities for mountain biking, cross-country and backcountry skiing, hiking, trail-running and canoeing.
Maple Mountain
Wondering what is the largest mountain in Ontario? The answer is Ishpatina Ridge, a remote shoulder of highlands towering 660 metres above sea level in the northwestern corner of Ontario's Temagami region. Ishpatina is stunning to view from the remote Lady Evelyn-Smoothwater Provincial Park, but the hike to the summit is underwhelming compared to the trek to other Ontario mountains.
Located just to the east, Maple Mountain offers superior views and a more gradual climb on a well-established, 3-kilometre (one-way) trail from Tupper Lake. It's a popular day hiking destination for wilderness paddlers looking to stretch their legs on a climb to the rooftop of Ontario.
Plan a backcountry canoe trip to Maple Mountain with the assistance of a local outfitter like Smoothwater Outfitters or Temagami Outfitting Company. (These great outfitters can help you out with a canoe trip to Ishpatina Ridge, too).
Get an aerial view of Maple Mountain on a custom sightseeing flight with Lakeland Airways.
Maple Mountain features an abandoned fire tower, part of a network of structures across northern Ontario. You can get a closer glimpse of a restored fire tower in the town of Temagami, located just east of Highway 11 on Caribou Mountain.
Sleeping Giant
Are there any mountains to climb in Ontario? From rock and ice climbing to hiking, the Thunder Bay area of Northwestern Ontario has plenty! Sleeping Giant is a case in point. This monolithic landform sets an iconic backdrop for the city of Thunder Bay. Great hiking trails are accessed via Highway 587 and the community of Silver Islet. It's an epic full-day hike to the top of the Giant, where you'll experience some of the best views in Ontario.
Blue Mountains
The Blue Mountains represent a younger geological era, featuring the weathered limestone formations of the Niagara Escarpment, near Collingwood. Located an easy drive from the GTA, it's no surprise that "Blue" is Ontario's premier mountain resort.
Come for the great downhill skiing and nightlife, as well as outstanding cross-country skiing and mountaintop ice skating. In the summer months Blue Mountain offers some of Ontario's finest cross-country mountain biking and gravel riding on quiet backroads.
Algonquin Highlands
Ontario's most popular backcountry destination is part of a larger landmass known as the Algonquin Highlands, an immense area of ancient hills and pristine lakes that give rise to many beautiful waterways. It's no wonder that Algonquin Provincial Park is a canoeing dreamscape, with countless routes for all levels of paddlers.
But the area also boasts great mountain biking, hiking and backpacking, as well as cross-country and backcountry skiing during the winter months—all thanks to some of Ontario's best mountains.
Laurentian Mountains
Quebec's well-known Laurentian Mountains nudge into Ontario along the scenic drive down Highway 17 from North Bay to Ottawa. The town of Mattawa is your gateway to this ancient mountain range, with adventure options for all seasons of the year.
Discover Ontario's diverse mountains for yourself
Who's to say there aren't any mountains in Ontario? Look north to find ancient highlands and unique outdoor experiences in all seasons of the year.