Best Beaches for every occasion in and around Sault Ste. Marie
Check out these 6 sandy beaches near the Soo!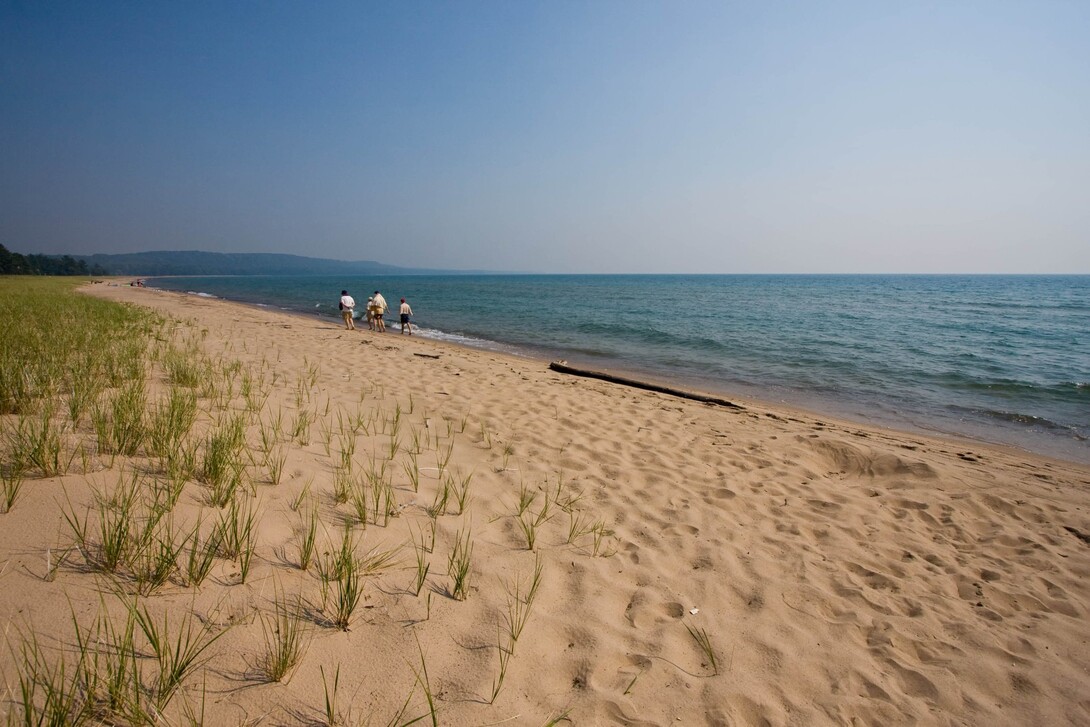 It's no surprise that a city located in the heart of the Great Lakes boasts access to some of Canada's finest beaches. Sault Ste. Marie is practically surrounded by water, from the miraculous, ocean-like expanses of Lake Superior and Lake Huron to a myriad of inland lakes, which bedazzle a rugged landscape of forests and hills. The community doesn't take its abundance of waterfront for granted: locals and visitors alike can enjoy easy access to spectacular sand beaches within a short drive of the city centre, each with its own attributes to appeal to swimmers, sunbathers, families and watersports enthusiasts. Here's a guide to the best beaches in Sault Ste. Marie.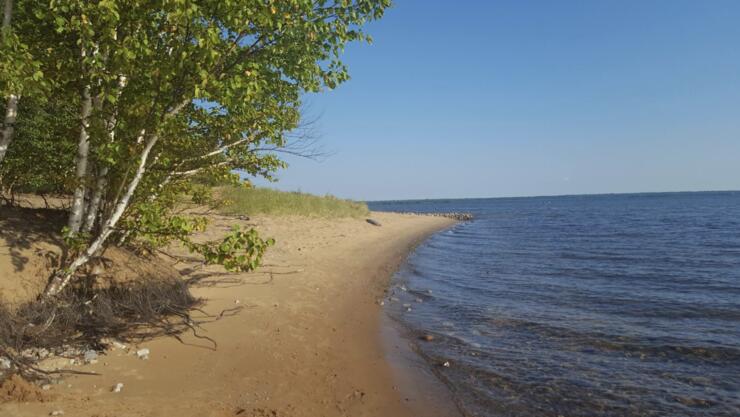 Visitors to Sault Ste. Marie can't help but be envious of this massive expanse of brown-sugar sand within city limits. Pointe Des Chenes Park is located at the eastern end of Lake Superior, where the greatest expanse of freshwater in the world narrows into the outflowing St. Marys River, near the Sault Ste. Marie International Airport. Clear, shallow water with a sandy bottom makes it ideal for family swimming; the water here tends to be warmer than other Lake Superior swim spots, as well. Pointe Des Chenes is a fantastic place to walk the beach and gaze offshore at the freighters moving through the St. Marys River. It's also a good destination for watersports like standup paddleboarding.
Besides great swimming, sunbathing and sandcastle-building, Pointe Des Chenes also features park space for land-based activities like a new nine-hole disc golf course and four beach volleyball courts to be installed in the summer of 2022. The beach is conveniently located on a city bus route for easy access in the summer months.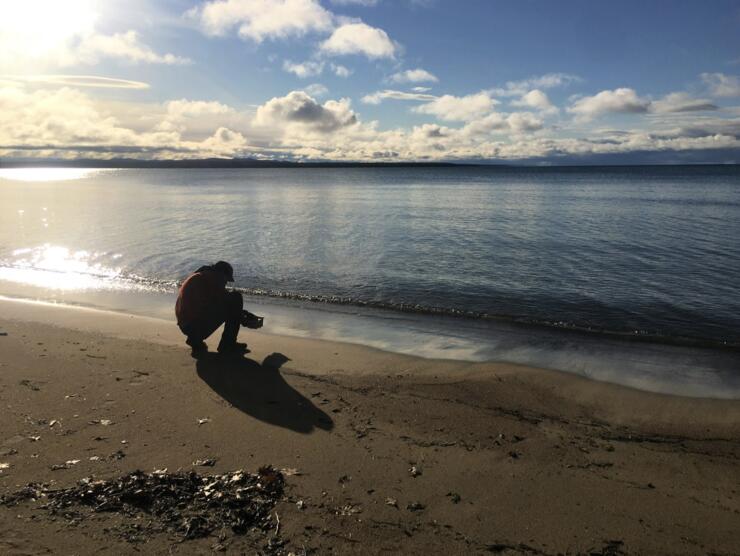 A broad arc of sand and swaying beach grasses abutted by windswept pine makes up the northeast corner of Lake Superior's Batchawana Bay, located about a 45-minute drive north of Sault Ste. Marie on Highway 17. Batchawana Bay Provincial Park features drive-in picnic sites with access to a huge beach and shallow water with a sand bottom for great swimming. The park is open from mid-May to October for day use only, featuring a visitor centre with washroom facilities. Batchawana Bay is sheltered from Lake Superior's expanse of water, creating some of the warmest swimming conditions on the "big lake".
No day trip to Batchawana Bay is complete without a stop at the Voyageur's Lodge and Cookhouse, a restaurant, gift shop and motel serving homemade, Canadian-inspired fare as well as the self-proclaimed world's best apple fritters. The facility also offers parking and beach access on a first-come, first-served basis.
The BEST beachcombers beach: Pancake Bay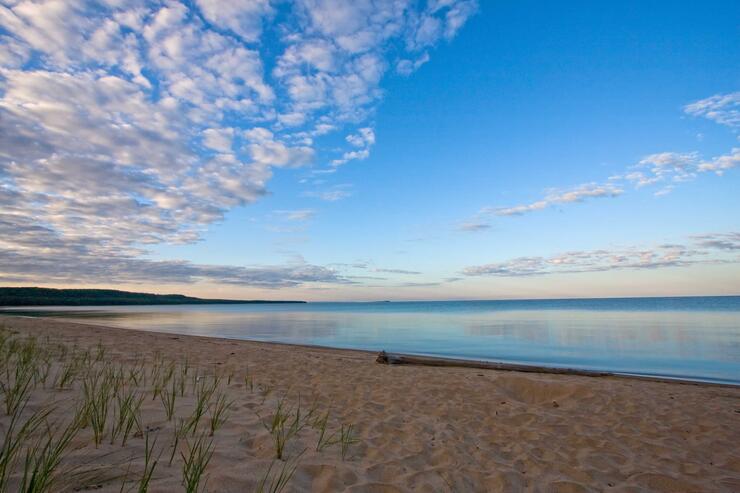 Pancake Bay Provincial Park is your spot if you're looking for an impeccable, photogenic sand beach that makes Lake Superior feel like the Caribbean. Over three kilometres of fine sand, located about an hour north of Sault Ste. Marie on Highway 17, is perfect for beachcombing, sandcastle-building, or simply slowing down and being mesmerized by lapping waves on the shore. The beach is said to be named by the voyageurs of the Canadian fur trade, who made camp and feasted here on their arduous canoe journey across the country.
The water at Pancake Bay is clear, crisp and refreshingly chill, making it best on hot and calm days. Other Pancake Bay attractions include a 325-site drive-in campground with options for tent camping and RVs, interpretive programs, and several hiking trails to explore the dunes and nearby hills. You're best to book early if you wish to camp.
The BEST camper's beach: Agawa Bay
This vast arc of sand and fine gravel completes the Grand Slam of Sault Ste. Marie's Lake Superior beaches. Agawa Bay is magnificent for its stark contrast of endless beach, watery horizon, and surrounding wilderness of forest hills and bare cliffs. Located on Highway 17, about 1.5-hours north of Sault Ste. Marie, Agawa Bay boasts the largest drive-in campground in Lake Superior Provincial Park with stunning waterfront campsites for tents and RVs. Day users are also welcome, and the beachcombing here is epic, with awe-inspiring, wave-worn rocks and driftwood. You can walk for many kilometres, from a polished rocky point at the south end to the mouth of the Agawa River, which originates in the depths of the famous Agawa Canyon.
Due to its exposed, open-water conditions, the water at Agawa Bay tends to be cool for swimming, except during heat waves on windless days when it's a refreshing joy. Agawa Bay is also a wonderful place to witness Lake Superior's powerful autumn gales from the safety of shore. The on-site Lake Superior Provincial Park Visitor Centre features interpretive displays to help you and your family learn more about this magical place.  
The BEST picnic beach: Old Mill Beach 
Not all Sault Ste. Marie beaches are located on the Great Lakes. Old Mill Beach on Rock Lake, located about 40 minutes east of the city on quaint and pastoral secondary Highway 638, is perfect for families with warm water, sand and picnic facilities—a perfect rest stop on a scenic drive through Central Algoma. Old Mill Beach is also a wonderful place to launch a recreational kayak or canoe to explore the rich habitat at the outlet of the Thessalon River, which abounds in birds and aquatic wildlife like beaver. Check out this map to learn more about outdoor adventures (including more beaches) in Central Algoma.
The BEST island life beach: St. Joseph Island
Some people are lucky enough to own cottages or live year-round on this bucolic island on Lake Huron's North Channel, located about an hour east of Sault Ste. Marie off of highways 17 and 548. St. Joseph Island is also a wonderful place to visit, with quiet roads, world-famous maple syrup and attractions like Fort St. Joseph National Historic Site of Canada. Both of the island's main communities maintain outstanding public beaches known for warm water and quiet vibes. Check out Women's Institute Park in Richards Landing, which features a sand beach and family-friendly swimming, as well as a picnic area and playground equipment. The Richards Landing waterfront also boasts excellent kayaking and standup paddleboarding. Meanwhile, Forbes Beach and Community Park in Hilton Beach has a marked swimming area and offshore raft, along with change rooms and a boardwalk to the village's marina.