Ride the Wow-Worthy Explorers Snow Tour This Winter
The Explorers Snow Tour makes a great weekend getaway destination or a welcome addition to a regional saddlebag tour.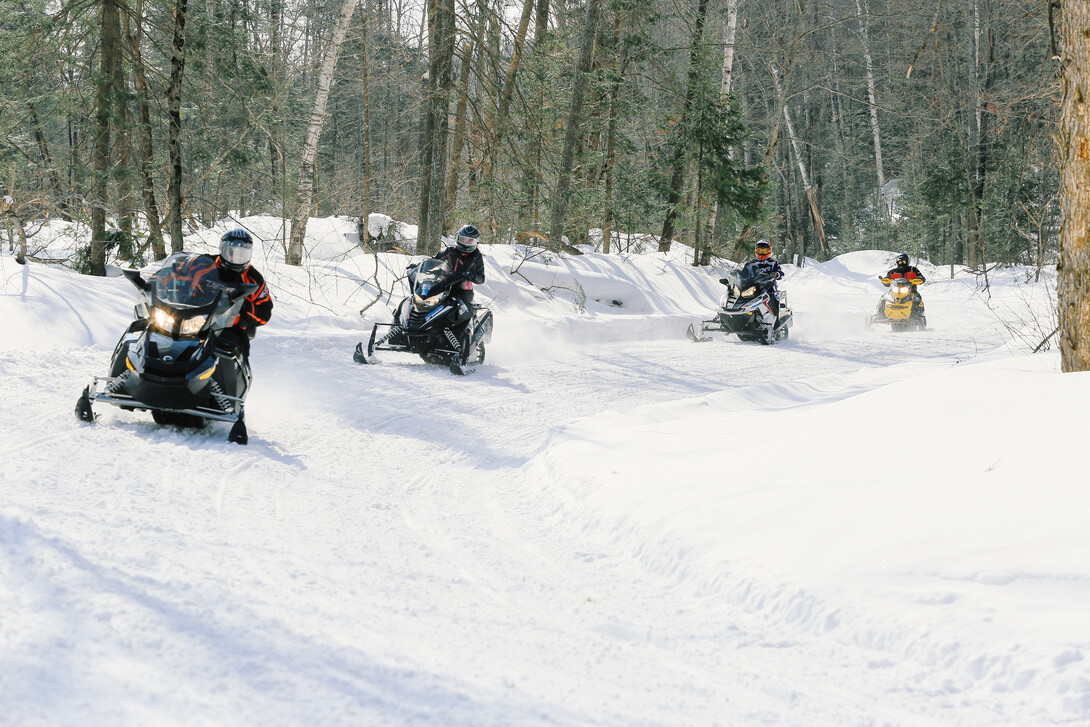 Its very name suggests adventure. The Explorers Snow Tour is a 250-km snowmobile loop that has it all. Located in Northeastern Ontario, in the heart of a snowbelt between North Bay and Mattawa, the Explorers Snow Tour can be accessed from either of these snowmobile-friendly communities in OFSC District 11. 
Developed by snowmobilers for snowmobilers, the Explorers Snow Tour rolls through old-growth forests and rugged Canadian Shield terrain on superb OFSC Prescribed Snowmobile Trails that include wide, sweeping logging roads and utility corridors. But the Explorers Snow Tour delivers even more than exciting trails to ride.
This exceptional loop is marked with distinctive and easily visible Explorers Snow Tour signs to show the way. Since its trails are 99% land-based, riders following the loop have few concerns about major ice crossings. What's more, northerly location, lake effect snow off Lake Nipissing, and the elevation of the Laurentian Mountain Range, combine to bless the Explorers Snow Tour with excellent and reliable snow conditions. Meanwhile, the Explorers Snow Tour, located on the north side of the popular 'Round Algonquin Park (RAP) Tour is an easy add-on for saddle-baggers looking for an outstanding extra day of riding.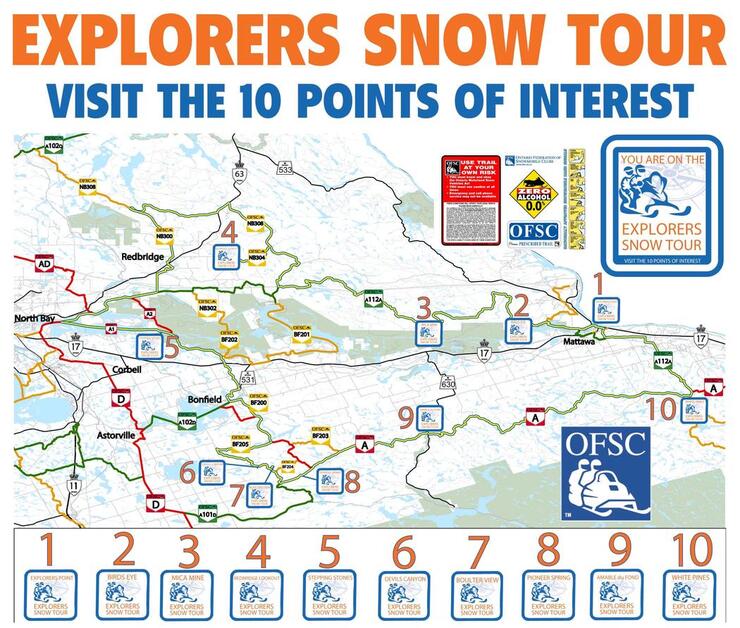 Best of all, the Explorers Snow Tour has a well-deserved reputation for delivering a premier sightseeing experience. Along its route, riders can enjoy 10 well-marked Points of Interest (POI) that take this tour a step above other loops. At each POI stop, sign placards provide a brief backstory so riders know what they're seeing. From entering an old Mica mine to standing atop of several panoramic lookouts, the Explorers Snow Tour is the home of many must-see attractions.
Staging The Explorers Snow Tour From West or East
Thanks to its central position in the Near North, snowmobilers can stage for their Explorers Snow Tour adventure from either North Bay on its west side or Mattawa to the east. Your choice of staging location is a matter of personal preference and may depend on whether you're trailering on the Highway 11 corridor or sledding in through Central Ontario, or following the Ottawa River via Highway 17 or TOP Trail A.
From North Bay
North Bay is a favourite launching point for those doing saddlebag rides to points farther north or launching the RAN ('Round Lake Nipissing) Tour. It's also a great sledding destination in its own right. It offers enough day ride loops to satisfy weekend visitors, the best of which is the Explorers Snow Tour. 
Being less than four hours north of the Greater Toronto Area (GTA) via Highway 11 makes the North Bay close enough that getting there's easily doable for a weekend getaway. In every compass direction, there's access to hundreds of kilometres of groomed OFSC Prescribed Snowmobile Trails to explore and loop opportunities to discover. 
With many big city amenities, this city of 51,500 is comfortable embracing winter, with local trails leading directly from TOP Trail D westbound into many services and hotels. Two of my favourites with direct, land-based trail access are:
Quality Inn (formerly Travelodge Airport) is located at the end of SSR711 just off TOP D. It offers ample parking, sled parking in front of ground floor rooms, free hot breakfast, indoor pool & hot tub, and a gas station next door. Several restaurants are nearby for dinner.
Ramada Pinewood Park is located on SSR703 just off TOP D102C. It offers ample truck, trailer & sled parking, on-site restaurant, outdoor heated pool, and a gas station next door.
From Mattawa
With a population of 2,000, Mattawa is tucked away on Highway 17 on the north side of Algonquin Park on the shore of the Ottawa River. Well-known as one of the stopping points along the RAP Tour, it's slightly over a four-hour trailer from the Greater Toronto Area (GTA) and about three hours from the Ottawa area. 
Mattawa offers a variety of uncrowded snowmobile trails, including the 200-kilometre Voyageur Multi-Use Trail System (VMUTS). But that's just a part of the available OFSC Prescribed Snowmobile Trails that are signed and mapped for an exceptional sledding getaway.
Mattawa offers a variety of restaurants, and fuel is available at the west end of town on TOP A112A. Two of my fav lodgings have direct trail access from TOP A112A, which runs past town parallel to Highway 17. 
Mattawa Adventure Camp With both motel rooms and homey cottages, this location overlooking the Ottawa River is accessible from a Club Trail off TOP A112A. It offers a snowmobile package with home-cooked meals and lots of parking.
Valois' Motel & Restaurant This roadside motel backs onto the Ottawa River and is accessed from a Club Trail off TOP A112A. It offers plenty of truck and trailer parking, sled parking in front of ground floor rooms, and an on-site restaurant.
plan your explorer snow tour today!
Whatever your choice of where to start and stay, you won't be disappointed to discover the Explorers Snow Tour this winter! 
Ontario law requires a snowmobile entering an OFSC Prescribed Snowmobile Trail for recreational riding purposes to display a valid Ontario Snowmobile Trail Permit.