Making Friends on Timmins Snow Trails
Larry Berrio takes fellow musician and Northern Ontario native Céleste Lévis on a tour of this incredibly snowmobile-friendly city.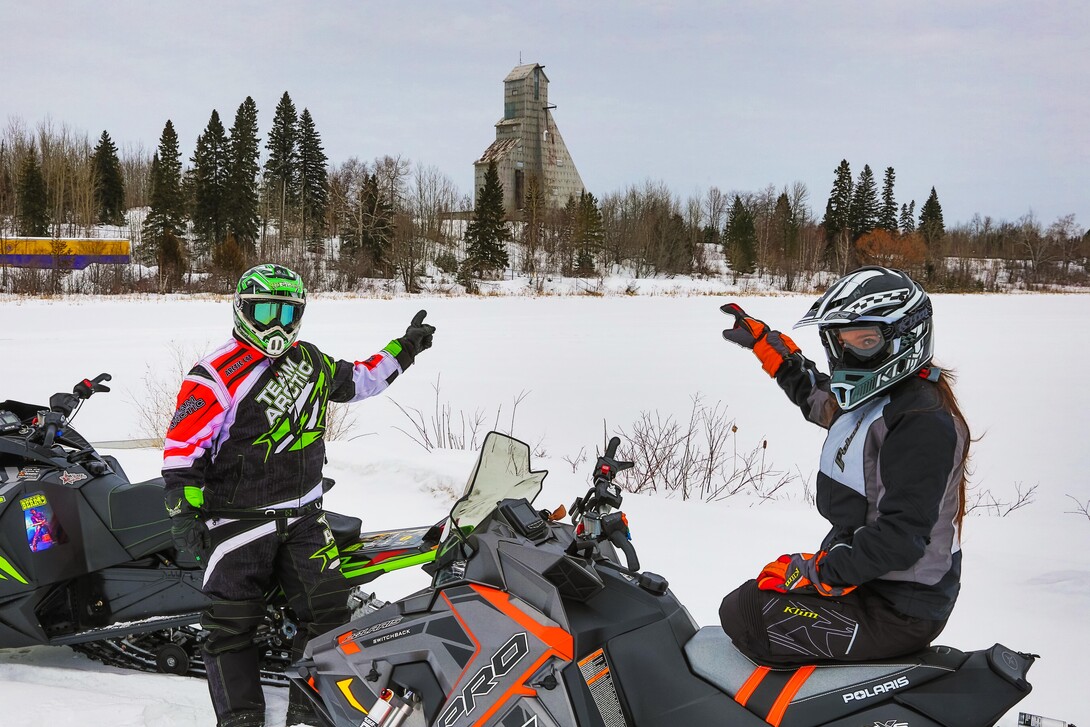 The Northern Ontario winter is out in full force this 2017. And all this snow means it's time to get out and ride! Recently, I was lucky enough to enjoy an epic two-day sledding adventure in Timmins. I was joined by another Ontario musician—the incredible singer and Timmins native Céleste Lévis. Together we rode tonnes of trails, ate poutine, and chatted about our deep roots in Northeastern Ontario, our dedication to music, and our love of that truly Canadian experience: a day out in the snow.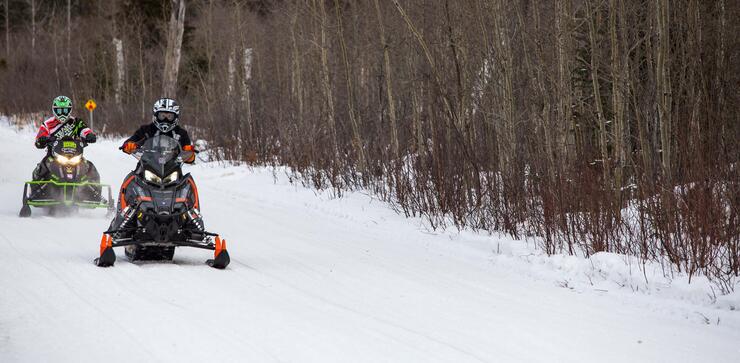 Why Timmins?
Timmins is the perfect base for snowmobilers—it has one of the highest average snowfalls of any Canadian city (122.5 inches). In addition to the snow, it's got well-appointed hotels, delicious restaurants, and easy-to-access trails which make Timmins a no-brainer for anyone with a sled.
I grew up snowmobiling. I'm lucky to have had one since I was around 10 years old. For me, the sport that I've loved since my childhood is more than just snowmobiling—it's a culture, it's time away from our stressful lives, it's about enjoying the great outdoors right in our backyards and living in the moment. So I was pretty stoked to get out on the trails. My ride is a 2017 Arctic Cat ZR Sno-Pro with a 137" track. My suit? A special Arctic Cat racing suit with matching helmet and gloves (might as well look good while you're out there, right?).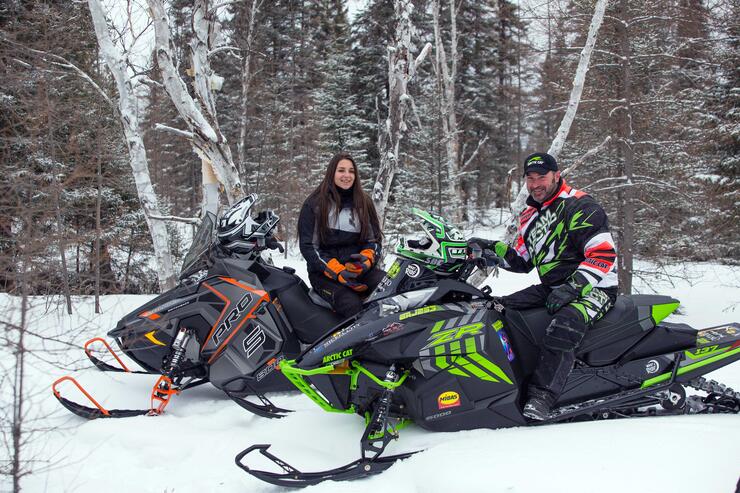 Céleste and I met up in the early morning to get her familiar with the Polaris Switchback she was going to be riding. My riding style is very laid back, I should note. I want to stop and enjoy river crossings, mountain views, or just rip across a frozen pond to play in some fresh powder. I'm not a rider that needs to put a lot of miles on my rides—to me it's more about making several stops, talking with your riding partners, and enjoying those friendships.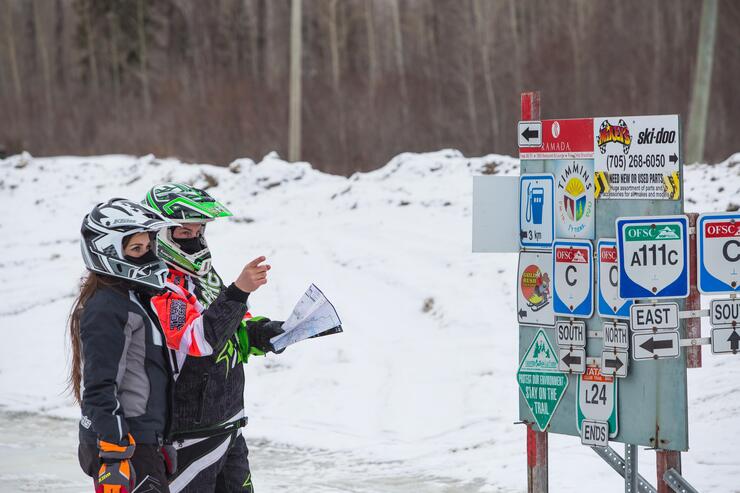 It was great chatting with Céleste. Connecting with other artists is so important—we're all so busy, it's too easy to get caught up in touring and recording and forget about making those connections. It's refreshing to share stories about our hobbies, our families, and discuss our recording history over the years and how we got to where we are today. After competing on La Voix in 2015 she's since moved to Montreal and released her awesome self-titled debut album. But at heart she's truly a Northern Ontario kid just like me—we're proud of where we come from. And we're easy to please. Which makes for a great person to hit the trails with!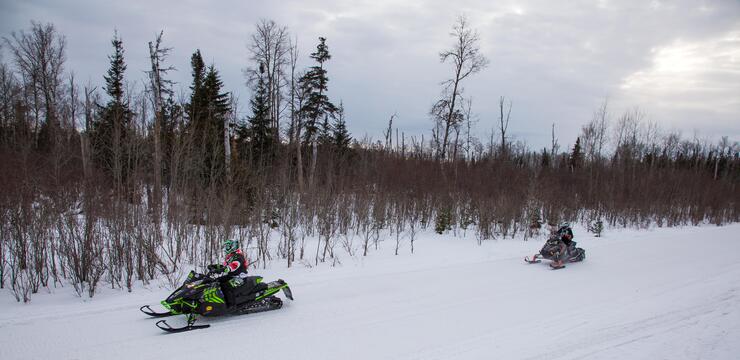 We hit up the L24, L27, L26 and the A111C over our two-day trek. For lunch that first day we stopped at the legendary McIntyre Coffee Shop.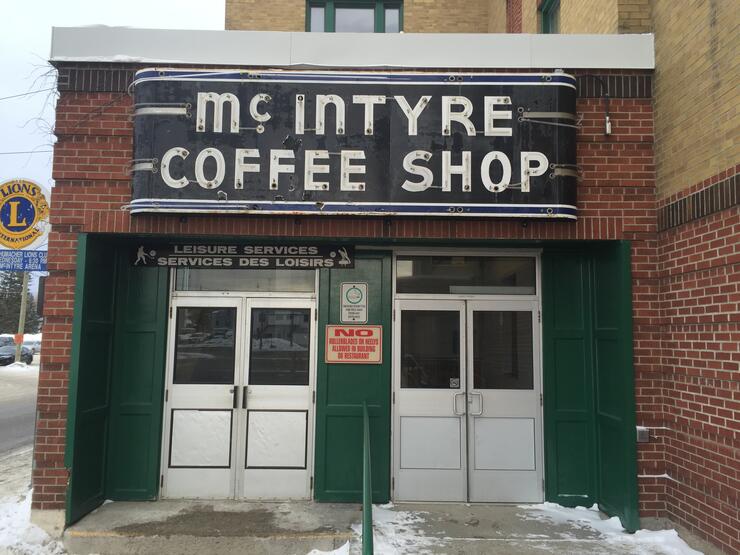 This neighbourhood institution looks pretty much the same as when it was built in 1939—it's full of history and just the kind of place I love to visit. I ordered their famous poutine. It was incredible, with real cheese curds and amazing gravy.
The Perfect Location for a Resort
At the end of a long day of riding, I was happy to be able to relax at the Cedar Meadows Resort & Spa. My suite was pretty incredible. I'm talking Jacuzzi, fireplace, a nice big living room—the perfect place to unwind after a day riding in the cold.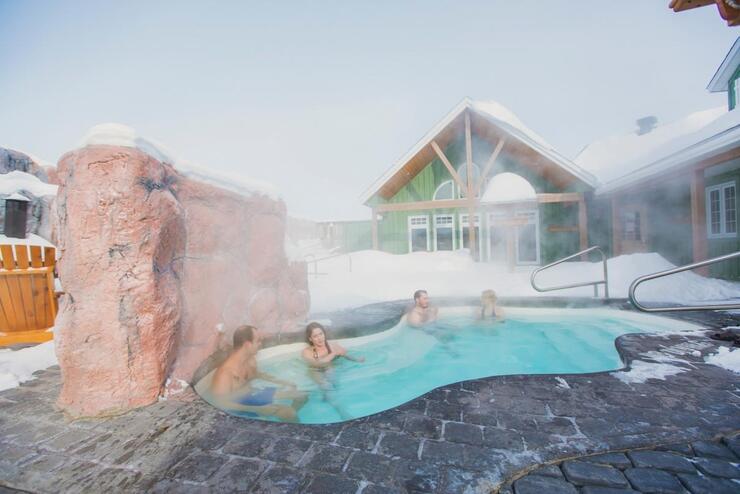 The resort sits on 175 acres of beautiful Northern Ontario land, and they've even got Nordic baths so you can relax outside and soak up all that snowy scenery while steaming those sore muscles.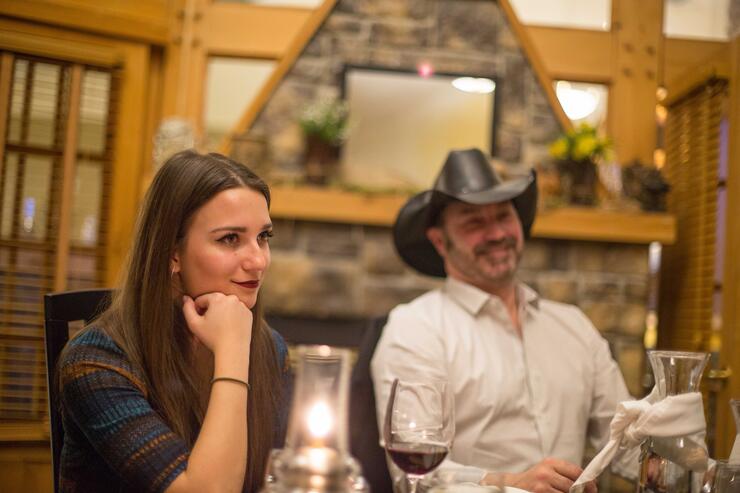 I had dinner at the resort's Voyageur Dining Room which offers a menu inspired by Northeastern heritage and traditions (think hearty and flavourful). Here you can dig into dishes like French onion soup, elk burgers, pan seared duck breast, and tonnes of seafood options. I was totally stuffed and hit the sack early looking forward to my next full day of riding.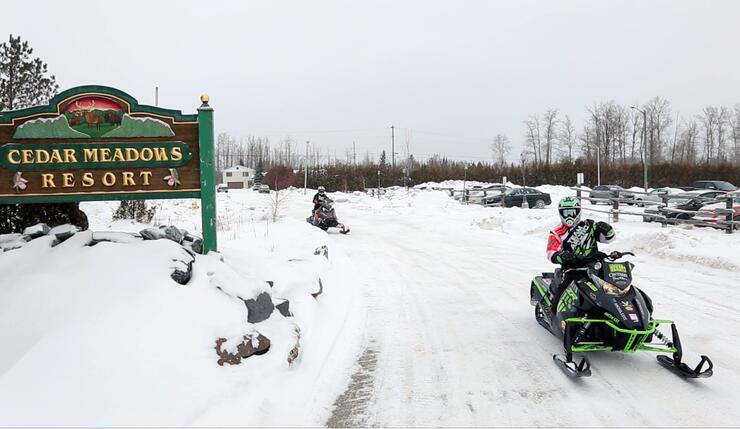 Rich with Possibilities
In all, we rode the full loop around the city of Timmins—around 150 km. But of course, it isn't about kilometres clocked. It's about the adventure and the beauty and the connections. Every ride is different. Each time out on the trail you meet new people, or you discover a new spot to eat, or you spot an elk, or the sun catches on fresh snow in a way that makes you stop for a second and feel glad you're alive. Snowmobiling gives you all that. It's an important part of my life and a true Canadian adventure everyone should experience in their lifetime (snowmobiles were invented by a Canadian, after all).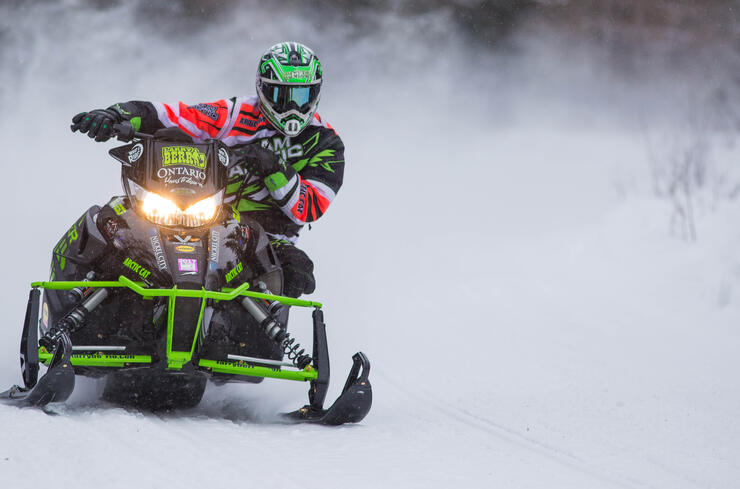 Thanks to Céleste and everyone in the city of Timmins that made our adventure so incredible! I can't wait to go back.